Field Goal %

Three Point %

Turnovers

Rebounds
Knoxville, Tennessee

37998
Attendance: 21,678
100%
Capacity: 21,678
Referees:
Doug Shows, Mark Whitehead, Brian Shey
Trae Golden had 24 points and eight assists Saturday as Tennessee rolled to an 88-58 victory over No. 25 Kentucky, giving the Volunteers their most lopsided win in the 216-game history of this series.
| CBS | 1 | 2 | T |
| --- | --- | --- | --- |
| Kentucky | 26 | 32 | 58 |
| Tennessee | 50 | 38 | 88 |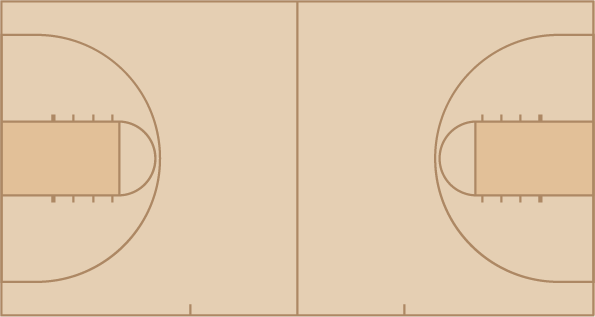 Kentucky
Kentucky's defense struggled without Nerlens Noel on Saturday, allowing 137.5 points per 100 possessions, its worst defensive efficiency in any game since the 2000-01 season. It was Tennessee's highest offensive efficiency in any SEC game in the last five seasons.

The Wildcats have been singing the blues since losing big man Nerlens Noel for the season Tuesday.Noel was injured with roughly 8 minutes left to play in the game at Florida and since that time Kentucky has been outscored by 35 points and opponents are shooting close to 60 percent from the field against them.

From Elias: Kentucky is the 4th defending champion to lose by at least 30 points in the last 30 seasons.

Kentucky's 30-point loss to Tennessee is tied for its 5th-worst loss in the last 80 seasons!

The 50 points allowed by Kentucky in the first half vs Tennessee matches the most points allowed in any half by Kentucky under coach John Calipari (also done Nov. 24, 2010 vs Connecticut and November 19, 2009 vs Sam Houston State).
South Carolina folded badly last season and played its way out of an expected NCAA Tournament bid.

No. 11 Kentucky is on a collision course this Saturday with No. 13 Florida in a battle for first place in the Southeastern Conference. But first, the Wildcats must win at lowly Missouri on Tuesday night at Columbia, Mo.

Jay Bilas joins Outside the Lines to break down NC State's decision to fire coach Mark Gottfried and disputes Kentucky coach John Calipari's opinion that coaches shouldn't be fired before the end of the season.
2016-2017 Southeastern Conference Standings