Field Goal %

Three Point %

Turnovers

Rebounds
East Lansing, Michigan

48826
Attendance: 14,797
100%
Capacity: 14,759
Referees:
Pat Driscoll, Ted Valentine, Larry Scirotto
Victor Oladipo's go-ahead putback, dunk and free throws in the final minute lifted top-ranked Indiana to a 72-68 win over No. 4 Michigan State on Tuesday night.
| ESPN | 1 | 2 | T |
| --- | --- | --- | --- |
| Indiana | 36 | 36 | 72 |
| Michigan State | 30 | 38 | 68 |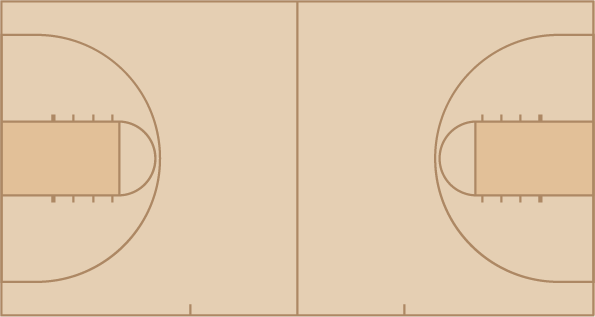 Indiana
Michigan State outscored Indiana 34-28 in the paint Tuesday, the fourth time this season Indiana has been outscored in the paint. The Spartans are the second team to score more than 30 paint points against the Hoosiers this season.

Keith Appling was 1-for-8 from the field with four turnovers Tuesday against Indiana. In two games against the Hoosiers this season, Appling has shot 8.3% from the field and has a 0.25 assist-to-turnover ratio.

Victor Oladipo had five steals against Michigan State Tuesday, four of which came in the first half. Entering Tuesday's game, Oladipo had a steal percentage of 4.8, second in the Big Ten. In the Hoosiers' two games against the Spartans this season, Oladipo had 11 of Indiana's 16 steals.--Oladipo's four first-half steals came on 25 Indiana defensive possessions when he was on the court (16.0 steal percentage).--Steal percentage: percentage of offensive possessions that end with a steal by a particular defensive player when that player is on the court.

Victor Oladipo scored 13 half-court points in Tuesday's win over Michigan State. Oladipo entered the game shooting 63.8% in the half court, best among Big Six players (min. 100 plays).--In Indiana's 75-70 win against Michigan State on Jan. 27, Oladipo's half-court numbers were nearly identical to Tuesday's.

Indiana now has 6 road wins this season... matching the number that they had in the previous 4 seasons combined.

Indiana's victory means that the Hoosiers improve to 6-0 against ranked teams this season, the best mark in Division I.

MSU lost twice to Indiana this season. In both games, MSU's leading scorer Keith Appling has struggled mightily. He scored just 9 points on 2-12 shooting with 8 turnovers.

Indiana now has 4 top-10 wins in a season for the first time since 1992-93 season.
Jay Williams suspects many college basketball programs will be knocking on Chris Collins' door.

What's changed for the 10 worst teams in the NBA standings? Chad Ford looks at their quest for the No. 1 pick in the 2017 draft and where they're going in the lottery race.

Seth Greenberg says it's going to take great 3-point shooting and a strong defensive effort if the Wildcats are going to win a second NCAA tournament game.
2016-2017 Big Ten Conference Standings