Field Goal %

Three Point %

Turnovers

Rebounds
Referees:
Karl Hess, Gary Maxwell, Lamar Simpson
Trey Burke scored all 23 of his points after halftime, including a long, tying 3-pointer in the final seconds of regulation, and Michigan rallied to beat Kansas 87-85 in the South Regional semifinals Friday night.
| | 1 | 2 | OT | T |
| --- | --- | --- | --- | --- |
| Michigan | 34 | 42 | 11 | 87 |
| Kansas | 40 | 36 | 9 | 85 |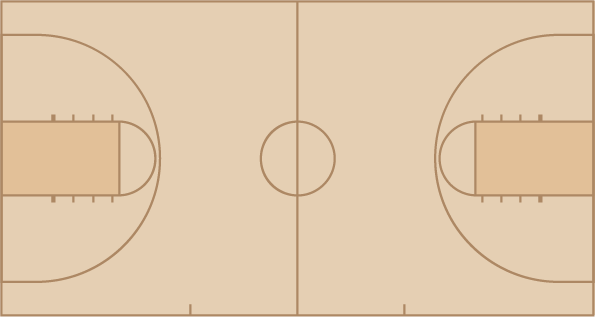 Michigan
Trey Burke and Mitch McGary became just the 4th pair of teammates to record a 20-point, 10-assists game and a 25-point, 10-rebound game in the same NCAA Tournament contest.

Michigan and Florida have met once previously in the NCAA Tournament. The 3 seed Wolverines beat the 6 seed Gators 108-85 in the Round of 32 in 1988. Glen Rice led Michigan with 39 points (Michigan school record for points in an NCAA Tournament game), while Vernon Maxwell led Florida with 23.

Kansas scored a season-high 60 points in the paint in its loss to Michigan. It was the most paint points in a loss in the last four Men's Basketball Championships. The Jayhawks made 30-of-43 field goal attempts in the paint, but were 6-for-23 outside the paint, including 2-for-9 in the final 15 minutes of the game.

Trey Burke was responsible for 45 of Michigan's 87 points (51.7 percent) in the Wolverines win over Kansas, including 33 of 53 points in the second half (62.3 percent). It was the most points responsible for in a game in this year's tournament. Burke scored 23 points and had 10 assists that led to another 22 points. Michigan is 7-0 this season when Burke scores or assists on at least 45 points.

Trey Burke was 2-6 and scored only five points while guarded by Naadir Tharpe Friday, but was 7-15 when guarded by any other Jayhawk. Tharpe did not guard Burke in the final 6 minutes of regulation or overtime, and Burke went 5-8 from the floor and scored 15 points.

Mitch McGary and Blake Griffin (2009) are the only players in the last 15 seasons with consecutive games of 21+ points and 14+ rebounds in the Men's Basketball Championship. He is just the 6th player since seeding began in 1979 to have two such games in a single Men's Basketball Championship.

Kansas led by 14-points with 6:50 left in the second half. It was the Jayhawks' largest lead of the game. Michigan outscored Kansas 33-17 in the final 11:30 of the game. During this stretch, Trey Burke had 15 points, while the Jayhawks had as many turnovers (5) as field goals.

Kansas lost to Michigan despite making 54.5 percent of its field-goal attempts. That's the Jayhawks' best night from the floor in any of their 41 NCAA Tournament losses. The previous high was 53.7 percent against Wake Forest in 1984.

Michigan now has 6 OT wins in the Men's Basketball Championship, tied with Louisville for the 2nd-most all-time. North Carolina has the most with 7.

Mitch McGary is the first Wolverine with two double-doubles in the same NCAA Tournament since Robert Traylor in 1998.