Field Goal %

Three Point %

Turnovers

Rebounds
Washington, District of Columbia

20599
Attendance: 19,801
98%
Capacity: 20,278
Referees:
John Higgins, Verne Harris, Randy McCall
Using its trapping, shot-challenging 2-3 zone defense to perfect effect, No. 4-seeded Syracuse shut down No. 3 Marquette 55-39 in the East Regional final Saturday, reaching the Final Four for the first time in a decade.
| | 1 | 2 | T |
| --- | --- | --- | --- |
| Syracuse | 24 | 31 | 55 |
| Marquette | 18 | 21 | 39 |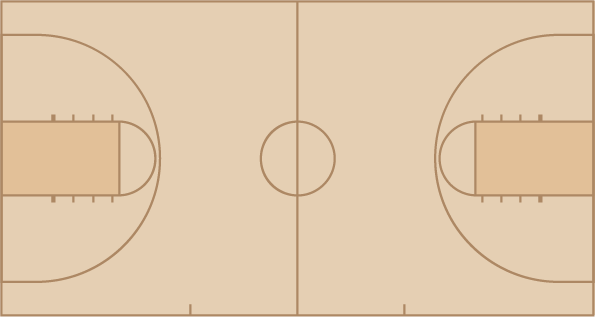 Syracuse
Michael Carter-Williams becomes just the fourth player to have 10 points, 5 assists, and 5 steals in an Elite 8 game.

Marquette made 4-of-36 shots outside the paint against Syracuse. It was the fourth-worst shooting performance outside the paint in the 2013 Men's Basketball Championship. The Golden Eagles were the fourth straight team that has shot less than 28 percent on such attempts against the Orange.

Marquette had more turnovers than points on possessions in which it didn't have a paint touch on Saturday. The Golden Eagles made two field goals on the 27 possessions in which they didn't have a paint touch. Marquette was more efficient when they had a paint touch on the other half of its 54 possessions, scoring 0.85 more points per possession.

Jim Boeheim becomes the fourth coach to guide his team to the Final Four in four different decades.

Syracuse outscored Marquette 19-0 on points off turnovers. It was the first time in the last two seasons that the Golden Eagles did not score at least one point off turnovers. They are 3-8 this season when scoring 10 or fewer points off turnovers and 23-1 when they score at least 11 (loss was to Butler).

Syracuse has ridden its defense to the Final Four, allowing nearly 15 fewer points per game in the NCAA Tournament.

Marquette had 14 turnovers and 12 field goals in its loss to Syracuse. The Golden Eagles are the third team that had more turnovers than field goals against Syracuse in the 2013 Men's Basketball Championship (California did not). For the tournament, the Orange have forced 67 turnovers and allowed 61 field goals.

In a bit of symmetry, 3 weeks ago today Syracuse scored just 39 points in a 61-39 loss to Georgetown in the Verizon Center. It was Syracuse's 4th loss in 5 games.On Saturday, they held Marquette to 39 points in the Verizon Center to make their 1st final Four appearance in 10 years.