Field Goal %

Three Point %

Turnovers

Rebounds
Georgia Dome
Attendance: 75,350
Referees:
Les Jones, Karl Hess, Terry Wymer
Luke Hancock came off the bench to score 20 points, walk-on Tim Henderson sparked a second-half rally with a pair of monster 3s and Louisville advanced to the NCAA title game Saturday night, escaping with a 72-68 victory over Wichita State.
| | 1 | 2 | T |
| --- | --- | --- | --- |
| Wichita State | 26 | 42 | 68 |
| Louisville | 25 | 47 | 72 |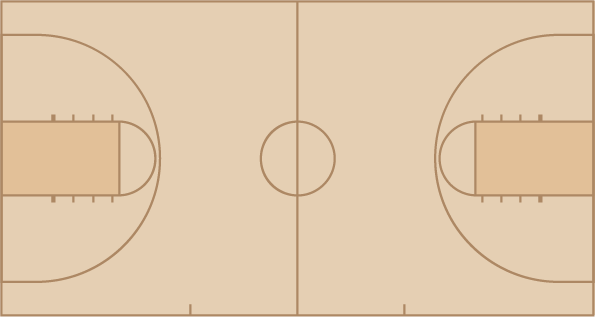 Wichita State
Wichita State outscored Louisville 30-26 in the paint Saturday. It was the seventh time this season that Louisville has been outscored in the paint and the Cardinals are 5-2 in those games. Cleanthony Early scored a game-high 24 points for the Shockers, 10 of which were in the paint.

Wichita State was 1-for-8 (12.5 percent) outside the paint in the final 10:00 Saturday and missed its last six shots from that distance. The Shockers entered the Final Four shooting nearly 50 percent outside the paint in the final 10:00 of the 2013 Men's Basketball Championship.

Louisville outscored Wichita State by 20 points with Luke Hancock on the court Saturday. Hancock scored 20 points off the bench, 14 of which were in the second half. The Cardinals were more efficient with Hancock on the court, averaging 1.34 points per possession in the 31 minutes he played.

Louisville had 26 deflections Saturday, its fewest in the 2013 Men's Basketball Championship. The Cardinals entered the Final Four averaging 45.0 deflections per game in the tournament. Louisville had 17 of its 26 deflections in the second half against Wichita State, and forced seven of its 11 turnovers after halftime. Overall, Peyton Siva and Russ Smith had 13 deflections Saturday and have combined for 83 deflections in the 2013 Men's Basketball Championship.

Louisville erased a 12-point deficit and outscored Wichita State by 16 points in the final 13:00 of the game Saturday. The Cardinals were able to speed up Wichita State during this stretch, forcing five of the Shockers' seven turnovers in transition. Luke Hancock and Tim Henderson combined to score 19 of Louisville's 37 points in the final 13:00.

Russ Smith scored a team-high 21 points Saturday but was 6-for-17 (35.3 percent) from the field, his lowest shooting percentage in the 2013 Men's Basketball Championship. Smith was unable to thrive on easy baskets against Wichita State, scoring four paint points and four transition points, both of which were lows in the tournament.

Cleanthony Early is just the fourth player to score 20 points and grab 10 rebounds in a semifinal game against Louisville, joining some of the most legendary players in basketball history.

Russ Smith becomes the first player since Shane Battier and Jason Williams in 2001 - and just the eighth since the tournament expanded in 1985 - to record at least 20 points in each of the first five tournament games for a team that played for the national title.