Field Goal %

Three Point %

Turnovers

Rebounds
Attendance: 26,716
Referees:
Lamar Simpson, Ed Corbett, Karl Hess
Olivier Hanlan and Patrick Heckmann hit 3-pointers in overtime, Lonnie Jackson made four straight free throws in the final 26.2 seconds, and lowly Boston College stunned top-ranked Syracuse 62-59 on Wednesday night, ending the Orange's unbeaten season.
| ESPN2 | 1 | 2 | OT | T |
| --- | --- | --- | --- | --- |
| Boston College | 17 | 33 | 12 | 62 |
| Syracuse | 25 | 25 | 9 | 59 |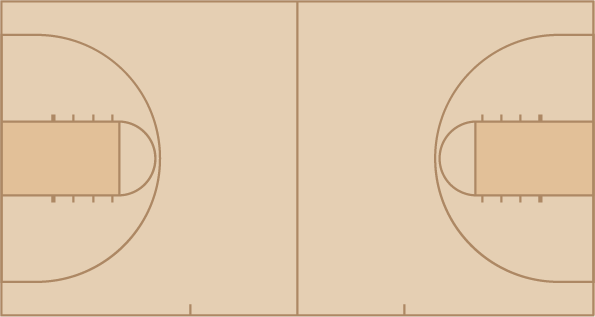 Boston College
Boston College's 19 losses at the time of game are the most ever by a team who defeated the AP No. 1 team. The previous record was 18 by UCLA, who at 9-18 defeated No. 1 Arizona on March 13, 2003.

Entering play on Wednesday, Syracuse was undefeated and the near-unanimous No. 1 team in the country. After their loss to Boston College, the Orange now have the worst loss this season of any of Joe Lunardi's No. 1 seeds.

Tyler Ennis was clutch... until tonight. In 1-possession games in the final 5 minutes of the 2nd half and overtime, he had more turnovers (2) tonight than he had in all other games combined. He was 1-for-5 shooting with 0 assists and 2 turnovers, and even missed a free throw, after the 5-minute mark of the 2nd half.

UPDATES WITH LATE REVISION TO FG PCT IN FINAL BOX SCORE:Syracuse had its worst shooting night of the season in their upset loss to Boston College on Wednesday:

Syracuse entered Wednesday ranked No. 3 in BPI. Boston College entered ranked No. 159. In terms of BPI rank differential (156), it's currently the largest upset against a BPI top-25 team this season.

This is the 3rd time EVER that a team below .500 has defeated the AP No. 1 team on the road. It's the first time since Georgia Tech won at top-ranked Kentucky in 1955.

Boston College entered the game with a .240 win percentage. That's the worst percentage EVER by a team to defeat the AP No. 1 team in February or later.
The Cyclones will add two ESPN 100 prospects to next season's roster, but whether they can replace Monte Morris' production remains to be seen.

Tennessee coach Rick Barnes says guard Jordan Bowden has "a little bout of pneumonia" and will likely miss a second straight game Saturday at South Carolina.

Kansas guard Josh Jackson, who is projected by ESPN to be the No. 3 pick in the NBA draft, will be charged for property damage.
2016-2017 Atlantic Coast Conference Standings