Field Goal %

Three Point %

Turnovers

Rebounds
Durham, North Carolina

27722
Attendance: 9,314
100%
Capacity: 9,314
Referees:
Tony Greene, Roger Ayers, Jamie Luckie
Rodney Hood scored 13 points and drew the game-changing charging call that helped No. 5 Duke beat No. 1 Syracuse 66-60 on Saturday night.
| ESPN | 1 | 2 | T |
| --- | --- | --- | --- |
| Syracuse | 26 | 34 | 60 |
| Duke | 26 | 40 | 66 |
0:00 - 2nd Half
End of Game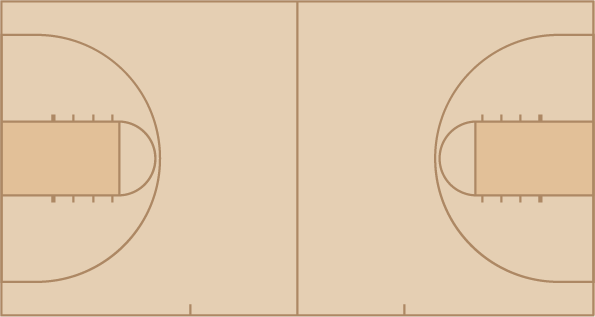 Syracuse
*Syracuse shot 27.3% from outside the paint Saturday, after shooting 62.5% on such shots in its win against Duke on Feb. 1. Over half of the Orange's field goal attempts came from outside the paint Saturday, compared to 30% of its shots in their first matchup against Duke.

Jabari Parker's first three field goals Saturday were from the 3-point line, his most made 3-pointers in an ACC game this season. Parker made 3-of-4 field goals from outside the paint Saturday, after missing all three of his attempts outside the paint in Duke's loss to Syracuse on Feb. 1.

Duke found success against Syracuse's zone Saturday when getting the ball into the paint during the possession. The Blue Devils shot 56.0% against the zone after the ball entered the paint, compared to 29.4% when the ball did not enter the paint.

Duke is now 21-3 this season when recording an offensive efficiency of at least 100, and 1-3 when it does not.Despite grabbing 16 offensive rebounds Saturday, Syracuse made 5-of-14 field goals and scored 10 points on second-chance opportunities.

When Syracuse moved to the ACC, many people hated to see their Big East rivalries go away. But they may have started a great one with Duke after just two meetings this season.

Tonight marked Duke's second win against the AP Number-1 team at home under Mike Krzyzewski...The last occassion was in 1992...when Michigan and the Fab-5 visited Cameron Indoor in a rematch of the previous seasons national title.

Duke relied on its star players to get past Syracuse on Saturday. Jabari Parker and Rodney Hood combined to score nearly half the team's points, and they outrebounded the rest of their teammates combined.