Field Goal %

Three Point %

Turnovers

Rebounds
KeyBank Center
Referees:
Tom Eades, Jeffrey Anderson, David Hall
Dyshawn Pierre scored 14 points and Jordan Sibert hit a key 3-pointer with 47.7 seconds left as Dayton stunned Syracuse 55-53 Saturday night to earn a spot in Sweet 16 for the first time in three decades.
| | 1 | 2 | T |
| --- | --- | --- | --- |
| Dayton | 20 | 35 | 55 |
| Syracuse | 18 | 35 | 53 |
0:00 - 2nd Half
End of Game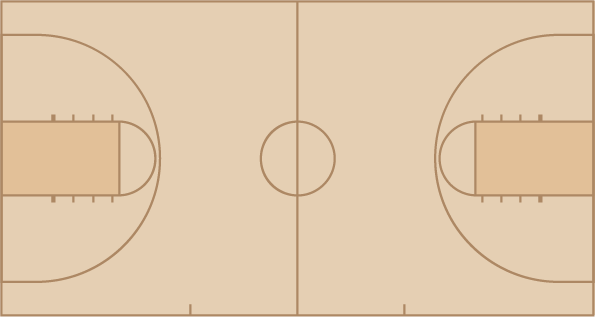 Dayton
Syracuse (0-for-10) and Saint Louis (0-for-15) failed to make a 3-pointer in their respective games. Kansas (0-for-7) did so yesterday.The last time at least that many teams failed to make a 3-pointer in the same NCAA Tournament was 1990 when 5 teams failed to do so (Kansas, Michigan State, North Carolina, UConn and UTEP).

Syracuse scored a season-low six points off 14 Dayton turnovers Saturday, including 0 points off seven turnovers in the first half. The Orange entered the game averaging 16.5 points off turnovers per game, best among ACC teams.

Syracuse made 1-of-19 shots from outside the paint Saturday, including 0-of-10 from the 3-point line, and Tyler Ennis missed all eight of his shots from outside the paint. Dayton made nearly half its shots from outside the paint.

With Syracuse trailing 47-42 with 4 minutes remaining, Tyler Ennis drove to the basket on five of the Orange's next seven possessions, scoring 11 straight points to pull Syracuse within one. However, Ennis took jump shots outside the paint on the Orange's final two possessions, missing both.

This is the first time Syracuse failed to make a 3-pointer since March 10, 1995 vs Providence in the Big East Tournament. That snaps a streak of 665 consecutive games with a 3-point FG. Syracuse finished 0-10 from 3-point range, the second most 3-point attempts without a make in Syracuse history.