New Mexico, Richmond's Gonzalvez take honors

By Andy Katz
ESPN.com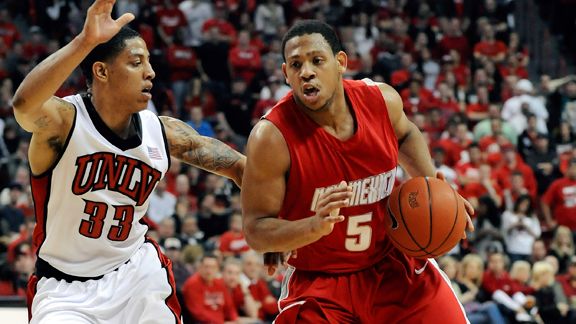 Ethan Miller/Getty ImagesAfter two big road wins, New Mexico controls its Mountain West destiny.
Editor's note: This edition is for games played from Monday, Feb. 8, through Sunday, Feb. 14.
Team Of The Week: New Mexico
Last week: Won at UNLV 76-66; won at Utah 68-65 OT
The Lobos gained control of the Mountain West with a convincing win over UNLV amid a raucous atmosphere at the Thomas & Mack Center. The Lobos then stayed on the road and took out Utah in overtime.
Think about this: The Lobos have won nine games away from the Pit. New Mexico historically has never been a great road program, but the Lobos under Steve Alford have reversed that trend. The toughness the Lobos have shown this season is unmatched the past few decades in Albuquerque.
The Lobos weren't supposed to be this poised, this under control, this productive this season. But Darington Hobson has turned into one of the top players in the league, complemented by Roman Martinez, Dairese Gary, Phillip McDonald and A.J. Hardeman. Get used to these names in March. The Lobos have given no indication that they will wilt any time soon. New Mexico still has to go to BYU on Feb. 27, and the winner will likely win the regular-season title. But the loser should be fine for the Dance and will have an equal shot to advance a round or two.
If you had doubts about New Mexico after a tight overtime home win over San Diego State, you shouldn't anymore. The Lobos swept a difficult road swing and the Aztecs beat UNLV at home, proving the depth of the Mountain West yet again.
Other Contenders
Kansas: The Jayhawks reasserted themselves as the team to beat for the title with the road win at Texas this past Monday. Kansas never was rattled, continued to play with poise and has now won at Kansas State, Texas and Temple. Kansas then crushed Iowa State to complete the week.
Wake Forest: The Demon Deacons took care of business at home this week, taking out Boston College and Georgia Tech, the latter to earn a season split of the series. Wake Forest is a game behind Duke in the standings. The Demon Deacons don't play Duke again but have established themselves as one of the top three teams in the league.
Pitt: The Panthers had the warm-up against Robert Morris before a herculean effort to beat West Virginia in triple overtime. The Mountaineers had control of the game before Ashton Gibbs nailed a 3-pointer at the end of regulation. Pitt never stopped playing. That's the win that should propel the Panthers forward.
Villanova: The Wildcats had one of the best bounce-back wins this season with a victory at West Virginia this past Monday after losing to Georgetown. If you had doubts about the Cats' ability to be a No. 1 seed and a Final Four team, they were erased (for me) in this win. Nova then wiped out Providence in the second half for a sweep of the week.
Purdue: The Boilermakers' win at Michigan State was one of the more impressive road wins in a power six conference this season. Purdue was in control for most of the game and reasserted itself as a Big Ten title contender and a threat to get to Indy. I love the way the Boilermakers play defense.
Player Of The Week: David Gonzalvez
The numbers David Gonzalvez put up -- 19 points on 7-of-12 shooting -- weren't the only story of Richmond's 69-67 win at Rhode Island. It was when Gonzalvez made a 3-pointer with 1:22 to play to give the Spiders a 67-66 lead in Kingston. Teammate Kevin Anderson then hit a layup to put Richmond ahead by three with 23 seconds left.
Gonzalvez continued his torrid week by leading the Spiders to a 68-49 victory over St. Bonaventure on Saturday that turned the wheel toward a possible A-10 title and NCAA berth. Gonzalvez scored a team-high 25 points in 34 minutes as the Spiders moved to 20-6 overall -- 9-2 in the A-10 -- to stay equal in the loss column with Xavier, Temple and Charlotte.
Richmond has quietly put together a stellar season with nonconference wins over Missouri, Mississippi State and Florida and a run to the top of the A-10. Gonzalvez is one of the main reasons.
The Rest Of The Rotation
[+] Enlarge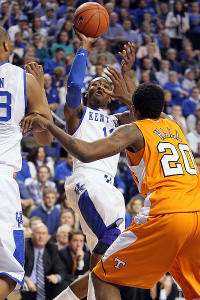 Andy Lyons/Getty ImagesJohn Wall averaged 23 points in wins over Alabama and Tennessee.
John Wall, Fr., G, Kentucky: Wall was sensational in the win over Tennessee on Saturday night with 24 points, making 9 of 12 free throws, 7 of 15 shots and controlling the tempo for the Wildcats. He started the week with 22 points and 10 boards in a home win over Alabama. Wall continues to lock himself into All-American status in his chase to stay with Ohio State's Evan Turner in the player of the year race.
Matt Bouldin, Sr., G, Gonzaga: Bulldogs coach Mark Few said Bouldin should be an All-American. It's hard to argue. You can nitpick about whether he's a second- or third-team pick (you need to put Wall and Turner on the first team if you go two guards), but Bouldin -- save for his brutal performance against Duke (which was post-concussion) -- has been superb for the Zags. Bouldin scored 18 points in a crucial WCC win over Saint Mary's. He then followed that up with another efficient performance against San Diego with 16 points, making 7 of 10 from the field.
Ekpe Udoh, Jr., C, Baylor: Don't just look at the numbers: eight points, nine boards and six blocks in a two-point win at Nebraska and six points, 10 rebounds and three blocks in a two-point win over Missouri. Udoh has become the go-to late-game player for Scott Drew's Bears. He hit a hoop with 26 seconds left in Lincoln. Udoh then tipped in a basket with 1.3 seconds left to beat Missouri in what was probably Saturday's best ending. The win pushed the Bears to 6-4 in the Big 12, 19-5 overall and likely a lock now for the NCAA, barring a collapse.
Brian Zoubek, Sr., C, Duke: Hard to ignore the Z-man after his performance Saturday against Maryland. Zoubek had been one of the better defenders all season for the Blue Devils. But he awoke his offensive game against the Terps with 16 points and 17 boards to go with two blocks in the rout of Maryland. He wasn't a major factor against North Carolina, but didn't need to be in that game.
Five Golden Teams
Duke: The Blue Devils are clearly the best team in the ACC and are heading toward a high seed with wins over North Carolina on the road and a blowout of Maryland.
Gonzaga: The Bulldogs might have lost once at San Francisco, but sweeping through Saint Mary's and San Diego after already blitzing Portland was another indicator that the Zags are the team to beat out West and could be in Spokane for the first and second rounds.
Syracuse: Despite the stunning loss Sunday to Louisville, Syracuse still should be in play for a No. 1 seed, especially if it beats Villanova on Feb. 27.
Kentucky: The Wildcats blew past Tennessee late and are headed toward an SEC title and a No. 1 seed. DeMarcus Cousins and John Wall are easily two of the best in the country at their respective positions. All is good in the Commonwealth.
Michigan State: The Spartans dropped three in a row after Kalin Lucas injured his ankle. But Lucas returned to full strength Saturday and scored 24 points in 35 minutes (10-of-15 from the field) in a road win at Penn State. Don't sweat the Spartans now. They'll be fine, pushing for a likely No. 2 seed and a run toward Indy.
Five Teams In Trouble
• Tulsa: The Golden Hurricane lost at home to Memphis. a week after they lost at UTEP. Tulsa is now two games behind the Miners and is looking at needing a win at Duke on Feb. 25 as its only chance to get an at-large bid (highly doubtful). So that means Tulsa must win the Conference USA tournament. The good news is it's at home.
• Siena: Maybe it was expecting too much. Maybe it's not fair. But the Saints did lose at Niagara. It's not fair to say that these teams in non-power six conferences have to win out. But the Saints had to differentiate themselves in the conference without a hefty nonconference résumé. A win over Butler at Hinkle would help. But like Tulsa, the Saints will host their conference tournament.
• Saint Mary's: The Gaels went on the road to Gonzaga, and while it would be asking a lot to beat the Bulldogs, losing yet again means Saint Mary's doesn't have the necessary Zag win this season. Then the loss Saturday at Portland, a solid WCC club, meant the Gaels likely have to win the WCC tournament at the Orleans Arena in Las Vegas.
• Connecticut: The Huskies were supposed to be infused with new energy by the return of Jim Calhoun to the bench after seven games. Instead, UConn gave its worst effort of the season and forced Calhoun to say he was embarrassed. The Huskies are heading to the NIT at this juncture, if that. There are opportunities with a road game at Villanova on Monday and a home game against West Virginia, but there is no indication the Huskies can win either game.
• South Carolina: The Gamecocks, like the Huskies, beat a top-ranked team. UConn beat then-No. 1 Texas. South Carolina beat then-No. 1 Kentucky. But both might not make the NCAA tournament. South Carolina dropped to 5-5 in the SEC, 14-10 overall, after losing at Georgia. Of course winning on the road is hardly a given, but the Gamecocks had to differentiate themselves and didn't.
Places To Be This Week
College Station, Texas, Monday: I'm convinced that Texas A&M's fans will be as loud and as disruptive as Kansas State's. The question is, can the Aggies do what the Wildcats could not and beat top-ranked Kansas? Texas A&M is a sound, disciplined team. I wouldn't be surprised if the Aggies pulled off the upset.
[+] Enlarge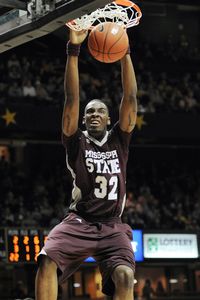 Don McPeak/US PresswireWill Jarvis Varnado be able to handle Kentucky's deep and talented front line?
Starkville, Miss., Tuesday: I'm not sure Mississippi State can beat Kentucky, but one thing is certain: The matchup inside of Jarvis Varnado and DeMarcus Cousins should be intriguing to watch. Can Varnado be physical enough to deal with Cousins? The problem is that Kentucky can run Daniel Orton and Patrick Patterson at Varnado as well. Where is Renardo Sidney? He's still not eligible.
Tampa, Fla., Tuesday: Cincinnati had a huge win at Connecticut on Saturday, but now the Bearcats have to deal with a pesky South Florida team that is still in the mix for a tourney bid.
Columbus, Ohio, Wednesday: The winner of the Purdue-Ohio State game will have the inside track on matching Michigan State in the next two weeks. This should be one of the best Big Ten games of the season.
St. Louis, Wednesday: The most dangerous team in the A-10 right now might be Saint Louis after the Billikens beat Dayton in double overtime. With a win against Rhode Island, SLU could make bubble life miserable for the Rams.
Washington D.C., Thursday: After a pair of Sunday surprises, all of the sudden both of these teams are looking to avoid a losing streak. While the Orange have proved to be a very good road team, the Hoyas have played up to their competition at home.
Milwaukee, Thursday: Pitt is coming off a triple-overtime win over West Virginia, while Marquette is making a strong case to be an NCAA team. Should be a fun one at the Bradley Center.
Cambridge, Mass., Friday: Cornell got a must-win against Princeton, but is still tied with the Tigers in the loss column. Lose at Harvard and suddenly Princeton is in first again and the Big Red and Crimson are tied.
Nashville, Tenn., Saturday: Vanderbilt had one of its worst games of the season at Kentucky. Don't expect that to occur when it hosts the Wildcats in what should be one of the best atmospheres in the SEC this season.
Indianapolis, Saturday: Even with Siena losing at Niagara, I'm still banking on the Saints at Butler as being the best BracketBuster game of the weekend. A Siena victory would certainly help the fading at-large profile.
Charlotte, N.C., Saturday: Xavier is hot after a victory at Florida, but winning in Charlotte is even more important for the A-10 title. Loser will be behind Richmond.
East Lansing, Mich., Sunday: Depending on what happens in Columbus on Wednesday (assuming MSU beats Indiana), this showdown between the Buckeyes and homestanding Spartans could be for first place in the Big Ten. It's their only meeting of the regular season.
Pittsburgh, Sunday: Villanova's schedule is backloaded with difficult road games. Nova got pounded by Georgetown and had a huge win at West Virginia. A victory at Pitt would be quite a primer for the following Saturday at Syracuse.
Viewer's Guide
All times ET
Monday
7 p.m.: Connecticut at Villanova (ESPN)
8 p.m.: Virginia at Maryland (ESPN360)
9 p.m.: Kansas at Texas A&M (ESPN)
Tuesday
7 p.m.: Wake Forest at Virginia Tech (ESPN2)
7 p.m.: Cincinnati at South Florida (ESPN360)
7 p.m.: William & Mary at GMU (ESPN360)
9 p.m.: Kentucky at Mississippi State (ESPN)
Wednesday
6:30 p.m.: Purdue at Ohio State (BTN)
7 p.m.: Duke at Miami (ESPN)
7 p.m.: Notre Dame at Louisville (ESPN2)
7 p.m.: Florida State at Virginia (ESPNU)
7 p.m.: Appalachian State at Charleston
9 p.m.: Texas at Missouri (ESPN2)
9 p.m.: Rhode Island at Saint Louis
11 p.m.: La. Tech at Utah State (ESPN2)
Thursday
7 p.m.: Syracuse at Georgetown (ESPN2)
7 p.m.: Vanderbilt at Ole Miss (ESPNU)
9 p.m.: Wisconsin at Minnesota (ESPN)
9 p.m.: Pitt at Marquette (ESPN2)
Friday
7 p.m.: Old Dominion at Northern Iowa (ESPN2)
7 p.m.: Cornell at Harvard
Saturday
11 a.m.: Siena at Butler (ESPN2)
Noon: Morgan State at Murray State (ESPNU)
Noon: Florida at Ole Miss (CBS)
Noon: Seton Hall at West Virginia (ESPN)
1 p.m.: La. Tech at Northeastern (ESPN2)
1:30 p.m.: Baylor at Oklahoma State (ESPN360)
2 p.m.: Texas at Texas Tech (ESPN)
2 p.m.: Georgia Tech at Maryland (ESPN360)
2 p.m.: Xavier at Charlotte (CBS-CS)
4 p.m.: Illinois at Purdue (ESPN)
4 p.m.: UTEP at Tulsa (CBS-CS)
4 p.m.: Akron at VCU (ESPNU)
6 p.m.: Kentucky at Vanderbilt (ESPN)
7 p.m.: Quinnipiac at Robert Morris
8 p.m.: Charleston at George Mason (ESPN2)
8 p.m.: Western Carolina at Kent State (ESPNU)
9 p.m.: UCLA at Washington (ESPN)
11:59 p.m.: Wichita State at Utah State (ESPN2)
Sunday
Noon: Villanova at Pittsburgh (CBS)
Noon: Ohio State at Michigan State (CBS)
2 p.m.: Marquette at Cincinnati (ESPN360)
2 p.m.: Northwestern at Wisconsin (BTN)
7:45 p.m.: Virginia Tech at Duke (FSN)
Highlights: Tennessee-Kentucky
Five To Keep An Eye On
• Saint Louis: Rick Majerus' squad took out Dayton in double overtime, already beat Richmond at home and is 7-3 in the A-10. The Billikens are not just spoilers but real players in the league race, with games remaining against Rhode Island, Xavier, Temple and at Dayton.
• Virginia Tech: The Hokies are quietly 7-3 in the ACC, a game behind Duke in the loss column after a road win at NC State and a victory against rival Virginia.
• Clemson: The Tigers are flawed but at least are now taking care of business, with home wins over Florida State and Miami, to creep above .500 in the ACC and head closer toward the NCAAs.
• Marquette: If you're looking for a middle-of-the-pack team that might make the NCAA tournament but wasn't projected to, look to the Golden Eagles. Marquette has won five straight, including two on the road at Connecticut and Providence. The Golden Eagles still have three more road games but draw Pitt, Louisville and Notre Dame at home. If Jim Boeheim doesn't win Big East coach of the year (he should win national, too), then Marquette's Buzz Williams will get the honor.
• Texas A&M: The Aggies had only one game this past week and won it at Texas Tech. That put the Ags three games back of Kansas, which they host Monday. A&M is a sound, disciplined squad that should be a possible Sweet 16 team if all goes well.
Highlight: Ga. Tech-Wake Forest
Five You Can't Figure Out
• Louisville: Just when it was time to give up on the Cards, they pull off one of the most surprising wins of the season at Syracuse. This coming after an embarrassing blowout at St. John's.
• Texas: The Longhorns blew out Nebraska on Saturday, but they were lost against Kansas earlier in the week. Which Texas team is going to show come March?
• Memphis: The Tigers had a convincing win at Tulsa after winning at home over Central Florida. The talent is in place, with Elliot Williams and Wesley Witherspoon leading the charge, but the Tigers haven't been able to win the "up" games, as evidenced by home losses to UTEP and Gonzaga.
• Cal: The Bears finally won games they were supposed to by sweeping the Washington schools. But it's still hard to figure which Cal team will show after the Bears lost a week ago at USC, allowing a 25-0 run. What will happen when the Bears, the Pac-10 frontrunners, go to Oregon State on Thursday? The Beavers won at Arizona this weekend, so who knows.
• Illinois: The Illini won at Wisconsin, one of the bigger stunners of the week. The Illini had won five straight games before Sunday's game against Ohio State. That was after three consecutive losses. But I'm still not totally sold on this crew, especially after the Buckeyes won handily at Assembly Hall. Before this one, the Illini had been finding ways to win. Not on Sunday.
Highlight: Louisville-Syracuse
Bad Week But Not Out
• Florida: The Gators lost at South Carolina and then at home to Xavier. Florida dropped to 6-4 in the SEC, 17-8 overall, yet still should be fine barring another major collapse.
• Northern Iowa: The Panthers lost at middling Bradley. Everyone in the Valley gets up to play the Panthers now, so losing on the road shouldn't be a shock. But it's still another L for a team that doesn't have many marquee wins among the 22. Still, UNI should be in the Dance.
• West Virginia: The Mountaineers lost at home to Villanova and then at Pitt in triple overtime. The Mountaineers are golden for the tournament and a high seed, but they can forget about catching Syracuse and Villanova for the Big East title.
• Northwestern: The Wildcats lost at Iowa. That was a bad, bad loss, and one that could have been devastating if the Wildcats had lost again to Minnesota on Sunday. But the OT comeback win against the Gophers kept Northwestern's historic NCAA hopes alive for at least another game.
• UNLV: The Runnin' Rebels lost at home to New Mexico and then at San Diego State. Neither of those are bad losses. It certainly puts Vegas in a precarious position, but the wins at New Mexico and over BYU should have shelf life.
Special Shout-outs
• Randy Culpepper, Jr., G, UTEP: Culpepper lit up East Carolina for 45 points Saturday. That followed his 18 points in a road win at SMU as the Miners continue to be the team to beat in Conference USA at 10-1, 19-5 overall.
• Donald Sims, Jr., G, Appalachian State: Sims scored 25 points versus Davidson (9-14 FG) and 30 points (11-14 FG) against Georgia Southern. The Mountaineers lead the Southern Conference's North Division by two games over Western Carolina.
• Jerome Randle, Sr., G, Cal: The senior guard dropped 33 points against Washington and 24 versus Washington State in a sweep. Randle connected on a combined 10 of 11 free throws and 9 of 14 shots from 3-point range, with just four turnovers.
Upset Of The Year
Penn over Cornell: Hard to dispute it after the Quakers had only three wins (against teams that were a combined 15-55) before upsetting the Big Red. Cornell's win at Princeton the next day should be the indicator that the Big Red will still win the Ivy, but the sting of the Penn loss will haunt Cornell in seeding.