Five offseason storylines
1. Nix gets arrested, vows to bounce back: Derrick Nix turned his entire Michigan State career around last season. Red flags had followed the big man in his first two years. His weight had been a burden. He'd previously threatened to quit the program. In Year 3, however, he had become a leader and he'd slimmed down. But an April drug-related arrest and subsequent suspension was a major setback for Nix and the program, which lost Draymond Green. Green was one of the most versatile players in America. He was also recognized as one of the country's top leaders. This season's Spartans possess top-10 talent, but they need Nix to recover from April's mishap. Improved conditioning will help the program's only returning senior play more than last season's 18.9 minutes per game and improve his overall numbers (8.1 ppg, 3.1 rpg). The veteran has to make the most of a second chance.
2. A healthy Aaron Craft: For the past two seasons, Craft has been one of the nation's toughest perimeter defenders. Jared Sullinger anchored the offense the past two years, but Craft (8.8 ppg, 4.6 apg, 2.5 spg) has been the defensive catalyst for a team that finished second in Ken Pomeroy's adjusted defensive ratings last season, even though he wasn't healthy. Earlier this month, the Columbus Dispatch reported that Craft underwent surgery in June to repair bone chips in his ankle that Craft's father said "would get jammed back on his tibia and it would cause excruciating pain." Craft had dealt with the pain since high school but refused to correct it prior to this summer. He is missing six weeks of offseason drills, but he should be healthy and prepared for the upcoming season.
[+] Enlarge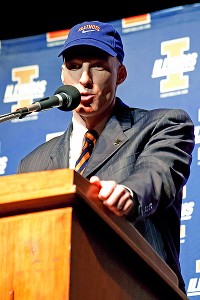 Bradley Leeb/US PresswireAfter firing Bruce Weber, Illinois hired John Groce from Ohio.
3. The John Groce era faces early hurdles: In March, Illinois dismissed Bruce Weber following 12 losses in the program's final 14 games. Enter John Groce, who led Ohio to the Sweet 16 in March. It wasn't the name most had anticipated, although he's highly respected among his colleagues. But his tenure got off to a rough start. Meyers Leonard declared for the NBA draft. Isaac Chew, an assistant who left Missouri to join Groce's staff, left Illinois two months after accepting the job to become an assistant at Marquette. And last week, Chicago native Jabari Parker -- the consensus No. 1 recruit in the 2013 class -- named 10 schools he's still considering, and Illinois wasn't on the list. But Groce's resume suggests that the early bumps won't last. He turned Ohio into a mid-major power that nearly upset North Carolina in the NCAA tournament. The former Ohio State assistant helped the Buckeyes recruit Greg Oden, Mike Conley Jr. and Daequan Cook, a trio that led the Buckeyes to the 2007 national title game.
4. Trey Burke claims Michigan can win national title: For weeks, Burke (14.6 ppg, 4.6 apg) considered the NBA. But he ultimately made a wise choice to come back for his sophomore season and he's now arguably the top point guard in the country. Last week, he told the Detroit Free Press, "I really think we're national championship contenders." And he's right. His return positions the Wolverines to compete for the Big Ten title and make noise on the national scene. Had he decided to leave, a Michigan program with the 14th-ranked recruiting class in 2012 would have lost its point guard for the second consecutive season. The incoming crew features Mitch McGary and Glenn Robinson III. Plus, Tim Hardaway Jr. is back. With Burke in charge again, the Wolverines might reach Atlanta, site of the 2013 Final Four.
5. Bigger, better Zeller: Had Cody Zeller (15.6 ppg, 6.6 rpg) entered the NBA draft, he probably would have cracked the lottery. But he's in no rush to end his collegiate experience. And now he's the leader of an Indiana team that could enter next season as a favorite to win the national title. Coach Tom Crean says the 7-footer has expanded his game and will showcase more versatility this season. During summer workouts, Crean has implemented more pick-and-roll situations for Zeller. He told ESPN.com the sophomore will put the ball on the floor more often than he did last season. He's also adding muscle. Zeller will probably win multiple preseason player of the year awards in the coming months, and he's putting in the work this summer to justify those expectations.
Best-case/worst-case scenarios
Illinois

Best-case scenario: No one's expecting much from Illinois in 2012-13, and the reasons are obvious: With zero in the way of fresh blood entering the program this season, this is essentially the same team that lost 12 of its final 14 games last season (necessitating the firing of coach Bruce Weber) only without its best player, center Meyers Leonard. I get it. But there hasn't been a mass exodus at the program. Brandon Paul and D.J. Richardson will be senior guards capable of blowing up at any time (Paul especially). The supporting cast has its holes, but harnessed correctly that's a backcourt that could give plenty of Big Ten teams trouble -- at the very least.
Worst-case scenario: What happens when you add a dearth of young talent, experienced players who pretty much gave up on their last leader and a new coach asked to bring it all together? There is no one answer. Frankly, anything is possible, and while that includes the aforementioned revival from Paul and Richardson, it could just as easily lead to Paul looking around, deciding he's the best player on his team by a lot (not that he would be wrong) and posting yet another incredibly inefficient, borderline-greedy offensive season. I don't think Illinois will totally bottom out this season, but that's only if coach John Groce can convince everyone, Paul included, that's no way to spend a year on the hardwood. If he doesn't, this could get ugly in a hurry.
[+] Enlarge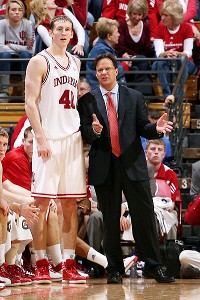 Brian Spurlock/US PresswireExpectations are soaring for Tom Crean, Cody Zeller and Indiana.
Indiana

Best-case scenario: Don't look now, Indiana fans, but I'm going to do it: IU's best-case scenario is the NCAA collegiate men's basketball national championship. I know. Crazy, right? What's even crazier is that it doesn't require a huge stretch of the imagination. After all, Indiana will feature the best returning player in college basketball in Cody Zeller, who was dominant as a freshman and (according to every dispatch out of Bloomington this summer) is only beginning to showcase his newfound core strength, defense and versatility. The Hoosiers have a coterie of scorers around Zeller: stretchy wing Christian Watford, rim-attacking guard Victor Oladipo, sharpshooting floor general Jordan Hulls and do-everything Will Sheehey, not to mention a recruiting class that features at least one surefire immediate rotation player in point guard Yogi Ferrell. This team is deep and well-rounded and scores like crazy, and it's going to be a lot of fun to see where Zeller & Co. can go.
Worst-case scenario: To go where they really want to be, the Hoosiers are going to have to play better defense. It's just that simple. Indiana improved some last season, but where it really excelled was offense: Tom Crean's team ranked fourth in the country in adjusted offensive efficiency but just 64th on the defensive end (IU's 102-90 tournament loss to Kentucky was thrilling evidence of this disparity). Hulls' size disadvantage makes him unreliable at the point of attack; Zeller and Watford must become better rim protectors; and in general Indiana must find some trait to sustain itself on that end of the floor. At some point in the tournament, everybody goes cold. Eventually, your D has to carry you through.
Iowa

Best-case scenario: It's Year 3 of coach Fran McCaffery's rebuilding cycle, and everything seems to be going according to plan. Iowa has made strides in each of his first two seasons. Now with two talented freshmen from the Iowa-Nebraska border (center Adam Woodbury and point guard Mike Gesell), this could be the year the Hawkeyes officially emerge from their post-Todd Lickliter morass. Other than the freshmen, the keys are rising sophomores Aaron White and Josh Oglesby and junior Melsahn Basabe, who took the Big Ten by storm as a freshmen but fell off a bit last season. If there is a collective step forward and the freshmen prove productive in a hurry, this is an NCAA tournament team waiting to happen. Right on schedule.
Worst-case scenario: Let's not forget, of course, that senior guard Matt Gatens was by far this team's most efficient scorer, not to mention its senior leader -- the guy who almost single-handedly shot Iowa into the tournament last season. His loss is a crucial one. Just as crucial is defensive improvement. In 2011-12, the Hawkeyes were a top 35 offensive team but ranked No. 180 in defensive efficiency and No. 278 in opponents' effective field goal percentage (eFG%). There is plenty of reason for optimism here, but if Iowa doesn't guard someone, it won't be dancing yet.
Michigan

Best-case scenario: Just last week, Big Ten Co-Freshman of the Year Trey Burke told the media he saw his team as a national title contender. That's a very optimistic best-case scenario, sure, but in such a wide-open hoops landscape, I'm inclined to agree. Burke is one of the nation's best lead guards, and he's complemented well by Tim Hardaway Jr.'s outside-in game. The Wolverines also have a pair of top 25-ranked freshman to fawn over. Like Hardaway, Glenn Robinson III comes equipped with NBA genes, while just last summer forward Mitch McGary was once considered one of the best five prospects in the Class of 2012. This is unquestionably the most talented Michigan team in a decade, and if the freshmen excel early Burke's opinion won't seem farfetched.
Worst-case scenario: It's hard to see this team, which is indisputably more talented and almost certain to be more dynamic, somehow not being in Big Ten title contention by the end of next February. But if somehow the Wolverines are merely above average in 2012-13, it could be because they carry over last season's just-OK defensive effort (No. 60 in adjusted defensive efficiency). Or because they lack the breadth of reliable 3-point shooters (Evan Smotrycz transferred, while Zack Novak and Stu Douglass graduated) who have come to define coach John Beilein's two-guard front offense, which relies on 3-point shooting to stretch the floor. I think Beilein will make it work, and I think Michigan will be very tough to beat. But increased success is far from guaranteed.
[+] Enlarge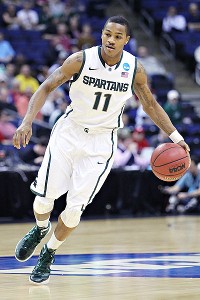 Greg Bartram/US PresswireKeith Appling hopes to keep Michigan State among the Big Ten's (and nation's) elite.
Michigan State

Best-case scenario: As good as Michigan's backcourt is, could Michigan State's actually be better? If Gary Harris, the No. 2-ranked shooting guard (and No. 11-ranked player overall) in the Class of 2012 lives up to his considerable hype, it's a distinct possibility. But for seniors Draymond Green and Austin Thornton (and one-year graduate rental Brandon Wood), the Spartans return everybody from last year's 29-8 redeem team, including big-bodied forward Derrick Nix, still-blossoming athletic freak Adreian Payne and impressive freshman Branden Dawson, who should recovery from an ACL tear in time to join the team for the Big Ten season. But the key to it all is point guard Keith Appling. If Appling is a star -- and I would bet he will be -- the Spartans will be right back near the top of the Big Ten, same as usual.
Worst-case scenario: I brushed over Green's departure casually in the above paragraph, but there's really no way to overstate just how important Green was to Michigan State in 2011-12. Not only was he the team's tireless vocal leader, he was its best scorer, rebounder and passer. Without Green to solidify everything the team did, it's not unfathomable to see Michigan State take a step back into respectable but not great territory.
Minnesota

Best-case scenario: After years of untimely injuries and personnel defections and being the Boston Red Sox to Royce White's Babe Ruth, coach Tubby Smith finally caught a break this spring when the NCAA announced that forward Trevor Mbakwe will be allowed return for a sixth year of eligibility. With the star power forward back in the fold, Austin Hollins, Julian Welch, Andre Hollins and Rodney Williams could form an intriguing lineup around him, and even without a touted recruiting class this should be Smith's deepest Gophers team yet. A return to the NCAA tournament feels likely, and a run at the Big Ten title is not out of the question.
Worst-case scenario: Mbakwe's back, sure, but there's a big difference between being back and being the hyper-athletic interior force we saw before he tore his ACL in November. We also need to see whether Smith can manage a deep rotation of good but ultimately replaceable players. At worst, this team repeats its 2011-12 mediocrity.
Nebraska

Best-case scenario: In the long term, Nebraska basketball is in great shape. It just hired a young, energetic coach, Tim Miles, just in time to recruit to some of the nicest facilities in the country, including a just-opened practice facility and a new downtown Lincoln arena set to open in late 2013. In the meantime, the reality is less bright: Miles is losing his best player (Bo Spencer) and a wide swath of supporting production from a team that wasn't very good in the first place. Best case? Play hard, have fun, build for the future and, hey, did you see the new practice facility? Plasma TVs for days, son!
Worst-case scenario: A sub-10-win season. Given the losses on the court, and the pre-existing struggles, this seems like the most likely scenario.
Northwestern

Best-case scenario: Finally, mercifully, a trip to the NCAA tournament. The Wildcats have been swinging and (narrowly) missing at this same elusive goal for more than a decade under Bill Carmody (and seven-plus decades total), but there is reason to believe this could be the year. Those reasons lie almost entirely in the backcourt, where Drew Crawford and JerShon Cobb should lead the way. Meanwhile, Louisville graduate transfer Jared Swopshire will give the Wildcats something they haven't had in forever: a real, live Division I big man. Hope springs eternal.
Worst-case scenario: Northwestern's great flaw in 2011-12 -- the one that kept it from topping Michigan and Ohio State in two crucial February home games -- was its utter inability to compete on the boards. Swopshire helps, but he's no low-post banger, and his addition (like that of two 7-foot freshman projects Alex Olah and Chier Ajou) may not be enough to erase the Wildcats' horrendous rebounding woes. And without sharpshooter John Shurna, will NU's offense keep the pace? The worst-case scenario here -- another decent season that ends in an NIT offer -- will be all too familiar to Wildcats fans.
[+] Enlarge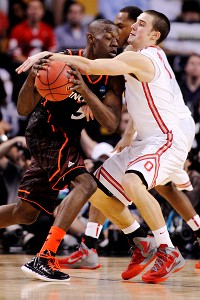 Greg M. Cooper/US PRESSWIREAaron Craft is a stifling defender returning for his third season.
Ohio State

Best-case scenario: It's a testament to Thad Matta's year-over-year recruiting prowess that Ohio State -- despite losing All-American Jared Sullinger and four-year shooting guard William Buford -- isn't expected to fall out of Big Ten title contention this season. Aaron Craft, the nation's best perimeter defender with a bullet, is back, as is multidimensional scorer Deshaun Thomas. If the rest of the cast -- center Amir Williams, guard Shannon Scott, forward Sam Thompson and guard Lenzelle Smith -- unleashes its talent and blossoms into a balanced unit, the Buckeyes can compete at the highest levels of the sport yet again.
Worst-case scenario: Losing your best senior and your best player in one fell swoop isn't easy, nor is rebuilding a team with a group of inexperienced players a walk in the park. For all his talent, Thomas has been a mercurial presence during his career, often seeming to care more for his touches and shots than making the best play possible. This team is too talented to write off as potentially mediocre, but it's not hard to envision a solid season that nonetheless falls short of Matta's high recent standards.
Penn State

Best-case scenario: Tim Frazier destroys everything in his path and takes the rest of his teammates along for the ride. Look, whatever happens to Penn State's athletics department in the next five years -- and let's not go down that road in this space -- let's hope it doesn't affect the basketball program. Pat Chambers is entering only his second year trying to rebuild a program at a school that has never much concerned itself with hoops. It takes time. Forward momentum is probably the best hope for this season, all things considered.
Worst-case scenario: The words Penn State and "worst-case scenario" don't really seem appropriate together right now, but from a sheer basketball perspective, it's pretty simple: If Frazier doesn't get a fair amount of help from a batch of sophomores and juniors, the Nittany Lions could languish near the 12-14-win mark, if not worse.
Purdue

Best-case scenario: Now that the last vestiges of the Robbie Hummel/E'Twaun Moore/JaJuan Johnson/Chris Kramer (never forget Chris Kramer) era are passed us, it may be time for a bit of a rebuild at Purdue. The good news? Coach Matt Painter landed three top-100 recruits in the Class of 2012: center A.J. Hammons, shooting guard Raphael Davis and point guard Ronnie Johnson. None of the three are ranked among the best 14 players at their positions, but none are ranked lower than 18th, and if all three are ready to contribute right away Purdue should remain a viable presence in the middle of the Big Ten standings.
Worst-case scenario: Again, none of those freshmen are surefire, ready-to-win-today talents, at least not according to their rankings (which can be deceptive), and Purdue is losing a lot from a team that overachieved in 2011-12 in the first place. After losing Hummel, Lewis Jackson and Ryne Smith (and seeing Kelsey Barlow dismissed midseason), the Boilermakers' best two returners are D.J. Byrd and Terone Johnson. Pessimistic fans are bracing themselves for a full-on transition season. It had to happen eventually.
Wisconsin

Best-case scenario: Bo Ryan doesn't land hyped prospects all that often -- his program is more about slow-burning substance than quick-fire style -- but he did exactly that in this year's class. Sheboygan's own Sam Dekker, a 6-foot-7 perimeter-scoring small forward, ranks No. 17 overall in the Class of 2012 and No. 4 at his position. Ryan will insert Dekker into the lineup immediately, where he will be surrounded by pretty much everyone not named Jordan Taylor -- Ryan Evans, Jared Berggren, Mike Bruesewitz, Ben Brust and Josh Gasser -- from last season's Sweet 16 team. Wisconsin will always work the clock, and it will always defend. If Dekker adds some dynamism to the mix, the Badgers will compete for the Big Ten title.
Worst-case scenario: Let's not forget just how important Taylor was. His senior season couldn't match his junior year -- one of the most efficient seasons by any guard in the past decade -- but he was still Wisconsin's best and most important player, a go-to guy ready to take every big shot, particularly when the Badgers ground the shot clock into predictable expiration. Brust and Gasser will have to take over much more of the ballhandling duties in his stead. Wisconsin never finishes lower than fourth in the Big Ten under Ryan, and there's no reason to believe 2012-13 will deviate from that trend. But it remains to be seen if this team can genuinely threaten the league's elite without Taylor at the helm.