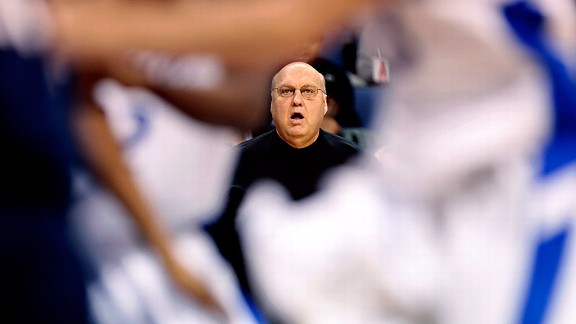 AP Photo/Whitney CurtisOver the past year, Rick Majerus has had to deal with a number of issues on and off the court in St. Louis.
It's Been A Rough Year, But Majerus Has Hope
BROOKLYN, N.Y. -- Rick Majerus' left leg is still a bit bruised from a freak injury that occurred when two players collided into him during a game against Bowling Green on Jan. 1, sending him into the scorer's table and ultimately to the hospital.
His heart is still broken after the summer death of his mother, Alyce, whose long battle with cancer led her to be placed in hospice care.
And he's still seething over a coaching move from just last week, when the Cleveland Cavaliers hired his top assistant and former player Alex Jensen to coach for the Cavs' D-League team four days before practice was set to begin.
"I was LeBron-ed by the Cavs," Majerus said. "It was four days before the season. I told them I'll drive Alex to Cleveland in March and pay his salary but I couldn't lose him now, not when he was in with three recruits and four days before the season."
Yet despite the personal setbacks, including needing a stent placed in an artery, Majerus, 62, is feeling as good about a season as he has since he arrived at SLU five years ago.
After Jensen's stunning departure, Majerus upgraded the staff when he hired former Evansville and Army head coach Jim Crews, who won't move to St. Louis but will be with SLU at least through the season.
It's a season that begins with high hopes. The Billikens, who won just 12 games last season (6-10 in conference play), were selected to finish third in the Atlantic 10 behind Xavier and Temple. "Everything bad that could happen last year happened," Majerus said during the A-10 media day in Brooklyn. "I lost an assistant to Loyola [Porter Moser], I lost my film guy with him, I lost three out of five of my staff [with Jensen now, too], I lost my mom, I had a stent and I lost two of my best players." The Billikens had to play last season without Willie Reed and Kwamain Mitchell. Both players were suspended for the season. Reed didn't return and is playing professionally overseas. Mitchell stuck out the suspension and is back on the roster two seasons after averaging 15.9 points as a lead guard. Mitchell is a preseason second-team A-10 selection. The return of sophomore Mike McCall Jr., sophomore Dwayne Evans and senior Brian Conklin as well as a healthy Cody Ellis and utility starter Kyle Cassity give the Billikens a chance to live up to the preseason prediction.
[+] Enlarge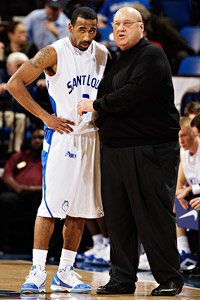 AP Photo/Jeff RobersonSaint Louis coach Rick Majerus welcomes the return of point guard Kwamain Mitchell after a season-long suspension.
"I said I can't look back anymore," Majerus said. "We can't have what happened last year. Hopefully we won't suspend our top two players, an all-league guard, and we don't lose players to injury like Ellis [dislocated shoulder]. I don't think I'll go down for six games with a cut-leg injury, either." Majerus said he was standing by his bench looking at a play develop when the next thing he knew, two guys barreled into him and slammed against the scorer's table. His leg was cut by something sharp on the corner. "I was bleeding like a stuffed pig," Majerus said. "It was down to the bone. The force of the hit meant I couldn't brace myself. It was funny at first, but then the next thing I know I'm in the hospital fighting off a leg infection." The Billikens lost the next three games to end a six-game slide. Majerus had been ill at the start of the skid when the team was in Cancun. Majerus, who openly talked about his mother for years and was devoted to being a caregiver as much as he could from St. Louis while she lived in Milwaukee, dealt with her declining health early in the summer during recruiting. How the NCAA and other rival coaches handled the situation has him fuming. He said he had to get a doctor's note to show why he wasn't recruiting on the road. "My mom was fighting for her life, and they want verification?" Majerus said, his voice cracking as he discussed his mother. "The doc looks at me and said he has a 6-year-old son, and he understands the word 'hospice.' I missed the whole summer [of recruiting] to be with my mom. There were some guys [rival coaches he alleges] who said, 'He wasn't out looking out for you [recruits] this summer.' Well, wait until those guys' time comes with their mother, and you're responsible for someone's life and care." Majerus, who is on blood thinners for his heart condition, wasn't cleared to coach the Billikens on a summer tour to Canada because it was so soon after his stent procedure. But he did pull a classic Majerus. He mixed in frolicking and fun for the team while ensuring that his players practiced at great length -- a stable of the hard-driving Majerus, who did look for off-beat experiences for his teams on the road when he was at Utah. Majerus didn't participate, but he took the team whitewater rafting on the Ottawa River. "My doctors weren't excited about me going on the trip, but now I'm in good shape, and I'm trying to lose weight and working hard at it," he said. "I had a three-hour practice on the day of one of the games that I ran. They won't remember who we played on that trip, but they'll always remember the whitewater rafting and cliff jumping." By March, Saint Louis may have more memories than cliff jumping and whitewater rafting. If everyone on the roster can stay healthy (including Majerus), this squad has enough to be in the mix for an NCAA tournament bid. And Majerus didn't shy from challenging the team with games against Washington, a potential matchup with Villanova in the 76 Classic and a New Year's Eve game at New Mexico. "I'm back, and I'm energized," Majerus said. "And I feel good."
Nicholson Has Bonnies Thinking Big
BROOKLYN, N.Y. -- St. Bonaventure has a future first-round NBA draft pick on its roster and a team that could challenge for a top-four finish in the Atlantic 10. Let that settle in for a second. Because this is no joke. This is really happening in Olean, N.Y., where for years, the Bonnies have attempted to be relevant. The Reilly Center is one of the most underrated and feared home courts in the country. The problem is that few outside the A-10 know about it, because most schools don't ever want to play the Bonnies on their campus. "Our tradition is in the '50s, '60s and '70s," fifth-year coach Mark Schmidt said. "Xavier and Temple have the budget and the tradition. We're trying to break in. We've been able to beat the lesser teams, and now we have to go after the big ones."
[+] Enlarge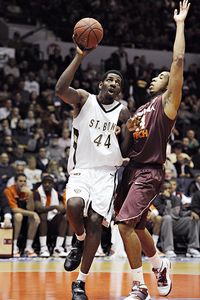 Richard Mackson/US PresswireSt. Bonaventure's Andrew Nicholson (20.9 ppg) is the DI's third-leading returning scorer.
With Andrew Nicholson, the Bonnies have a legitimate chance to knock any of them off. He's that good. The 6-foot-9 senior from Mississauga, Ontario, is a preseason Wooden All-American and averaged 20.8 ppg last season as the nation's third-leading returning scorer. He has scored more than 1,500 points and grabbed more than 600 rebounds. He's also blocked 181 shots. "He's our Bob Lanier," Schmidt said. "We can't put undue pressure on him. But if someone said that when we took over when we had three scholarship players, and then in four years would have a first-round draft pick and be picked fourth in the league, I would have said, 'What are you drinking?' "We have to temper the excitement a bit and don't say that if we don't go to the NCAA tournament, the program collapses. But at the same time, in order for St. Bonaventure to be successful, it has to be when the juniors become seniors. We can't get the top-100 guy. We have to develop them to their junior and senior year. Now we're in a position and have a great opportunity. If there's a time to break through, now is the time, since we have a kid like this once in a quarter century." Schmidt said he had goose bumps going up his spine when he saw Nicholson play for the first time and had a feeling the Bonnies would have a shot if he remained under the radar. Nicholson didn't play on the road the summer after his junior year due to a broken ankle. "All he has to do is make one dunk, and he's not going to Bonaventure," Schmidt said. Apparently the main reason the Bonnies got Nicholson was there was a new science building, and Nicholson wanted to be a chemist. "Now he has changed from chemistry to physics," Schmidt said. Nicholson, a young man of few words, said the Bonnies have meshed together quite nicely for this potential NCAA run. Getting recognition in Olean is virtually impossible. "It's pretty tough and the only way for us is to keep winning," Nicholson said. "This is my last go-around, so we definitely want to go to the tournament." The praise for Nicholson was universal at A-10 media day. "Andrew is multitalented," Charlotte coach Alan Major said. "He can score around the rim. He makes the 15-foot jump shot. There's such a calmness to him that it's hard to speed him up and get him out of sorts. He's seen every defense thrown at him. And he doesn't get rattled. He gets what he wants." Added UMass coach Derek Kellogg: "If you don't double-team him, he's going for 25 and 15 [points and rebounds]. I've seen a lot of good big guys, and he's an NBA player. He's probably the most valuable player to a team in our league because of what he means to that team and that program." Saint Louis coach Rick Majerus said Nicholson is a lottery pick. "He has phenomenal hands," he said. "He killed us with his passing. He's accustomed to a double-team. He can play the 4 or the 5. He's a pro. He's long and athletic." The Bonnies do have other pieces like guard Michael Davenport (11 ppg) and forward Demitrius Conger, another double-figure scorer. They also have a decent nonconference schedule that includes games at Virginia Tech, at Illinois and against NC State in Rochester, N.Y. Playing six true road games in the nonconference schedule will help the overall RPI. The unbalanced A-10 schedule is a mixed bag, as St. Bonaventure gets only one crack against Xavier and Saint Louis, and both games are on the road. The one plus is that Temple has to come to Olean. "Mark has done an excellent job of developing those kids," said Rhode Island coach Jim Baron, a former coach and player with the Bonnies. "I'm happy for him and them. Andrew is not only a great player, but an excellent student and a terrific person. But now everything will be different for them. They'll have the bull's-eye on their back."
Can X Break Through To The Final Four?
BROOKLYN, N.Y. -- Xavier has Final Four ability, no question. But do the Musketeers have the mental toughness to handle being the team to beat in the A-10 yet again?
"It's a challenge as a basketball player, but you want to have your back against the wall," senior guard Tu Holloway said. "You know you're going to have to be up every time we're on the road, whether that's at St. Bonaventure, UMass or Dayton. Every game is a challenge." Xavier is akin to Butler in the Horizon or Gonzaga in the WCC. The Musketeers likely will be the top draw for every A-10 team.
[+] Enlarge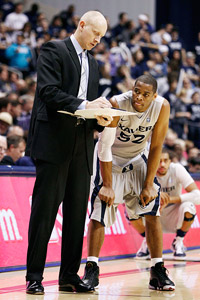 Frank Victores/US PresswireTu Holloway not only averaged 19.7 ppg last season but also led the A-10 in assists (5.4 apg).
"Whenever you look at the best teams in college basketball, they have to win on the road," Holloway said. "Kentucky struggled on the road last year. Duke was dominant at home but lost at Virginia Tech on the road. It's hard on the road. That's why it's a great feeling for us at Xavier when we win on the road. We call it a road kill when we get on that private plane heading home with a win." Holloway and
Mark Lyons
should form one of the top backcourts in the country. Brad Redford is a sharpshooter and healthy again.
Andre Walker
, a transfer from Vanderbilt, gives the Musketeers another experienced option. So does Travis Taylor, a big-scoring transfer from Monmouth. Newcomers
Justin Martin
, who had to sit out last season, and freshman Dezmine Wells will have an impact. Center
Kenny Frease
was suspended indefinitely this past weekend for not fulfilling team responsibilities. If Frease can get his act together, the Muskies will have all the pieces in place to be a sleeper pick for New Orleans. "I think we have a chance to do something special," Xavier coach Chris Mack said. "But I'm also a realist, and we play some damn good teams. We're not rolling into the A-10 at 15-0." Holloway projected the Musketeers would win 30 games. "We're ready for a big year and we know in the back of our heads the Final Four," Holloway said. "We need a big year because the people are expecting so much."
There's Another Baron In Town At URI
BROOKLYN, N.Y. -- Jim Baron already has experience coaching his son Jimmy at URI. Will there be a difference coaching his younger son Billy? Billy Baron attempted to go his own way when he chose Virginia over Rhode Island. But halfway through his freshman season, Baron decided he wasn't a fit playing for Tony Bennett. So he came home. And so far, his father couldn't be more pleased with Billy's work ethic. "He's a tremendous worker," Jim Baron said. "I just want him to relax. He gets too hyped. I think that's from being home. But I also think having Jimmy in front of him is going to help him." Jimmy Baron already has given his younger brother insight on how to play at this level and for their father. "Jimmy didn't have that," Jim Baron said of his older son, who was a superb 3-point shooter during his time at URI from 2006 to 2009. He's currently playing professionally overseas. Billy Baron will be eligible to play for the Rams on Dec. 23 when they host in-state rival Providence. "There will be some growing pains, and we play a different style than he's used to, but he's looking forward to it," Jim Baron said. "He's got a great body, and he's really physically fit. He's built like a brick house. He's really chipped." Does he get that from his father? "Yeah, I was picking up those cheeseburgers while I was in Olean at St. Bonnies," Jim Baron said. "He's a little bit more mature than Jimmy was at his age. And he's more of a scorer then a shooter. Jimmy was a pure shooter. He's got more athletic ability than Jimmy. He's a quicker guard, and we need that. He'll attack the bucket."
Richmond coach Chris Mooney
Atlantic 10 Capsules

Charlotte: The 49ers return four starters, but that's off a team that finished with just two wins in the league. Coach Alan Major has seven newcomers. "The only way to have them out there is let them sink and swim sometime," Major said. Charlotte is deeper, but don't expect major transformation. This team will be a work in progress throughout the season. The 49ers will add FBS football in 2013, and Major hopes it will help ensure that the athletic department has long-term stability.


Dayton: New coach Archie Miller is cautiously optimistic about the Flyers, saying he has plenty of pieces to keep the team intriguing. Miller said one player who isn't getting much pub but should is Kevin Dillard, the former Southern Illinois guard. The Flyers will rely on him heavily. UD has a home-heavy nonconference schedule, so it has a chance to reach A-10 play without being too bruised.


Duquesne: Dukes coach Ron Everhart is sort of starting over with eight underclassmen after finishing tied for fourth last season in the A-10. Everhart couldn't really say what kind of team he'll have this season. Some optimism surrounds 7-foot-1 Latvian center Martins Abele. The Radford transfer won't be eligible until 2012-13, but he'll have an impact on the practice court from the outset.


Fordham: The Rams were picked 14th -- last -- in the preseason poll. But you would have a hard time believing that if you talked to Tom Pecora. The coach couldn't have been more positive about his team, insisting that Fordham will surprise people. Pecora has a young roster. Let's see whether the Rams can improve on last season, when they won just one A-10 game.


George Washington: New coach Mike Lonergan will have a hard time duplicating GW's 10 A-10 wins from last season. The Colonials have senior point guard Tony Taylor back and return their top three scorers. But it was hard to get a read from Lonergan on this group. GW was picked to finish eighth, and that sounds about right.


La Salle: The Explorers lost leading scorer Aaric Murray to West Virginia, but those inside the program don't seem all that worried. Murray was hard for Dr. John Giannini and his staff to coach. Giannini is essentially starting over in Year 8, and his team was picked to finish 13th. But he showed no concern about his contract situation or his future at La Salle, choosing to remain optimistic about this team and program. The Explorers have a scorer in Earl Pettis and an intriguing transfer in Ramon Galloway, who averaged 10 points a game for South Carolina last season.


Massachusetts: The Minutemen have a real steal in Chaz Williams. He was a stud for the Hofstra Pride two seasons ago, playing next to Charles Jenkins. UMass coach Derek Kellogg said he didn't speak to one CAA coach who didn't praise Williams. The Minutemen were picked 12th in the preseason poll, but Kellogg had no issue with the spot and kind of relished being picked low.


Rhode Island: URI has won 20 or more games in four straight seasons but has yet to crack through to the NCAA tournament in Jim Baron's 10 seasons. The Rams are always competitive, a pest and a tough out, but they must find a way to break through soon. The Rams were picked 10th, and Baron said his young group will have to win by committee. Translation: There is no definitive star but a collection of players who could surprise.

Richmond: The Spiders don't have Kevin Anderson or Justin Harper anymore. Only one starter (Darien Brothers) returns, but that doesn't mean the Spiders are primed for a major fall. This isn't a Sweet 16 team like last season, but clearly there is plenty of respect for what Chris Mooney has built based on this season's fifth-place prediction. Mooney sounded pretty pumped about his team. Will UR surprise again?


St. Bonaventure: Bonnies coach Mark Schmidt was ecstatic about getting two nationally televised games on ESPNU against Illinois in Champaign and at Xavier. The Bonnies were picked to finish fourth, indicating that respect is finally coming to Olean. It might be hard to find two seniors more important to a possible bubble team than Andrew Nicholson and Michael Davenport.


Saint Joseph's: The Hawks have been mired in mediocrity for a spell, but coach Phil Martelli remains optimistic that the Hawks are close to turning the corner. The Hawks have their backcourt returning in Carl Jones and Langston Galloway, but this team once again has an odd class balance with no seniors and two juniors. Saint Joe's was picked to finish seventh. Finishing higher would be a surprise.


Saint Louis: Rick Majerus' quick move to hire Jim Crews to replace Alex Jensen could go down as a major coup. SLU essentially picked up another head coach in Crews, who understands the demands that Majerus will put on a team. The two are passionate about practice and fundamentals. This should be a good mix. They are contemporaries, and the roster is veteran enough to handle an experienced coaching staff.

Temple: The backcourt of Juan Fernandez and Ramone Moore is solid and will be more than capable of scoring. The key for the Owls and the unknown is how this team can make up for the loss of Lavoy Allen, whom coach Fran Dunphy called a great defensive player. "I was looking at the tape recently, and we never had to worry about where he was defensively," Dunphy said. The Owls were picked second. Anything less would be disappointing.


Xavier: The Musketeers again have a daunting schedule. Xavier has to go to Vanderbilt and Butler; hosts Cincinnati, Purdue, Georgia and Gonzaga; and plays a tough first-round game against Big West favorite Long Beach State in the Diamond Head Classic. X could face Clemson or Kansas State in Honolulu as well. Tu Holloway predicted a 30-win season. If that happens with this schedule, the Musketeers will garner a top-two seed in the Big Dance.

A-10 Preview Content
For a Blue Ribbon breakdown of all 14 A-10 teams, click here.
More Atlantic 10 coverage:
• Eamonn Brennan's "Five Things I Can't Wait To See" in the A-10
• John Gasaway answers five key questions for the conference
• New Faces, New Places: Andy Katz profiles the league's two new head coaches: Archie Miller (Dayton) and Mike Lonergan (George Washington)
• More video interviews: Katz with Saint Louis coach Rick Majerus, St. Joe's coach Phil Martelli and Xavier All-American candidate Tu Holloway.
• Katz says they're all chasing Xavier in the A-10.
• Dana O'Neil rates and analyzes the nonconference schedules of the Atlantic 10.

• For more Atlantic 10 coverage in the Nation blog, click here
Dayton coach Archie Miller
Saint Joseph's coach Phil Martelli
Brennan's A-10 Wind Sprint