Florida Elite Again Under Billy Donovan
HOOVER, Ala. -- Billy Donovan is entering his golden era in the SEC.
He is the longest-serving head coach in the conference, and he continues to produce winners in a variety of ways. Donovan put together a dream team of sorts when the development of the '04s produced consecutive national championships in 2006 and '07. After that, though, he weathered a team that considered itself grandfathered into greatness rather than earning it, which resulted in two NIT bids. Now, it seems, the Gators have caught more of a rhythm. Sure, Bradley Beal turned out to be a one-and-done, but this new wave of success -- which has included back-to-back Elite Eight appearances -- isn't made of quick fixes. Donovan has pursued players who took longer but still flourished under his watch in Gainesville. "I don't think I've really changed," he said. "I've always felt that we go after a certain player that loves to play, a competitive player, one that has passion and loves to win. "Some are ready after a year, some are not. Some stay three years, some stay four. Sometimes you have a special player like Bradley Beal who can make a huge impact and go and be a draft pick. I don't think I've changed the way I've recruited, but it has worked out that way." That's why the Gators must be taken seriously yet again. Florida has an experienced roster with Kenny Boynton, Scottie Wilbekin and Mike Rosario logging significant minutes on the perimeter and a frontcourt of Patric Young, Erik Murphy, Casey Prather and Will Yeguete all seeing time when games mattered.
[+] Enlarge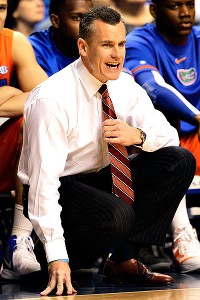 John Sommers II/Icon SMIBilly Donovan has the Gators back on track in Gainesville.
This is Donovan's 17th season at UF. He has worked for the same boss, athletic director Jeremy Foley, making his situation even more comforting. "Time flies, and it's hard to believe I've been here 17 years," Donovan said. "It's been great for my family to be at the same place. I feel very fortunate." Donovan said he learned more about himself as a coach in having to build the Gators back up to national prominence after the two titles. The challenge was immense, but he has come back strong yet again with a real shot to get to a third straight Elite Eight and a possible fourth Final Four. "It's an incredible learning experience, and it's hard to come to the realization that you have to start over," said Donovan of the rebuild. "After we won in 2007, the revelation was that we had to start over. We went to back-to-back NITs and then got into the NCAA tournament with a legit chance to go to the Final Four. "Those times were very rewarding for me as a coach. I had to start over again, build it back up, and it motivated me and inspired me to take on the challenge. You're going to have peaks and valleys as a coach. And in 17 years those experiences are going to mold and shape you." Kentucky is picked to win the SEC regular season and is a consensus top-five team. Florida is not. This is exactly the way Donovan likes it -- coaching a potential champion without the hype. He had that in 2000 when he reached the title game. He had it again in 2006 when the Gators claimed his first title. Could 2013 be another special year in Gainesville?
New Setting Doesn't Dampen Mizzou Expectations
By Alex Scarborough
TideNation.com
HOOVER, Ala. -- You'd think these SEC folks knew a thing or two about Missouri from the way the media tabbed Frank Haith's Tigers as the third-best team in the conference and selected starting point guard Phil Pressey as the Preseason Player of the Year.
All that before Missouri had played a game as league members. Welcome to the SEC, where you're expected to compete right away. "I remind people this all the time because there's some expectations of our team already," Haith said. "There are only two guys on our team that we coached last year -- that's Michael [Dixon] and Pressey. Everybody else is new." While the preseason accolades are nice, Haith said, they're also just awards for something you might do, not something you've actually done. Pressey has to earn the mantle as the top player in the league, just as the Tigers will have to prove they're worthy of being mentioned alongside SEC stalwarts Kentucky and Florida. "He's got to go out and play," Haith said of Pressey. "He understands that. He's talented enough to go out and compete." Pressey will be joined by three potentially pivotal transfers this season: former Pepperdine star Keion Bell, former Oregon guard Jabari Brown and Auburn transfer Earnest Ross. Bell ingratiated himself to Tigers fans by jumping over six people on a dunk at Mizzou Madness.
[+] Enlarge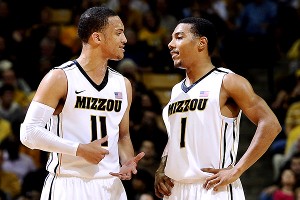 Dak Dillon/US PresswirePhil Pressey and Michael Dixon return, but there are plenty of new faces at Mizzou.
"All three of those guys are going to have impact on our team," Haith said. Throw in former UConn center Alex Oriakhi, whom Haith called the team's Christmas present because he was unexpectedly cleared to play this season, and the number swells to four. The 6-foot-9, 255-pounder will likely start at center. In a league Haith characterized as more athletic and pressing on defense than the Big 12, he'll need all the bodies he can get. The Tigers that won 30 games and the Big 12 tourney a season ago were built on chemistry, Haith said. This year's squad won't start out with the same luxury of common experience. It'll have to prove it with mettle. If Haith wants a blueprint on how to handle a roster overhaul, he need look no further than the defending champion he shares a league with now. Kentucky, which returns zero starters from a year ago, has made a living overcoming inexperience with talent and coaching. "I applaud [John Calipari] on what he's done," Haith said. "It's very difficult what he does in terms of having a whole new team every year, basically. Last year's team, he did have some veterans, Terrence Jones and Doron Lamb and Darius Miller. I think he'll tell you that helped, but the nucleus of his team has always been young guys. He got those guys to play so hard on the defensive end. "That's always the thing with young kids, getting them to understand how hard they've got to play on the defensive end of the court, and he's done that." Haith's players may not be quite as young or as talented as Calipari's, but the expectations are sky high just the same, even if the continuity isn't there. The media have high hopes for a Missouri team entering a new league for the first time in more than a century, even if Haith doesn't want to admit it yet. "Whether we're picked high or picked low," he said, "I don't want our guys focusing on that."
Plenty Of Unknowns For Rebuilding Vandy
HOOVER, Ala. -- Kevin Stallings wanted the SEC tournament title badly last season -- and he got it. The victory over No. 1 Kentucky didn't propel the Commodores to a magical March Madness run, as they fell to Wisconsin in the NCAA tournament after taking down Harvard. But the impact of Vandy's SEC tournament title win shouldn't be dismissed, even after the departure of three NBA-bound players (John Jenkins, Jeffery Taylor, Festus Ezeli) turned this into a rebuilding season. A championship win over Kentucky holds significant meaning in this conference, proving the Dores could hold their own against the top of the SEC. "We've established a standard," Stallings said. "The standard was actually set before Jenkins and Taylor arrived. We had teams that were successful. The only thing that kept us from having a much better profile was getting our ass beat two years in a row in the first round. "We had established a standard that these guys built on it, and the fact that we had three picks in the top 31 heightens the awareness." Rebuilding? Maybe. But Vandy doesn't plan on going away. "I told our team that we're not lowering the standard," Stallings said. "We're not backing up. We might back up for a year with wins and losses, but we're not backing up expectations. I think they get that." There's a reason the Commodores are picked to finish 10th in the SEC. The talent of Kentucky and Florida, the addition of Missouri and the rise of Tennessee, Arkansas and Ole Miss should push the Dores down. And there's no doubt the talent has taken a dip. It's unknown if junior forward Rod Odom can carry this squad or if oft-injured 6-11 sophomore Josh Henderson can return to be effective inside. Stallings is selling the potential of German freshman guard Kevin Bright and is high on the possibilities from Shelby Moats, Dai-Jon Parker and Kedren Johnson. But he isn't certain. "Right now, we don't have a low-post guy playing with us with Josh out," Stallings said. "But we'll figure it out. We could use five [perimeter] players. It's going to be unconventional. We have an unconventional team." Stallings compared the style of play of this team to the one that pushed Georgetown during the 2008 Sweet 16. "That was one of the best teams we've ever had for guys passing, catching and shooting," Stallings said. "The nuances of that team are there here. It's fun to coach that way. We may be hard to guard. We may not be." With his son getting married over the weekend and his program a consistent winner, Stallings is in a good place these days. Will it continue in 2013? Possibly not. But the dip shouldn't be recognized for anything more than a normal transition for an established SEC program that is expected to be a winner. Stallings would settle for nothing less.
Frank Martin Has A Tall Task At South Carolina
By Alex Scarborough
TideNation.com
HOOVER, Ala. -- Frank Martin is calling on names like Frank McGuire and Eddie Fogler. The coaches South Carolina fans haven't heard from in decades are in the front of Martin's mind when he is asked how he'll build the Gamecocks' lackluster basketball program into one that can compete in the SEC. Martin, who left Kansas State for South Carolina during the offseason, sports a garnet paisley tie and a Palmetto State flag pin on his lapel these days and makes a point of harkening back to the legends of South Carolina hoops long forgotten. The era of big-time basketball in Columbia is far from the memory of most but not too distant for Martin to recall.
[+] Enlarge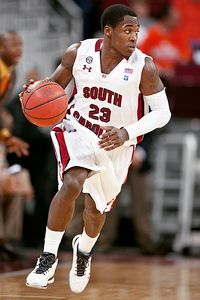 Jake Drake/Icon SMIBruce Ellington is South Carolina's best player, but he won't be available until after football season.
"People tend to forget you couldn't get a seat in the Frank McGuire Coliseum back in the day," he said at SEC media day Thursday. "We're kind of rekindling that passion, reconnecting that great past with the present." McGuire and Fogler took the Gamecocks to six of the school's eight NCAA tournament appearances. In three seasons, Darrin Horn couldn't get there and got the axe because of it. Now, it's Martin's job to get South Carolina to the promised land, and he is thankful Horn didn't leave the cupboard completely bare. "There is a lot of structure in place that has allowed us to come in and build rather than have to recreate a foundation," Martin said. The foundation may be a tad short, though. Martin, who projects to have just one starter above 6-foot-8, joked with reporters when asked what he felt the team's strength would be this season. "Size," he said. "We're real short. They won't find us on the court. They'll look around, and we're running between people's legs." But there's a counter to that. What South Carolina lacks in size, it may make up for in quickness and shooting ability -- or at least Martin hopes it plays out that way. "We're fast," he said. "I'll say this now and then. Then the games will start and you'll probably see me on the sidelines and say, 'I thought you said they could shoot.' But after 11, 12 practices, whatever it's been, we shoot it halfway decent." Of the players Martin inherited from Horn, the biggest acquisition may still be missing in action. Bruce Ellington is slated to be Martin's 5-foot-9 point guard. The problem? He is currently Steve Spurrier's 5-foot-9 wide receiver. Ellington was second on the team in points scored despite missing time last season playing football. While Martin said he'll have to continue practicing as if Ellington isn't on the team, he was more than welcome to the idea of welcoming him into the fold when his obligation to football is complete. "I've got tremendous respect for him," Martin said. "It's hard to do one and do it at an elite level. It's impossible to do two. If he's willing to do two, that speaks volumes for the type of kid that he is." If Ellington's success on the football field carries over to the hardwood again, there won't be a happier man in Columbia than Martin. In fact, Martin wondered why when South Carolina is competing for national championships in football and baseball, basketball can't follow suit. "If everyone else is succeeding, why can't we?" Martin asked.
Preseason Media Poll
1. Kentucky
2. Florida
3. Missouri
4. Tennessee
5. Arkansas
6. Alabama
7. Ole Miss
8. Georgia
9. Texas A&M
10. Vanderbilt
11. LSU
12. Auburn
13. South Carolina
14. Mississippi State

They said it

Alabama: "Trevor [Releford] has an opportunity to take on more of a leadership role from a standpoint of being vocal. He can really make our young guys understand."
-- Anthony Grant on his starting point guard

Arkansas: "B.J. Young's got to be more well-rounded. He had a tremendous freshman year. Maybe this year we can do other things."
-- Mike Anderson on his sophomore guard, who was a second-team All-SEC selection in 2011

Auburn: "I don't know the last time he's missed a shot in practice. He's been playing really, really well."
-- Tony Barbee on Frankie Sullivan, who played most of last season injured

Florida: "He is one of the best defenders in our league. He has two years of good, quality minutes under his belt. He has been in some key situations, but now a bigger role is going to fall on his shoulders."
-- Billy Donovan on Scottie Wilbekin

Georgia: "Marcus Thornton looks as good as he did when he stepped on campus. Last year with two knee surgeries, I have so much respect for him for playing through the pain and working hard to return. He looks good. I am cautious with him to be precautious on his health."
-- Mark Fox

Kentucky: "He has a little bit of Michael Kidd in him, like he just has a fire, a motor that runs hot."
-- John Calipari on freshman Archie Goodwin

LSU: "The great thing for Anthony [Hickey] is he had the opportunity to be thrown into the fire last year and play a lot of minutes, starting all but one game. They say a lot of times the best thing about freshmen is when they become sophomores."
-- Johnny Jones

Mississippi State: "Jalen Steele, Fred Thomas and Colin Borchert -- those guys have done a good job of shooting the basketball so far. But I don't know if they'll get those opportunities to penetrate and get inside and throw the ball inside to Wendell [Lewis] and score."
-- Rick Ray

Missouri: "We signed Keion Bell, who scored over 1,300 points at Pepperdine. He's very athletic. At Mizzou Madness, he jumped over seven, or six players. He's very gifted athletically."
-- Frank Haith

Ole Miss: "My challenge to him is to be a double-double guy. [Reginald] Buckner is the leading returning shot-blocker in the SEC. He's a senior leader. If he doesn't go out and lead our league in blocked shots, in my opinion he hasn't done what he's capable of doing."
-- Andy Kennedy

South Carolina: "It's hard to do one and do it at an elite level. It's impossible to do two. If he's willing to do two, that speaks volumes for the type of kid that he is."
-- Frank Martin on Bruce Ellington, who also plays on the Gamecocks' football team

Tennessee: "He's fun to watch right now. You're talking about a guy 265, almost 270, [with] 8 percent body fat. He's quicker, more explosive. … He's attacking off the dribble like a wing player."
-- Cuonzo Martin on Jarnell Stokes

Texas A&M: "For us to be good, they have to have great years. Not just average years; they've got to have great years."
-- Billy Kennedy on the Turner brothers, Ray and Elston

Vanderbilt: "Kedren Johnson has been that guy of our perimeter players that has essentially stepped forward and identified himself as a guy we can play through and go to."
-- Kevin Stallings
Tennessee's Cuonzo Martin
Preseason Media Picks
Player of the Year: Phil Pressey, Missouri

All-SEC First Team
Phil Pressey, Missouri
Kenny Boynton, Florida
BJ Young, Arkansas
Jarnell Stokes, Tennessee
Nerlens Noel, Kentucky
All-SEC Second Team
Michael Dixon Jr., Missouri
Kentavious Caldwell-Pope, Georgia
Marshawn Powell, Arkansas
Alex Poythress, Kentucky
Jeronne Maymon, Tennessee
Patric Young, Florida
SEC preview content
For a Blue Ribbon breakdown of every SEC team, click here.
More SEC coverage:
• Video: ESPN.com interviews Georgia coach Mark Fox at SEC Media Day
• Dana O'Neil's with five things she can't wait to see in the SEC
• Jay Bilas answers five burning questions for the conference


• Jason King with an in-depth looks at the pressure surrounding top-ranked recruit Nerlens Noel and the hyped Kentucky freshmen class as a whole
• Our staff of writers gathers to answer questions at the SEC roundtable
• Brennan's Three Big Things on Kentucky and Florida
• Myron Medcalf rates and analyzes the nonconference schedules of the SEC
• Katz on John Calipari's attempt to play down expectations for his Kentucky Wildcats
• Dave Telep identifies the top freshmen and potential recruits in the Big Ten


• Podcast: Katz talks SEC hoops with various coaches at Media Day
• ESPN.com's Summer Shootaround preview of the Big Ten
• Chad Ford on the SEC's best NBA draft prospects


• For more SEC coverage in the Nation blog, click here

Brennan's SEC Wind Sprint