The SEC's disappointing season carries on
By Myron Medcalf
ESPN.com
On Sunday afternoon, Mark Fox and his assistants stayed in their offices and discussed solutions to the quandaries that continue to plague a young Georgia squad (6-9, 0-2 SEC).
They might have been the only men in the Peach State who weren't attached to a TV during the Atlanta Falcons' thrilling win over the Seattle Seahawks in the NFL playoffs.
Fox didn't know the score of that game. He'd missed the drama. At one point in our conversation, he told me that he'd "heard" the Falcons had reached the end zone. But he was too focused to turn on the game and see for himself.
[+] Enlarge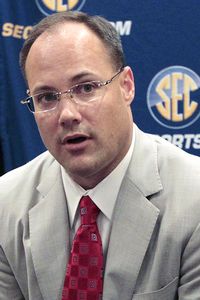 AP Photo/Dave MartinMark Fox has his issues at Georgia, as does the rest of the SEC.
"We're just so young, and then we haven't had anybody consistently finish plays up front," Fox told ESPN.com. "We're just not a very consistent group. We just aren't."
His program's predicament -- the Bulldogs rank near the bottom of every statistical category in the SEC -- leaves minimal time for pleasure. There are too many problems to fix.
The same can be said of the entire conference, one that's rated below the other power six conferences and even the Atlantic 10 and Mountain West in the current conference RPI ratings. This league is more comparable to the Missouri Valley Conference than the Big Ten or Big East.
Last season, Kentucky won the national title with relative ease. Its place atop the podium in New Orleans seemed like a formality as early as January of last year. Eight months later, Alabama's football program earned its third national title in four years.
A league accustomed to prestige, however, has been humbled through the first two months of the 2012-13 college basketball season. Thus far, both Mississippi State and Texas A&M have suffered losses to SWAC teams. Marist (4-13, 1-5 MAAC) beat Vanderbilt by 17 points.
Plus, the conference's contenders have failed to prove that they're among the elite. Yes, Missouri beat Illinois in St. Louis last month, but it also suffered a 23-point loss to Louisville in November. Florida blew a late lead in a loss at Arizona and couldn't fend off Kansas State. Then there's Kentucky, a program that's essentially made up of NBA prospects who look great in warm-ups but rarely play to their potential after tipoff.
"You can say, 'Well, you don't have this and you don't have that.' Well, we're getting in league play, and it's all going to shake out," John Calipari said during the SEC's first media teleconference last week.
But the first week of SEC play only enhanced the conference's reputation as a mediocre league. Texas A&M topped Kentucky by a dozen points at Rupp Arena on Saturday. Ole Miss dropped a Missouri team that played without Laurence Bowers. The forward, however, doesn't handle the ball for the Tigers, who recorded 19 turnovers. Yet Auburn and Mississippi State both have won their first two SEC matchups.
Try to make sense of that.
"I think what happens a lot of times is, based on November and December your league gets immediately labeled, and then once we all play each other it gets labeled whether or not it is a good or bad league based on what you have done outside the conference," Florida coach Billy Donovan told reporters last week. "Now clearly, up to this point in time our league has had some difficult and challenging losses; we all have.
"I don't think you take our league and just put it in a box and say therefore the league is not as good, because I think teams are going to get better, they are going to improve."
The free fall that began with multiple nonconference losses could lead to a disappointing Selection Sunday. Only Missouri, Florida, Texas A&M and Ole Miss are ranked in the top 50 of the current RPI ratings.
There is, however, some logic behind the decline.
[+] Enlarge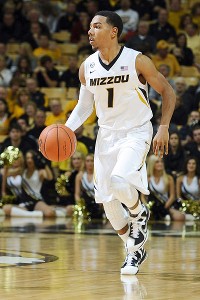 Dak Dillon/USA TODAY SportsMissouri still has Phil Pressey, but it has taken a step backward from last season.
Kentucky, Mississippi State, Vanderbilt and Florida all lost non-senior standouts to the NBA this past summer. In all, the Wildcats represented six of the 12 former SEC players who were selected in the 2012 NBA draft. Missouri returned just one starter -- Phil Pressey -- from last year's team.
In-season injuries to Carl Engstrom and Andrew Steele have affected Alabama, a team that has lost six of its past nine games. Tennessee's Jeronne Maymon (12.7 ppg and 8.1 rpg in 2011-12) hasn't played this season, and the school recently announced that he will redshirt after suffering a knee injury during the offseason.
And the league features seven coaches who've been with their respective programs -- most of those gigs involve rebuilding jobs -- for three or fewer seasons.
One of those coaches, Rick Ray, understood some of the challenges he'd face when he accepted Mississippi State's offer this past spring. But some of the obstacles have surprised him.
A few years ago, Tyson Cunningham was a member of the scout team that faced the Mississippi State women in practice. Today, he averages 22.6 minutes per game for a short-handed Bulldogs squad.
"That hardest thing is not having any sort of a semblance of what you're about to do or who you're about to play because we don't have 10 guys," Ray said. "Even our graduate assistant tore his MCL in practice. We've got eight able bodies."
And that squad is undefeated in SEC play right now.
From the top to the bottom, though, this conference has underperformed. There's still time for improvement, but the collective ditch it's in right now is deep.
And that probably means more Sunday office hours for the conference's coaches in the coming weeks.
THE RUNDOWN
The SEC then (2011-12) and now (2012-13):

Alabama Crimson Tide
Then: One of the nation's top defensive units reached the NCAA tournament with the help of former standout JaMychal Green (14.0 ppg, 7.4 rpg, 1.5 bpg).
Now: Anthony Grant has an elite backcourt (Trevor Lacey and Trevor Releford), but his limited frontcourt could make it difficult to climb the SEC standings.

Then: The Razorbacks went 6-10 in the SEC after losing Marshawn Powell for the bulk of the season because of an ACL tear.
Now: Powell (14.3 ppg) and B.J. Young (17.1 ppg) lead a strong offense that hasn't proved it can stop any above-average team with its subpar defense.

Then: Kenny Gabriel was a key player for an Auburn team that went 5-11 in the SEC in Tony Barbee's second season.
Now: Frankie Sullivan (17.2 ppg) is one of four upperclassmen averaging at least 8.4 ppg for a Tigers squad that has defeated Florida State, LSU and South Carolina in its past three games.

Then: Bradley Beal helped the Gators reach the Elite Eight before entering the NBA draft.
Now: The Gators, led by Kenny Boynton and Patric Young, are the team to beat in the SEC.

Then: Possessed the worst scoring offense in the SEC (60.9 ppg) and finished 5-11 in league play.
Now: Kentavious Caldwell-Pope is one of the nation's most talented players, but he's the only player averaging double figures for the struggling Bulldogs.

Then: Six future pros anchored a national championship squad that also enjoyed the senior leadership of Darius Miller.
Now: The Wildcats might be the most "talented" team in the SEC, but their inconsistency -- and lack of experience -- has kept the program from living up to the preseason hype.

Then: Lost in the first round of the NIT after achieving an 18-15 (7-9 SEC) record with a defense that was ranked 32nd by Ken Pomeroy.
Now: First-year coach Johnny Jones' program has lost its first two SEC games, but its offense is currently fifth in the league with 74.2 ppg.

Then: Arnett Moultrie (16.4 ppg, 10.5 rpg) led one of the nation's top offenses to 21 wins and an NIT berth.
Now: New coach Rick Ray is playing with six scholarship players, but the Bulldogs have won their first two conference games.

Then: The Tigers had the nation's most efficient offense per Pomeroy but were upset by Norfolk State in the NCAA tournament.
Now: Frank Haith's nationally ranked program will rely on Phil Pressey, Laurence Bowers (who missed last season with a knee injury) and multiple transfers.

Then: The Rebels won 20 games, but poor defense (163th in efficiency per Pomeroy) hindered an Ole Miss program that reached the NIT.
Now: Juco transfer Marshall Henderson (18.6 ppg) is one of the reasons that Andy Kennedy's program is a contender for the SEC title and an at-large NCAA tournament bid.

Then: Malik Cooke (12.3 ppg) led the Gamecocks (10-21, 2-14 SEC) in scoring in one of the program's worst seasons.
Now: New coach Frank Martin guides a South Carolina team that's already won 10 games but lost to two of the league's worst squads (Mississippi State, Auburn).

Then: The midseason addition of Jarnell Stokes helped Cuonzo Martin go 19-15 (10-6 SEC) in his first season.
Now: Jeronne Maymon's knee injury was a blow for a team that's had more lows than highs this season.

Then: Billy Kennedy's health, team injuries and transfers were factors in the team's 14-18 (4-14 Big 12) finish last season.
Now: New SEC member is 2-0 after defeating Kentucky at Rupp Arena on Saturday following Elston Turner's 40-point outing.

Then: The Commodores had a veteran crew that ultimately reached the round of 32 via one of the nation's top offenses.
Now: Kevin Stallings lost his top six scorers from last year, and he now relies on a young team that's averaging just 57.6 ppg (334th in the nation).
The Weekly Forecast
By Myron Medcalf
ESPN.com
A quick look at the temperature of college basketball as we head into a new week:
[+] Enlarge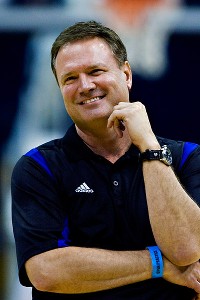 Rich Sugg/Getty ImagesAnother season, another quality Kansas team for Bill Self.
Streaks
Hot: No. 6 Kansas will try to extend its current winning streak to 14 games when it faces Baylor on Monday at Allen Fieldhouse. Baylor and Oklahoma State might be the only two teams with the talent to stop the Jayhawks from running through their Big 12 slate without a loss.
Cold: Kentucky had won 55 consecutive games at Rupp Arena before last month's loss to Baylor. The current team won five in a row after that streak was snapped. But Saturday's home loss to Texas A&M means the Wildcats will start from scratch again when they play Tennessee at home on Tuesday.
Hungry teams
Hot: I actually think losses by No. 8 Minnesota and No. 2 Michigan will boost the clash between the two schools Thursday in Minneapolis. Both Big Ten contenders want to erase the taste from respective weekend losses to Indiana and Ohio State. A win over another top-tier Big Ten squad would help them do that.
Cold: Grambling State and Maryland-Eastern Shore, however, just want to win. Once. The Tigers (0-14, 0-5 SWAC) and the Hawks (0-13, 0-2 MEAC) are still searching for their first wins of the season.
Bennett
Hot: Anthony Bennett (19.6 ppg, 9.3 rpg, 1.4 bpg and 41.2 percent from beyond the arc) has been a top contender for national freshman of the year. He could prove to be the undisputed front-runner if he leads No. 24 UNLV to road wins over No. 16 San Diego State on Wednesday and Colorado State on Saturday.
Cold: Tony Bennett's Virginia squad has been up-and-down all season. The Cavaliers have defeated Wisconsin and North Carolina, but they're in danger of losing their first three ACC games (back-to-back road losses to Wake Forest and Clemson) when they face Florida State at home on Saturday.
Viewer's Guide
All times ET

Monday
7 p.m.: Louisville at Connecticut (ESPN)
9 p.m.: Baylor at Kansas (ESPN) Tuesday
7 p.m.: Tennessee at Kentucky (ESPN)
7 p.m.: Notre Dame at St. John's (ESPN2)
9 p.m.: Wisconsin at Indiana (ESPN) Wednesday
7 p.m.: NC State at Maryland (ESPN2)
9 p.m.: New Mexico at Boise State (ROOT)
10 p.m.: UNLV at San Diego State (CBSN) Thursday
7 p.m.: Michigan at Minnesota (ESPN)
7 p.m.: Florida at Texas A&M (ESPN2)
7 p.m.: Valparaiso at Detroit (ESPNU)
9 p.m.: Georgia Tech at Duke (ESPN) Saturday
12 p.m.: Connecticut at Pitt (ESPN2)
12:30 p.m.: Harvard at Memphis (FSN)
2 p.m.: Missouri at Florida (ESPN)
2:30 p.m.: Arizona at Arizona State (FSN)
4 p.m.: Syracuse at Louisville (ESPN)
4 p.m.: Creighton at Wichita State (ESPN2)
4 p.m.: Oklahoma at Kansas State (ESPN3)
4 p.m.: Oregon at UCLA (CBS)
6 p.m.: Ohio State at Michigan State (ESPN)
7 p.m.: Marquette at Cincinnati (ESPNU)
7 p.m.: UNLV at Colorado State (NBCN)
7:30 p.m.: San Diego State at Wyoming
9 p.m.: Gonzaga at Butler (ESPN) Sunday
6 p.m.: Clemson at NC State (ESPNU)
10 Places To Be This Week
Monday
Hartford, Conn. (Louisville at UConn): For a variety of reasons -- chief among them the fact that UConn can't go to the NCAA tournament this season -- it's been easy to ignore the Huskies for the past few months. But they are worth noting. On Saturday, they got a huge win at Notre Dame, and when you actually take a deeper look at their record, their three losses (to New Mexico, NC State and at Marquette) have all been close, hard-fought games.
Rest assured Rick Pitino doesn't require this reminder and will make sure his team knows how well and how hard Connecticut has played when the Cardinals face UConn on Monday night.
Wednesday
College Park, Md. (NC State at Maryland): The Wolfpack finally broke through on Saturday in a big way, toppling Ryan Kelly-less Duke in Raleigh and looking, despite their defensive flaws, like the pretty obvious choice for the much-debated title of second-best team in the ACC. When they're locked in, the Wolfpack are awfully good. Can we say the same for Maryland? The jury is still out.
The Terps have beaten up on bad teams and looked good in losses to Kentucky and Miami; now we'll see what they can do at home against a quality opponent.
San Diego (UNLV at San Diego State): How brutal is the Mountain West? On Wednesday, the Rebels took a tough road loss at New Mexico, one of the nation's toughest venues. On Saturday, they had to go to overtime to fend off a better-than-you-think Air Force.
And now this, a road game in front of San Diego State's insane student section, yet another crucial contest early in the conference season. Like I said: brutal.
Thursday
Minneapolis (Michigan at Minnesota): Remember how just a few words ago I was talking about how brutal the Mountain West is? The Big Ten can identify. This weekend, Michigan took its first loss of the season at Ohio State, and Minnesota's late comeback fell short at Indiana's raucous Assembly Hall.
Now Michigan has to travel to the Barn, and the Gophers have to go home knowing they must contend with one of the country's best offenses. The Big Ten is crazy.
Saturday
Gainesville, Fla. (Missouri at Florida): Kentucky's home loss to Texas A&M essentially confirms that these two teams are the SEC's best, at least right now. In other words, it's entirely possible that this game could have a lot to do with the eventual SEC champion and, at the very least, will count as the best mutual opportunities either club will have to boost its tournament bubble stock.
Louisville, Ky. (Syracuse at Louisville): In the Big East this season -- the last season in which I'll feel totally comfortable calling this conference the "Big East" -- games don't get any bigger than this one. Like Mizzou-Florida, Syracuse-Louisville will help decide the conference title race and potential top-line NCAA tournament seeding, not to mention give us a really good basketball game -- a matchup of assist aficionado Michael Carter-Williams with Russ Smith and the Cardinals' ball-hawking perimeter defense.
The Orange will have to fight that defense without their best shooter, James Southerland, whose indefinite suspension was announced by the team on Saturday.
Wichita, Kan. (Creighton at Wichita State): In the offseason, we all thought the Missouri Valley was going to be little more than Creighton's March warm-up routine. With Wichita State, the Bluejays' chief competition from seasons past, losing five seniors, surely they wouldn't have to wrangle with the Shockers this season, right? Wrong.
Gregg Marshall's team is 15-1 and one of the surprises of the season thanks largely to the efficient efforts of juco transfer guard Cleanthony Early. Doug McDermott and Grant Gibbs will have their hands full here.
Los Angeles (Oregon at UCLA): As we saw this week when the Ducks handed No. 4-ranked Arizona its first loss of the season, Oregon is awfully tough -- a physically imposing, well-coached team that locks down on the defensive end and features one of the best rebounders (Rice transfer Arsalan Kazemi) in the country.
Meanwhile, UCLA is almost a polar opposite: A team that thrives on up-and-down tempo and efficient offense led by freshman star Shabazz Muhammad. The Bruins stumbled out of the gate but got their eighth win in a row at Colorado on Saturday.
East Lansing, Mich. (Ohio State at Michigan State): Again with the big games in the Big Ten. Now that we've seen the Buckeyes lock Michigan down and get a big home win keyed by defense, let's see what they can put together on the road.
If they can go to East Lansing and play a tough Spartans group tight in, we might have to take last week's blowout loss at Illinois as a product of aberrant shooting and not a cause for concern. We'll see.
Indianapolis (Gonzaga at Butler): The marquee mid-majors of the past decade collide in ESPN's first "College GameDay" game of the season, and having just written that sentence makes me excited in ways I'm not sure I can fully express. I love "College GameDay." It gives Saturday mornings purpose.
So I would be thrilled no matter the game, but the fact that it is Gonzaga at Hinkle Fieldhouse? Awesome, man. Just awesome.
-- Eamonn Brennan
Three Questions For This Week
Will the absence of missing stars lead to more losses for top-15 teams?
It's amazing how losing one player can change the outcome of a game and, in some cases, alter the course of a season. Missouri lost to Ole Miss this past weekend without Laurence Bowers, and Ryan Kelly's absence clearly hurt Duke in its loss at NC State. The trend could continue Saturday.
Syracuse would've already had a tough time beating Louisville on the road, but the task will be even more monumental if suspended sixth man James Southerland isn't reinstated. Southerland averages 13.6 points and is the Orange's top outside threat. It's also hard to see Butler beating Gonzaga without leading scorer Rotnei Clarke. The guard injured his neck against Dayton on Saturday and is unlikely to play against the Zags this weekend.
Can Baylor do the unthinkable?
In other words, can the Bears beat Kansas on Monday at Allen Fieldhouse? The Jayhawks have won 100 of their past 101 games in the historic building. The only loss came against Texas in 2011 just hours after standout forward Thomas Robinson's mother died. Baylor appears to be the only team remaining on KU's schedule this season with much of a chance to beat the Jayhawks in their own building.
Kansas State usually plays KU well in Manhattan but gets blown out in Lawrence. Same with Oklahoma State. Baylor, though, boasts comparable talent to this year's KU team and has had a few decent performances at Allen Fieldhouse in the past. Still, Baylor is incredibly young in the paint after losing three forwards to the NBA draft. Can the Bears win in Lawrence? Don't bet on it.
How long can Oregon keep it going?
The Ducks are one of the Pac-12's hottest team with a 14-2 overall record and a 3-0 mark in league play. Oregon is the only team all season to beat Arizona, and it claimed a hard-fought victory over Arizona State late Sunday night. Dana Altman is doing a phenomenal job, but it only gets tougher from here.
On Saturday, Oregon will face one of the league's other two undefeated squads in UCLA, and unlike its past two games, this one will be on the road. Both teams are led by freshmen, although UCLA's Shabazz Muhammad and Jordan Adams are a bit more talented than Oregon's Damyean Dotson and Dominic Artis. And much like the Ducks, the Bruins have won nine in a row and are 4-0 in conference play. It should be a good one in Westwood.
-- Jason King
Upset Prediction For This Week

Colorado State over UNLV, Saturday: Once again, I have no idea if this will be deemed an upset judging by who will be favored, but the Rams have proved to possess one of the toughest home courts in the MWC recently. CSU pushed San Diego State in San Diego, and UNLV struggled to beat Air Force at home in overtime. The Runnin' Rebels are ripe to be beaten in Fort Collins. It doesn't mean UNLV won't win the MWC or go further in the NCAA tournament, but this will be one of its toughest road games of the season. The Rebels must rebound well against a CSU team that makes rebounding its staple.
-- Andy Katz