Daily Word: Prepping for Maui and NIT
Every weekday, Andy Katz leads a panel of our college hoops experts in a discussion of the biggest issues, trends and themes happening in and around college basketball.
1. Baylor had to work hard to get past Dayton. What will it take to turn around and beat Syracuse in Maui?
Andy Katz: The Bears need to be more efficient and patient against the Syracuse zone. Baylor has the size advantage and must take advantage by working the ball inside. The Bears will have to defend the penetration of the Orange's Tyler Ennis and challenge Trevor Cooney on the perimeter to win.
C.L. Brown: Isaiah Austin has to stay out of foul trouble and continue to be a deterrent in the lane as his four blocks per game suggests. Brady Heslip and Gary Franklin, who both shoot better than 48 percent from 3-point range, have to knock down shots early to loosen up that Syracuse zone. The Bears also have to make better decisions with the ball -- they're averaging nearly one turnover for every assist.
Dana O'Neil: Playing defense would be a good start. So far this week, the Bears allowed Chaminade to score 47 points in one half and Dayton to shoot 45 percent from the floor. That's not going to fly against Syracuse and a guy who is as good at getting to the rim as C.J. Fair.
2. If you were Alabama, how would you guard Jabari Parker?
Katz: Alabama coach Anthony Grant has always been defensive-minded. He likely will look to run different matchups at Parker. Somehow the Tide will need to find a way to prevent him from beating them. This will take Alabama's most focused defensive effort of the season, since Duke is coming off one of its worst performances and likely will be highly motivated to lock in on the Tide.
Brown: Good question, since I'm not sure anyone else has figured it out yet. Parker leads Duke with 15 turnovers, so I'd instruct defenders to press him and make him put the ball on the floor. The second part to that is making sure others rotate to give help on his drives. Then finally, pray.
O'Neil: The catch for Alabama is if the Crimson Tide devote too much attention to Parker, they will get burned by someone else, say, Rodney Hood. The Tide are better defensively than offensively, so that's a bonus. But they'll have to be creative in trying to limit Parker's touches without going all-in on one player.
3. Is there any flaw Drexel should try to exploit against Arizona?
Katz: The Dragons can't run or rebound with Arizona. Drexel will have to limit the possessions and slow this game down to have a chance. Drexel's best shot is to make this a slog fest, making Arizona work for every shot.
Brown: Andy nailed it; the Dragons have to keep the pace to their liking. If the game is played in the high 70s, the chance they can pull off the upset decreases tremendously. Drexel also needs an inspired effort on the boards from Kazembe Abif and Dartaye Ruffin as Arizona enjoys a plus-16 rebounding advantage per game this season.
O'Neil: Bruiser Flint can construct a squeeze-the-life-out-of-the-ball game plan with the best of them, and that's what he's going to have to do against Arizona. If the Dragons try to go bucket-for-bucket with the Wildcats, they're toast. They have to try to slow the game down as best as they can and work the boards (one of their strengths) to limit run-outs.
---
Earlier Words: 11/26 »11/25 » 11/22 » 11/21 » 11/18 »
Games To Watch
E. Michigan vs. Kentucky, 4 p.m. ET, ESPN3


Should be an easy night for Kentucky, right? Well, after the Cleveland State scare, it's not as simple to just take a night for granted. And yes, the Julius Randle double-double streak is still going. Six college games. Six double-doubles.
---
Drexel vs. Arizona, 7 p.m. ET, ESPNU


Arizona, and its prized freshman Aaron Gordon, take the big stage at Madison Square Garden. To get the showdown with Duke, the Wildcats must first take care of Drexel. The Dragons have already played one ranked team tough, losing by five in their opener against UCLA.
---
Alabama vs. Duke, 9:30 p.m. ET, ESPN2


How about Alabama? Can the Tide play NIT spoiler? They are 15th in the nation in field goal percentage. And Duke has proved vulnerable, nearly falling to Vermont at Cameron Indoor Stadium last time out.
---
Syracuse vs. Baylor, 10 p.m. ET, ESPN


Baylor fought back to win a thriller late Tuesday night against Dayton. Syracuse, meanwhile, knocked off Minnesota and California to put itself in position for its third title in three trips to Maui.
They Said It
@RDB_sh31ox celebrates a WIN over BYU and a @CBHOF Championship! #WATCHUS pic.twitter.com/G57nps7rb3

— GoShcokers (@GoShockers) Nov. 27, 2013
ESPNU Basketball Podcast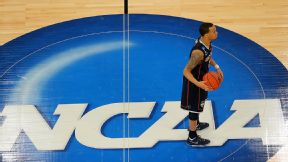 Adam Hunger/USA TODAY SportsAndy Katz and Seth Greenberg offer their thoughts on Kentucky vs. UConn.
Andy Katz and Seth Greenberg check in with newsmakers from around college basketball.