Daily Word: ACC takes the lead
Every weekday, Andy Katz leads a panel of our college hoops experts in a discussion of the biggest issues, trends and themes happening in and around college basketball.
1. What was your biggest takeaway from Night 1 of the Big Ten/ACC Challenge?
Andy Katz: Syracuse has the guard play to go far. The Orange will need to be stronger defensively inside. But this team has the right balance to be a major factor and win the ACC.
Myron Medcalf: Just Duke's growth. The Blue Devils are gradually bonding on the floor and it's easy to see. Yes, Jabari Parker is the star, but his veteran teammates are learning how to work next to him to create a mutual benefit for everyone on the court. That was key in Duke's win over Michigan on Tuesday.
C.L. Brown: No one can win on the road. Home teams won by an average of nine points, highlighted by Syracuse's 17-point win over Indiana and Iowa's three-point win over Notre Dame.
2. Which North Carolina team do you expect to show up against Michigan State?
Katz: North Carolina tends to play up to the competition. I don't expect the Tar Heels to win, but they do have the potential to hang at the point with Marcus Paige, and they have size with Kennedy Meeks and Brice Johnson. James Michael McAdoo has to show up for the Tar Heels to have a chance.
Medcalf: Roll the dice. The Tar Heels have played big in major matchups, so they should be ready for the Spartans. But you never know with this team. I can't call it.
Brown: If the Tar Heels stay true to the up-and-down nature of the season so far, that means they're due for an upswing. Seriously, the Spartans play a faster pace, which is a better matchup for North Carolina than either Belmont or UAB was. That doesn't mean UNC will come away from the Breslin Center with a win, but it should compete.
3. How can Virginia stop Wisconsin big men Frank Kaminsky and Sam Dekker?
Katz: The Cavaliers don't match up that well, but they must force tempo and take advantage of their home crowd. Wisconsin has been successful on neutral courts and at home, but this will be a test in a true road game outside the state.
Medcalf: Tony Bennett's Cavaliers have to do a great job of playing through ball screens and limiting Wisconsin's options. It's a personnel nightmare for most squads because few face a 7-footer and a 6-foot-8 wing with an appetite for jump shots and 3s. But the Cavs must stay in front of both players. Stop them? Not easy.
Brown: My guess is the Cavs can't stop both, so they should try to stop one. Part of Virginia's strategy should include attacking Kaminsky on offense. He has yet to foul out of a game, and the Cavs should try to make this his first.
---
Earlier Words: 12/3 » 12/2 » 11/27 » 11/26 » 11/25 » 11/22 »
Games To Watch
Maryland vs. Ohio State, 7 p.m. ET, ESPN


After Night 1 in the Big Ten/ACC Challenge, when all home teams defended their courts, expect more of the same with the first game in Night 2. Maryland will have to find a way to limit four legitimate Buckeyes scoring options.
---
Wisconsin vs. Virginia, 7 p.m. ET, ESPN2


Virginia's strength lies in its backcourt, led by senior guard Joe Harris. Wisconsin's strength lies down low with 7-footer Frank Kaminsky and 6-foot-8 Sam Dekker. The clash of styles should make for an interesting game.
---
North Carolina vs. Mich. St., 9 p.m. ET, ESPN


North Carolina showed an ability to rise to the occasion when it upset Louisville after losing to Belmont. Can it do the same against the No. 1 Spartans, led by Keith Appling and Gary Harris, after UNC's head-scratching loss to UAB?
They Said It
First BIG/ACC Challenge win for me in my career. Needed it. Great team win. The fans were awesome for the blackout. Time 2 prepare for Drake

— SportsCenter (@SportsCenter) Dec. 3, 2013
ESPNU Basketball Podcast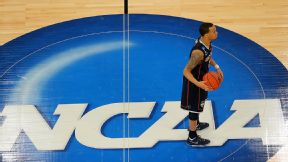 Adam Hunger/USA TODAY SportsAndy Katz and Seth Greenberg offer their thoughts on Kentucky vs. UConn.
Andy Katz and Seth Greenberg check in with newsmakers from around college basketball.