Daily Word: Can Baylor stun Kentucky?
>
Every weekday, Andy Katz leads a panel of our college hoops experts in a discussion of the biggest issues, trends and themes happening in and around college basketball.
1. Baylor got its first win ever against Kentucky last year. What will it take Friday night to get win No. 2 over the Wildcats?
Andy Katz: The crowd better be pro-Baylor in Dallas. Isaiah Austin and Cory Jefferson better be prepared to be physical with Julius Randle and Willie Cauley-Stein. And Baylor must be patient. The Bears tend to be a bit wild at times and can't afford to do that against Kentucky.
Dana O'Neil: Kentucky has feasted on smaller teams by using alley-oops and dunks inside. Baylor has the big bodies to compete with the Wildcats, but the Bears have to play like bullies against Randle and Cauley-Stein. If they start pushing around Jefferson and Austin, Baylor is in trouble.
Eamonn Brennan: Interior defense, and a bunch of Kentucky misses. Make Randle's life miserable, force him to kick it to the perimeter and hope Kentucky clangs a bunch of jumpers. I think that's probably Baylor's best chance, not only because that seems to be the most prudent strategy against UK generally but because the Bears (who are allowing just 39.9 percent shooting inside the arc and blocking 16.1 percent of available shots) seem well-tailored for it specifically.
2. Which Top 25 team in action on Saturday should be the most concerned?
Katz: Kansas. The Jayhawks throttled Colorado last year at home. This time, the retooling Buffaloes will be waiting. Colorado has more experience, albeit not more talent, than Kansas. The Buffs have the potential for a rowdy atmosphere. They'll need it a crazed crowd to counter what they experienced a year ago in Lawrence.
O'Neil: Kansas. As good as they are, the Jayhawks remain a very young team and going to play a Colorado team that is anxiously awaiting their arrival will be difficult. Spencer Dinwiddie could introduce himself to a few folks if Kansas isn't careful.
Brennan: Kansas. Bill Self seems concerned, as a rule, with his team's energy and effort after a disappointing trip to the Bahamas, and the Jayhawks will be facing a good Colorado team with a capable backcourt in front of a student section that had to earn its seat through strict women's hoops attendance. If that sounds daunting, well, it's meant to.
3. Marquette has struggled some out of the gate. Does it have any chance of getting that early, signature win on the road against Wisconsin on Saturday?
Katz: Marquette can win if the Eagles can make perimeter shots. They may be available against the Badgers. But Wisconsin has been clicking well offensively, save for the Virginia game. The versatility of scorers could be a possible issue for the Golden Eagles. The signature road win for Marquette probably won't occur Saturday.
O'Neil: I think we've all learned to stop counting out Buzz Williams' teams in any circumstance by now, so of course there's a chance. I just don't think it will be easy. Marquette's saving grace is that it's been decent defensively, and if the Golden Eagles can get Wisconsin out of sync, they can be in this game. The trick is a subpar offensive team absolutely has to make shots to pull off the upset, and that's been a tall order for Marquette this year.
Brennan: It has a chance, sure. I would argue that the chances greatly favor Wisconsin, but the Golden Eagles have played a bit slower this year and have actually been fine defensively (it's the stuttering offense that's the problem), meaning a tight game is conceivable if Wisconsin shoots anywhere near like it did (read: terribly) at UVa this week.
---
Games To Watch
Maine vs. UConn, 7 p.m. ET, ESPN3


Maine's only hope would be that UConn suffers a letdown after that last-second thriller with Florida. Otherwise, it could be big trouble for the 1-6 Black Bears. Maine has already been beaten by at least 20 points five times in seven games.
---
Kentucky vs. Baylor, 10 p.m. ET, ESPN


Baylor has some size inside with Isaiah Austin, Cory Jefferson and Rico Gathers. But will they be able to contain Julius Randle, who has had double-doubles in seven of eight games (the streak ended last time out against Providence.
They Said It
Good thing Michigan State doesn't play until Dec. 14 at Oakland with Adreian Payne suffering from plantar fasciitis. Needs rest.

— Andy Katz (@ESPNAndyKatz) December 6, 2013
ESPNU Basketball Podcast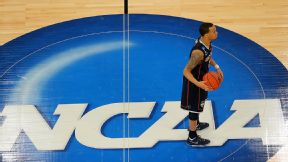 Adam Hunger/USA TODAY SportsAndy Katz and Seth Greenberg offer their thoughts on Kentucky vs. UConn.
Andy Katz and Seth Greenberg check in with newsmakers from around college basketball.