Daily Word: Concerns for Kentucky, Kansas?
ideo1>
Every weekday, Andy Katz leads a panel of our college hoops experts in a discussion of the biggest issues, trends and themes happening in and around college basketball.
1. Both Kentucky and Kansas lost over the weekend. Which coach has more work ahead of him as he tries to build his team into a national title contender: the Wildcats' John Calipari or the Jayhawks' Bill Self?
Andy Katz: Kansas got beat at the buzzer by Colorado in one of the top venues in the West in the Coors Events Center. I'll hardly fault the Jayhawks. Kentucky's defensive performance against Baylor is another issue. Kentucky must tighten up its D in order to become an elite team. The Wildcats will not have an issue scoring, but they won't win the title if they cannot commit themselves to locking in and shutting teams down at crucial moments.
Dana O'Neil: I'd be more worried if I were Calipari because, while the Wildcats lost just one, they've looked lethargic for a while, slow to come around against Cleveland State, Eastern Michigan and Providence. This team seems to think it can turn on the jets whenever and win, and that's simply not the case. Mix that in with shoddy defense and an upcoming schedule that includes Boise State, North Carolina and Louisville, and Kentucky needs to find itself quickly.
Myron Medcalf: I think Calipari just because he doesn't have enough leaders. Self has Naadir Tharpe, Tarik Black and Perry Ellis. That trio will help Self's youngsters in the locker room as the season advances, but it's difficult to identify similar leaders on Kentucky's roster.
2. Arizona will be the new No. 1. Will it still be No. 1 at the end of the week? The month? Longer?
Katz: It may last only a week because the Wildcats face a road trip at Michigan. But if you line up the two teams, Arizona is clearly superior at most positions and is more prepared for a high-level game. Still, it's on the road, but I'll give the nod to Arizona and say its first loss may not come until it travels to UCLA on Jan. 9.
O'Neil: The obvious and immediate stumbling block will be at Michigan. And no doubt, for a young team, that will be a tricky game on the road. But I actually think we may have tripped into the putting the team that is currently playing its best at the top of the rankings, so I'll say the Wildcats stay atop the rankings until the start of the conference season.
Medcalf: I think Arizona is the undisputed No. 1, but it won't enjoy that perch for long. We don't have any great teams in college basketball right now, and that's why so many top-10 teams have fallen in the first few weeks of the season. Arizona is due, and I think its first loss will come against a desperate Michigan team in Ann Arbor on Saturday.
3. Almost a month in, are the new rules good, bad or ugly?
Katz: The majority of games I have watched or attended haven't been dominated by the rules. Officials are still feeling their way through the adjustment and so are the players. Ultimately, you will see more players with their hands up, more teams using zone and, in the long run, fewer fouls.
O'Neil: They're good, despite the growing pains everyone is enduring. Watching a parade of free throws, as we have in some games, is admittedly no fun for anyone, but the brutality and physicality that was college basketball before the new rules was no fun, either. This is a step in the right direction.
Medcalf: I think they're just inconsistent. We're still waiting for officiating crews throughout the country to regulate contact the same way. That hasn't happened yet.
---
Earlier Words: 12/6 » 12/5 » 12/4 » 12/3 » 12/2 » 11/27 » 11/26 »
Games To Watch
FDU vs. Iowa, 7 p.m. ET


OK, so Fairleigh Dickinson doesn't present much trouble, especially at 3-8 so far this season. That is, as long as Iowa is not looking ahead to Friday's showdown in Ames with rival Iowa State.
---
Bryant at Notre Dame, 7 p.m. ET, ESPNU


Bryant was routed by its only high-level opponent this year, getting drubbed by 24 in the season opener against Gonzaga. Notre Dame, meanwhile, has spread the wealth this season; the Fighting Irish are second in the nation in assists, averaging 19.9 per game.
They Said It
ARIZONA WILDCATS will be the new number 1 college basketball team come Monday.. Yes... #BearDown

— Kenny Lofton (@Kenny_Lofton7) Dec. 7, 2013
ESPNU Basketball Podcast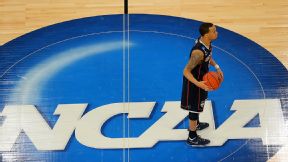 Adam Hunger/USA TODAY SportsAndy Katz and Seth Greenberg offer their thoughts on Kentucky vs. UConn.
Andy Katz and Seth Greenberg check in with newsmakers from around college basketball.