Ben McLemore Owns The Night In Lawrence
Jason King
ESPN.com
LAWRENCE, Kan. --
Ben McLemore
has played just 14 college games, yet the people who follow Kansas' basketball team closely -- including this writer -- have already concluded two things: 1. McLemore is the best player to wear a KU uniform since Paul Pierce.
2. There's no way the redshirt freshman will be in college after this year. "He's unbelievable," Iowa State coach Fred Hoiberg said. "He has the potential to be the No. 1 pick in the NBA draft."


Hoiberg would know -- and not just because he's a former NBA player and front office executive. It was Hoiberg's Cyclones who watched helplessly as McLemore almost single-handedly dug the Jayhawks out of an eight-point deficit before burying a 3-pointer with 1 second remaining to force overtime. Kansas rode the momentum to a 97-89 victory in the Big 12-opener before both schools. But after that game, all anyone wanted to talk about was McLemore, who scored 33 points on 10-of-12 shooting. He made all six of his 3-point attempts and was 7-of-7 from foul stripe. "We had a lot of guys do some great things tonight," said Self, whose sixth-ranked squad improved to 13-1. "But Ben was the star." Coaches throw around that word loosely, but even Self will admit that he hasn't had a talent of this caliber during his nine-year tenure in Lawrence. Players such as Thomas Robinson, Marcus Morris and Wayne Simien were first-team All-Americans. Brandon Rush, Darrell Arthur and Mario Chalmers led the 2008 squad to the 2008 NCAA title and, overall, Self has had 15 players drafted. Still, no one ever predicted that any of them would be special at the next level. No KU player under Self -- and, heck, none since Pierce in the late 1990s -- has ever been pegged as a "star." Until now. "I don't see any reason why (McLemore) can't be the top guy, the No. 1 guy," an NBA scout told me Wednesday night. "The upper part of (this summer's) draft is weak, but that's not the only reason. "He's a freak athlete, he's got a smooth stroke and he handles (the ball) pretty well. And I love his temperament. He's the best player I've seen at Kansas in a long, long time."
To read the rest of Jason King's story on Ben McLemore and KU's comeback, click here.
Elite Teams Answer The Bell After Challenges
Eamonn Brennan
ESPN.com
The nonconference season has its fair share of strengths. It lets us square up teams we'd otherwise never get to see play each other. It gives us a baseline with which to understand the relative strength of conferences. And it includes the Maui Invitational, which is perennially awesome. Unfortunately, the nonconference season also has a
lot
of guarantee games -- blowouts and tuneups against vastly inferior competition, most of which are barely worth watching.
[+] Enlarge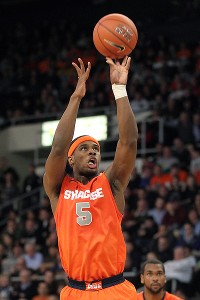 Stew Milne/USA TODAY Sports C.J. Fair helped secure Syracuse's win at the line.
Come conference time, there are no guarantees. There are fights. You need to win more of them than you lose. And everything is earned. If you needed a reminder of the vast difference between December and January, Wednesday night -- the first night of the season on which the Mountain West and Atlantic 10 were in action alongside the "big six" -- offered plenty of evidence. Across the country, elite teams were tested. Most passed. Some grades were less impressive than others. Kansas was only the most obvious example. The Jayhawks got far more than they bargained for from Iowa State, which patiently, savvily and, frankly, shockingly matched the Jayhawks in Allen Fieldhouse for all of 40 minutes. Literally. KU needed a last-second, banked-in 3 by star guard
Ben McLemore
to get to overtime -- the marquee moment of an utterly insane, 33-point performance. (By the way, those 33 points came on 10-of-12 from the field, 6-of-6 from 3 and 7-of-7 from the line. Like I said: insane.) The Cyclones would rue a missed late one-and-one opportunity; deflated and exhausted, they tapped out in overtime. Other challenges for elite teams might have ended in less-dramatic fashion, but they were challenges all the same. Syracuse didn't fare much better at Providence. The Orange, facing a Friars team led by guard
Bryce Cotton
, trailed for basically all of the first half by as much as nine points. Unveiling a rare zone -- hey, that's Syracuse's thing! -- PC forced national assists leader
Michael Carter-Williams
& Co. into just 3-of-21 shooting from beyond the arc. The game stayed tight throughout. It wasn't until the final four minutes, when
Rakeem Christmas
and
James Southerland
dropped back-to-back baskets and
C.J. Fair
iced the lead with free throws, that the Orange could breathe easily. Michigan entered Wednesday night scoring 1.39 points per possession in its first two Big Ten games, ruthless blowouts of Northwestern and Iowa. But in Ann Arbor, Nebraska -- either the Big Ten's worst or second-worst team -- held the high-flying Wolverines to just 25 points in the first half. Michigan shot uncharacteristically poorly, just 3-of-17 from beyond the arc. John Beilein's team slowly pulled away in the second half, but it wasn't easy. Probably the least dramatic of these fixtures was Louisville's win at Seton Hall. But there was still some measure of intrigue: Seton Hall trailed by just two points at halftime, and when
Fuquan Edwin
tied the game with a 3 at the 13-minute mark in the second half, Rick Pitino couldn't wait until the TV timeout to talk to his team. Louisville eventually built a more comfortable lead, and the Hall's hot offense went totally and utterly missing. The elite teams all held on, but nothing was easy, and at various points during the early-evening slate, you could flip to any of four or five apparently brewing upsets. It was wild. Everywhere except Lawrence, things eventually calmed down -- but the message was received. Conference season is here. Nothing is guaranteed.
A few more observations from a great night of basketball:
[+] Enlarge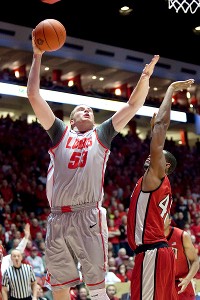 AP Photo/Eric DraperAlex Kirk and New Mexico beat UNLV at home, but it went down to the wire.
• The 2013 Mountain West is going to be a lot of fun. UNLV and New Mexico waged an absolute slugfest Wednesday night in Albuquerque, one in which the largest second-half lead was five points, and it was constantly close throughout the final five minutes. Every possession was a nail-biter. Then, with 25.4 seconds left, UNM's
Tony Snell
missed the front end of two free throws, which gave UNLV a chance to tie. Rebels freshman
Katin Reinhardt
missed a good, open look, and that was that. But it was a great game -- a great win for New Mexico and a great effort from a still-young UNLV team in a brutal road environment. They'll meet again. • Speaking of the Mountain West: It was a hard game to find, but Boise State's two-point win over Wyoming was one of the best games of the season thus far. Boise State's
Jeff Elorriaga
hit a last-second 3 to rob the Cowboys of their unbeaten record. The surprising Broncos also ended Creighton's unbeaten start earlier in the season. Like I said, this year's MWC is going to be fun. • If you weren't impressed by this Minnesota team already -- and if you weren't, you haven't been paying attention -- you can feel free to be so now. The phrase "statement game" is overused almost to the point of meaninglessness, but this game at Illinois did have that vibe. It was a big, physical, athletic and most of all complete Big Ten title contender asserting itself early and often, and enjoying every minute of it along the way. Illinois, so impressive this past weekend against Ohio State, was overwhelmed. This Saturday, the Gophers head to Bloomington. Do not be shocked if they win in that Assembly Hall, too. • Butler wasn't the only A-10 newcomer to win its debut. VCU forced Dayton into 26 possessions en route to its first Atlantic 10 win in the Siegel Center in Richmond. • Thought McLemore's game was great? It wasn't even the greatest game in Kansas. Wichita State's
Cleanthony Early
poured in 39 points (on 19 shots), six rebounds, two blocks and a steal in a win over Southern Illinois.
Home Court Chat
ESPN.com staff

College football is in the books, and college basketball's second half has begun. So with an intriguing slate of Wednesday night games, a few of our writers stopped in for an interactive chat with the readers during a very entertaining round of early-evening games, including the Ben McLemore show in Kansas. Scroll through to see how it all went down:
Gophers Roll On, Win At Illinois
Cuse Comes Back To Beat PC
New League, Same Butler
By Dana O'Neil, ESPN.com
PHILADELPHIA -- You could almost see the old-time members puffing out their collective chests back in October.
You want a piece of this, kid? Think your pretty Final Four rings have any sway here? This ain't no Horizon League, buddy.

And so when the preseason Atlantic 10 polls came out, there was Butler, slated sixth -- behind Saint Joseph's, Saint Louis, Temple, VCU and UMass.
Feel free to chuckle at that stroke of genius now.
Yes, the Bulldogs made the jump from the Horizon League to the more challenging A-10. Yes, Butler played in the CBI a year ago while the Hawks were in the NIT.
Except this is Butler. Anyone been paying attention the last few years?
This league may not run through Indianapolis with the same annual detour as the Horizon, but it will certainly make at least a regular pit stop.
Butler made sure everyone knew that on Wednesday night when the would-be sixth-place finishers disposed of the favorites 72-66 for their first A-10 victory.
It was gritty and feisty, hard-fought and at times nasty.
Butler's way, if not The Butler Way.
"I'm really proud of how we stayed the course," coach Brad Stevens said. "They executed their plan to about a T, but we stayed the course. Nobody panicked."
Read Dana O'Neil's full take on Butler's win at Saint Joe's and arrival in the Atlantic 10 here.
O'Neil With Butler's Rotnei Clarke
Mountain West Primer
By Andy Katz, ESPN.com
Of all the leagues in the country, the Mountain West -- the third-rated league in the RPI -- will get the highest percentage of its members in the NCAA tournament. I said it in the preseason, continued to shout it during the nonconference season and believe it to be true as conference play begins this week. MWC preview »
'Jamaal Franklin Made Dunk.'
By Eamonn Brennan, ESPN.com
That's the play listing from the ESPN scoreboard play-by-play of the absolutely insane dunk Jamaal Franklin unleashed on Fresno State on Wednesday night. It's technically true.
It is also 99.999 percent inaccurate. Sure, I saw Franklin take on three defenders in transition, ball-fake one out of his shoes, throw the ball to himself from the 3-point line and then take a Olympic-style running long jump en route to finishing the finest two points we've seen in years. I saw all of that happen, numerous times.
But it would be more accurate to say I saw Franklin dance across the sky of my perceptions while an angel choir hummed the prelude to Bach's "Cello Suite No. 1." That dunk was the first issue of "Watchmen." It was Cid's face in the cornfield in "Looper." It was the Beatles in Hamburg.
For the rest of Brennan's story, click here.
Kansas Rallies To Top ISU
Atlantic 10 Primer
By Eamonn Brennan, ESPN.com
After two months of nonconference play, VCU looks like the league's clear favorite, and Butler one of its top contenders. Temple and Saint Louis are, for all intents and purposes, co-favorites. It's safe to say the overall league hasn't quite panned out the way we expected -- Saint Joe's has struggled, Xavier is young and a handful of sleeper teams have missed early noncon opportunities. But the fact remains that this brief 16-team edition of the Atlantic 10 could provide one of its most entertaining seasons in league history.
A-10 preview »
Louisville Wins Ninth Straight
King's Court
By ESPN.com staff
For the first time in a quarter-century, the legendary Larry Brown is back on a college sideline. In his weekly look at the national scene, Jason King pays a visit to SMU to see how the Hall of Famer is faring. Also this week: a report card, thoughts from press row, predictions, an all-Roy Williams team and a poll to determine the nation's best freshmen. King's Court »