Chane and the cast of Cardinal characters
ATLANTA -- Chane Behanan's near-strip tease on the elevated floor of the Georgia Dome began with an honest mistake.
As his teammates snipped down the nets to commemorate the program's first national championship since 1986 on Monday evening, a reporter asked Behanan to confirm his listed weight of 250 pounds.
Behanan -- who contributed 15 points, 12 rebounds and 7 offensive boards -- rejected that description and joked about removing his jersey to prove his point.
"Nah, I'm 240. Who says I'm 250? You want me to take this shirt off?" he said.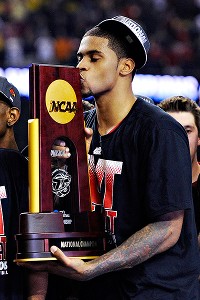 Robert Deutsch/USA TODAY SportsChane Behanan was able to kiss the trophy after posting 15 points and 12 rebounds in the national championship game.
That's Chane Behanan.
He's the guy Rick Pitino banned from interviews, part of a suspension for an undisclosed matter that occurred at the beginning of the season.
He's the sophomore who suggested that Pitino should get a tattoo of his name after the Cardinals' 82-76 win over the Wolverines.
He's the man who said he wanted to "chill with my mama" postgame; the kid who sang "I've got money on mind" when he entered the locker room to speak with the media.
He's the gregarious one who spontaneously howled into the microphone as he waited for the postgame news conference to begin, the one who predicted an undefeated season for the Cardinals when he was just a freshman.
He's the forward who sat down with his hat cocked and his feet stretched across the podium as though it were a love seat, while his teammates stood and waved on the platform as they accepted the national championship trophy.
And he's also the player who told Pitino that he had no reason to worry about Monday night. He's the second-year man who ruined Michigan's goal of winning its first national championship in nearly a quarter-century because he hurled his tight end frame around the paint and confiscated loose balls.
On Monday night, the laid-back kid from Cincinnati was both the star and the jokester his teammates and coaches embrace.
"Chane just needed to grow up, as well as Kevin [Ware], mature as an adult," Pitino said. "I'll tell you something about Chane Behanan. When the chips are down, things don't go well, that young man rises to a new level. There's no question, when I looked at him today, he shook my hand and said, 'Don't worry about me, I'll bring it tonight.' He always rises in big games. He's 6-6, 6-7. He was a monster tonight."
The most impressive component of Pitino's accomplishments is his longevity. He led Providence to the Final Four in 1987, and this year, he guided Louisville to its third title. He's the only coach who has won multiple national championships with two programs (Kentucky and Louisville).
But he deserves similar credit for his ability to keep a program packed with teenagers and 20-somethings centered throughout a 16-game winning streak that concluded with a national championship.
The Cardinals are characters. Not bad guys, but just a mix of personalities. One glimpse in the locker room after the title game confirmed as much.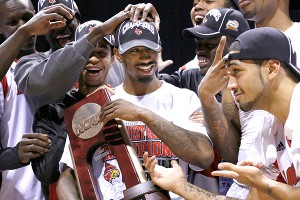 Sam Riche/MCT/Getty ImagesThe fun-loving Cards found the perfect balance between quirky off the court and focused on it.
Luke Hancock, who hasn't shaved in weeks it seems, walked the floor with the championship trophy. Gorgui Dieng stared at his cell phone, while walk-ons and reserves chuckled in a corner. Russ Smith answered questions about the good shots, bad shots and incomprehensible shots he took throughout a 3-for-16 effort that belied the fluid performances he had enjoyed throughout the bulk of the tournament but also summed up his college career to date. Peyton Siva responded to queries with the tact of a seasoned coach.
And Behanan wore the grin of a practical joker plotting on his next victim.
"Coach [Pitino] is the master of building relationships and mending guys together," assistant Kevin Keatts said. "He's done a great job with these guys. It stood out when Kevin Ware went down. It showed the world what kind of kids we've got. We've got great kids."
Somehow, Pitino fused those personas together and created an assembly that won 16 consecutive games. That streak began on Valentine's Day.
In that stretch, Louisville overcame every strategic maneuver that attempted to end its reign. The Cardinals meshed via unity that no team in the country seemed to match. Once tipoff arrived, they competed as a group, with each member prepared to provide a spark as needed.
No matter how nonchalant they appeared to be in the locker room, the UL players always conducted business on the court.
"I think [Pitino] just lets us be us," Smith said.
That freedom bred confidence for the program this season. The Cardinals rarely panic when they're down, a trait the Wolverines certainly observed in a loss that involved a 22-point swing in Louisville's favor from 3:56 seconds remaining in the first half to 3:27 seconds to go in the game.
When Michigan accumulated a 12-point lead in the first half, this loose Louisville bunch didn't worry. It was a familiar scenario. They were in a hole, and they needed someone to lead another familiar comeback.
Behanan was silenced in October. Pitino never discussed the events that led to his suspension, but he referenced immaturity concerns throughout the period in which Behanan was not allowed to speak with reporters. That's torturous for a man as outgoing as Behanan.
By all accounts, the suspension was a wake-up call. The Cardinals needed him, he realized, so whatever shenanigans had prompted that suspension had to cease.
Since then, he has grown as a player and a man. The 6-foot-6, 240-pound athlete was quiet for the majority of the tournament. But in the second half of his team's win over Wichita State in the Final Four on Saturday, he recorded a late tip-in and critical free throws that helped Louisville escape with a win over the Shockers.
Before Monday's effort, he studied film of Denver Nuggets forward Kenneth Faried. Then, he promised his teammates he'd be a beast inside.
"He came out today, and he was a man amongst boys on the board," Siva said. "He started [padding] his stats a little bit, trying to miss his layups and get it back, but he played terrific tonight."
Behanan scored 11 points in the second half and two of his second-half shots were go-ahead buckets.
With 1:52 to play, he missed two field goals, fought for both rebounds and scored on his third attempt to give Louisville an insurmountable eight-point edge.
That's the kind of night Behanan had in the biggest game of his life.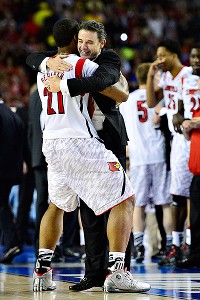 Bob Donnan/USA TODAY SportsThe first person Behanan hugged after the game was Rick Pitino.
But he didn't operate alone.
Siva finished with 18 points, 5 assists, 6 rebounds and 4 steals. Hancock scored 22 points (5-for-5 from the 3-point line). Hancock became the first non-starter to win most outstanding player honors. Dieng blocked 3 shots and recorded 8 rebounds.
And Pitino made the halftime adjustments that dropped the Wolverines from a team that shot 54.5 percent from beyond the arc in the first half to a squad that went 2-for-7 from behind the 3-point line in the second half.
That national championship season Behanan essentially promised last year? He was just 12 months early.
Pitino's program exited the 2012 NCAA tournament in a Final Four loss to Kentucky in New Orleans. Behanan's performance helped the Cardinals leave Atlanta under contrasting circumstances.
They're the champions now.
Behanan & Co. made music when they were together in 2012-13 via Pitino's coaching and a mental fortitude that anchored an unblemished two months.
When it mattered most, they were always ready.
And when it was clear that his team had won the title, Behanan pounded on his chest and pointed to the Louisville fans at the Georgia Dome.
Then, he walked to the sideline and wrapped Pitino in his arms.
It was a gesture of gratitude.
"Coach told me, when I was going through my little situation and suspension, he told me we're not going to do it without you this year," Behanan said. "So I had to get my act together and mature a little bit. … It felt real good [to hug him]."
That's Chane Behanan.
That's Louisville basketball.
ESPN Staff Writer
Covers college basketball
Joined ESPN.com in 2011
Graduate of Minnesota State University, Mankato
The Perfect Ending
ATLANTA -- Peyton Siva drove. Gorgui Dieng swatted. Luke Hancock swished 3-pointer after 3-pointer.
And for an almost-perfect half of basketball, a guy named Spike captured the nation's attention.
Could we have really asked for a better national championship game?
On Monday, Louisville prevailed 82-76 over Michigan, meaning the only No. 1 seed to make it to the final weekend finished No. 1, as well. But it was the wildness, the closeness, the unpredictability of the down-to-the-final-minutes showdown that will be remembered the most.
First there was Michael "Spike" Albrecht, the Wolverines' reserve freshman point guard who had to relieve Wooden Award winner Trey Burke early because of foul trouble. Albrecht had already scored a career-high nine points in the first nine minutes … and posted another eight, to the delight of everyone not wearing red in the arena, at home and on Twitter, to help his team build a 12-point lead.
Not to be outdone, Louisville roared back behind a reserve of its own. With his team trailing 33-21, Hancock scored the first 14 points (including four straight 3-pointers) of a 16-3 run that shrank his team's deficit to just one before halftime.
The second half wasn't as pretty, but it was close -- until Hancock's fifth 3-pointer of the game, with 3:27 left, gave the Cardinals a 10-point cushion. With 22 points, he was named the Final Four's MOP.
A perfect memory for him.
A great set of ones for us.
Complete Final Four Coverage
We had five writers in Atlanta covering every angle and every storyline. You can read and watch it all right here in the Final Four blog. »
Andy Katz With Luke Hancock
---
MVP: Louisville junior Luke Hancock came off the bench to score 22 points, including 14 during a 16-3 run that helped his team rally from a 12-point first-half deficit. He made all five of his 3-point shots for the game and had eight rebounds.
X factor: With 5:09 left and Louisville ahead 67-64, Michigan point guard Trey Burke was called for a foul on Peyton Siva -- on what looked, on replays, like a clean block. Siva hit both free throws, jump-starting a 7-2 run that gave the Cardinals a 10-point cushion with three minutes left. The Wolverines never recovered.
That was … a heckuva way to end the season: This championship had it all: speed, aggression, a double-digit comeback, big plays by reserves. Michigan made more than half of its shots, but Louisville outrebounded the Wolverines and forced 12 Michigan turnovers. It was such an entertaining game, it's too bad they couldn't play another half … or three.
-- Robbi Pickeral
Rick Pitino After UL's Win