Wisconsin does what works to get to Final Four
ANAHEIM, Calif. -- How long could 2.3 seconds last? It sure felt like an eternity to Wisconsin as officials checked the monitor to determine the game's final possession. The longer it took for a ruling, the more the Badgers realized Arizona would get the ball and a shot to win the game.
With the call reversed and the Wildcats awarded the ball in the West Region final against the Badgers, Wisconsin coach Bo Ryan gave simple instructions as they broke the huddle.
"All right," Ryan said, "it's time to D up."
Defense had long been the trademark of Ryan and Wisconsin basketball, to the point where this team wanted to change that perception.
All season the players wanted to show Wisconsin basketball could be a program that won with an explosive offense. It was determined to prove the Badgers no longer play a slow, deliberate pace to compensate for being scoring-challenged.
"This was known as defensive program that slows the ball down on offense," center Frank Kaminsky said. "We wanted to play a little bit of our own brand of basketball. We still have those principles instilled in us. So we're still a defensive team."
More from ESPN.com

Wisconsin went back to the basics, to the staples of Badger basketball for one night to get the win and a spot in the Final Four, writes C.L. Brown Story
---

Florida was too complete, too tough, too good to fall in another Elite Eight. That's why it didn't, writes Eamonn Brennan. Story
The Badgers reverted to that old brand of basketball to pull out their 64-63 overtime win against Arizona. And it couldn't be a more fitting way to send Ryan to his first Final Four.
"Against a team like Arizona, you're going to have to grind it out because they're so big, physical, talented," guard Josh Gasser said. "We did whatever we had to do to win, and fortunately it came out."
The Badgers are different from Ryan's past teams. Kaminsky dominated Arizona in a way few players under Ryan have been able to offensively. He scored a combined 20 of his game-high 28 points in the second half and overtime and was named the West region's Most Outstanding Player.
While watching free throw attempts, Wisconsin forward Sam Dekker said he asked Arizona center Kaleb Tarczewski how hard it was to guard Kaminsky.
"[Tarczewski] said, 'He's awkward, you never know what he's going to do, but it's effective,'" said Dekker, who added, "We run our stuff through him for a reason."
While Kaminsky was getting buckets, including Wisconsin's final three field goals in overtime, the Badgers were steady getting defensive.
Wisconsin actually got three stops in the final 12 seconds. The first came when Ben Brust got enough of a hand in T.J. McConnell's face to contest a jumper with 11 seconds remaining.
The second stop came despite allowing the Wildcats to grab an offensive rebound. Nick Johnson had his first chance to put Arizona back in the lead. He tried to drive to his right, but forward Josh Gasser stayed in good position and Johnson was called for a charge with 3.9 seconds left.
The official who made the call, Tony Greene, was also the official who called the charge with 10 seconds left on Syracuse forward C.J. Fair in a loss at Duke that led to coach Jim Boeheim's first ejection in a regular-season game.
Arizona coach Sean Miller said it was "a really, really tough call" but decided against elaborating further because he'd "already been fined."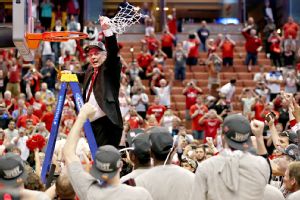 Jeff Gross/Getty ImagesBo Ryan is going to his first Final Four thanks to some Wisconsin staples the Badgers used in beating Arizona.
That call didn't decide the outcome. Wisconsin's defense did by again preventing Johnson a chance to even attempt a shot when it got the ball back with 2.3 seconds left.
"By the way, Wisconsin is one heck of a defensive team; it's not like they're going to [mess] up," Miller said. "They're going to make you shoot over them."
Gasser got brushed off a pick, allowing Johnson to get the ball on the inbounds pass. But guard Traevon Jackson stepped in to pick him up. It prevented Johnson from pulling up for a 3-pointer and forced him to take added dribbles to turn the corner.
"If I had to go back and do it, I probably would have taken one dribble less and try to pull up and get the shot off," Johnson said. "But they made it tough."
Jackson said it also helped that Kaminsky shadowed his movement. By the time Johnson got a step ahead to launch a shot, the buzzer sounded, the backboard light flashed on and the Badgers were advancing to the Final Four.
"I didn't want to foul him or touch him at all; I didn't want to give the ref a chance," Jackson said. "He kind of beat me, and once Frank stepped up, I was like, 'It's helping us out.' That's why I think he didn't get the shot off."
Johnson wasn't the only player having trouble scoring. Dekker helped harass Arizona's Aaron Gordon into an off game shooting. The freshman forward missed his first eight attempts before finally making a reverse layup with 2:32 left in regulation.
According to ESPN Stats & Information, Gordon was just 2-for-9 on shots in the paint, missing six layups. During his previous three NCAA tournament games, Gordon shot 76 percent in the paint, missing only three layups.
Wisconsin made it tough all around on the Wildcats, holding them to 40 percent shooting. It was Arizona's worst shooting outing since making just 35.9 percent in a 69-66 loss at Arizona State on Feb. 14.
Jackson said the Badgers' win doesn't symbolize their returning to their old ways. But he added it's nice to know if they need to, it works.
"A lot of our guys in the past have played that way and that's fine, they got it done, they still won," Jackson said. "I think this year is such a versatile team. We can win any way. We can win by going up or down or by grinding you out."
ESPN Staff Writer
Covers college basketball
Joined ESPN.com in 2013.
Graduate of the University of North Carolina.
The Latest Dish

Florida was in the Elite Eight in each of the past three seasons. Each time, it went home, its journey ending a step shy of the Final Four.
This time, as the tournament's No. 1 overall seed, the Gators assured another weekend of basketball by overpowering March darling Dayton. The Gators grabbed 11 more rebounds and shot 20 more free throws than the Flyers in a game that remained close but never so close that it appeared Florida was not advancing on.
Happenings In Anaheim
---
Deciding factor: Arizona fans might tell you it was the officiating. Nick Johnson was called for a controversial offensive foul with 4 seconds to play. The Wildcats forced a turnover on the ensuing inbounds pass, but Johnson couldn't get a shot attempt off in time, sending the Badgers to their first Final Four since 2000.
Player of the game: Wisconsin's Frank Kaminsky. The 7-foot junior had 28 points, including three 3-pointers, and 11 rebounds to lead the Badgers.
Key stat: The neck-and-neck game produced an almost symmetrical box score, but Arizona missed five free throws (12-for-17) while Wisconsin missed just two (10-for-12).
Happenings In Memphis
---
Deciding factor: Tempo. Florida controlled the pace of the game and limited Dayton's transition opportunities. The Flyers had been running and gunning in their three previous tournament wins but scored just eight transition points on Saturday thanks to Florida's full-court pressure defense.
Player of the game: Florida's Scottie Wilbekin. The senior guard had 23 points, including three 3-pointers, to lead the Gators. He also added three steals and three assists.
Key stat: Not only did the Gators outrebound the Flyers by 11, they also took advantage of second-chance opportunities. Florida finished with 13 second-chance points, while Dayton had just 1.