Junior college players show process works
Baylor point guard Kenny Chery worried about his future.
He had solid grades and a proven work ethic. He was a strong competitor who had left his family in Montreal to pursue Division I basketball opportunities.
After he finished high school in Washington, D.C., and the time arrived for the Canadian prospect to apply for colleges, however, he encountered a challenge that his 3.2 GPA could not help him overcome.
The NCAA Clearinghouse refused to grant Chery eligibility to play at the next level. The Canadian classes on his transcript, some of which weren't deemed adequate, complicated his journey.
"Some classes back home, they don't use them here as core credits," Chery said. "For example, history. We don't learn the same history."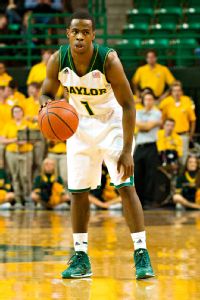 Cooper Neill/Getty ImagesKenny Chery had to a travel a longer road to get to Baylor. "But it worked out pretty well," he said.
So he had to take a detour to State Fair Community College in Sedalia, Mo.
It's unfair to stereotype an entire pool of talent, yet the "junior college" tag often elicits skepticism within the college basketball community. But that perception might be changing, especially for coaches seeking mature players who can fill key holes on their rosters.
"I just knew that I had to do what I had do to get here," said Wichita State's Darius Carter, who attended Vincennes University in Vincennes, Ind., before joining the Shockers. "I wasn't really worried about how I'd be labeled. I just wanted to stand out as one of those guys that's not a 'juco guy,' one of those types of people."
There are many examples of athletes who have succeeded after junior college. Players such as Steve Francis, Jimmy Butler, Avery Johnson, Ben Wallace and Dennis Rodman were all juco products before successful NBA runs.
This season, Wichita State's Cleanthony Early, Ole Miss' Marshall Henderson, Memphis' Geron Johnson, Louisville's Chris Jones and Chery have all played significant roles for their respective programs. But there are far more casualties than stars who have entered Division I basketball from the junior college circuit in recent years.
And even some of the players who have made it have had to battle a negative perception about athletes who come from those ranks. Concerns about prospects' academic aptitude, athletic ability and character have been obstacles for players in Chery's position.
"I didn't want people to think, he didn't qualify [out of high school] because he got bad grades," Chery said. "At first, I was really worried."
More from ESPN.com

Kansas' Joel Embiid has burst onto the scene. His game is NBA-ready. He's not sure he is, writes Dana O'Neil. Story
---

Junior college transfers, like Baylor's Kenny Chery, are making significant contributions this season, writes Myron Medcalf. Story
---

What has gone wrong with Wisconsin and Iowa State lately? It's part of the January thaw, writes Eamonn Brennan. Story
---
• Interview with Joel Embiid


• 3-Point Shot: Weekly honors


• Daily Word: Baylor at Kansas
But the junior college crop is more complex than that, and Chery's tale proves as much.
There are definitely some juco players who are not playing high-major basketball because of academic issues or other "red flags." There are others who were good kids who just needed junior college to prepare them for the transition to Division I basketball. In that regard, junior college is not always a last chance for bad seeds. It's also a haven for players who can boost a program on and off the court from the moment they arrive.
And coaches recognize that.
"With Kenny, we're like there's nothing he can't do," said Baylor coach Scott Drew, who relied on junior college transfer Pierre Jackson last season. "He's got the midrange, the 3, the floater. [He] can finish at the rim, can defend, good student, good leader, diligent. No red flags."
When Larry Brown coached Kansas in the 1980s, he stayed away from junior college players. He didn't think it was fair to sign them and potentially reduce playing time for the players who had spent two or three years in his program.
He's changed his stance since returning to college basketball at SMU, although new academic requirements make it tougher to add junior college players today than it was 30 years ago.
"I love junior college kids, personally, because they're hungry," Brown said. "There's great coaching on the junior college level."
Mustangs big man Yanick Moreira drew interest from Division I schools after participating in the 2010 Nike Hoop Summit. The Angola native, however, had plenty to learn off the court too. He had to adjust to the American academic system.
There was another potential hindrance when Moreira and his family decided that some time at South Plains College in Levelland, Texas, would be best for his basketball and scholastic career.
He didn't know the language.
"I think it was because of my English because I had to learn how to speak English," Moreira said. "Actually, I had a couple of Division I offers [out of high school], but that wasn't good enough for me. Me and my family, we decided, if I went to junior college, it would be great and open up other opportunities for me."
For others, academic problems are their main barriers.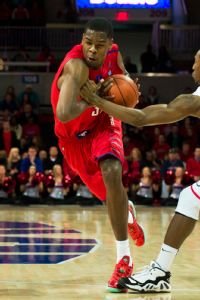 Cooper Neill/Getty ImagesYanick Moreira didn't go to junior college before SMU because he had character or academic problems. He just needed time to better learn the language.
There is definitely a group of junior college prospects who warrant scrutiny because they struggled in the classroom in high school.
Iowa State's Dustin Hogue admits that he failed to meet the academic bar. But the Big 12's No. 2 rebounder doesn't regret the experience. He matured at Indian Hills Community College in Ottumwa, Iowa. He studied the game and evolved into a better player and a more disciplined student.
He's not sure he would have possessed those tools had he played Division I basketball after high school.
"It helped me polish my game more," he said. "I just became more focused. My coaches were on top of me."
Mining the field is not easy, though. The uneven competition among junior colleges results in deceptive stat sheets for players who can't make the same impact at the next level. So the analysis of a potential juco prospect, both on and off the floor, is an exhaustive undertaking.
"There's no doubt," Fred Hoiberg said. "That's not just junior college kids. That's everybody. That's high school kids. That's obviously transfers. You have to do as much work on them as possible to see if there are some things, to see if they won't fit in your program. We've had great luck with our junior college players."
The Iowa State coach has found some of the gems among junior colleges. Last year, Tyrus McGee, a junior college transfer, earned the Big 12's sixth man honor. Hogue is averaging 12.2 points and 9.1 rebounds per game for him this season.
"I think you just have to do as many evaluations on a kid as you can, put the whole package together and see if they fit in your system," Hoiberg said.
That pursuit of certain junior college standouts can lead to products like Chery, a guard who has the Big 12's highest assist rate, per Ken Pomeroy.
"I thought it was a little setback," Chery said. "I didn't really like junior college at first. I was like, 'Oh, why am I here? I should be at a Division I school right now.' But it worked out pretty well."
ESPN Staff Writer
Covers college basketball
Joined ESPN.com in 2011
Graduate of Minnesota State University, Mankato