Padgett and Pitino 'white out' Georgetown
Joe Robbins/US Presswire
Writer's Take
Pat Forde
ESPN.com
The second half was all Louisville. It began with a (Rick) Pitino wardrobe malfunction: In keeping with the white-out theme for this game, the famously flashy dresser dared to wear an all-white suit. For a half. He came out after intermission in black. The immediate assumption: John Travolta needed it back. The reason Pitino gave ESPN sideline reporter Erin Andrews: He spilled Diet Coke on the white linen at halftime. The real reason: Saying he hadn't worn a linen suit since first communion, Pitino was sweating right through the sucker … and wearing blue drawers underneath. To avoid a memorable wardrobe malfunction on national television, he switched suits. Louisville also switched attitudes. The Cards heated up Georgetown's guards with their pressure, got on the offensive glass, got some big shots from
Jerry Smith
and placed a defensive sleeper hold on the Hoyas. The second half was a 16-point whipping. (David) Padgett was in the literal and figurative middle of it. He had half his points, all his rebounds and 75 percent of his assists after intermission. "Padgett was great, just great," Pitino said. "… He wasn't really in shape until recently. Now his knees aren't bothering him and he's healthy. He's a smart and terrific basketball player. I just love coaching him. It's one of the more enjoyable experiences in my coaching career, coaching him."
To read all of Pat Forde's column on Louisville's win over Georgetown, click here.
Expert Analysis
By Doug Gottlieb
ESPN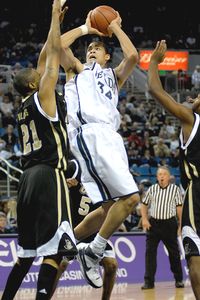 AP Photo/Nevada Appeal, Kevin Clifford
Nevada sophomore forward JaVale McGee, averaging 13.1 points and 7.7 rebounds, is the real deal.
• In a remarkable turnaround in just two days,
Oregon
fell 72-43 to Stanford on Thursday but bounced back with a 92-70 win over Cal on Saturday. The win, Oregon's first in Haas Pavilion since 2000, was marked by the most ridiculous shooting performance by a team this season. Oregon was 18-for-31 from 3-point range, and
Tajuan Porter
led the Ducks with a 7-for-11 3-point shooting barrage. • Nevada's
JaVale McGee
is the real deal. The 7-footer is a future pro. McGee has a 7-5 wing span and a cut physique, and he runs the floor and blocks shots well. His agility is better than UConn's
Hasheem Thabeet
and Georgetown's
Roy Hibbert
, but he does not appear to be as strong as either. I still think he needs more time to develop his body and game before taking a jump to the next level. •
Oklahoma
is in BIG trouble. After Saturday's 14-point loss to Colorado, OU has lost three in a row and has zero offense outside freshman
Blake Griffin
, who scored 25 points against the Buffs. With road trips still remaining to Texas, Nebraska, Texas Tech and Oklahoma State, OU desperately needs better 3-point shooting. The Sooners (15-8, 3-5 Big 12) shot just 4-for-26 against the Buffaloes.
Did You See?
• LSU, playing its first game under interim coach
Butch Pierre
after firing head coach John Brady, put a scare into seventh-ranked Tennessee on Saturday. The Vols never trailed in the second half but needed a
JaJuan Smith
steal and layup with 11 seconds left to give Tennessee a 47-45 win. Tennessee's 47 points were its season worst by 19 points. •
Pat Knight
is now 0-2 as head coach of Texas Tech. The Red Raiders lost 73-62 at Nebraska. Texas Tech lost Pat Knight's debut against Baylor on Wednesday. • USC coach
Tim Floyd
was ejected in the second half of his team's 74-50 loss to No. 17 Washington State. Floyd was upset about a non-call, and he charged onto the court. He was given one technical foul, and he was slapped with a second technical when he continued to argue the non-call. He was ejected with less than five minutes remaining in the blowout. • After Saturday's 62-52 win over Alabama,
Kentucky
has now won five games in a row to improve to 6-2 in SEC play and 12-9 overall. •
Robert Dozier
scored 11 points and grabbed six rebounds in 20 minutes off the bench in Memphis' 85-64 win over Central Florida. The game was the first one back for the junior forward, who was benched by coach John Calipari against SMU on Wednesday for violating a team rule. • Kansas State senior guard
Clent Stewart
watched Saturday's 82-61 win over Oklahoma State from the bench in street clothes after flying in that morning from his mother's funeral. Vanessa Stewart died Tuesday after a long bout with bone cancer. The Wildcats team flew to a memorial service for Vanessa Stewart on Friday and then returned to Manhattan, Kansas, later that night for Saturday's game. Against OSU, the team wore pink warmup shirts and a patch with her initials on their jerseys.
Key Notes
By Jason McCallum
ESPN Research
•
Kansas
beat Baylor 100-90 without a 3-point field goal. It was the first time in 271 games that the Jayhawks did not make a single shot from behind the arc. That was a 68-54 loss at Texas under head coach Roy Williams on Feb. 28, 2000. On that day, former Duke Blue Devil Josh McRoberts turned 13 years old, the Yankees were in spring training preparing for what would become their third straight World Series-winning season, and top-ranked Stanford was riding a 13-game win streak. • The last Division I team to score 100 or more points in a game against a Division I opponent was TCU, which beat Long Island University 105-95 on Nov. 22, 1997. • This season, before Saturday, the most points scored by a Division I team this season without a made 3-pointer was 71 by Missouri in Monday's 90-71 loss at Kansas. Only 23 times this season has a team gone an entire game without a 3-point FG made, and those teams have gone 8-15 in those games. •
Hasheem Thabeet
had 24 points, 15 rebounds and six blocks in Connecticut's 80-68 win over Georgia Tech. Only one other player has had a game with at least 20 points, 15 rebounds and five blocked shots -- and that was Rider's
Jason Thompson
, who has done it twice this season.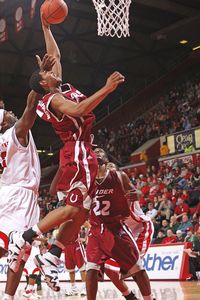 Jim O'Connor/US Presswire
Rider's Jason Thompson has twice had at least 20 points, 15 rebounds and five blocks.
•
Michael Beasley
recorded yet another double-double, recording 23 points and 13 rebounds in Kansas State's 82-61 win over Oklahoma State. His 19 double-doubles is tops among all Division I players. In those 19 games, Beasley is averaging 26.5 points per game and 13.1 rebounds per game -- meaning his performance on Saturday was actually below average for him. • Maryland's
Greivis Vasquez
tied a school record with 15 assists in the Terps' 84-70 win at NC State. Terrell Stokes also had 15 assists in the 1998-99 season-opening 113-46 win over Western Carolina. Vasquez also had 13 points and nine rebounds. Vasquez tied High Point's
Mike Jefferson
and Liberty's
TeeJay Bannister
for the most assists in a game this season. • In games decided by one possession on Saturday, the home teams were 9-13. There were 14 games that went to overtime on Saturday, and the home teams were 5-9 in those contests. • New Mexico's
J.R. Giddens
scored 36 points and grabbed 11 rebounds in the 100-55 win over Wyoming. He is the seventh player to record at least 35 points and 10 rebounds in a game this season. VMI's
Reggie Williams
has done it three times, and Kansas State's Beasley has done it twice. • Vanderbilt beat South Carolina 66-65 in a game that literally came down to the last possession. Each team was 25-for-55 from the floor until Vanderbilt sophomore
Jermaine Beal
drove to the hoop and scored the game-winning basket with 0.6 seconds remaining. It was the last shot of the game -- and Beals' only points. • Grambling State started its season on an 11-game losing streak, but the Tigers have picked it up as of late. They are riding a four-game winning streak -- their first since a seven-game winning streak during the 2005-06 season.
On Tap For Sunday
• Saint Joe's at Xavier, Noon ET
• Indiana at Ohio State, 1 p.m. ET
• Arizona State at Arizona, 2:30 p.m. ET
• UCLA at Washington, 4:30 p.m. ET
• Clemson at North Carolina, 6:30 p.m. ET
• Southern Illinois at Creighton, 7 p.m. ET (ESPNU)
For the full schedule, click here. All games on ESPN, ESPN2 and ESPN Full Court are also on ESPN360.com.
Top 25 Scores From Saturday
• No. 1 Memphis 85, Central Florida 64
• No. 2 Duke 90, Boston College 80
• No. 5 Kansas 100, Baylor 90
• Louisville 59, No. 6 Georgetown 51
• No. 7 Tennessee 47, LSU 45
• Purdue 72, No. 8 Wisconsin 67
• No. 9 Stanford 71, Oregon State 56
• No. 10 Michigan State 70, Northwestern 55
• No. 11 Butler 62, Wisconsin-Green Bay 57
• No. 12 Texas 71, Iowa State 65 (OT)
• No. 15 Drake 73, Evansville 65
• No. 17 Washington State 74, USC 50
• No. 18 Texas A&M 77, Missouri 69
• No. 19 UConn 80, Georgia Tech 68
• No. 20 Vanderbilt 66, South Carolina 65
• No. 21 Notre Dame 86, No. 19 Marquette 83
• No. 22 Florida 77, Georgia 67
• No. 24 Kansas State 82, Oklahoma State 61

Purdue completes season sweep of Wisconsin
More Scores Of Note
• Maryland 84, NC State 70
• Villanova 72, Seton Hall 70
• Oregon 92, Cal 70
• Arkansas 75, Mississippi 69
• Kentucky 62, Alabama 52
• George Washington 57, Dayton 54
• Old Dominion 72, George Mason 64
• Ohio 57, Western Michigan 54
For all scores, click here.
Louisville swarms Georgetown in second half
Big East Standings
Conference
Overall
Georgetown
9-2
19-3
Notre Dame
8-2
18-4
Louisville
8-3
18-6
Connecticut
7-3
18-5
Pitt
6-4
18-5
Marquette
6-5
16-6
Syracuse
6-5
16-8
Cincinnati
6-5
11-12
West Virginia
5-5
16-7
Seton Hall
5-6
15-9
DePaul
5-6
10-13
Villanova
4-6
14-8
St. John's
4-7
10-12
Providence
4-7
13-10
Rutgers
2-10
10-15
South Florida
1-10
10-14
For all the conference standings, click here.
UConn beats Georgia Tech for seventh straight win
Texas needs OT to beat Iowa State
Path To Perfection
With Memphis' 85-64 win over Central Florida, the Tigers (23-0, 9-0 Conference USA) are the only unbeaten team in Division I hoops. Here is No. 1-ranked Memphis' remaining regular-season schedule: Feb. 13 Houston
Feb. 16 at UAB
Feb. 20 at Tulane
Feb. 23 Tennessee (ESPN, 9 ET)
Feb. 27 Tulsa
March 1 Southern Miss
March 5 Southern Methodist
March 8 UAB

Quotable …

Come on, we're not even in the same league and they don't want us in the SEC and they want the city of Memphis to die.

--Memphis coach John Calipari joked to the Associated Press, trying to underplay the highly anticipated matchup against No. 7 Tennessee on Feb. 23.

At Notre Dame, we're halfway smart, so we can add up and trading two for two is all right.

--Notre Dame junior forward Luke Zeller said of trading free throws for layups in the last minute of the Irish's 86-83 win over Marquette.
IBM's Greatest Players: No. 21 Tim Duncan