Hoosiers knock off Baby Boilers
Brian Spurlock/US Presswire
Key Shot
By Pat Forde
ESPN.com
BLOOMINGTON, Ind. -- Kelvin Sampson walked off the Assembly Hall floor with polite applause and the Indiana University fight song in his ears. If this was it, then it was quite the awkward goodbye. Sampson's team just beat Purdue, Indiana's most bitter rival. Three days earlier, his Hoosiers ripped a top-10 opponent by 19 points. They're 22-4 and pushing hard for just their second Big Ten title in the past 15 years. They're playing great. And the coach is close to done. If you could put a thought bubble over the fans clapping as their coach walked by, it would probably say something like this: "We love your team. We hate your ethics. We're confused as hell. We want to thank you for beating Purdue -- and now we'd like you gone." The endgame is here, the outcome verging on preordained. Sampson stands accused of five major NCAA violations, at a school with a history of playing it clean. If there is another Indiana basketball game in his future, he's pulled off an upset comparable to a No. 16 seed beating a No. 1. Later this week, a suspension of Sampson for the purpose of eventual termination is likely, according to a source familiar with the situation. Sampson would have 10 days to appeal to save his job, but his fate would virtually be sealed.
To read all of Pat Forde's column on Purdue-Indiana, click here. To watch highlights of the game, click here.

News Of The Day
On Sunday, Duke coach Mike Krzyzewski said the Blue Devils don't report injuries "unlike other teams." Though he didn't specifically mention North Carolina, coach Roy Williams took umbrage at the comment.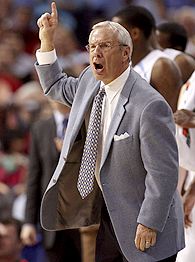 Doug Benc/Getty Images
Mike Krzyzewski's comment has rankled Roy Williams.
During a Tuesday press conference, Williams expressed his disdain for Krzyzewski's comment. "It's not like I'm getting a dadgum plane and flying it around to say, 'Roy fell against a wall and banged his nose,' or anything," he said. "We have to do those things [talk about injuries] and everybody's hurt. But there's different stages of being hurt. "If you're hurt and missing games, that's not exactly like having a hangnail. And so we do have some people that are getting hurt and missing games. I don't think that somebody should say we're putting it in front of the public." Later, he added, "I said before we played Duke it's impossible to have any more respect than I do for Mike, but I felt like that comment was aimed towards us."
For the full Associated Press story, click here.
Memphis-Tennessee A Hot Ticket
Tennessee coach Bruce Pearl had to call Memphis coach John Calipari to ask for tickets for Peyton Manning for their much-anticipated, 1-2 matchup. "Tickets are going online like they're Super Bowl tickets," Calipari said during a conference call. "It's incredible." As of Tuesday, tickets were going for as much as $10,000 on Stubhub. The game's timing has a lot to do with the soaring demand.
For the full Associated Press story, click here.
Key Notes
By Jason McCallum
ESPN Research
• The game of the night was played in Oklahoma, where the
Sooners beat Baylor 91-90 in overtime
. Oklahoma blew an eight-point lead in the final three minutes of regulation and allowed Baylor to score the first seven points in overtime. But the Sooners fought back, and
Tony Crocker
got a four-point play with 7.3 seconds left to provide the winning margin. • Baylor's
Curtis Jerrells
scored 29 points to lead the Bears, but he missed two free throws with one second left that would have given Baylor the win. Jerrells has taken 105 free throws this season, and this was only his fourth trip to the line in which he's gone 0-for-2. •
Connecticut
had to squeak one out with a 65-60 win over DePaul. Connecticut has won 10 straight games for the first time since it started last season 11-0. During the current 10-game winning streak, the Huskies have won by an average of 5.7 points -- and eight of the 10 games have been decided by single digits.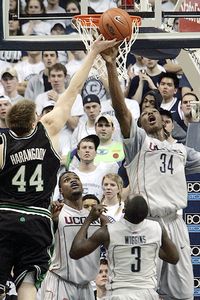 AP Photo/Bob Child
UConn's Hasheem Thabeet blocked eight shots in the Huskies' win over DePaul.
•
Connecticut
blocked 15 DePaul shots. This was the third time this season the Huskies have swatted away 15 shots by their opponent. Only one other school has 15 blocks in three separate games this season: UNC Asheville, which features 7-foot-7
Kenny George
, the tallest player in Division I history. • Since becoming a Division I program in the 2000-01 season,
Savannah State
has played two road overtime games and has won each by three points. The amazing thing is that both have come in the past 10 days: a 69-66 win at Longwood on Feb. 9 and Tuesday's 63-60 win at Stetson. •
Bradley
got an upset win at Drake, toppling the Bulldogs 72-71. Over the past four seasons, the Braves are 4-1 in games decided by one point. Their one loss was at home on Jan. 16, a 69-68 loss to Drake. • For just the third time since it joined the Missouri Valley Conference in the 1907-08 season -- yes, 100 years ago --
Drake
has split a season series against a conference opponent with each team winning by one point. The other two: the 1967-68 season against Wichita State and the 1938-39 season against Tulsa. • In UNC Greensboro's 75-66 loss at Davidson on Tuesday, Spartans senior
Kyle Hines
grabbed 11 rebounds to move past the 1,000 mark in his career. You may not have heard much about Hines, but he became the sixth player in Division I history to eclipse 2,000 career points, 1,000 career rebounds and 300 career blocked shots. The other five players are names you might recognize: Derrick Coleman, Tim Duncan, Pervis Ellison, Alonzo Mourning and David Robinson. Four of those five players were No. 1 overall picks in the NBA draft, and Mourning was taken second in the 1992 draft -- one pick after Shaquille O'Neal. • Indiana's
D.J. White
recorded his 16th double-double of the season in the Hoosiers' 77-68 win over Purdue. He's tied for the fifth-most double-doubles in Division I this season, but is by far the leader in the Big Ten. Second in the conference is Penn State's
Geary Claxton
(nine), who missed the Lions' past eight games and is out for the season. •
Utah Valley State
won 69-62 at North Carolina Central. Junior guard
Ryan Toolson
was 15-for-15 from the free-throw line and improved to 153-for-160 (95.6 percent) this season. That percentage leads all Division I players who have enough attempts to qualify. To put his charity-stripe mastery into perspective, consider the following: Memphis is shooting 58.3 percent, which ties Winthrop for the worst free-throw percentage among all 341 Division I teams. Toolson would have to miss his next 102 free throws to get his percentage down to the Tigers' level.
On Tap For Wednesday
• North Carolina at NC State, 7 ET (ESPN)
• Auburn at Tennessee, 7:30 ET
• Memphis at Tulane, 8 ET
• West Virginia at Villanova, 8 ET (Full Court)
• Duke at Miami, 9 ET (Full Court)
• Kansas State at Nebraska, 9 ET (ESPN2)
For the full schedule, click here. All games on ESPN, ESPN2 and ESPN Full Court are also on ESPN360.com.
Top 25 Scores From Tuesday
• No. 13 Connecticut 65, DePaul 60
• No. 14 Indiana 77,
No. 15 Purdue
68
• Bradley 72,
No. 18 Drake
71
For all scores, click here.
Davidson Stays Perfect In SoCon Play
Daily Word
By Andy Katz
ESPN.com
Memphis coach John Calipari can't wait for Saturday's 1 vs. 2 showdown with Tennessee. Why? "It's finally a game that we're allowed to lose," Calipari said Monday night. Calipari's frustration stems from a perception that the Tigers aren't allowed to, or shouldn't drop, a game in Conference USA. He said that Duke isn't criticized for losing at Wake Forest, yet had Memphis lost at UAB on Saturday night (and it took a defensive stop in the final possession to pull it off), then the Tigers "would have dropped eight or nine spots in the poll." Memphis' next game, prior to Tennessee, is at Tulane on Wednesday. The Green Wave are having a solid season under Dave Dickerson at 5-5 in the league, 15-9 overall.
For Katz's full blog, click here.

Andy Katz answers e-mails
Big Ten Standings
Big Ten record
Overall record
Purdue
12-2
21-6
Indiana
11-2
22-4
Wisconsin
11-2
21-4
Michigan State
8-4
20-5
Ohio State
8-5
17-9
Minnesota
5-7
15-9
Iowa
5-9
12-15
Penn State
4-8
12-12
Michigan
4-9
8-17
Illinois
3-10
11-15
Northwestern
0-13
7-17
For all standings, click here.
Meet Lester Hudson
By Chris Low
ESPN.com
Even now,
Lester Hudson
still pinches himself occasionally and wonders how he made it out of one of the roughest neighborhoods in Memphis, his thoughts drifting back to all those times he wanted to give up and all those times when the thought of playing Division I basketball seemed like a fairy tale. But this is no fairy tale. This is the real thing, and so is Hudson. Three games into his UT-Martin career earlier this season, he became the first men's player in Division I history to record a quadruple-double with 25 points, 12 rebounds, 10 assists and 10 steals in a 116-74 win over Division II Central Baptist College. But he also showed greatness against the big boys, erupting for 36 points, nine rebounds and six assists against Vanderbilt, 35 points and 10 rebounds against Memphis and 27 points and 11 rebounds against Mississippi State. In his most recent outing, a 98-85 win over Southeast Missouri State on Feb. 16, Hudson turned in a triple-double -- 26 points, 12 rebounds and 10 assists.
To read Chris Low's full feature on Lester Hudson, click here.
Forde Minutes
While March may have the madness, don't forget to enjoy the journey to the Dance. And with that, Pat Forde breaks down the must-see games to watch from now until champ week. Here are this week's games … • Saturday (ESPN2, 5 p.m. ET):
Drake at Butler (5)
. Best BracketBuster game ever? It matches teams with a combined 47-4 record, a pair of top-20 RPIs (Drake is ninth, Butler 18th) and teams that have spent a combined 19 weeks in the ESPN/USA Today coaches' poll. For fans that haven't seen much of either team and want to appraise their tournament worthiness, tune in. The fact that the game is played in Hinkle Fieldhouse only adds to the allure. • Saturday (ESPN, 9 p.m. ET):
Tennessee at Memphis (6)
. This is the biggie. They're ranked 1-2 in the polls (Memphis, followed by Tennessee). They're ranked 1-2 in the RPI (Tennessee, followed by Memphis). Quite simply, it's the largest game of the season and the largest game in the history of a football-first state. The rivalry between orange and blue has really heated up since Bruce Pearl swaggered into Knoxville and offered a competing megawatt personality (and winning percentage) to John Calipari's. But the social gap goes way beyond recent times. Memphis is almost an island republic on the state's western edge, whereas the state university nearly 400 miles to the east is in a wholly different place geographically and culturally. You'll find a lot more orange in Memphis than you'll find blue in Knoxville. Saturday night, you'll find the biggest (and potentially best, if both teams live up to their on-court styles) game of the season.
For the full Forde Minutes, click here.
IBM Greatest Players: No. 14 Elvin Hayes