Tennessee, Memphis preserve 1-2 matchup with easy wins
Wade Payne/AP Photo
Key Shot
By Chris Low
ESPN.com
KNOXVILLE, Tenn. -- Memphis did its part, and so did Tennessee. The No. 1 vs. No. 2 showdown was preserved Wednesday night with both teams cruising in games that were never really close. Memphis blasted Tulane 97-71 on the road, while Tennessee took care of business at home in an 89-70 battering of Auburn. Now, onto the one everybody's been waiting for Saturday at the FedEx Forum in Memphis (
ESPN, 9 p.m. ET
). "It's the biggest game of my life, but we're not going to treat it any differently than any game we've played all year," Tennessee senior guard
JaJuan Smith
said. "We play every game like it's the championship." A championship won't be at stake Saturday in Memphis (well, maybe a state championship of sorts), but never has the national spotlight in men's basketball shown on two teams from the state of Tennessee like it will this weekend in Elvis' hometown.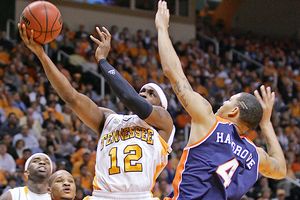 Wade Payne/AP Photo
Ramar Smith scored a team-high 19 points in Tennessee's tune-up for No. 1 Memphis.
No. 1 Memphis (26-0) is bidding to become the first team since UNLV in 1991 to go into the NCAA Tournament unbeaten. No. 2 Tennessee (24-2) is basking in the kind of success usually reserved for its women's program. "This weekend is a celebration for Tennessee basketball," Tennessee coach Bruce Pearl said. "These events are reserved for Tobacco Road at this time of the year, and I say that with all due respect & or somewhere in Indiana or Ohio." But in the same breath, Pearl said the Vols' season won't hinge on what happens Saturday against Memphis. He said there's more out there for this team, namely winning the school's first outright SEC title since 1967. The Vols (11-1 in the SEC) now have a two-game lead in the loss column. They have an equally treacherous game at Vanderbilt on Tuesday (
ESPN, 9 p.m. ET
) just three days after the Memphis showdown. "We've got to find a way to win one of these games," Pearl said. "If we're fortunate enough to win the first one, we've got to find a way to win two of these games. Whatever we do at Memphis, we've got to be ready to turn around and go to Vanderbilt. It's step-up time." The only disappointing thing for Pearl on Wednesday was that he had to put his starters back into the game after the reserves failed to hold a lead that had ballooned to 31 points. Auburn (13-11, 3-8 SEC) pulled to within 14 points with just over two minutes to play. "I'm not concerned about hurting feelings," Pearl said. In a testament to Tennessee's balance, sophomore guard
Ramar Smith
scored a season-high 19 points, becoming the sixth Vol this season to lead the team in scoring. "That's us. We've got depth, and we've got each other's back," Smith said. "Everybody doesn't need to have their best game every time out."
Inside The Blog
By Andy Katz
ESPN.com
• Tennessee coach Bruce Pearl dismissed the point that beating Memphis is a must for a potential No. 1 seed. "If we didn't have the game on our schedule, and continued to win out, wouldn't we get a one seed?" Pearl said. "This is a great game for Tennessee and for Memphis. But I don't think it moves us that much win or lose." Pearl is referencing one of the four No. 1 seeds in the selection bracket. Pearl said Memphis coach John Calipari originally wanted the game on a neutral court in Nashville, rather than a home-and-home. We'll see if that occurs as the series moves forward. Pearl also wasn't too thrilled that Calipari made public Pearl's request for tickets for Peyton Manning.
To read all of Katz's blog, click here.

Key Notes
By Jason McCallum
ESPN Research
• Miami beat Duke on Wednesday night 96-95. It is the first win by the Hurricanes over the Blue Devils since Dec. 21, 1962. What else was going on that day? Tennis legend Chris Evert turned 4 years old; comedian Ray Romano turned 5 years old; and Joe Paterno turned 38 years old. Paterno was still nearly four years away from coaching his first game with the Nittany Lions.
• Tennessee's Chris Lofton was 4-for-9 from long distance in the Volunteers' 89-70 win over Auburn. He now has 402 career 3-pointers, good for fifth on the Division I all-time list. He passed Syracuse's Gerry McNamara and Radford's Doug Day during the win over the Tigers. It was his 53rd game with at least four 3-point field goals made -- nearly half of his 118 career games.
• Houston's Rob McKiver scored 41 points in the 101-99 loss at UAB. He is the 16th player to score 40 or more points in a Division I game this season and those players' teams are 12-4 during those games. McKiver's Cougars, however, are the first team with a 40-point scorer to lose in regulation this season. The last player to score 40 or more in a regulation loss was JamesOn Curry of Oklahoma State, in an 86-82 loss at Baylor on March 3, 2007.
• Michigan State beat Penn State 86-49 on Wednesday night. The 37-point win is tied for the second-largest margin of victory ever for the Spartans in a Big Ten conference game. On March 4, 2000, they beat Michigan by 51 points (114-63). The other 37-point win was on Jan. 18, 1995, vs. Northwestern, when they won 93-56.
• Illinois had six assists and 20 turnovers in its 71-57 loss to Wisconsin. The Illini are the sixth team to have at least 20 turnovers with six or fewer assists in a big six conference game this season. Two of the previous five teams actually won their game -- Baylor beat Nebraska on Jan. 19 with 21 turnovers and six assists, and Florida State had 21 turnovers and five assists in its win over Clemson on Tuesday night.
• North Carolina's Tyler Hansbrough had 32 points, 12 rebounds and five steals in the Tar Heels' 84-70 win at North Carolina State on Wednesday. The only other ACC player to reach those numbers in a game in the past decade was Florida State's Tim Pickett, who had 32 points, 11 rebounds and seven steals in a win over Davidson on Dec. 30, 2002.
• Memphis' Chris Douglas-Roberts has picked up his game lately -- particularly on the road. In his first five road games this season, the junior scored 53 points (10.6 PPG). But in the three road games since, he has scored 93 points (31.0 PPG).
• Vermont's Marqus Blakely had 30 points and 20 rebounds in the Catamounts' 94-82 win over Hartford. Think the initials M.B. don't mean anything? The only other player this season who had 30 points and 20 rebounds in a game was Kansas State super-freshman Michael Beasley, who had 32 points and 24 rebounds on Nov. 9 against Sacramento State. Last season, three players had 30-20 games -- and Oklahoma State's Mario Boggan was one of them.

On Tap For Thursday
• Duquesne at No. 12 Xavier, 7 ET
• Pitt at No. 21 Notre Dame, 7 ET (ESPN)
• UMass at Rhode Island, 7 ET (ESPN2)
• South Alabama at Western Kentucky, 8 ET
• Sam Houston State at Stephen F. Austin, 8 ET
• Arizona State at No. 9 Wazzu, 9 ET
• Oregon at USC, 11 ET
For the full schedule, click here. All games on ESPN, ESPN2 and ESPN Full Court are also on ESPN360.com.
Top 25 Scores From Wednesday
• No. 1 Memphis 97, Tulane 71
• No. 2 Tennessee 89, Auburn 70
• No. 3 North Carolina 84, NC State 70
• Miami (Fla.) 96,
No. 4 Duke
95
• No. 8 Butler 51, Illinois-Chicago 46
• No. 17 Michigan State 71, Penn State 57
• No. 24 Marquette 86, St. John's 49
• Nebraska 71,
No. 25 Kansas State
64
For all scores, click here.
BracketBuster mania
With BracketBuster weekend just around the corner, we've asked mid-major guru
Kyle Whelliston
to stop by and answer all your pressing BracketBuster questions. Submit your questions
here
and then check back at noon ET on Friday to participate in the chat.
For all chats, click here.
Hurricanes stun Blue Devils
Brotherly Love
By Heather Dinich
ESPN.com
TOWSON, Md. -- They were just kids, two brothers fighting before school when Kevin Durant hurled a boot across the living room at his older brother.
Tony Durant
ducked, and the glass light switch cover on the wall behind him shattered. Kevin, then in the eighth grade, needed $10 to fix it but didn't have the money. Tony, then a sophomore in high school, lent the money to him from his pay at McDonald's. This past August, Kevin finally paid his big brother back -- with a shiny, black 2007 Dodge Charger. Now, as Tony Durant drives to basketball practice each day at the 5,000-seat Towson Center, his new car serves as a tangible reminder of just how far his little brother has come so fast, and how much further his own basketball career must go in order to meet him there.
To read all of Heather Dinich's feature on Tony Durant, click here.
By Dana O'Neil
ESPN.com
Tyler Hansbrough
is a national player of the year candidate. He's also a crummy pool player.
Pat Calathes
is one of the best shooters in the Atlantic 10. And he got smoked in a game of one-on-one on his own court.
Jason Thompson
is a legit NBA pick. He's also easy to pick on. Behind every accomplished oldest child, there is a little brother just itching to bring him back to Earth. And in college basketball this season, there are a whole lot of little brothers with stories, including
Ben Hansbrough
,
Nick Calathes
and
Ryan Thompson
. With a big assist from sports information directors across the country, ESPN.com uncovered 39 sets of Division I-playing basketball brothers.
To read all of Dana O'Neil's feature on brothers in college, click here.
Villanova hammers West Virginia
IBM Greatest Players: No. 13 Michael Jordan
Inside The Blog
By Fran Fraschilla
ESPN
ESPN is in the midst of unveiling its IBM Top 25 Greatest Basketball Players in college basketball history. The No.1 player will be announced on March 8 during the North Carolina-Duke rematch at Cameron Indoor Stadium. A blue-ribbon panel of basketball experts has compiled the list. A couple of summers ago, to keep myself busy, I researched my own Top 100 players. It was a good exercise for me, and it's great fodder for debate. So, here is a look at my Top 10: 1. Lew Alcindor, UCLA
2. Oscar Robertson, Cincinnati
3. Bill Russell, San Francisco
4. Bill Walton, UCLA
5. Jerry Lucas, Ohio State
6. David Thompson, NC State
7. Pete Maravich, LSU
8. Elgin Baylor, Seattle
9. Magic Johnson, Michigan State
10. Elvin Hayes, Houston
To see Fraschilla's Top 25 and read his blog, click here.

To see the 25 Greatest Players that have unveiled so far, click here.