Griffin extends Bison's season with 40-foot 'dream' shot
AP Photo/H. Rumph Jr
Key Shot
By Dana O'Neil
ESPN.com
After four years, an epic upset of Kansas and 54 minutes, 58 seconds of a Patriot League tournament quarterfinal game against Navy,
John Griffin
wasn't interested in shelving his Bucknell jersey for the last time. So when the senior took the inbounds feed with two seconds on the clock, no timeouts and two overtimes already in the books, he thought one thing. "Just go," Griffin said. Griffin got just across halfcourt before heaving a 40-footer. The ball banked off the backboard and swished through the net, giving the seventh-seeded Bison an 87-86 3OT win over second-seeded Navy that was every bit as improbable as that 2004 NCAA Tournament win against the Jayhawks. "Thank goodness the Navy backboards are soft," Griffin said. "Whatever it takes at this point, that's what every team is saying at this point -- do whatever it takes to play another day." Griffin drew on every bit of past experience he had for his final moment -- a three-overtime game he played in high school; a game his younger brother, Matt, played in which he pushed the ball to the top of the key in a similar situation to win a game; the words of guard
Justin Castleberry
, who during a previous timeout implored his teammates to push the ball as soon as it came out of the net. All of it sort of tumbled and tossed in Griffin's mind, far from a formal thought but enough to glob together to give Griffin some sort of basketball second sense. "It's sort of like a dream that replays in your mind," Griffin said. "Everyone who's played basketball has envisioned himself in that environment."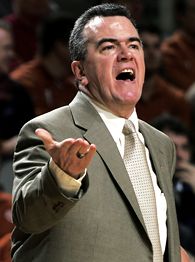 Ronald Martinez/Getty Images
Wednesday's win over Navy was vintage Flannery: a fiery, emotional coach.
Bucknell coach Pat Flannery waited until the officials signaled the buzzer-beater was indeed good before celebrating the win. But as fast as the party started, Flannery quickly put a temporary hold on the festivities. The coach had his players stand in honor of the Navy alma mater, a tradition he's held at every game at Annapolis, win or lose. That decision in the middle of the chaos and joy is vintage Flannery, an emotional coach whose fire can get the best of him but whose intent is always good. Suspended for one game after arguing with and bumping into an official, he also missed two games this season due to health issues. "I'm numb," Flannery said. "I'm eating a turkey sandwich, and it doesn't taste like filet but it tastes like seafood." It is haute cuisine well earned. Like its coach, Bucknell has had its fair share of struggles this season. Picked to finish second after three consecutive 20-win seasons, the injury-plagued Bison stumbled to a 6-8 record in the league and a 12-18 mark overall. Bucknell, which meets third-seeded Colgate in the semifinals Sunday, was 2-6 in the month of February. Now it is impossible not to think that some of the magic is back. Flannery rolled out three freshmen in the decisive minutes and the trio of
Darryl Shazier
,
G.W. Boon
and
Todd O'Brien
rewarded their coach. Shazier played a grueling 41 minutes, Boon dished out four assists to go with his seven points in 25 minutes, and O'Brien scored 12, including the tying bucket to cap Bucknell's rally from a 17-point deficit in the second half. But the guts of the team is Griffin, the blue-collar Philly kid who practically runs a marathon as he tries to shake defenders desperate to keep him off the 3-point line. He played 47 minutes against Navy, scored 21 points, drained five 3-pointers and corralled six rebounds. "I'm a little tired, but I'm running on adrenaline now," said Griffin, as he waited to board a bus for his Central Pennsylvania campus. "It's all a little surreal. I can relax on the bus, take a deep breath. The only thing I know: I'm playing another game. That was the only goal. That's all it's about right now."
ESPN.com basketball writer Andy Glockner contributed to this story.
Key Notes
By Jason McCallum
ESPN Research
• Duke easily dispatched Virginia 86-70 to move to 13-2 in ACC play this season. This sets up a winner-take-all game with North Carolina on Saturday night (
ESPN, 9 ET
) for the ACC regular-season title. Both teams are 13-2 in conference play, and this is the fourth time in the 55-year history of the ACC that Duke and North Carolina will play each other in the regular-season finale when they are tied for the conference lead. Duke has won two of the three previous meetings -- including the most recent one in 1991. • The performance of the night easily goes to Vanderbilt senior
Shan Foster
. All he did was score a career-high 42 points in the Commodores' 86-85 overtime win over Mississippi State on Vandy's Senior Night. He hit the game-winning 3-pointer with 2.7 seconds remaining, finishing 9-for-15 from beyond the arc. The amazing thing is that he missed his first six attempts and then made his last nine. The victory gives this senior class its 84th win -- the most by a class in Vanderbilt history. • Vanderbilt is now 6-0 this season in games decided by one possession. Last season, they were 2-2 in such games -- including a one-point loss to Georgetown in the Sweet 16 of the NCAA Tournament. • Bucknell's 87-86 triple-overtime win over Navy was the longest game in the history of the Patriot League tournament. Bucknell trailed by 17 points in the second half but forced overtime. When the Bison scored the first basket of the first overtime, it was the first time Bucknell led in the entire game. Neither Bucknell nor Navy led by more than three points at any time during the extra sessions. • In his 118th career game, Rice junior
Patrick Britton
scored a career-high 40 points in a 75-68 loss to East Carolina. His previous career high was 24 points -- and that was his only other 20-point performance. Britton and VMI's
Reggie Williams
are the only players to score at least 40 points in a game this season without the benefit of a 3-point FG. • Sam Houston State beat Texas-San Antonio 68-37 behind a career-high 19 points from
John Gardiner
. Gardiner was 8-for-8 from the field, creating an odd note: His game was so centered around his scoring that he did not record an assist or a turnover in this game. He is only the third player this season to score at least 19 points, shoot 100 percent and go without an assist or turnover. The other two players were BYU's
Trent Plaisted
and Akron's
Quade Milum
.
On Tap For Thursday
• High Point at Winthrop, 6 ET (ESPNU)
• UConn at Providence, 7 ET (ESPN)
• Clemson at Georgia Tech, 7 ET (ESPN2)
• Arizona State at Oregon, 8:30 ET (Full Court)
• Xavier at Saint Joe's, 9 ET (ESPN)
• Michigan State at Illinois, 9 ET (ESPN2)
• Stanford at UCLA, 11 ET
For the full schedule, click here. All games on ESPN, ESPN2 and ESPN Full Court also are on ESPN360.com.
Top 25 Scores From Wednesday
• No. 3 Memphis 72, Southern Methodist 55
• No. 4 Tennessee 89, Florida 86
• No. 5 Duke 86, Virginia 70
• No. 8 Wisconsin 77, Penn State 41
• No. 16 Vandy 86, No. 25 Miss. State 85 (OT)
• No. 17 Indiana 69, Minnesota 55
• No. 19 Notre Dame 68, St. John's 55
• No. 24 BYU 78, Wyoming 61
For all scores, click here.
Tennessee escapes the swamp with a W
Watching The Bubble
By Andy Glockner
ESPN.com
Can't wait for the next installment of bubble watch? Here's your nightly fix of the biggest bubble stories …
Temple 90, Duquesne 85
Still nonbelievers in the Owls after seven nonconference losses left them well off the radar? Well, they're now 10-5 in the Atlantic 10 and hold second place by themselves. A rapidly improving RPI along with a rout of Xavier make an at-large push for
Dionte Christmas
,
Mark Tyndale
& Co. a legit possibility.
Texas A&M 71, Baylor 57
The Aggies dragged the Bears down into a slogfest and walked out of Waco with a crucial win for their at-large hopes. Now guaranteed to finish at least .500 in league play, A&M can now focus on taking down Kansas on Saturday. The Bears remain in good shape but missed a chance to sweep A&M and really hurt a bubble rival.
Tennessee 89, Florida 86 (OT)
The Gators jumped all over the Vols at the O-Dome, but Tennessee came from 16 down to edge the Gators closer to the NIT. This was a huge missed opportunity for Florida, which also lost at home to Mississippi State on Saturday. They wrap the season at Rupp on Sunday in what looks like a must-win. Also …
• Syracuse won an elimination game at Seton Hall. • Kentucky got it done at South Carolina to get to 11-4 in the SEC. • Oklahoma firmed up its status by winning at rival Oklahoma State. • Miami edged closer to the field by handling Boston College at home. • Houston held off Central Florida to set up the possibility of a virtual elimination game with UAB in the Conference USA semis. • UMass blasted La Salle to stay on track.
To read Wednesday's Bubble Watch, click here.
Kentucky beats South Carolina in Odom finale
Inside The Blog
By Fran Fraschilla
ESPN
After spending the majority of my time covering the Big 12 during conference play, I thought the time would be right to give you a preview of the "Frannie Awards." We will reveal my all-conference teams on Sunday during the Oklahoma State-Texas game on ESPN.
Big 12 First Team
F
Michael Beasley
, Kansas State
F
Blake Griffin
, Oklahoma
G
Brandon Rush
, Kansas
G
Curtis Jerrells
, Baylor
G
D.J. Augustin
, Texas
Big 12 Second Team
C
Aleks Maric
, Nebraska
F
Darrell Arthur
, Kansas
F
Damion James
, Texas
G
A.J. Abrams
, Texas
G
Mario Chalmers
, Kansas
Big 12 All-Freshman Team
F Beasley, Kansas State
F Griffin, Oklahoma
F
Bill Walker
, Kansas State
G
LaceDarius Dunn
, Baylor
G
John Roberson
, Texas Tech
Player of the Year: Beasley, Kansas State
Not in 100 years did I think that anyone in the Big 12 could duplicate what Kevin Durant did a year ago at Texas, but Beasley did. He has dominated a very competitive league to the point that anything under 30 points feels like an off night.
To read more of Fraschilla's blog, click here.

Greatest Players: No. 3 Bill Walton