Shipp's wild shot gives UCLA another controversial win
Stephen Dunn/Getty Images
Key Shot
By Andy Katz
ESPN.com
NCAA Rule 7, Section 1, Article 3
''The ball shall be out of bounds when it passes over the backboard from any direction.''
Pac-10 officiating coordinator Bill McCabe told ESPN.com Saturday night that official Dave Libbey was well aware of the rule that a shot cannot come from over the top of the backboard and be counted as good. But McCabe said Libbey chose to allow
Josh Shipp
's game-winning rainbow bucket over the corner of the backboard from along the baseline that went in with 1.5 seconds left to give UCLA an 81-80 victory over Cal at Pauley Pavilion.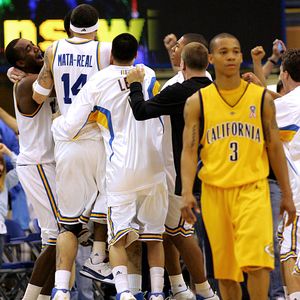 Gary A. Vasquez/US Presswire
It was a tough loss to swallow for the Cal Golden Bears, who could argue two late-game non-calls.
McCabe said Libbey told him after the game that it was "very, very close, so close that I couldn't take away the basket." McCabe, who wasn't at the game, said he saw the highlight of the play and added, "It was a tough call, and he had a split second to see it. I saw it and I agree [with Libbey]." McCabe said it was a judgment call, so it wasn't a call that could be reviewed by videotape. Another official could have waved off the basket, but it would have had to have been done immediately. Libbey was the side official; Don McAllister was along the baseline. McCabe said the rule is clear that the ball cannot go over the top of the backboard in either direction, else it's considered out of bounds. The replay shows that the ball goes extremely close to the corner of the backboard. Multiple angles still make it a close call. "It was close, very close," McCabe said again. "I just saw it was so close." Cal coach Ben Braun, reached by phone on his way to the LAX airport, said that he understood the rule to be that if the ball goes over the backboard, then it shouldn't count. He said he immediately expressed this to the officials but was rebuffed. "They told me they couldn't review it," Braun said. Braun was more distraught about a non-call on the previous possession when Cal's
Ryan Anderson
was stripped of the ball, then was called for knocking the ball out of bounds. Cal was clinging to an 80-79 lead with less than 35 seconds left. "Ryan Anderson was fouled," Braun said. "UCLA was trying to foul him." Braun was upset for his team, which he said outplayed UCLA for the game and "deserved to win." Cal, which lost in overtime to USC on Thursday, finished the regular season at 15-14, 6-12 in the Pac-10. Saturday marked the second time in as many games for UCLA in which an official's decision affected the outcome.
Thursday night, with 2.5 seconds left and Stanford leading by two points,
Lawrence Hill
blocked
Darren Collison
's last-second shot. But referee Kevin Brill called a foul, ruling that there was contact. Collison converted two free throws to send the game into overtime, in which the Bruins eventually won 77-67. The victory gave UCLA the Pac-10 regular-season title. Friday, McCabe told ESPN.com that "there was body contact, but it's not a strong call, not a game-appropriate call. I think you want a strong call at the close of the game." The sweep of the Bay Area schools likely locked up a No. 1 seed in the West for UCLA.
Arch Madness
By Adam Rittenberg
ESPN.com
ST. LOUIS -- If there's a knock on
Adam Emmenecker
, it's a lack of awareness to obvious praise. For the second straight day, Emmenecker ran off the Scottrade Center floor to chants of "MVP!", this time after leading Drake to the Missouri Valley Conference tournament title game. Drake's minions were screaming words of truth -- the former walk-on won the league's MVP award earlier in the week -- but the message didn't completely reach its mark.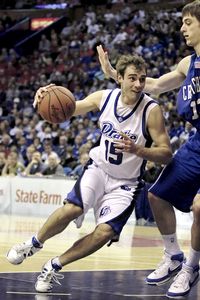 AP Photo/Tom Gannam
Former walk-on and current Valley MVP Adam Emmenecker is just getting better. He had his second consecutive double-double in the conference tourney on Saturday.
"I'm not used to it yet," said Emmenecker, who helped No. 21 Drake beat Creighton 75-67 in the semifinal. "Half the time, I'm thinking they're chanting about somebody else." Accepting tributes is still novel for Emmenecker. Like all Drake players, he's much more conditioned to criticism. Emmenecker doesn't miss any digs taken at Drake, though. And despite a lengthy reign at the top of the league, the Bulldogs still get plenty. "Up until maybe two weeks ago, people were still saying Illinois State was the best team in the league," Emmenecker said. "We keep getting doubters, which is fine. … They say we're going to be one of the more beatable [higher] seeds in the NCAA Tournament. People are going to think that regardless of what seed we are. We're going to be on upset alert." In most seasons, a Valley regular-season title, a 21-game win streak, a BracketBusters victory at Butler and a sustained national ranking would wipe away talk of flukes and frauds. But Drake's historic ascent behind a group of no-names and a rookie coach (Keno Davis, who turns 36 Monday) has continued to fuel skepticism -- and enhance the Bulldogs' bite. Drake's whip-smart players know every morsel of disbelief. In the rare case when Emmenecker misses something, fans will fill him in. "It's not that people put us down," sophomore guard
Josh Young
said, "but people are ready to see you drop the ball." They might be waiting for some time. Drake continued to display a champion's poise Saturday, warding off Creighton bursts with crucial defensive stops and timely 3-point shots. After tallying 13 points and a career-high 10 rebounds Friday against Indiana State, the 6-foot-1 Emmenecker went the traditional double-double route with 20 points and a career-high 11 assists Saturday. A new day brought a new set of firsts for top-seeded Drake, which posted its school-record 27th victory and won a tournament semifinal game for the first time in five tries. "Four years ago, we couldn't compete," Emmenecker said. "It was really a mentality thing we needed to change." Whether a win in Sunday's championship against Illinois State (2 p.m. ET) chases away the skeptics for good remains to be seen. Creighton coach Dana Altman acknowledged his team's NCAA bubble had burst after the semifinal loss, but Illinois State continued to strengthen its case with a 56-42 win against Northern Iowa. Drake continues to play up its underdog tag, but Illinois State sees things differently. "Dang, 27-4, that's crazy, man," Redbirds forward
Brandon Sampay
said. "Some Big East teams aren't even like that. You've got to give them applause. They came in, [picked] No. 9 in our conference and won it. Drake is real good." Still, a No. 1 seed hasn't won the Valley tournament since 1998, a fact Young pointed out after Saturday's game. "We use that as motivation," he said, smiling. "It makes us work twice as hard."
Writer's Take
By Pat Forde
ESPN.com
DURHAM, N.C. -- For everyone out there hoping indifferent defense might be the Achilles' (Tar) Heel in North Carolina's title drive, we have this sobering update: Carolina pitched a shutout for the final 5 minutes, 41 seconds Saturday night. Against Duke. At Cameron Indoor. That's how you go from 68-66 behind to 76-68 ahead at the final horn of this endlessly compelling rivalry. And that's how you go from just one of seven or eight national title contenders to the official NCAA Tournament favorite. The powder-blue Achilles is fine. Oh, and the powder-blue ankle of
Ty Lawson
is getting better, too. Combine those two factors, and Carolina is getting scary at just the right time. "Very satisfying," said Carolina forward
Danny Green
, a major contributor to the lockdown effort. "It just shows and proves to everyone we're capable of stopping people defensively. We're a good defensive team." Ladies and gentlemen, say hello to the new, defensively invigorated Tar Heels.
To read all of Pat Forde's column, click here. To watch video highlights of the game, click here.

On Tap For Sunday
• Michigan State at Ohio State, noon ET
• Florida at Kentucky, noon ET
• Va. Tech at Clemson, 1:30 p.m. ET (Full Court)
• Indiana at Penn State, 2 ET (ESPN)
• Oklahoma State at Texas, 4 p.m. ET (ESPN)
• Kent State at Akron, 6 p.m. ET (Full Court)
For the full schedule, click here. All games on ESPN, ESPN2 and ESPN Full Court also are on ESPN360.com.
Top 25 Scores From Saturday
• No. 1 UNC 76,
No. 5 Duke
68
• No. 2 UCLA 81, Cal 80
• No. 3 Memphis 94, UAB 56
• No. 6 Kansas 72, Texas A&M 55
• USC 77,
No. 7 Stanford
64
• No. 8 Wisconsin 65, Northwestern 52
• No. 10 G'town 55,
No. 13 Louisville
52
• No. 11 Xavier 86, Richmond 61
• No. 12 Butler 66, Illinois-Chicago 50
• Alabama 78,
No. 16 Vanderbilt
73 (OT)
• No. 19 Notre Dame 67, South Florida 60
• Syracuse 87,
No. 20 Marquette
72
• No. 21 Drake 75, Creighton 67
• No. 22 Wazzu 76, Washington 73 (2OT)
• No. 24 BYU 61, TCU 54
• No. 25 Mississippi State 84, LSU 75
For all scores, click here.
UCLA beats Cal in a thriller
Writer's Take
By Dana O'Neil
ESPN.com
WASHINGTON, D.C. -- Unprompted, the booming voice in the back of the room launched into a slow, steady tutorial for his son standing at the podium.
"Ask them when they're going to compare you to your peers, not Pete Carril and your father," John Thompson Jr. bellowed. "You're never going to make a damn dime being compared to ancient people. You need to be compared to your peers, who you've done extremely well against, as opposed to your ancient dad and Pete Carril."
John Thompson III, whose Georgetown team's second consecutive Big East regular-season crown was just sewn up, simply smiled. Long accustomed to living in his father's looming shadow, JTIII isn't interested in chasing windmills, holding up the gene pool or living up to other people's standards.
He no longer has to. By winning back-to-back conference titles, the son accomplished something the Hall of Fame father never did. On a greater scale, the Hoyas' dogfight of a 55-52 victory over Louisville solidified Georgetown once more as a program, not simply a flash-in-the-pan team.
To read all of Dana O'Neil's column, click here.
GameDay: Who's in and who's out?
Bracket Math
By Joe Lunardi
Special to ESPN.com
NO. 1 SEEDS:
• EAST North Carolina
• WEST UCLA
• MIDWEST Tennessee
• SOUTH Memphis
Notable: Three additional teams -- Kansas, Duke and Texas (in that order) -- remain in contention for No. 1 seeds.
"LOCKS":
•
Big East (7)
: Louisville, Georgetown, Notre Dame, Connecticut, Marquette, West Virginia, Pittsburgh
•
Big 12 (5)
: Kansas, Texas, Oklahoma, Kansas State, Baylor
•
Big Ten (4)
: Wisconsin, Purdue, Indiana, Michigan State
•
Pac-10 (4)
: UCLA, Stanford, Washington State, Southern California
•
ACC (3)
: North Carolina, Duke, Clemson
•
SEC (3)
: Tennessee, Vanderbilt, Mississippi State
•
Missouri Valley (2)
: Drake, Illinois State
•
West Coast (2)
: Gonzaga, Saint Mary's
•
Atlantic 10 (1)
: Xavier
•
Conference USA (1)
: Memphis
•
Horizon (1)
: Butler
•
Mountain West (1)
: BYU
(Total: 34 teams, adding West Virginia, Kansas State, Baylor and Illinois State)
LAST FOUR IN:
Syracuse, Arizona State, UAB, Maryland
LAST FOUR OUT:
Florida, Western Kentucky, Virginia Tech, Oregon
To check out Bracketology, click here. Bracketology will be updated daily Monday through Selection Sunday.
Syracuse gets bubble-boosting win over Marquette
Dancing Shoes
Four down, 61 to go.
Cornell
, the Ivy League regular-season champs, was the first team to punch a ticket to the Big Dance. On Saturday, three more teams earned their way into the Field of 65.
Winthrop
bested UNC-Asheville to take the Big South tourney title.
Austin Peay
knocked off Tennessee State to win the Ohio Valley automatic bid. And
Belmont
earned its third straight NCAA Tournament bid by winning the Atlantic Sun. On Sunday, the Missouri Valley Conference title is up for grabs. Top-seeded Drake (27-4) faces No. 2 Illinois State (24-8) at 2 p.m. Click here to see video highlights of
Winthrop
,
Austin Peay
and
Belmont
winning their conference tournaments.
To see all of ESPN.com's Champ Week coverage, click here.
Bama knocks off Vandy in overtime
Greatest Players: No. 1 Lew Alcindor