Best of the Rest ShootAround: The teams and players you do not want to face
AP Photo/Duane Burleson
10 Things To Know From The Offseason
By Andy Katz
ESPN.com
1. Butler's golden summer:
A pair of Bulldogs blossomed on the under-19 gold medal-winning Team USA in New Zealand.
Gordon Hayward
and
Shelvin Mack
were integral members of the team, forcing head coach Jamie Dixon to say that one of the things he learned on the trip is "not to play Butler." The Bulldogs as a team went to Italy this summer and had a balanced tour with a finale that saw six different players score in double figures. Butler is a legit top-20 team that will have plenty of chances to make a name for itself in the pre-conference season, beginning with the 76 Classic opener against Minnesota.
2. Gonzaga's foreign invasion:
The Zags lost
Austin Daye
early to the NBA draft, but no one seemed to be weeping in Spokane. Gonzaga has a top-25 core returning with
Matt Bouldin
,
Steven Gray
and
Demetri Goodson
on the perimeter. But the onus could be on Canadians Mangisto Arop and Kelly Olynyk, who led Canada at the under-19 world championships. The other stealth player on the roster is Germany's Elias Harris, who will miss the first three weeks of school while he plays on the German national team. Harris averaged 25 minutes, scoring 14 points a game during the European under-20 championships.
3. Portland is a player:
The Pilots are the challenger to Gonzaga in the West Coast Conference this season. Portland coach Eric Reveno said this is the first time he has felt his team was in the same ballpark as the Zags. The Pilots should feel confident after an offseason trip to Australia that kept the good vibes flowing after a 19-win season. The Pilots return 12 players, including legacies
Nik Raivio
(father Rick is a Pilot hall of famer and brother Derek was a solid player at Gonzaga) and
Luke Sikma
(son of famed Sonic Jack Sikma).
Jared Stohl
may not have the household name, but few are better shooters at 45.6 percent on 3s.
T.J. Campbell
, the co-newcomer of the league last season, isn't too shabby either. The Pilots needed the Australian trip because they have had issues winning key road games late in the season, losing their way at San Diego and Santa Clara last season. Playing away from home will determine this team's fate.
4. Williams granted waiver:
New Memphis coach Josh Pastner desperately needed some good news this offseason. Recruiting for 2010 was going quite well with the commitment of Will Barton. But the Tigers needed another marquee player for this season after recruits fled with John Calipari to Memphis and one went to Kansas (Xavier Henry), while
Shawn Taggart
made a poorly informed decision to stay in the NBA draft (he didn't get selected). Pastner didn't seek out
Elliot Williams
, but his mother's serious illness led him to leave Duke and transfer home. The NCAA showed its kinder, softer side by allowing Williams to play immediately. He should be a star for Pastner since he was emerging toward the end of last season as a vital part of Duke's backcourt. The perimeter of Williams,
Willie Kemp
,
Doneal Mack
and
Roburt Sallie
gives the Tigers a real shot to hang in for a Conference USA title yet again.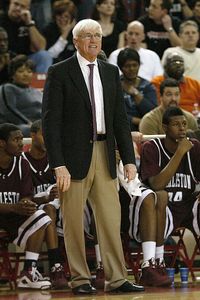 Daniel Plassmann/US Presswire
After six years out of coaching, Bobby Cremins returned and has won 65 games in three seasons at the College of Charleston.
5. Cremins commitment:
Bobby Cremins returning to the College of Charleston a few years back was apparently not just a retirement gig for the former Georgia Tech coach. Cremins signed a two-year extension three weeks ago that will in theory keep him with the Cougars through the 2013-14 season. Charleston finished 27-9 last season and beat Davidson twice. The Cougars are one of the picks to win the Southern Conference and advance back to the NCAA tournament. After Charleston abruptly pushed out Tom Herrion three years ago without a clear explanation, the school needed a commitment from a coach to stabilize the program instead of just a headline hire. If Cremins does stay, the program should be sustainable for the near future.
6. Lowery learns to be an assistant again:
Chris Lowery won gold as an assistant to Pitt's Jamie Dixon at the under-19 world championships in New Zealand. The Southern Illinois head coach found himself enjoying being the liaison to the players, handling the substitutions and dealing with any gripes. He said being an assistant allowed him to reconnect with players. As a head coach, he was starting to feel distant. Now he said he can understand what they're dealing with on the bench. The experience has changed the way he wants to coach going forward. That's good considering he has a team that was a bit humbled last season after finishing 8-10 in the Missouri Valley, 13-18 overall. The Salukis do return a stellar group of underclassmen that should make them a contender yet again.
7. Hiding from Siena:
Saints coach Fran McCaffery has won two straight NCAA first-round games against Vanderbilt and Ohio State. So, of course, he would have no problem securing more big-time nonconference games, right? Wrong. Even though the Saints are exactly the team a "big six" conference foe should play, they struggled throughout the offseason to get games. But the Saints return leading scorer
Edwin Ubiles
and sharpshooter
Ronald Moore
and that's enough to scare most opponents away from scheduling them. A season ago, Siena landed true road games without a return to Pitt and Kansas. McCaffery couldn't even get those types of gigs. He had to call on former Siena coach Paul Hewitt, now of Georgia Tech, for mercy. The Saints have quality games against St. John's and Northern Iowa, but that may not move the power-rating needle as much as few more games like Georgia Tech would have.
8. Caracter's second chance:
Louisville coach Rick Pitino was relentless on Derrick Caracter about his weight and work ethic. The match never worked. Caracter looked like he was headed toward the abyss of players who are hyped but never find their way. Instead, at least at this juncture, he discovered he can be a reliable player while sitting out at UTEP. Miners coach Tony Barbee has nothing but complimentary things to say about Caracter's character since he has been in El Paso. If Caracter can be a major contributor when he's eligible for the Miners in December, they'll have, perhaps, the most feared frontcourt in Conference USA.
Arnett Moultrie
is a man in the middle for the Miners and would be the perfect complement to Caracter if the two can dominate the paint.
9. Jordan's decision to stay:
Jerome Jordan
had the size at 7 feet to bolt for the NBA draft. But the Tulsa big man realized he didn't want to just be selected. He wants to play when he gets to the league. So he returned to a Golden Hurricane team that is the favorite to win Conference USA. Picking Tulsa to do well in March used to be common when the Golden Hurricane had a run of coaches like Nolan Richardson, Tubby Smith and Bill Self. Doug Wojcik should be next in line. Jordan is the perfect anchor after blocking 251 shots in his career, averaging a solid 13.8 points and 8.6 boards. The complement to Jordan is
Ben Uzoh
on the perimeter with his 14 points and 4.9 boards. But the major pickup in the offseason might be point guard Donte Medder, who allows Wojcik to move Uzoh to a more natural wing.
10. Western Kentucky's arrival:
The Hilltoppers are officially here as a regular in the NCAA tournament discussion each season, just like small-conference brethren Gonzaga and Butler. WKU is the team to beat in the Sun Belt -- measuring the success of a team in that league is based on whether it can get past Western Kentucky. How do we know? The Hilltoppers can survive multiple coaching changes as Dennis Felton, Darrin Horn and now Ken McDonald have all had their runs. The program has three NCAA tournament wins in two seasons and it took a buzzer-beater by Gonzaga to keep WKU out of the Sweet 16 two seasons in a row. Western Kentucky, which is a threat to get out of the LSU bracket and reach the NIT Season Tip-Off semifinals, will be led by senior guard
A.J. Slaughter
. This will be a balanced team with six newcomers and six returnees, but McDonald is already meshing this crew well enough to be considered the favorite in the Sun Belt.
10 Players To Keep An Eye On
By Fran Fraschilla
ESPN.com
•
Gordon Hayward, Butler:
The Bulldogs' next star was once a 5-11, 125-pound high school freshman. Then Hayward blossomed into one of the best young small forwards in college basketball. After a summer of leading Team USA to the under-19 world championship, the 6-8 Hayward has the ability to become a great scorer, even in Brad Stevens' team-oriented system. •
Larry Sanders, VCU:
The lightly recruited 6-foot-10 Sanders has become one of the country's best defenders and shot-blockers and his offensive game is improving as well. He has been well-coached and has excellent basketball acumen. His continued improvement not only makes him a force in the Colonial this year, but has NBA scouts already taking notice. •
A.J. Slaughter, Western Kentucky:
The most outstanding player in the Sun Belt tournament has had a great summer working out with the likes of D.J. Augustin, T.J. Ford and Chris Paul and his confidence is sky-high. Slaughter is strong and quick and can play either guard position. This season, WKU coach Ken McDonald will turn him loose to score in bunches for the Hilltoppers. •
Arnett Moultrie, UTEP:
The Miners' 6-foot-11 sophomore may be a bit raw, but his potential is limitless. For his size, he is very mobile and athletic and just needs to polish up his offensive skills to be a dominant player in Conference USA. After a productive summer playing for the USA under-19 team, Moultrie should be ready to take the next step. If he does, UTEP could be sneaky good and a serious threat to Memphis and Tulsa at the top of the league.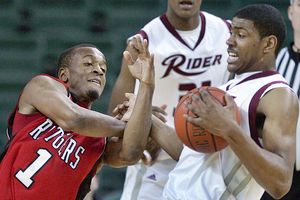 AP Photo/Mel Evans
No longer in the shadows of his brother Jason, Ryan Thompson, right, averaged 18.0 points and 6.5 rebounds for the Broncs last season.
•
Ryan Thompson, Rider:
Thompson's senior season will mark the end of six years of Thompsons for the Broncs and he would love to follow older brother Jason, now of the Sacramento Kings, to the NBA. This 6-6 guard is built like a New York Giants outside linebacker, but his strength and power belie his skill level. In a league with mid-major power Siena, Thompson might be the MAAC's best player. •
Luke Babbitt, Nevada:
The hometown hero from Reno, Nev., turned down a number of power conference schools to play for the Wolf Pack and his freshman season was a success. Babbitt averaged around 17 points a game playing as a "stretch power forward," posting up inside and stretching a defense from the perimeter. His improved quickness and ballhandling will allow him to develop nicely into a very skilled small forward for new head coach David Carter. •
Kevin Foster, Santa Clara:
This Houston native was a steal a year ago for the rebuilding Broncos. When he dropped in 31 points at Saint Mary's, people started to take notice of his talent. Foster ended up averaging 16 points a game and making 88 3-point shots in his freshman season and is poised for West Coast Conference stardom. •
Ryan Wittman, Cornell:
The son of former Minnesota Timberwolves coach Randy Wittman is a huge reason for the emergence of the Big Red as the Ivy League's most pre-eminent program the past three years. An outstanding shooter, Wittman averaged 25 points a game against power conference foes last season, including 33 points at Syracuse. Fortunately, he won't have to carry all of the scoring load for Steve Donahue's team this season because four other starters return. •
Larry Anderson, Long Beach State:
Remember this name because his best basketball is still ahead for him. Last season, Anderson was the first freshman in 35 years to gain first-team All-Big West status. The 6-foot-5 guard is the league's best NBA prospect because of his size, strength and athleticism at the wing. It makes him particularly effective attacking the rim. Don't be surprised if he eventually grows into a point guard, if not at Long Beach, at the next level. •
James Florence, Mercer:
This 6-1 senior from Atlanta has something in common with current NBA players Kevin Durant and Stephen Curry. As freshmen three years ago, they all led their conferences in scoring. Florence is still around and is easily on his way to 2,000 points this season. And while he has done most of his damage in the lightly regarded Atlantic Sun, he has saved some of his best performances as a Bear for wins over USC, Alabama and Auburn.
And Don't Forget About These Guys, Either
By Andy Katz
ESPN.com
•
Tyree Evans, Kent State:
Evans averaged 17.3 points on a trip to Italy this summer, committing just three turnovers in four games. The JC transfer averaged 11.7 points in 25 games for the Golden Flashes last season. If Evans is on, Kent State has a real shot to upstage Akron for the MAC title. •
Marqus Blakely, Vermont:
The 6-5 undersized power player has ruled the paint in the America East for two seasons. Blakely is a two-time conference player of the year, defensive player of the year and a lock for nearly 16 points and nine rebounds a game. Blakely has the potential to deliver 20-plus points and 10-plus rebounds on any given night.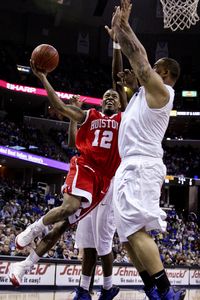 AP Photo/Lance Murphey
He received much publicity for his flagrant-foul ejection at Arizona last season, but Aubrey Coleman quietly averaged 19.4 ppg.
•
Aubrey Coleman, Houston:
Coleman is one of the main reasons the Cougars could be a serious player in the Conference USA race. He was the only C-USA player to be in the top four in scoring (19.4) and rebounding (8.2) in 2008-09. He had three 30-point games last season and was still the league newcomer of the year. If Coleman,
Kelvin Lewis
and
Nick Mosley
deliver, the Cougars will be a tough out in two critical bubble-type games: Mississippi State at home and at Western Kentucky. •
D.J. Rivera, Binghamton:
Rivera declared for the NBA draft and then withdrew when it was clear he wasn't going to be selected. That's great news for the Bearcats, who are once again in the favorite's position in the America East. Rivera averaged 20 points last season and scored exactly that many against Duke in the NCAA tournament first round. •
Sam Maniscalco, Bradley:
The junior guard is one of the more overlooked players in the Missouri Valley. He has averaged 10.1 points in his two-year career, but has played in 74 games, tying him for the most games played in a two-year span by any MVC player. The 6-foot combo guard is already 10th in school history with 126 3s made. He'll once again be a big factor for the Braves, who spent 10 days in Brazil in August, going 4-1 on the trip. •
Andrew Goudelock, Charleston:
Goudelock was overlooked in the Southern Conference last season, and with Davidson's
Stephen Curry
around, for good reason. But Goudelock has posted 1,036 points in 69 games in his career. The Cougars are the favorite in the league this season and a lot of that is due to Goudelock's proficiency. •
Randy Culpepper, UTEP:
Culpepper is the only player in UTEP's storied history to reach 1,000 points as a sophomore. He's the all-time leader in 3-point field goals made in a season (89) and career (170). He teams with one of the most underrated point guards in the country in
Julyan Stone
, who was fourth in assist-to-turnover ratio and fifth among returning players (236 assists to 81 turnovers).
10 Freshmen We Can't Wait To See
By Scouts Inc.
•
Rashanti Harris, PF, Georgia State:
Harris, who plays with great focus and intensity, will have an immediate impact for coach Rod Barnes as a relentless rebounder. He is a bull down low and is improving his consistency away from the basket. Defensively, he will be a presence in the lane blocking shots and playing good positional defense in the low post. Harris should be a career double-double player. •
Keith Clanton, PF, UCF:
He is a skilled face-up 4 who scores inside-out. Clanton will be a mismatch problem for opponents because he is extremely effective inside and outside with size. He plays with an infectious passion and will give the Golden Knights a legit big man to combat the upper-tier programs of Conference USA. He turned down Big East and SEC offers. •
Johnnie Williams, PF, George Mason:
He is a big body with excellent skill for his size. Williams has comfortable range from 15 to 17 feet and in, but can knock down an open 3 with time and space. However, he is best known for his ability to punish defenders in the lane, where he has good hands and touch around the basket. The versatile forward should produce points, rebounds and matchup problems right away for coach Jim Larranaga. •
A.J. Holland, PG, Rice
This long and athletic lead guard is the key to a very talented and deep first full recruiting class of Ben Braun. He uses his excellent ballhandling and vision to excel in the open court, where he makes his teammates better by getting them the ball when they are in position to score. Holland can also make a play with the clock winding down, but he must add a midrange, pull-up jumper to his repertoire. With his talent and basketball IQ, don't be surprised if Holland is running the show for the Owls as a rookie.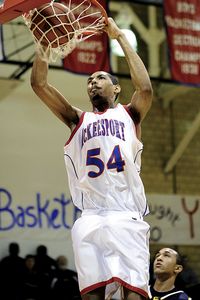 ESPN RISE
Zeke Marshall, 6-11, was a recruiting coup for Keith Dambrot and his Akron Zips.
•
Zeke Marshall, C, Akron:
Marshall created quite the recruiting buzz when he committed early to the Zips. At the very least, he will be one of the best shot-blockers in the conference and be an immediate impact defensive player. Coach Keith Dambrot's teams usually play excellent defense and now his players can extend pressure and contest passes on the perimeter knowing big Zeke is waiting in the lane. •
Chris Manresa, PF, San Diego:
Manresa may be the most polished post prospect heading to the West Coast Conference this season. He plays the game like a seasoned NBA veteran. Manresa's beefy frame and advanced inside-out game -- think a poor man's Kevin Love -- should translate into a successful freshman campaign. •
Andrew Smith, C, Butler
This true center has great size and strength. Smith has a great motor for a post player and runs the floor extremely well. He is a back-to-the-basket scorer and in Butler's spread ball screen offensive attack with shooters everywhere on the floor, Smith will have plenty of space to operate and be a highly effective low-post threat for years to come. •
Ray Taylor, PG, Florida Atlantic
He may be small in size at 5-foot-7, but he has a big heart and a high motor. He will be a catalyst on the floor due to his fast-breaking, up-tempo ability. He also shoots 3s well enough to keep the defense honest. Defensively, he causes havoc with his pesky ball pressure and excels in the open floor. He picked the right coach because Mike Jarvis had tremendous success with Shawnta Rodgers years ago at George Washington. •
Joel Naburgs, SG, Stetson
The hard-nosed Aussie should have an immediate impact on Stetson's program. He is an excellent shooter who plays with some bounce and displays a high basketball IQ. He will certainly stretch out defenses in the Atlantic Sun Conference, and more importantly, he will give coach Derek Waugh someone to rely on in crunch time. •
Niyi Harrison, PF, Santa Clara
He is out of the mold of former UCLA standout Luc Richard Mbah a Moute and is a definite steal for coach Kerry Keating and his staff. He's a willing runner with a good pair of hands that helps him score. He will be a versatile offensive scorer and if he can continue to polish his face-up skill set, his ceiling is quite high.
Don't Sleep On These Teams
By Fran Fraschilla
ESPN.com
Butler
If you are a basketball purist, you have to love the way the Bulldogs play the game. Just think of them as Jimmy Chitwood, not in canvas Chuck Taylors, but in leather Nikes. Brad Stevens' team won 26 games last season starting three freshmen and a sophomore and expectations this season are off the charts. While everyone (including me) is excited about super sophs
Gordon Hayward
and
Shelvin Mack
, the hub around which Butler's offense flows is 6-foot-9 junior
Matt Howard
, who is the perfect complement inside to the team's outstanding 3-point shooters.
Creighton
You can never go wrong with picking the Bluejays to get to the postseason and this year is no exception. Creighton should be in any Missouri Valley title discussion alongside reigning champ Northern Iowa, along with Illinois State and an improved Southern Illinois. Dana Altman's team returns three starters from a 27-win team that won the MVC's regular-season title. Junior guard
P'Allen Stinnett
is ready to develop into one of the league's best players.
Gonzaga
Don't write off the Zags just yet. Despite losing a number of key players, they are still the favorite to win the West Coast. But their margin for error is slimmer than it has been in a while. Mark Few felt
Matt Bouldin
was the team's best all-around player a season ago and he returns for his senior year.
Steven Gray
and
Demetri Goodson
will help him bolster the backcourt. Incoming freshman wing Manny Arop was terrific for Canada in the under-19 world championships this summer and he will help there as well. The key to the Zags' season rests on the front line, where 7-foot sophomore
Robert Sacre
is expected to rise to the occasion this season. And remember this name: Elias Harris. He's a 6-foot-7 German who will arrive after the European championships later this month. He'll have an instant impact.
Memphis
When everything shakes out after a tumultuous spring and summer, the Tigers will have a bright young coach in Josh Pastner and enough talent to win another Conference USA title. However, their 61-game league winning streak is in serious jeopardy and their dominance of the league is in doubt as well. Duke transfer and Memphis native
Elliot Williams
is eligible immediately and will help.
Doneal Mack
,
Willie Kemp
and
Pierre Henderson-Niles
all have Final Four experience and we all remember Roburt Sallie's 36-point outburst in the first round of last season's NCAA tourney. A 6-9 juco transfer,
Will Coleman
, may be the best athlete to enter C-USA this year. If sophomore
Wesley Witherspoon
blossoms, the Tigers have enough to get back to the comfortable surroundings of the NCAA tournament.
Niagara
This is the best of times for the MAAC, with Siena gaining national acclaim with its success in March. But anyone who follows this conference will tell you that nipping at the Saints' heels will be the Purple Eagles, who won 26 games a season ago and return four starters. Coach Joe Mihalich has mined his well-known Philadelphia ties with much success and two of his seniors, league defensive POY
Tyrone Lewis
and Villanova transfer
Bilal Benn
, know their way around the City of Brotherly Love. Lewis is a strong, tough and quick 5-foot-11 scorer and Benn is your typical undersized power forward who causes headaches for bigger inside players. His fellow coaches know that Mihalich has done a great job at Niagara and, this season, has a very dangerous team.
Old Dominion
The Monarchs have played in the shadow of George Mason and VCU the past few years, but Blaine Taylor has done a terrific job of building a quality program, winning 119 games over the past five seasons. Taylor returns six players who made 13 or more starts for last season's 25-10 team, including 6-foot-10 senior All-CAA performer
Gerald Lee
. If heralded freshman point
Josh Hicks
of North Carolina is the real deal, the Monarchs have the firepower to win a very solid mid-major league.
Portland
The Pilots are the latest West Coast Conference team to attempt to knock Gonzaga off its conference high horse. The Zags have won nine straight regular-season titles, but coach Eric Reveno has a junior- and senior-laden team that will battle for the top spot. Led by guards
Nik Raivio
,
Jared Stohl
and
T.J. Campbell
, Portland has a chance to make some serious noise early in the season. Five days after hosting Oregon, the Pilots take on UCLA in the 76 Classic and will play either Butler or Minnesota in their second game.
Siena
Coach Fran McCaffery has done a remarkable job of rebuilding the Saints' basketball program, winning first-round games in each of the past two NCAA tournaments. And with four proven starters returning, they Saints are the favorites to win the MAAC and return to the Big Dance once again. It's very likely they will be ranked in the Top 25 in most preseason polls. While 6-foot-6 swingman
Edwin Ubiles
has the most pro potential, point guard
Ronald Moore
may be Siena's MVP. Rapidly improving
Ryan Rossiter
and rock-solid
Alex Franklin
give McCaffery two anchors inside.
Tulsa
With John Calipari off to Kentucky and Memphis rebuilding, the Golden Hurricane are poised to take over the top spot in Conference USA and end the Tigers' dominance. Coach Doug Wojcik returns two of the league's best players in 7-foot, 240-pound center
Jerome Jordan
, a defensive force, and guard
Ben Uzoh
, the team's leading scorer. Ultimately, with the conference tournament moving to Tulsa this season, anything short of an NCAA appearance for Wojcik's team would be considered a disappointment.
More Teams To Watch
By Andy Katz
ESPN.com
Akron
The Zips should be in play in the MAC, especially with the addition of highly touted 7-foot freshman
Zeke Marshall
. But here's a scheduling oddity for Akron. The Zips have played only one "big six" team in the past three seasons (last year at Pitt), yet scheduled up -- finally -- by playing at Texas A&M and drawing NC State in the Glenn Wilkes Classic in Florida. They also host Niagara and Rhode Island.
Long Beach State
Dan Monson has turned the 49ers around quite quickly. In
Larry Anderson
, the program had the first freshman named to the All-Big West first team since Clifton Pondexter in 1974. The 49ers return four starters and they'll need as much experience as they can get to play a daunting schedule that has games against West Virginia to open the 76 Classic in Anaheim, at Notre Dame, Texas, Kentucky and Duke -- all before New Year's Day.
Northeastern
Bill Coen has done a phenomenal job in reviving the Huskies and at least putting them on the radar in a pro sports town. Northeastern was a pest to VCU and George Mason throughout the Colonial season, hovering near the top of the league. NU finished 12-6 (19-13 overall), including a postseason win at Wyoming in the CBI. Northeastern shouldn't miss a step challenging for the CAA title again with
Matt Janning
,
Manny Adako
and
Chaisson Allen
returning. The Huskies represent the globe well with eight different U.S. states and five other countries on the roster. Look for key games against Siena, Utah State, Wright State and a trip to the Diamond Head Classic in Hawaii as indicators for whether this is an NCAA-tourney team.
North Texas
The Mean Green made their second Sun Belt semifinal appearance in three seasons before losing to eventual champ Western Kentucky 77-70 last season. If there is a team outside of the Hilltoppers to be feared from this league, it might be UNT.
Dominique Johnson
, a 5-10 senior point, should be a tough one to contain throughout the season. He's one of nine returning players on a squad that is poised to become relevant once again.
Northern Iowa
The Panthers don't seem to get the national love, but have consistently been the best team in the state of Iowa the past few seasons. UNI tied for first with Creighton in the Valley last season and returns the core of its team with
Adam Koch
,
Ali Farokhmanesh
,
Jordan Eglseder
and
Adam Rodenberg
leading the way. The Panthers gave Purdue fits in the first round of the NCAA tournament and that experience should serve them well in what could be a return engagement. Their game against Siena this season is one to keep an eye on.
Oakland
Oakland was overshadowed in the Summit League by the great story at North Dakota State. But Oakland is the favorite in the conference this season after winning 23 games and losing to Bradley on a last-second shot in the CIT. The Grizzlies return two-time all-conference player
Derick Nelson
and St. John's transfer guard Larry Wright is eligible and expected to have an impact. The front line is deep, long and experienced and Oakland nabbed Ledrick Eackles, the son of Ledell Eackles, to offer even more of an impact. The schedule is hardly light. Oakland could get noticed early with games at Wisconsin, Kansas, Memphis, Michigan State, Oregon and Syracuse.
Rice
No one ever questioned Ben Braun's coaching ability at Cal. Had
Theo Robertson
been healthy in Braun's last season there, he still might be with the Bears. He took over from Rice's beloved Willis Wilson, who couldn't catch any breaks. But Braun did triple the Owls' win total (three to 10) in his first season and advanced to C-USA's quarterfinals. He then put together what is being heralded as a stellar recruiting class, led by New Jersey player of the year
Tamir Jackson
and
Arsalan Kazemi
, who averaged a double-double for Iranian's under-19 team. Rice might struggle to finish in the top five, but there is anticipation around Houston that the Owls will be an interesting watch. Don't sleep on this squad.
Utah State
Never underestimate a Stew Morrill team. Never. The Aggies return four starters from a 30-5 team that ended its season with a near miss in a 58-57 loss to Marquette in the NCAA tournament first round. The Aggies still bring back
Jared Quayle
and
Tai Wesley
. Quayle averaged 13.1 points and six rebounds in his first year at Utah State. He was the fourth-best rebounding guard in the nation a year ago. Wesley was a solid scorer for Morrill. The Ags come to the East Coast to play Northeastern and play two key in-state games against BYU and Utah.
Wichita State
Gregg Marshall just needed time to put his imprint on the Shockers. He did a season ago as Wichita State was tied with Evansville and Southern Illinois at 8-10 and a respectable 17-17 mark overall. WSU has a chance to shock the establishment early in the CBE in Kansas City with a semifinal game against rebuilding Pitt. The Panthers weren't thrilled to draw that game and would have rather seen Iowa. Wichita State, in Kansas City, is clearly the home team and no one should be shocked if WSU is able to advance to the final and likely play Texas.
Games The Committee Will Be Watching
By Andy Katz
ESPN
•
Gonzaga at Michigan State, Nov. 17:
Mark Few has finally put the Zags in position to get true return games through his constant winning and respectful, friendly relationship with coaches like Michigan State's Tom Izzo. The Spartans will return this game to former MSU coach Jud Heathcote's home state of Washington in 2010. But Gonzaga's season opener this year is in East Lansing, where the Zags can certainly earn power points for months if they can pull off the upset against the Big Ten favorites. •
Memphis vs. Kansas, Nov. 17:
It's not realistic to expect the Tigers to win this game against a loaded Kansas team that will almost certainly be a near-unanimous preseason No. 1. But this rematch of the 2008 national title game (it did happen, right?) is quite a way for Josh Pastner to make his national TV debut. If Memphis can at least keep it close at this Hall of Fame Showcase matchup in St. Louis, the nation will be on alert that the Tigers aren't going away anytime soon. •
Creighton vs. Michigan, Nov. 26
: Creighton is once again a player to win the Missouri Valley. Senior
Justin Carter
could emerge as one of the top players in the Valley after finishing strong with 15 boards against Kentucky in the NIT. Carter is only 6-4, but led the Bluejays in rebounding at 5.5 a game. Creighton tied Northern Iowa for the Valley title last season with a 14-4 record, 27-8 overall. But a crushing loss to Illinois State in the conference tournament meant no NCAA. The Bluejays play at Dayton in a game that should get more pub than it will, but the Old Spice Classic opener against Michigan could do wonders for this team's résumé. A win over the Wolverines would likely mean a meeting with Xavier (which plays Marquette). Winning two games or more in Orlando would keep the Jays relevant throughout the season. •
Siena at Georgia Tech, Dec. 2:
The Saints get one shot at a team that should be a lock for the NCAA tournament. Siena has quality games, but not ones that will make you stop. Winning in Atlanta against a team with a headline name in
Derrick Favors
would change the regular-season profile of the Saints. Siena's rep in the NCAA tournament is above reproach. But the Saints need to establish themselves as a tough out in the regular season. Knocking off Tech would send a clear message that the Saints aren't to be scheduled lightly. •
Butler vs. Georgetown, Dec. 8:
The Bulldogs will be on a national stage at the Jimmy V Classic in a game against a team that will try to be just as precise with its offensive system. Butler always defends well, keeping games low-scoring. That will make the demands on
Greg Monroe
even more difficult. A Butler win over Georgetown at Madison Square Garden will increase the Bulldogs' marketability going forward for the season. •
Ohio State at Butler, Dec. 12:
The Bulldogs could have quite a feast on high-profile teams in the 76 Classic if Butler beats Minnesota and UCLA takes out Portland (the other side has possibilities with Clemson, Texas A&M and West Virginia, too). But knocking off the Big Ten's sleeper title contender would increase the profile of this gritty group in the Midwest and beyond. Credit former Butler coach Thad Matta for going back to his old school with a top-25 team. •
Old Dominion at Georgetown, Dec. 19:
The Monarchs nabbed the Hoyas once before in D.C. If Old Dominion could pull off another stunner, it could put the Monarchs in position for a possible at-large berth if they live up to their potential and win the CAA regular season. ODU returns five starters, including 15-point scorer
Gerald Lee
. This team went on a tear at the end of last season, winning 14 of 16 and taking home the inaugural CIT championship. The Monarchs also play at Dayton, host Richmond and face Missouri in the South Padre Island tournament, but none will be as important as the game at Georgetown. •
Gonzaga vs. Duke, Dec. 19:
, Madison Square Garden, New York: The Zags like to play the high-profile neutral-site games and getting Duke at Madison Square Garden for the second time does wonders for their power rating, let alone familiarity on the East Coast. The Zags either will be an established top-15 team after the MSU game and the Maui Invitational or searching for a March-mattering win over Duke to calm the anxiety over a possible at-large berth. •
Western Kentucky at Louisville, Dec. 19:
The Hilltoppers knocked off the Cardinals in Nashville last season, giving Ken McDonald instant credibility with his peers as a head coach and the fans in Bowling Green, Ky. Western Kentucky is the Sun Belt favorite and winning at Freedom Hall could make the Hilltopper a more popular mascot than the cardinal bird for a spell in the Commonwealth. WKU has multiple chances for power-rating wins against SEC teams South Carolina, Mississippi State, Vanderbilt and LSU. But a win over Louisville would do more for the program in-state. •
Tennessee at Memphis, Dec. 31:
OK, so it's not John Calipari versus Bruce Pearl, two coaches whose personal rivalry made this one of the country's most intriguing rivalries the past few years. But these programs still don't like each other and this will be a huge opportunity for a Memphis team to take down what will likely be a top-15 squad. It's not likely the Tigers will roll through C-USA again this season, so they'll need as many marquee nonconference wins as they can get. This would qualify. •
Tulsa at Duke, Feb. 25:
The Golden Hurricane scored a major coup by getting a game at Duke in late February. Rarely does a team like Tulsa pick up a high-profile nonconference game a few weeks before conference tournament play. TU should be in either first or second in Conference USA when this game arrives. If the Hurricane can pull off a road win at Cameron -- which is asking quite a lot -- it might be the type of win needed to put them in the field. But even playing well with everyone on the selection committee watching would go along way toward helping the profile. •
Portland vs. Pac-10:
The Pilots have a fighting chance to knock off UCLA in the opening round of the 76 Classic and will get an opportunity on the second day to pick up a quality power-rating win against either Butler or Minnesota. Portland also gets a chance to host improved Oregon and plays at Washington in December. The Pilots beat UW a year ago in the season opener. A win over the Huskies would give them momentum, and more importantly, cachet come March.
Early-season tournament preview
Final Shots
• It's no surprise that Butler was a lock for our preseason rankings. Who else made the cut?
Andy Katz's Top 25
and
Dick Vitale's Top 40.
• Find out what Joe Lunardi's crystal ball is projecting as he predicts each and every conference winner.
Summer Bracketology
• Which early-season events are the dangerous mid-major teams taking part in? We have a list of the tournaments that will be scattered around the first two months of the college basketball calendar.
Schedule
• Big school or small school, we've got all 30 Division I coaching hires covered as we profile each coach in our
New Faces, New Places series.