CAA ShootAround: Who's the favorite?
AP Photo/Phil Coale
Quick turnover at Georgia State?
By Andy Glockner
ESPN.com
One of the better teams in the CAA last season won most of the time it took the floor, but never actually played in a game. Puzzled? Don't worry; so was Georgia State head coach Rod Barnes. He got to watch practice each day where his reserve team, comprised of five Division I transfers who were sitting out per NCAA rules, regularly bested his team's current starters, who were on their way to a 9-21 record. Barnes, the former head coach at Ole Miss, said he'd never seen or heard of anything like it at the Division I level. "I started dividing [the transfers] and switching them up sometimes, because there were days it could get pretty bad," Barnes said. "I think it hurt last year's team a little bit. When you don't win much in practice, what's going to give you confidence that you can win in the games?" Last season's pain could become this season's pleasure, though, as Georgia State now literally can bring in some reserves. The high-major reinforcements include wing Trey Hampton and forward Xavier Hansbro (former players of Barnes' at Ole Miss), point guard Joe Dukes from Wake Forest, forward Bernard Rimmer from Mississippi State and
Dante Curry
, a shooting guard from South Florida who will be eligible after the fall semester. Those five, who fit neatly into each position on the court, will join returning senior guard
Leonard Mendez
(16.0 ppg; 40.5 percent 3s) to form a much more formidable Panthers rotation.

We had a lot of close games. And to have five guys sitting out waiting, we're pretty encouraged about this season.
--Rod Barnes
"Mendez is a very, very good Colonial Athletic Association player," George Mason head coach Jim Larranaga said. "He can shoot the ball, he has enough size, he can defend. If he doesn't start, if someone beats him out, they're going to have a top-two or top-three team in our league." Barnes knows that rolling five transfers out on the floor doesn't guarantee success in a league as solid as the CAA, but he likes the kids he's brought in and believes the year away from official competition will be a big plus for a group looking for collective redemption. "Just because they transferred from Division I, that's not going to translate necessarily for wins," Barnes said. "But I think they're talented enough and worked hard enough, and there's something to be said about sitting out to get a great perspective not only on college life, but of the program you're in." For those wondering why all these former high-major players have gathered in Atlanta, realize that Georgia State, while fairly new on the Division I scene, has had previous success at this level with a similar M.O. The 29-win Panthers in 2000-01, coached by Lefty Driesell, were fueled by Shernard Long, Kevin Morris and Darryl Cooper, transfers from Georgetown, Georgia Tech and LSU, respectively. That season kicked off a stretch where Georgia State, then in the TAAC/Atlantic Sun, won 83 games over four seasons, including a first-round NCAA tournament surprise over Wisconsin in '01. This season's batch clearly is the wild card team in what looks to be a pretty wide-open CAA. Yes, the Panthers have upgraded their talent, but it would be unfair to gloss over how competitive last season's undermanned club was. Georgia State's last 18 losses of the season came by an average of 6.3 points. They lost two games to league champ VCU by a total of seven points, beat second-place George Mason by a deuce, lost twice to William & Mary by a total of three points and split a pair of two-point games with Northeastern. Those near misses have Barnes anticipating the chance for some revenge in Year 2. "[Our goal last season was] just get competitive, to let everyone know that at least they have to prepare for us before we get in," Barnes said with a laugh. "I thought we accomplished that. Our kids really competed. We had a lot of close games. And to have five guys sitting out waiting, we're pretty encouraged about this season."
Five Things To Watch in '08-09
By Andy Glockner
ESPN.com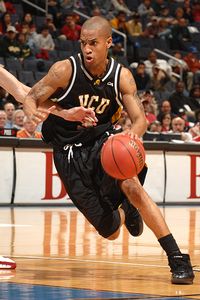 Mitchell Layton/Getty Images
Reigning Player of the Year Eric Maynor is back to lead VCU, one of the favories in a muddled CAA.
•
Who's in it to win it?
Ask around the league and you'll get a mixed bag of answers, based on the number of returning starters but also on the number of top players who are gone. Ten of the league's 12 teams return at least three starters, with five teams (Northeastern, Delaware, James Madison, Old Dominion and Hofstra) bringing back four or more. That said, VCU star guard
Eric Maynor
, the CAA's Player of the Year, is the only all-conference first-teamer back. ODU junior forward
Gerald Lee
and Northeastern junior wing
Matt Janning
are back from the second team. What does it all mean? The Maynor-fueled Rams should once again be strongly in the mix. George Mason, despite losing
Will Thomas
and
Folarin Campbell
, should be as well. Old Dominion and Northeastern look primed for a bump after putting young teams on the floor last season. Georgia State is a true wild card. •
Gone but not forgotten
Yes, reserve forward
Chris Fleming
is still on the roster, but for all intents and purposes, the departures of Thomas and Campbell closed the book on George Mason's 2006 Final Four team. That's not to say that the program isn't still reaping the benefits of that serendipitous run. Attendance is way up, recruiting continues to hum along, and the general shape of the program helped keep head coach Jim Larranaga in the fold after Providence, his alma mater, made a run at him in the offseason. Just because things are different doesn't mean they are bad. Senior guards
John Vaughan
(who sat out the Final Four season with a knee injury) and
Dre Smith
(a juco transfer who set an NCAA record with a 10-for-10 3-point performance at James Madison last season) lead a young but talented Patriots club that is still expected to challenge for league honors. •
Coen home at NU
Entering just his third season after taking over when Ron Everhart jumped to Duquesne in the Atlantic 10 (and took standout forward
Shawn James
with him), Bill Coen has the Huskies (9-9 CAA last season) positioned to make a run at the CAA crown. The only team in the league with all five starters returning, Northeastern will lean once again on a balanced offense led by Janning's sweet shooting and a solid team defense. The Huskies have six guys who are at least 6-foot-8, so size shouldn't be an issue, either. The quick success Coen has had is doubly sweet given the undercurrent of Everhart's departure, part of which involved the perception that the school, after moving from the America East, didn't have the budget to legitimately compete in the tougher CAA. NU will need to continue to increase its basketball investment, but for now Coen seems to be doing just fine with what he has. •
Old hat
How do you know you've become a consistently good program? When you finish 18-16 with a young team in a mid-major conference … and still land a postseason berth. Old Dominion can thank the newly created CBI for its fourth straight postseason appearance, but the Monarchs probably won't need such help this season. ODU only has one senior on the roster, but don't let that deceive you. Lee is back to head a team where guard
Darius James
, wing
Ben Finney
and forward
Frank Hassell
all started at least 16 games as freshmen last season. If they can establish a viable replacement for leading assist man
Brandon Johnson
, who also was the CAA Defensive Player of the Year, this season's club should resemble the teams that won 76 games and made two NCAA trips from 2005-07. •
Bidding them adieu
George Mason's Final Four run may have masked the fact that the CAA hasn't been treated all that well by the selection committee over the past three seasons. In 2006, when the Patriots made it as an at-large, Hofstra was nixed despite an RPI of 31. A year later, Drexel was arguably the biggest NCAA snub in the country. Last season, league champ VCU, despite winning the CAA by three games over eventual tourney champ George Mason, got left out. That's the same VCU, with much of the same personnel, that beat Duke and took Pitt to OT in the 2007 NCAAs. So while the popular belief is that leagues like the CAA and MVC (which only got one tournament team last season) are getting more respect when it comes to NCAA consideration, the evidence suggests that things could have been a whole lot better. Something to consider this season where league depth again appears to trump top-end quality.
If I were commish …
By Andy Katz
ESPN.com
The commissioner needs to force league teams to play more home games. Scheduling alliances with other conferences would help. But schools need to do a much better job of getting nonconference home games. The CAA teams usually get crushed before the league season because they're on the road so much. These teams need to be able to start league play with better records and a much better RPI.