Big matchups out West as Pac-10 play starts
AP Photo/Dino Vournas
Game to watch
By Jay Bilas
No. 5 UCLA at Cal, Saturday, 6 p.m. ET
Why watch:
This is a really important game for UCLA. It is the first great test for
Kevin Love
against a super-athletic big guy in his own den. Love will have to go head-to-head with a freak athlete in
DeVon Hardin
, and Love has yet to contend with that. UCLA is now healthier, and the Bruins have
Darren Collison
back at full strength. But Collison now has a capable backup in
Russell Westbrook
, who has received some valuable experience in Collison's absence, and Westbrook is leading the Pac-10 in assists with 5.7 per game. Cal can compete favorably with UCLA up front with Hardin as a rebounder, shot-blocker and finisher,
Ryan Anderson
as a skilled big that can step away from the basket and is leading the Pac-10 in scoring (22.2 points), and
Jamal Boykin
, the transfer from Duke that can match up athletically. The key will be the play of Cal's guards.
Patrick Christopher
is a very good scorer that is averaging 17 points per game, and he has the ability to hit pull-up jumpers. California matches up well with UCLA on paper, but UCLA is tougher and battle-tested. But, the last time these teams met, Cal won ... in the Pac-10 tournament.
Key matchup:
UCLA's guards vs. Cal's guards. The frontcourts matchup very well, but UCLA has an advantage in the backcourt. Collison and Westbrook are both in the top five in the Pac-10 in assist-turnover ratio and make very few mistakes. If Cal is able to win this one at home, the guards will have to at least play UCLA's guards to a draw. UCLA had issues with Texas' guards because of the Longhorns' scoring ability and ability to keep their dribble, but Cal does not have guards like that.
Key stats:
Rebound margin and turnover margin. UCLA is the better rebounding team, and the glass will be a major factor. Cal and UCLA have similar margins overall, but UCLA has played the tougher slate. Cal will have to be stronger with the ball than it has been all season.
X & O to watch for:
UCLA does as good a job as any team in the nation at doubling the post, and only Cal and Florida did a good job in handling UCLA's post doubles last season. UCLA brings its double team from the opposite big. The Bruins press up on the ball side and deny the pass out, and then they zone up on the weak side and force the pass opposite and long. With guys like
Alfred Aboya
, Love and
Luc Richard Mbah a Moute
, UCLA is long and athletic and forces a lot of big men into bad passes. Cal, however, has some good passing and smart big men, and the manner in which Cal handles UCLA's post doubles will be a major factor.
Who wins and why:
UCLA is tougher, more experienced and more battle tested. I like
UCLA
in a real fight.
Don't miss
By Jay Bilas
•
No. 3 Kansas at Boston College, Saturday, ESPN, 12 p.m. ET
Why watch:
While everyone is spreading the floor, Boston College is shrinking it. Most teams are trying to space the floor and force defenses into long close outs; Boston College continues to run its offense in close quarters, and it works very well for Al Skinner. The problem is, Boston College is facing arguably the best defensive team in the nation in Kansas.
Russell Robinson
and
Mario Chalmers
are two of the best defensive guards in the nation, and both are in the top five in the Big 12 in assists, assist-turnover ratio and steals. The Kansas big guys are very good at blocking and challenging shots. Kansas is deeper, stronger and more athletic. Chalmers is one of the most underrated guards in the country,
Sherron Collins
is back at full strength and is the Jayhawks' best pure player, and
Brandon Rush
is now healthy and returning to form. Kansas leads the Big 12 in scoring, and is among the top three in the conference in field-goal defense and rebounding. The only area in which Kansas struggles is in shooting from the perimeter and the free-throw line, where the Jayhawks have shot only 62.8 percent as a team. Kansas is balanced, with only two players ranked in the top 20 in the Big 12 in scoring (
Darrell Arthur
and Mario Chalmers at 13.1 and 12.3 points per game, respectively).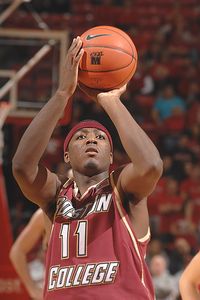 Mitchell Layton/Getty Images
Boston College freshman Corey Raji is the Eagles' fourth double-figure scorer.
Boston College does nothing special from a team perspective and is a middle-of-the-pack team in the ACC. But the Eagles are tough-minded and used to winning.
Tyrese Rice
is an explosive scorer that can go off on anyone, and is averaging 19.7 points and 5.5 assists.
Shamari Spears
and freshmen
Rakim Sanders
and
Corey Raji
are the next-best scorers, but Sanders and Raji are young and have not played a team quite like Kansas yet.
Key matchup:
Tyrese Rice and Russell Robinson/Mario Chalmers. Rice will be facing two of the best defensive guards in the nation. Rice is uncanny in his ability to hunt and squeeze off tough shots, but Robinson and Chalmers have the ability to make things difficult on him.
Key stat:
Rebounding. Kansas is bigger, stronger and deeper inside, and the Jayhawks should pound the glass. Boston College is not a great rebounding team.
X & O to watch for:
Expect Boston College to mix in some zone and stay in it unless Kansas can shoot and rebound the Eagles out of it. Watch how Kansas sets ball screens with its big men. The Jayhawks like to follow one ball screen with another, and it can be very difficult to guard. Also, watch Kansas throw lobs against man or zone, especially after a timeout. When Boston College has the ball, watch how the Eagles run their flex offense, and the way they get into it. BC runs a few different entries into flex, including some box sets, and the Eagles do a great job of using angles, ducking in and exploiting mismatches on switches.
Who wins and why:
Kansas is the better team, but the Jayhawks had a real fight on their hands at Georgia Tech. And Boston College is better than the Yellow Jackets. •
Oregon at No. 21 Arizona, Saturday, 8 p.m. ET
Key player:
Jerryd Bayless
. If he plays, Arizona has a much better chance.
Nic Wise
will have his hands full if he is alone in handling the ball against Oregon all game long. For Oregon,
Bryce Taylor
will be a tough matchup for Arizona.
Key matchup:
Jordan Hill
vs.
Maarty Leunen
. Hill has really come on this season, and he has been very good down low and on the glass. Leunen is a tough matchup for Arizona because he is strong, physical, a good rebounder, and he can also step away from the basket and hit from the perimeter.
Key stats:
Field-goal percentage defense and rebounding. Both teams shoot a good percentage from the floor, and both teams are capable on the offensive end. The key to each team's success, in this game and over the course of the season, is the quality of defense. Kevin O'Neill has done a good job in holding Arizona more accountable on the defensive end, and Arizona will have to be engaged to stop Oregon's explosive offense. Oregon has scorers at almost every position, and
Tajuan Porter
, Taylor, Leunen and
Malik Hairston
are all capable of putting up 20 or more on a given night. Oregon needs to concentrate on slowing down
Chase Budinger
and Hill, Arizona's two most capable scorers. If Bayless plays, he should be a focal point of Oregon's defense because he can make challenged shots.
X & O to watch for:
Arizona runs a lot of great sets to free up Budinger. Watch how Budinger moves without the ball to free himself, including how he runs his defender off staggered screens and going in for quick post-ups.
Who wins and why:
I like Oregon to sneak one out if Bayless is not prepared to play. If Bayless is at full strength, Arizona should be able to hold serve at home.
Fraschilla: A closer look at Kansas
Player to watch
•
Patrick Mills, St. Mary's
Steering the Gaels to a 12-1 record and a No. 24 spot in the polls, Mills has enjoyed the Aussie Aussie Aussie part of his native country's chant. This weekend it could be more of an Oi Oi Oi (or Oy, Oy, Oy) for the dynamic playmaker from Canberra. Mills will face his toughest competition and arguably one of the best backcourts in the nation when Saint Mary's travels to Texas on Saturday (
ESPN Full Court
, 6 p.m. ET), home of D.J. Augustin and A.J. Abrams. Mills and Augustin are cut of the same cloth, cat-quick point guards who are equally lethal passing the ball as they are shooting it. A time zone more suitable for TV viewing and a more established program have allowed Augustin to garner more of the national hype, but Mills, the youngest player on the Australian national team, has the skills to hang. His no-look passes ignite (he averages 4.3 assists per game) inspire a frenzy and he is a scoring threat (15.6 points per game) from anywhere. But he heads to Austin off the worst game of his young career. Against Cal State Fullerton, Mills struggled to the tune of eight points and far worse, six turnovers. He could blame exhaustion. The Gaels played five games in 10 nights, three of them across the Pacific at the Rainbow Classic in Honolulu. Even for a guy from Australia, that's a long road trip. Mills logged 38.6 minutes per game in that stretch. Whatever ailed him, he'll need to get rid of it against Texas. Read the riot act by Rick Barnes even after they stopped a two-game skid with a win against TCU, the Longhorns aren't likely to stroll onto the floor. Texas needs to re-establish its place in the hoops hierarchy and won't be happy if a guy from Down Under undermines it. Oy, oy, oy.
-- Dana O'Neil, ESPN.com
Key games this weekend
•
Massachusetts at Vanderbilt, Saturday, ESPN Full Court, 4 p.m. ET
Vandy head coach Kevin Stallings has one of the most lethal combinations in college basketball in senior swing man
Shan Foster
and freshmen insider
A.J. Ogilvy
. Foster has great bounce and is a lights out 3-point shooter, and Ogilvy is mobile and provides the Commodores with a go-to post presence. UMass has a talented swing man of their own in 6-7 forward
Gary Forbes
, who can knock down the 3 or post inside. Guards
Ricky Harris
and
Chris Lowe
and forward
Etienne Brower
join Forbes as double-digit scorers. A win for the Minutemen would give them three quality road wins after already beating Syracuse and Boston College. If Vanderbilt can have success against UMass -- which will challenge for the Atlantic 10 title -- the Dores will have a win against a team that will help their postseason résumé as they head into SEC play. •
Saint Mary's at Texas, Saturday, ESPN Full Court, 6 p.m. ET
After beating TCU, 67-59, lead guard D.J. Augustin will attempt to keep the Horns on the right track as a quality St. Mary's team comes to Austin. With home wins over Seton Hall and Oregon, the Gaels would love to add a huge road win to their résumé. The three-headed monster of freshman point guard
Patrick Mills
, forward
Diamon Simpson
and center
Omar Samhan
lead St. Mary's. Mills leads the team in scoring and assists. Simpson is close to averaging a double-double with 12.2 points and 9.6 rebounds, and Samhan is a load in the lane at 6-11 and 265 pounds. Texas welcomes back touted freshman forward
Gary Johnson
after sitting out the first two months with a heart condition. He contributed with five points and five rebounds against the Horned Frogs.
A.J. Abrams
,
Damion James
and
Connor Atchley
want to end the nonconference season with a win before hitting the road to open Big 12 play at Missouri. •
USC at Stanford, Saturday, 8 p.m. ET
Forward
Brook Lopez
has returned and taken over the Cardinal scoring and rebounding as expected. Joining Brook and 7-0 twin brother, Robin, is guard
Anthony Goods
, who provides scoring from the perimeter. After opening the Pac-10 with a loss to favorite UCLA, Stanford will be motivated to avoid dropping two in a row at home.
O.J. Mayo
will attempt to take over the game as he did against the Golden Bears on Thursday when he dropped 34 points on the road. Along with
Davon Jefferson
,
Taj Gibson
,
Daniel Hackett
and
Dwight Lewis
, the Trojans pose a serious threat to the Cardinal as they try to avoid leaving the Bay area 0-2 and after losing at Cal, 92-82. •
Connecticut at Notre Dame, Saturday, ESPN, 9 p.m. ET
The Irish battle UConn after starting the Big East with a 69-56 win against West Virginia. Mike Brey has a very skilled team led by the physical inside presence of 6-8 forward
Luke Harangody
, who leads the team in scoring and rebounding. The backcourt of
Tory Jackson
and
Kyle McAlarney
combine passing and shooting to go along with excellent speed and quickness. Forward
Rob Kurz
is active around the basket, and swingman
Ryan Ayers
is a dynamite shooter. The Huskies will continue on the road after starting conference play at Seton Hall with a 98-86 win. The strong perimeter play of combo guards
Jerome Dyson
,
A.J. Price
and swingman
Stanley Robinson
makes UConn an extremely athletic group of double-figure scorers. Inside, the scoring and rebounding is dominated by shot-blocking machine
Hasheem Thabeet
. •
Xavier at Auburn, Sunday, ESPN Full Court, 3 p.m. ET
The Tigers need to add a quality win before Arkansas comes calling to open SEC play, and Xavier fits the description. After completely destroying Virginia on Thursday night, 108-70, point guard
Drew Lavender
will attempt to lead Xavier to its first true road win after dropping two at the hands of Miami (Ohio) and Arizona State.
Rasheem Barrett
and
Quan Prowell
will try to increase their production to make up for forward
Korvotney Barber
, who broke his non-shooting hand and is expected to miss at least four weeks. Auburn's Jeff Lebo will match wits with former Xavier boss Sean Miller in a game that should still be very entertaining.
-- Reggie Rankin, Scouts Inc.
A closer look at North Carolina