Center of attention on Georgetown-Louisville
G Fiume/Getty Images
Must-See Game
By Reggie Rankin
Scouts Inc.
No. 6 Georgetown at Louisville, Saturday, 9 p.m. ET, ESPN
Outlook
: The Hoyas keep marching toward the Big East title they are the favorite to win. At 9-1 in conference play, the Georgetown defense has been the difference. G'town leads the Big East in scoring defense, giving up 58.4 points per game. After knocking off a stubborn South Florida team on Tuesday,
Roy Hibbert
and Co. are in for a tough task. The Cardinals are playing well now that they're at full strength with the return of two major contributors in center
David Padgett
and forward
Juan Palacios
. The Cards went into the Bradley Center on Big Monday and routed Marquette in a game they led wire-to-wire.
Join Rece Davis, Jay Bilas, Hubert Davis and Digger Phelps in Louisville, Ky., on Saturday as they break down the day in college basketball. (ESPN, 11 a.m. & 8 p.m. ET)
Key Matchup
: Padgett vs. Hibbert. The key in this game will be the centers of attention. Padgett is the Cards' leader and must be involved in the offense. The Ville loves to shoot the 3, but post touches will be a determining factor. If Padgett can make a few jump hooks and keep Big Roy busy on the defensive end, it will give the Cards some scoring balance, and his production will go a long way toward a victory. The same holds true for the Hoyas. The cutting and movement of the Princeton offense is great when the perimeter makes it a habit to check the post. Hibbert is a great post passer, but he will need to get double-figure shot attempts for Georgetown to be successful.
Key Stats
: Scoring defense. Georgetown and Louisville are first and second in the conference in that category, respectively. Georgetown holds opponents to 58.4 points per game, and Louisville limits teams to 59.7 points per game. Both squads do a great job of pressuring the ball in their man defense and mixing in zone as a changeup. The Hoyas press in the full court in man, and Louisville full court presses in man and zone. The team that can keep turnovers to a minimum and finish more consistently on the offense end will be the victor.
Breakout Player
: Keep an eye on Cardinals guard
Edgar Sosa
. He scored 14 of his game-high 18 points in the first half against Marquette. He had great shot selection and went 3-for-4 from 3 with just one turnover in 25 minutes. If he can get back to the level he was playing at as a freshman, then the Cards have another scorer and primary ball handler to go with
Jerry Smith
,
Terrence Williams
and the super athletic
Earl Clark
.
Who Wins
: Georgetown's defense is an opponent's nightmare. The Hoyas have good guard play with
Jessie Sapp
and
Jonathan Wallace
to team with the All-American Hibbert. Louisville stayed the course after battling injuries and off-court issues, and is playing with great confidence (winning eight of its past 10 games). The chemistry seems to be at a season high with the key players back in the fold. Georgetown will bring the heat on defense and try to cut the Cards up with its half-court offense, but I think
Louisville
will shoot well from behind the arc and establish an inside game to win a nail-biter at Freedom Hall.
Big Game In The Big Ten
By Doug Gottlieb
ESPN
Purdue at No. 8 Wisconsin, Saturday, 9 p.m. ET
Outlook:
Wisconsin has ascended to a top-10 ranking on the heels of winning 13 of its past 14 -- and the Badgers' only loss in that span was at Purdue. The Boilers have won a remarkable eight in a row, and their only loss was a respect-earning three-point defeat at Michigan State, which is nearly unbeatable at home. Purdue, an exceptionally young team with high hopes to improve to the level of an NCAA Tournament team, has suddenly put itself in prime position for an unlikely run to a Big Ten title. Wisconsin, which has quickly replaced Alando Tucker and Kammron Taylor, is suddenly in position for a possible 2 seed and is virtually unbeatable at home in Big Ten play under Bo Ryan (51-2). Purdue beat Wisconsin 60-56 in early January in a hard-fought, slug-it-out brawl in West Lafayette. Wisconsin leads the nation in points allowed and is second in field-goal percentage defense, so points will be very hard to come by for Purdue.
Key matchup:
E'Twuan Moore
versus
Trevon Hughes
. Moore, just a freshman, is a spectacular talent with the basketball in his hands. He had a reputation before college as more of a scorer than a shooter, but he has really proved that assessment incorrect by shooting 42 percent from 3-point range. Moore is called on at times to create his own shot with his pull-up jumper. Moore also must defend Hughes, who is an outstanding athlete in both transition and the half court. Hughes, long thought to be the next star at Wisconsin, has not disappointed. He can score in the midrange and the post, all while being at least competent from 3. He is like all the Badgers: an excellent defender without fouling. Moore must take care of the ball, all while looking for shots and shooting a high percentage.
X factor:
Wisconsin's
Brian Butch
was the one Badger who played really well on offense for Wisconsin during the first game vs. Purdue. His 20 points and 13 boards came from a variety of spots on the floor. While Butch has not been the 3-point marksman he was expected to be at this point last season, he is still well-respected in the league and you must guard him to 20 feet.
Who wins:
Wisconsin is virtually unbeatable at home. The Badgers will get a boost from Marcus Landry crashing the offensive glass and Hughes being far more aggressive in looking for shots in transition and out of the offense. If Purdue can keep Wisconsin off the foul line, the Boilers have a chance (Michigan only let the Badgers get to the line nine times and lost by three at Kohl), but Wisconsin will be ultra-aggressive.
Wisconsin
by eight.
Key Player
By Dana O'Neil
ESPN.com
Derrick Low, Washington State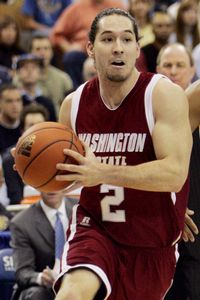 AP Photo/Reed Saxon
Wazzu needs Derrick Low to shoot well and stop this midseason slide.
The Hawaiian guard who once bungee jumped off a New Zealand cliff better hope the freefall soon stops for his team. Once ranked as high as No. 4 in the nation, the Cougars are fizzling in February. They've lost four of their past five, including three in a row in Pullman, and are a pedestrian 5-5 in the Pac-10 as they head into Saturday's game against an improving USC team (
ABC, 3:30 p.m. ET
). The strength and depth of the league, plus a win at Gonzaga, bolsters Wazzu's résumé for the NCAA Tournament. But with March closing in fast, the Cougars can ill afford to have too many more teams leapfrog over them in the conference standings. Low has been all over the map as opponents hone in on him as the guy to stop. He scored five points in a loss to Arizona but came back with 18 against Arizona State. Another five-point night against Cal was followed up by a 19-point outburst against Stanford. As UCLA completed the season sweep on Thursday night, Low could muster just seven points. And more telling, he took only eight shots. In the Cougars' last four losses, he's shooting just 13-of-41 (31 percent) from the floor. This has never been a team of superstars but more a team that beats opponents with back-breaking defense. But if there is a face to Wazzu, it belongs to Low. It's up to him to make sure that the bungee cord swings back up.
Breaking down Georgetown's motion offense
Key Games This Weekend
•
Marquette at Notre Dame, Saturday, noon ET, ESPN
The Irish will have to play better defense and provide some help for big
Luke Harangody
in this rematch. In Game 1, Marquette crushed Notre Dame 92-66 when the Irish gave up 48 second-half points. In that game, Harangody dropped 29 points and hauled in 14 rebounds, but only
Rob Kurz
joined big Luke in double figures.
Lazar Hayward
has continued to lead the Golden Eagles in scoring and rebounding, but the Marquette perimeter will be the major challenge for the Irish.
Jerel McNeal
,
Dominic James
and
Wes Matthews
all posted double figures back on Jan. 12. Forward
Ousmane Barro
recently broke out with a double-double in a win at Cincinnati when he put 19 points and 10 rebounds in the book. This is a crucial game for both teams. Marquette lost at home to Louisville, and Notre Dame, which beat Seton Hall 95-69, hopes to stay on the heels of the Hoyas in the conference race. •
USC at Washington State, Saturday, 3:30 p.m. ET, ABC
The Trojans got back on track after losing to Arizona by beating Arizona State last weekend. This week, the state of Washington swing started in Seattle with a 14-point win against the Huskies. Meanwhile, Washington State has lost its focus down the stretch, dropping three in a row at home and four of its past five overall. It is now crunch time for the Cougs and seniors
Derrick Low
,
Kyle Weaver
and
Robbie Cowgill
if they want to finish strong in the conference race. For USC,
O.J. Mayo
and
Dwight Lewis
make things happen on the perimeter with their 3-point shooting and transition finishes.
Taj Gibson
and
Davon Jefferson
clean the glass and handle the scoring inside the arc, and both can play above the rim. The Washington State defense will be tested by the very confident offensive group of Trojans that has won six of their past seven games. This game will show what the Cougs are made of after having so much trouble winning on their home floor of late. •
Georgia Tech at Connecticut, Saturday, 4 p.m. ET, ESPN
Tech has been on the losing end of some close games, including a five-point loss to Kansas and a one-point loss to North Carolina, both at home. Inconsistent defense and mental lapses have hurt Georgia Tech. The Yellow Jackets have some shooters and athletes with
Anthony Morrow
,
Lewis Clinch
and
Jeremis Smith
leading the way. On the other hand, the Huskies are winners of six in a row after beating Syracuse 63-61 on the road on Wednesday.
A.J. Price
has settled in and taken control of the team at the point. Forward
Stanley Robinson
can defend any position on the floor with his size and athletic ability, rebound on both ends and finish in transition. The paint is in excellent hands on both ends of the floor with forward
Jeff Adrien
and 7-foot-3
Hasheem Thabeet
. Thabeet has improved his scoring, but he is tremendous at running the floor, dunking drop-off passes and starting the break with his shot-blocking ability. A win for the Yellow Jackets would be a great boost after beating Wake Forest 89-83 on Wednesday. A win for UConn maintains its momentum as it heads back into conference play at home against Notre Dame on Wednesday. •
Mississippi at Arkansas, Saturday, 5 p.m. ET, ESPN Full Court
Arkansas forward
Sonny Weems
has led the Hogs to victory over ranked teams Mississippi State and Florida, earning him SEC Player of the Week honors. Teammate
Patrick Beverley
can do it all on the perimeter, handle the ball and score. In SEC play, he leads Arkansas in rebounding from the guard position. Forward
Charles Thomas
is a double-figure scorer, and the defense is held together by shot-blocking specialist center
Steven Hill
. For Ole Miss, scoring point guard
Chris Warren
and forward
Dwayne Curtis
lead the attack for coach Andy Kennedy. After losing to South Carolina at home, a win for the Rebels would get them to 4-4 in the SEC. A Hogs win would have them at 6-2 and in position to battle Tennessee and Florida for the regular-season title at the halfway point in conference play. •
Baylor at Kansas, Saturday, 8 p.m. ET, ESPN Full Court
The Bears have been one of the pleasant surprises of the season. But after losing two out of their past three games since the five-overtime win at Texas A&M, Baylor must maintain its fight and hunger in order to challenge the Jayhawks. Athletic forward
Kevin Rogers
is a major factor on the boards and has great touch around the rim. The perimeter play of guards
Curtis Jerrells
,
Henry Dugat
,
Aaron Bruce
and
LaceDarius Dunn
will have to make plays off the dribble in order to break the constant defensive pressure of Kansas'
Mario Chalmers
,
Sherron Collins
and
Russell Robinson
. Baylor's
Josh Lomers
and
Mamadou Diene
will have their hands full inside with the superior play of forwards
Darnell Jackson
and
Darrell Arthur
, the team's leading scorer. After beating Missouri on Monday, Kansas has kept on pace to win the Big 12 regular-season championship. A road win for the Bears would give them back their swagger to go along with another huge conference road win. •
Saint Joseph's at Xavier, Sunday, noon ET
After getting drilled by Duquesne 102-88 on Wednesday, Saint Joe's will go after league-leading Xavier.
Pat Calathes
is the key for the Hawks. He has the skill to take over the game with his scoring, rebounding and passing.
Ahmad Nivins
scores with his back to the basket and can rebound on both ends of the floor. Xavier's
Drew Lavender
is the floor general for the Musketeers, which have six double-figure scorers.
Stanley Burrell
is a proven defensive stopper that might get the first crack at Calathes. •
Indiana at Ohio State, Sunday, 1 p.m. ET
The Buckeyes will attempt to use their matchup zone to disrupt the Hoosiers and force them into contested jump shots. Indiana comes to Columbus with scorers at every position and two of the Big Ten's marquee players in
Eric Gordon
and
D.J. White
.
Jamar Butler
will run the show for the Bucks, and
Kosta Koufos
will look to play strong inside. More importantly, Koufos needs to dominate on the glass because Ohio State will have to rebound out of the zone. After a double-overtime win at Illinois for the Hoosiers, they're 8-1 in the Big Ten. Ohio State is coming off a win against Michigan on Tuesday, putting the young Buckeyes in striking distance at 7-3 in conference play. •
Clemson at North Carolina, Sunday, 6:30 p.m. ET
The Tigers will invade the Dean Dome with revenge on their minds after losing 90-88 in overtime to the Heels on Jan. 6.
James Mays
and
Trevor Booker
will attempt to make UNC's
Tyler Hansbrough
work on the defensive end. Clemson's wing positions are loaded with scorers.
K.C. Rivers
,
Terrence Oglesby
and
Cliff Hammonds
can penetrate and shoot the 3. Carolina will depend on the scoring of
Wayne Ellington
, who dropped 36 -- including the game winner -- in the first matchup in Littlejohn Coliseum, and the versatile
Danny Green
. The issue for both teams is at the point guard position. Clemson is without freshman
Demontez Stitt
, who had knee surgery on Jan. 31. Carolina might be without
Ty Lawson
, who suffered a high ankle sprain against Florida State Sunday and did not play in Wednesday's loss to Duke. Clemson's
Cliff Hammonds
will be the primary ball handler, and senior
Quentin Thomas
will handle the duties for the Tar Heels. Based on both teams' style of play, this game should be a track meet.
-- Reggie Rankin, Scouts Inc.