Tigers and Zags battle in season's final nonconference doozy
AP Photo/Wade Payne
Must-See Game
By Jay Bilas, ESPN
No. 15 Memphis at No. 18 Gonzaga, Saturday, 9 p.m. ET
Outlook:
This game is of vital importance to both teams. Because of the relative lack of strength and perceived power of the West Coast Conference and Conference USA, Gonzaga and Memphis have been forced to rely on nonconference games to boost their RPI ratings and NCAA seeds. Right now, Memphis is hovering around a 3- or 4-seed, and Gonzaga is probably looking at a 4- or a 5-seed.
Join Rece Davis, Jay Bilas, Hubert Davis, Digger Phelps and Bob Knight in Spokane on Saturday as they break down the day in college basketball. (ESPN, 11 a.m. & 8 p.m. ET)
Memphis has very good talent and lacks only the collective toughness a championship contender displays with great consistency. On some nights, Memphis brings it. But on others, the Tigers rely solely upon talent to win. Memphis is one of the best defensive teams in the country, putting great pressure on the ball in full-court and half-court situations. The Tigers can block shots, rebound, and get out in passing lanes and get steals. On the offensive end, Memphis is not as proficient but is still capable. John Calipari still employs the motion-based, drive-and-kick offense that allows his athletes to put defenders back on their heels. And the Tigers are getting better from long distance, too. In their first 14 games, they shot just 28.9 percent from the 3-point line. Over their past eight games, that percentage has gone up to 41.5 as they've extended that C-USA win streak to 50.
Still, Gonzaga is the better offensive team and is much improved on the defensive end this season. Earlier this season, Gonzaga was feeling as if it had overscheduled, but the Bulldogs went a long way toward getting their swagger back with a win at Tennessee on Jan. 7. Like Memphis, Gonzaga has been working on toughness and playing through possessions. Players such as Austin Daye, Matt Bouldin and Steven Gray are all capable of big nights, but all have needed at times to be more consistent at the highest level.
Gonzaga is not quite as athletic as Memphis but is very skilled. The Bulldogs run a lot of set plays and entries into flex- or pass-and-cut motion. On the defensive end, Gonzaga will play a switching man-to-man and some matchup zones, both 2-3 and 1-3-1. Gonzaga does a good job of forcing and contesting shots within the 3-point line and of limiting opponents to one shot.
Key Players: Tyreke Evans and Jeremy Pargo
Both Evans and Pargo are powerful combo guards who are playing the point for their teams. Evans took over the point for Calipari a few weeks ago and hasn't looked back. Evans is very gifted driving to the basket, can create his own shot, and has learned how to lead and how to look for his offense. Although he is not a true point, he can initiate offense for his team and still look for his own shot. Pargo was last year's West Coast Conference Player of the Year, and he is really strong and always seems to play his best against the best competition. Pargo is a warrior -- but so is Evans, and Evans is bigger.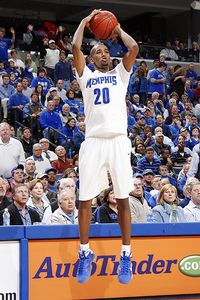 Joe Murphy/Getty Images
Memphis will look for Doneal Mack
on the perimeter against Gonzaga.
Key Stat:
Turnovers and Second Shots
This game will be about Memphis' ability to get extra possessions. Memphis' offense has to help its defense by taking care of the ball and not turning it over and taking quick shots. The Tigers have to be able to score off their defense to win big games, and Gonzaga's offense has to help its defense by protecting the ball and not giving Memphis advantageous situations. The more Memphis has to play half-court defense, the better off Gonzaga will be.
X Factors: Doneal Mack and Austin Daye. Mack is a lefty shooter who can really knock down shots. Memphis is neither a great shooting team nor a great free throw shooting team, but Mack can hit from the perimeter and make defenses pay for sitting on drives. Daye is a special talent. When he does more than just the occasional "wow" play in a game and makes the easy play, grabs rebounds in a crowd and asserts himself offensively, as he did against Tennessee, he is one of the better players in the country. Daye can shoot and put it on the deck and is long enough to bother anyone's shot.
Who Wins: I will hold off on that because I'll be in Spokane calling the game, but this is one nonconference matchup that won't disappoint.
Stuff To Impress Your Friends With
ESPN Research
• If Notre Dame comes up empty at Pauley Pavilion on Saturday, the Irish will be entering some pretty foreign territory in their rich hoops history. A seventh straight loss would tie for the third-longest slump ever at the school, which began competing in basketball in the late 19th century.
• With a win against Colorado on Saturday, Oklahoma will improve to 23-1 and tie last year's Kansas team for the second-best one-loss start in Big 12 history. The best? A 34-1 start by KU in the first season of the Big 12 (1996-97).
• North Carolina's
Tyler Hansbrough
needs 16 points against Virginia on Saturday to pass Wake Forest's Dickie Hemric and move into second on the ACC's all-time scoring list. He's 197 points behind Duke's J.J. Redick for the top spot.
• In ACC play, Wake Forest is 3-0 against ranked teams, with wins against UNC and Duke and at Clemson. All three of those opponents are in the top 10. The problem? The Deacons are just 1-3 against unranked ACC foes. On Sunday afternoon, Wake will host unranked BC.
• Of all the Division I players who have averaged five assists in a season in the past 10 years,
Stephen Curry
ranks first in terms of scoring average. In addition to his 6.3 dishes a game, the Davidson star manages a nation-leading 28.9 ppg. Second-highest scorer on the list? Another player from this season: less-heralded
David Holston
of Chicago State.
• Syracuse's
Arinze Onuaku
is shooting just under 70 percent (a nation-leading 69.6). How good is that? Only 10 players in NCAA history have shot 70 percent or better from the field (none since Belmont's Adam Mark in 2001-02). Despite his shooting exploits, though, Onuaku's success rate at the free throw line is abysmal. He's shooting just 34.9 percent from the charity stripe, which is in line with the entire SU team. Syracuse ranks fourth in Division I in FG percentage (49.7) but just 298th in FT percentage (63.9).
-- Contributions from researchers Jeremy Lundblad, Tyler Korn, Mike Lynch and Katie Sharp.
Player To Watch
If he's on television, Curry is worth tuning in for -- but the junior deserves a look this weekend in particular. And not just because Dickie V will be calling the game.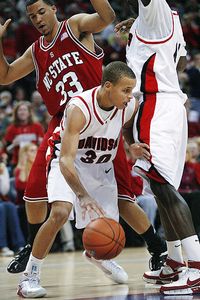 Daniel Plassmann/US Presswire
Stephen Curry will look to make SoCon history this weekend.
Davidson has won 43 Southern Conference games in a row, a streak more than two years in the making. The Wildcats haven't lost since Jan. 20, 2007. If Davidson beats College of Charleston on Saturday (
ESPN2, 6 p.m.
) it will tie the league record for consecutive victories, matching the stretch set by West Virginia from 1955 to 1960. In those days, the Mountaineers had a nifty scorer themselves, a guy by the name of Jerry West.
Charleston is no walkover. Though currently skidding with three losses in its past four games, Bobby Cremins' group is 8-4 in the SoCon, is 16-6 overall and owns a November win over South Carolina. Earlier this season, the Cougars also gave Davidson all it could handle before losing 79-75. Naturally, Curry, who scored 29, iced the win at the free throw line.
Off on the side courts of conference play, Curry has taken a backseat to the weekly ACC and Big East slugfests, but you can almost sense him building for another March run. He has reached double figures in every game this year, save that odd one against Loyola, when Jimmy Patsos had two guys stick to Curry like Secret Service men. More, he has topped the 25-point mark 18 times in 23 games.
And for those who thought handling the point guard duties would reduce Curry's effectiveness, he not only leads the nation in scoring (28.9 ppg) but also is tied for sixth in assists, dishing out 6.3 per contest.
-- Dana O'Neil, ESPN.com

Viewer's Guide
(All times ET)
Saturday:
11 a.m.: "College GameDay" (ESPN)
Noon: Syracuse at Villanova (ESPN)
1 p.m.: Notre Dame at UCLA (CBS)
1:30 p.m.: Miami (Fla.) at Duke (ESPN360.com)
3:30 p.m.: Okla. St. at Kansas (ABC regional)
6 p.m.: Michigan at UConn (ESPN)
6 p.m.: Coll. of Charleston at Davidson (ESPN2)
8 p.m.: Minnesota at Ohio St. (Big Ten Network)
9 p.m.: Memphis at Gonzaga (ESPN)
Midnight: "Midnight Madness" (ESPN)

Sunday:
1 p.m.: Purdue at Illinois (CBS)
4 p.m.: BC at Wake Forest (ESPN360)

GameDay: Potential No. 1 seeds
Key Games This Weekend
Saturday
• Syracuse at Villanova, noon, ESPN
The Orange and Wildcats play twice in 15 days, and the doubleheader might go a long way in determining which team stays in contention for a first-round bye in next month's Big East tournament.
Villanova has won four games in a row and is one game behind No. 5 Pittsburgh for fourth place in the Big East standings. The Wildcats won at Providence 94-91 on Wednesday night in the first of three straight games against opponents with winning records in Big East play.
The Orange ended a three-game losing streak with a 74-61 victory over West Virginia at the Carrier Dome on Wednesday night. Guards Jonny Flynn and Eric Devendorf scored 22 points apiece to help Syracuse end its slide.
Cuse played much better defense against West Virginia, using its 2-3 zone to limit the Mountaineers to only 35.8 percent shooting.
Guard play might determine the winner of Saturday's game. Flynn is averaging 17 points and 5.8 assists. Villanova's Scottie Reynolds is averaging 15.1 points and four assists. He scored 31 points against Providence, which focused its defense on Villanova's leading scorer, forward Dante Cunningham.
Villanova went 2-1 against Syracuse last season and has won five of the past seven games in the series.
•
Notre Dame at UCLA, 1 p.m.
The Fighting Irish, ranked No. 9 in the preseason ESPN/USA Today coaches' poll, have lost six games in a row and haven't won in nearly a month. They're stuck in their longest losing streak since 1993-94, and no relief seems to be in sight.
Notre Dame's 93-83 loss at Cincinnati on Wednesday night dropped its record to 3-7 in Big East play. The Fighting Irish sit 12th in the Big East standings, and their NCAA tournament hopes are on life support at best.
After playing five ranked teams in six games, Notre Dame heads to UCLA, where the Bruins have won 18 of 19 games at Pauley Pavilion.
UCLA has won three games in a row, including a 76-60 rout of rival USC on Wednesday night. The Bruins are in first place in the Pac-10 standings, one game ahead of Washington.
Notre Dame's biggest problem has been its lack of defense. The Fighting Irish have allowed 93 points three times in their current losing streak.
The Bruins play defense as well as any team, but they'll have to slow down forward Luke Harangody, who is averaging 25.3 points and 13.2 rebounds. Harangody had 28 points and 14 rebounds against Cincinnati, his 11th consecutive double-double.
•
Michigan at UConn, 6 p.m., ESPN, ESPN360
The Huskies earned their first No. 1 ranking in three seasons and backed it up with a convincing 68-51 rout of No. 7 Louisville on the road Monday night.
Connecticut has won 10 games in a row and hasn't lost since late December. The Huskies are 9-1 at home, with their only loss coming against Georgetown 74-63 on Dec. 29.
Michigan kept its fleeting NCAA tournament hopes alive with a 71-51 victory over Penn State on Thursday night. The Wolverines had lost five of six games before beating the Nittany Lions. They're still one game below .500 in the Big Ten standings and probably will have to finish with a winning record against league foes to have any chance of an at-large bid.
Michigan is only 1-5 on the road, having won at Indiana 72-66 in overtime Jan. 7.
Wolverines coach John Beilein continues to tinker with his rotation, benching forward DeShawn Sims before the Penn State victory. Michigan starts four guards, along with 6-10 junior forward Zack Gibson.
The smaller lineup might prove problematic against the Huskies, who have the country's most dominant frontcourt. Center Hasheem Thabeet averages 13 points, 10.1 rebounds and four blocks, and forward Jeff Adrien averages 14.3 points and 9.9 rebounds.
• Memphis at Gonzaga, 9 p.m., ESPN
Both teams are steamrolling their conference competition and seem to be assured of receiving NCAA at-large bids even if they don't win their league tournaments.
But Saturday night's game still figures to go a long way in determining whether each team is capable of making a sustained run in March.
Memphis, the NCAA tournament runner-up in 2008, has won 13 games in a row. The Tigers won at SMU 79-66 on Wednesday night, their 50th consecutive victory over a Conference USA opponent. The Tigers won at Tennessee 54-52 on Jan. 24 but faltered against the rest of their most difficult opponents. Their only losses came against Xavier, Georgetown and Syracuse.
Gonzaga has won nine games in a row, including a surprisingly easy 93-78 victory at Portland on Thursday night. The Bulldogs beat Tennessee twice and have victories over Oklahoma State, Maryland and Washington State. On paper, at least, the Bulldogs seem to be a little more battle-tested. Both teams are very balanced -- each has four players averaging more than 10 points per game.
Sunday
• No. 13 Purdue at No. 21 Illinois, 1 p.m.
The Illini opened Big Ten play by upsetting the Boilermakers 71-67 in overtime on the road on Dec. 30. It was one of Illinois' best performances of the season, as five players scored at least 10 points. The Illini scored 30 field goals on 21 assists and committed only six turnovers.
Boilermakers coach Matt Painter is again stressing defense after his team's 80-72 overtime loss at Ohio State on Tuesday night. The Buckeyes shot 60.4 percent and made five of 11 3-point attempts.
Purdue forward Robbie Hummel, who is averaging 12.9 points and 7.5 rebounds, will be a game-time decision. Hummel has a stress fracture in his lower back and didn't play at Ohio State. The injury is taking its toll on Hummel, the preseason Big Ten Player of the Year, who had scored fewer than 10 points in six of his previous nine games.
The Illini have lost two of their past three games, including a 63-50 loss at Wisconsin on Thursday night. Illinois has struggled offensively in its past three games, shooting only 36.2 percent, including 10-for-50 on 3-pointers.
-- Mark Schlabach, ESPN.com