Rare Friday night gem kicks off weekend full of hoops
AP Photo/Jeff Gentner
Bilas Breakdown of the Must-See Games
By Jay Bilas, ESPN
No. 13 Villanova at West Virginia
Key Matchup: Da'Sean Butler vs. Dante Cunningham
Butler is coming off his worst and most frustrating game of the season. He was in foul trouble from the opening tip against Pittsburgh and fouled out with over five minutes to go. Butler is a tough matchup and has great footwork. In Big East play, he has been at his best, averaging over 20 points per game. Cunningham may be the most improved "good" player in the Big East. He went from good to great and has played consistently at a very high level.

X-Factors: The Coreys
Villanova has the best Big East guards not wearing "Marquette" on their jerseys. Corey Stokes and Corey Fisher are guards who can make plays for Jay Wright. Stokes is a long-range shooter, and Fisher is a penetrating guard who can get his own shot. Both are capable of making big plays.

Watch For: Villanova's pick-and-rolls and West Virginia's defense
The Wildcats are very dynamic off pick-and-roll situations (especially Scottie Reynolds), and the Villanova guards will give WVU fits. The Mountaineers are long-armed and very athletic on the defensive end, but very young. Whether it is Devin Ebanks, Wellington Smith or Butler, West Virginia is capable of guarding anybody.

The Winner: Villanova
The Wildcats are playing at a really high level and with great confidence. With Dwayne Anderson hurting, Nova will have to manage without his athleticism and energy, but the Wildcats should be able to pull out a win against a young team with a freshman point guard.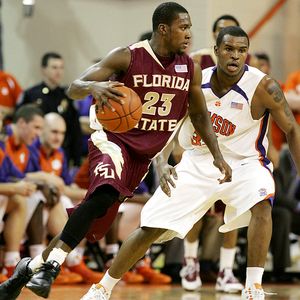 AP Photo/Mary Ann Chastain
Toney Douglas is averaging 20.3 ppg for the suddenly surging Seminoles, who have won six of their last eight in the ACC.
No. 25 FSU at No. 8 Wake Forest
Key Matchup: Toney Douglas vs. Jeff Teague
Two of the most explosive scoring guards in the ACC, Douglas and Teague are of vital importance to their teams. Against NC State, Teague did not perform at his highest level, and Wake Forest was beaten on the road. He did not get many shots and was not the potent scorer he has been for most of the season. Douglas is athletic and tough enough to guard Teague and, because of his great hands and feet, can stay in front of him. Douglas can score in both the open court and in half-court sets and really makes winning plays for Florida State.

X-Factors: Chris Singleton and Al-Farouq Aminu
Singleton is a 6-foot-11 McDonald's All-American who is skilled and very long-armed. He can score facing up or on the low block, and is a fine offensive rebounder. Aminu is very good finishing off the break, is a very tough competitor, and can block shots and rebound.

Watch For: The length, size and defensive stands of FSU
Florida State has the biggest front line and team in the nation, and the Seminoles do a good job on the defensive end. The Noles are one of the best defensive teams in the country in terms of field goal percentage and are among the leaders in steals and blocks.

The Winner: With their back against the wall, the Deacs will win at home.

No. 16 Kansas at Kansas State
Key Matchup: Sherron Collins vs. Denis Clemente
Collins is the heart and soul of the Jayhawks and has a great motor. He is very good in transition and excellent off pick-and-rolls. Collins is a player of courage and the clear leader of this Kansas team. Clemente is still a hot player after scoring 44 points against Texas, even though he is 16 of 40 from the field in the three games since. Clemente has great quickness and is really good in the open court. He can hit from 3-point range, but he tends to turn the ball over too much.

X-Factors: Mario Little and Jacob Pullen
Little is a strong athlete who can get to the rim and has a very good middle game. Pullen went 1 for 13 against Texas in the Kansas State win, but he will be much better against the Jayhawks. Pullen is a gamer.

Watch For: How hard Kansas State plays
The Wildcats really go all-out on every play, and Kansas will have to match that effort to win in a very tough environment. Watch also for KU and its use of side pick-and-rolls with its big guys. Bill Self likes to get ball reversal and attack with multiple ball screens, with slips and lob passes to the roll man.

The Winner: Kansas State
The Cats will be playing at a fever pitch and treating this game like a purple-clad Super Bowl.
Bubble Games To Watch
By Mark Schlabach, ESPN.com
Saturday
Georgetown at Syracuse
After losing six of their last seven games to fall to 4-7 in Big East play, the Hoyas really need a marquee victory, especially on the road. Georgetown's computer numbers are still very good (it has played the country's second-toughest schedule), but it needs some wins to justify its lofty ratings. The Hoyas have lost five straight road games.
The Orange can't feel completely safe, either, after dropping six of their last eight games. Syracuse has fallen to eighth place in the Big East standings but has been very good at home with a 13-2 record at the Carrier Dome. The Orange will be trying to avenge an ugly 88-74 loss at Georgetown on Jan. 14, during which the Hoyas shot 59.3 percent from the floor, including 12-for-21 on 3-pointers.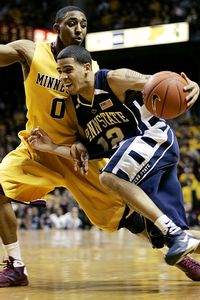 AP Photo/Paul Battaglia
Talor Battle and the Nittany Lions desperately need to avenge their 20-point loss to Minnesota.
Minnesota at Penn State
After losing three games in a row -- all to fellow Big Ten bubble teams -- the Nittany Lions' NCAA at-large chances are nearly running on empty. Penn State desperately needs another victory over an RPI top-50 opponent to go along with its wins over Michigan State (road) and Purdue (home).
It won't be easy against the Gophers, who have beaten Penn State eight straight times. Minnesota routed the Nittany Lions 79-59 in Minneapolis on Jan. 11, shooting a whopping 62.5 percent from the field. The Gophers made all nine of their 3-point attempts and held Big Ten leading scorer Talor Battle without a point for the game's first 15 minutes.
Virginia Tech at Maryland
The Terrapins are going to have to start beating some quality opponents if they're going to avoid missing the NCAA tournament for the fourth time in the last five seasons. Maryland has two victories over RPI top-50 opponents (Michigan State and Miami), but it hasn't beaten any of the ACC's top six teams.
The Hokies have won two in a row to move into a three-way tie with Clemson and Florida State for third place in the ACC at 6-3. Given Virginia Tech's so-so performance during its nonconference schedule, it might need to win at least three of its last seven games to feel safe about an at-large bid.
Texas A&M at Baylor
This could very well be an elimination game in the Big 12, with the winner keeping its fleeting at-large hopes alive and the loser removed from bubble discussion all together. Each team has won only three games against Big 12 foes, so time is running out.
The Aggies have lost two games in a row and still have to be kicking themselves for blowing a nine-point lead in the final 6½ minutes of a 77-71 loss at Oklahoma on Feb. 4. A&M has owned Baylor recently, winning eight of the last nine games in the series, including an 84-73 victory on Jan. 14. The Bears have lost six games in a row, including a 78-63 loss to Oklahoma on Wednesday night. Baylor has a couple of good nonconference victories (Arizona State and Providence), but it has to start beating some of the Big 12's best teams to have any chance.
Sunday
Michigan at Northwestern
The Wildcats are close to being done after blowing a 14-point lead in the final five minutes against Illinois on Thursday, which came on the heels of a 56-51 loss at Iowa. With a 4-7 mark in Big Ten play, NU's home game against the Wolverines is its last chance at least to get in the discussion. Northwestern's RPI is still hovering around the top 60, and it has a few solid victories (Michigan State on the road, at home against Florida State, Minnesota and Wisconsin). But the Wildcats are only 5-7 in their last 12 games, and 2-6 on the road.
The Wolverines are also in a precarious situation after losing seven of their last nine games, including a 54-42 loss to Michigan State at home Tuesday. Michigan has victories over Duke, Illinois and UCLA, but that hat trick will carry it only so far.
USC at Arizona State
The Sun Devils all but locked up an at-large spot by beating UCLA 74-67 at home Thursday night. Arizona State is 8-4 against RPI top-100 teams, including two victories over the Bruins. The Trojans certainly need this game more, after losing a close one at Arizona on Thursday. USC is only 2-5 against RPI top-50 opponents and 2-5 on the road.
USC beat Arizona State 61-49 in Los Angeles on Jan. 15. The Trojans held forward James Harden to a career-low four points, as the sophomore missed all eight of his field-goal attempts and went 4-for-7 from the foul line.

Viewer's Guide
(All times ET)
Friday
9 p.m.: Villanova at West Virginia (ESPN)
Saturday:
11 a.m.: "College GameDay" (ESPN)
Noon: Georgetown at Syracuse (ESPN)
1 p.m.: UCLA at Arizona (CBS)
1:30 p.m.: Nebraska at Missouri (ESPN360)
3:30 p.m.: Kansas at Kansas St. (ABC regional)
4 p.m.: Cincinnati at Pittsburgh (ESPN)
4 p.m.: Florida St. at Wake Forest (ESPN360)
9 p.m.: Ohio St. at Wisconsin (ESPN)
Midnight: "Midnight Madness" (ESPN)

Sunday:
5:30 p.m.: Duke at Boston College (FSN)
7:45 p.m.: North Carolina at Miami (FSN)

Infiniti Pregame Report: Ohio St. at Wisconsin
I Can't Wait To Watch …
Andy Katz
What am I looking forward to this weekend? I want to see whether Wake Forest can snap out of its funk and beat another solid ACC team in Florida State. Conversely, can the Seminoles elevate themselves to elite status with another big-time road win after winning at Clemson? This could be a defining game for Wake Forest. Another loss could seriously damage its seeding for the NCAA tournament.
Mark Schlabach
No other conference has more on the line this weekend than the Big 12 -- as many as five teams will try to keep their NCAA tournament hopes alive. Texas A&M and Baylor will play what is essentially an elimination game in Waco, and Nebraska and Kansas State can help themselves tremendously with victories. The Cornhuskers play at surging Missouri, and the Wildcats host rival Kansas. Oklahoma State is falling out of the bubble discussion and certainly can't afford losing to Iowa State at home.
Pat Forde
I can't wait to watch UCLA at Arizona on Saturday. After a chaotic start to the season, the Wildcats have pieced themselves together and are making a resilient run. An 11-8 start made it appear as if the school's remarkable run of 24 straight NCAA tournaments would be coming to an end, but Zona has reeled off six straight wins -- and nothing would add more luster to their tournament résumé than beating UCLA. As for the Bruins, they will surely come out with some fire after seeing their Pac-10 lead evaporate with a loss in Tempe on Thursday night.
Fran Fraschilla
Do you remember that 24-game win streak that Kansas enjoyed at archrival Kansas State that finally ended last year? It took Michael Beasley & Co. to end a hex that started in 1983. With four KU starters off to the NBA and Frank Martin's Wildcats on a six-game roll, Bramlage Coliseum will be a purple madhouse Saturday afternoon. Denis Clemente, the Miami transfer, dropped 44 points on Texas earlier in the month and he'll be matched up with the Big 12's best point guard, Sherron Collins, who has had 14 turnovers in the Jayhawks' last two losses. Bring some earplugs.
Dana O'Neil
I'm looking forward to UNC-Miami and Duke-BC on Sunday. There's nothing quite like emotional wins and heartbreaking losses to test the emotional mettle of a team. The 101-87 thumping of Duke vaulted UNC back into the forefront of the national conversation. The Heels look like the team they promised to be in October. Now that they're back front and center, how will they handle it? Greg Paulus vowed Wednesday that his team wouldn't pine over the loss to Carolina, but it was no doubt a devastating blow. Duke has lost three of its last five and needs to prove it isn't heading toward yet another February slide. That both have to go on the road against talented ACC teams desperate for signature wins makes these games all the more intriguing.
College GameDay Bracketology
Player To Watch
Sherron Collins, Kansas

The veteran guard's struggles against Missouri's stifling defense contributed mightily to KU's loss to its bitter rival. Collins shot just 4 of 13 to finish with nine points, only the second time he's failed to reach double figures all season.

Collins
Worse, Collins turned the ball over six times, crucial cough-ups in the Tigers' come-from-behind 62-60 victory. Collins has been hot and cold as a ballhandler but, prior to Mizzou's withering pressure, had settled down -- particularly during the Jayhawks' eight-game win streak.
There's no time to sweat the loss or the mistakes. On Saturday, Kansas faces yet another rival, this time in-state enemy Kansas State. The Wildcats have won six in a row, taking the hides of Missouri and Texas along the way -- and you know they'd like nothing more than to take down the defending national champions. K-State is riding its backcourt tandem of Denis Clemente and Jacob Pullen during this run. Clemente is the shooter and Pullman the setup man, and together they will try to take out Collins, the Jayhawks' leading scorer and emotional leader.
-- Dana O'Neil, ESPN.com
Stuff To Impress Your Friends With
• Villanova has scored 102 points in each of its last two games (wins over Syracuse and Marquette), the first time the Wildcats have ever scored 100-plus in back-to-back Big East games. Three in a row, though, would be quite a feat. On Friday night, Nova plays at West Virginia, which allows just 61.0 ppg (second in the Big East).
• With two more victories, Syracuse coach Jim Boeheim will have his 31st 20-win season, which would surpass Dean Smith for the all-time lead in Division I. The Orange host Georgetown on Saturday.
• Ohio State has lost eight of its last 11 against Wisconsin, including six in a row at Madison. The Buckeyes haven't won at UW since Jan. 13, 2000.
• UCLA has won eight straight against Arizona, including three in a row in Tucson, where the two will play Saturday. The Wildcats also haven't beaten a ranked Bruins team since 2002, a stretch of nine straight losses.
• It is a good thing for Wake that Florida State snuck into the Top 25 this week. The Demon Deacons are 3-0 vs. ranked ACC teams this season, but just 2-4 against unranked ACC foes.
• With a win over Texas Tech this weekend, Oklahoma (10-0 in the Big 12) can match its best conference start ever. OU's only 11-0 start in league play came as a member of the Big Eight in 1985.
• Utah State has won 19 straight games, the longest active streak in Division I and tied for the longest in school history. The Aggies can break the record with a win at Boise State on Saturday.
--ESPN researchers Jeremy Lundblad, Tyler Korn and Greg Dohmann contributed to this report.
How the Dyson injury affects No. 1 UConn