BracketBusters and OU's last hurdle to top spot highlight weekend
AP Photo/Charlie Riedel
Bilas Breakdown of the Must-See Games
By Jay Bilas, ESPN
No. 2 Oklahoma at Texas
The Sooners have been playing their best basketball of the season over the last two weeks, and Texas has been struggling for much longer than that. I still think Texas will get its act together, but the Longhorns will have to win on the defensive end rather than on the offensive end. This game offers an offense-versus-defense contrast.
Oklahoma is very good and very efficient on the offensive end, and improved on the defensive end. The Sooners do not force a lot of turnovers, but they have improved at pressuring the ball and limiting opponents to one shot. Texas is a very good defensive team (although the Longhorns have had some lapses on the defensive end as well), but has really had trouble scoring. The Horns lack a true point guard like D.J. Augustin to get shots for others and create. As a result, teams are loading up on A.J. Abrams and forcing him into tough shots in order to carry the scoring load.
Join Rece Davis, Jay Bilas, Hubert Davis, Digger Phelps and Bob Knight in Austin on Saturday as they break down the day in college basketball. (ESPN, 11 a.m. & 8 p.m. ET)
Oklahoma has the best player in college basketball in Blake Griffin. And it is not even close. No player has been as dominant as consistently as has Griffin. Not Tyler Hansbrough, not Stephen Curry, not Jodie Meeks and not Hasheem Thabeet. Nobody. Griffin is constantly double-teamed and still puts up monster numbers, and he opens up so many things for his teammates because he draws so much attention from opposing defenses.
Key Matchup: Willie Warren and A.J. Abrams
Warren is a special talent and can go for a big number. He is explosive and an outstanding scoring guard. Abrams is one of the best shooters in the country, but every defense is geared to stop him. If you can limit Abrams, you can beat Texas.
X-Factors: Damion James and Austin Johnson
James is the toughest player on the Texas roster, and he has to play like a beast for the Horns to win. Johnson is the most important player for Oklahoma as a complement to Griffin. If Johnson is at his best, OU is too good for Texas to beat.
X & O to Watch: Check out how Texas decides to double-team Griffin. You know that the Longhorns will do it because they did it the first time, and the last team to go with single coverage on Griffin surrendered 40 points and 23 rebounds to him. Oklahoma has counters for double-teams, so they have to be able to adjust on the fly. It will be interesting to see whether Texas can mix up or disguise coverage on Griffin to keep him off balance.
Who Wins? They are on the road, but the Sooners are simply the better team. OU wins.
No. 22 Butler at Davidson
I find Butler and Davidson to be two of the most interesting cases in college basketball. Clearly, the Bulldogs and the Wildcats are good, and can beat almost anyone on a given day. Both teams have special players and really fine coaches. But where do you think each team would be ranked or rated if it played in the ACC, the Big East or the Big Ten. Before you go off on a big-conference-bias rant, look objectively at the question. Nobody denies that Butler and Davidson can play and can beat almost anyone. And nobody denies that a big-conference team might lose games in the Horizon League or the Southern Conference. But there can be no reasonable argument that the view we take of mid-majors is different than the view we take of "middle-of-the-pack" big-conference teams.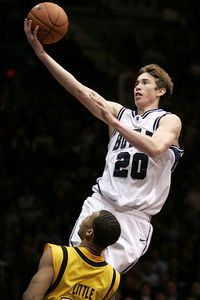 AP Photo/Michael Conroy
Freshman Gordon Hayward is Butler's second-leading scorer and rebounder.
This season, Butler has beaten Northwestern, Xavier and UAB but has lost to Ohio State by three, Green Bay by nine, Loyola-Chicago by four and Milwaukee by three. Davidson has beaten NC State and West Virginia, but has lost to Oklahoma by 4, Purdue by 18, Duke by 12, College of Charleston by 2, and the Citadel by 18. If both Butler and Davidson were big-conference teams, it seems beyond argument that they would have some additional losses. With such losses on Butler's record, wouldn't a big-conference team be on the bubble and not ranked? If last year's NCAA tournament performance was not factored in, would we be as impressed by Davidson's record and performance?
Interesting questions, but it won't mean a thing when the ball is thrown up. Saturday at high noon, nobody will care about that, and nobody should. This will be a compelling game to watch. This game is about basketball only, and two great basketball schools will get a chance to play a high-level game. What could be better than that?
Both teams can play, and this is an important game for each. Butler -- trying to avoid its first three-game losing streak in four years -- is young but has ability. The Bulldogs play a 4-around-1 style, and put space shooters around inside threat Matt Howard. Davidson is a "motion"-oriented team that has an "inside-out" philosophy with quick-hitting set plays. On D, it will mix man and zone to keep Butler off-balance and to disrupt the flow of shooters.
Key Matchup: Although they won't guard each other, Stephen Curry and Gordon Hayward are the two players who can put up numbers from deep. Curry has been out with a badly sprained ankle but is expected to play Saturday. There are few players as fearless as and with the shot-making ability of Curry. He is a truly special scorer who keeps defenders off-balance and can change speeds very effectively. Curry is forced to take some tough shots for his team, and can go into droughts from 3, but he always seems to heat up in the big games. Hayward is a long-armed shooter who can knock down 3s in bunches. Ten times Hayward has made three or more 3-point shots in a game, making seven 3s twice. Hayward is 6-foot-8, and has made over half of his field goals from 3-point range, and he shoots 46 percent from behind the arc.
Key Stat: 3-point shooting
Both teams rely on the deep shot, and how well each team shoots the ball will be the ultimate key.
X & O to Watch: Check out how Davidson will apply pressure to deny on inbound situations. The Wildcats call it "5 guys for 5 seconds" and go all-out -- Davidson can really disrupt opposing teams with inbound denial.
X-Factors: Andrew Lovedale and Matt Howard
It is hard to call a leading scorer an X-factor, but Matt Howard is just that for Butler. Howard is the Bulldogs' leading scorer and rebounder and has heart, courage and talent inside. Lovedale is strong, can really run the floor, and is a very good rebounder and defender. He has really improved his offense and is stepping out and hitting shots facing up.
Who Wins? Davidson is at home, and Curry will be both hobbled and rested. Butler is very good but has not played near its best in the last 10 days. Curry will need some help from his teammates, like Steve Rossiter, Bryant Barr, Lovedale and Max Paulhus Gosselin, but I believe that Davidson will win this one at home.
No. 8 Wake Forest at No. 9 Duke
Quick Take: Wake Forest wants to get out in transition and run. To do that, the Demon Deacons have to use their length and athleticism to block or change shots and limit Duke to one shot. While Duke has some good athletes, Wake has better athletes and more future pros. The Blue Devils have to make the Deacons play against their half-court defense, keep Jeff Teague out of the lane, and rebound the ball. Wake Forest is more athletic across the board, but Duke is more experienced.
Key Players: Jeff Teague and Kyle Singler
Teague is the most explosive scorer on the floor in this game but is far better in transition situations. Singler has not played his best basketball over the past two weeks but was very good against Boston College. Singler has to play well for Duke to win.
Who Wins? The Blue Devils need this game for mental reasons. This will be an intense battle that Duke will squeak out down the stretch.
Arizona at No. 11 Arizona State
Quick Take: Arizona has three very good players in Nic Wise, Chase Budinger and Jordan Hill. The question is whether those three will be able to solve the tempo of the game and Arizona State's matchup zone defense. The Sun Devils are much more efficient on both ends of the floor, and even though Arizona plays hard, the Wildcats' defense has been porous. Arizona has won seven straight, but the last time the Wildcats lost was to ASU. And the game was a slow-paced slugfest in which neither team shot better than 30 percent from the floor. Yikes.

Budinger
Key Players: Chase Budinger and James Harden
Budinger is a very good perimeter shooter, and Harden is the best player in the Pac-10. Budinger will have to keep his patience in a grinder, because ASU will be able to slow the tempo and make it into a half-court game.
Who Wins? Arizona State is much more efficient, and that will show up in a slower-paced game. It is easier for the Sun Devils to slow the game down, and I think they will win as a result.
Bubble Games To Watch
By Mark Schlabach, ESPN.com
Boston College at Miami (Fla.)
The Eagles are in pretty good shape with victories at North Carolina and against Duke at home. With a 7-5 record in ACC play, Boston College probably needs two more wins to secure an at-large bid. The Hurricanes are reeling, having lost six of their last seven, and Saturday's home game might be their last chance to save their at-large hopes. Miami sits at 4-8 in the ACC standings and might need to win at least three of its final four regular-season games (and do some damage in the ACC tournament) to have a chance on Selection Sunday.
The Canes need to get guard Jack McClinton back on track after he was held to only 13 points in Wednesday night's 80-67 loss at Florida State. McClinton scored 101 points in the previous three games. Miami beat the Eagles 77-71 on the road Jan. 10. It was the Hurricanes' second straight victory over BC, after losing the previous 13 meetings.
Tennessee at Kentucky
This game probably means more to the Wildcats, who have lost four of their last six games and fallen into serious bubble trouble. Kentucky hopes to have starting forward Patrick Patterson, who missed the last two games with a sprained right ankle. Patterson's absence was noticeable in Tuesday night's 77-64 loss at Vanderbilt. The Commodores outrebounded the Wildcats and outscored them 18-8 on second-chance points.
With an RPI rating hovering around 65, Kentucky probably needs at least a couple of marquee victories down the stretch. Beating the Volunteers would certainly qualify as a quality victory. Even though the Vols are coming off another maddening loss, 81-65 at Ole Miss on Wednesday night, they're still ranked in the RPI top 25 and should be safe.
Kentucky beat the Vols 90-72 in Knoxville on Jan. 13, when guard Jodie Meeks broke a UK single-game record with 54 points. Meeks made 15 of 22 shots in the game and was 10-for-15 on 3-pointers. Meeks has scored 94 points in his last three games but shot 6-for-21 in the loss at Vanderbilt.
Notre Dame at Providence
This might be a bubble elimination game in the Big East. Notre Dame seemed to inject some life into its postseason chances last week with a 90-57 rout of Louisville and 67-57 victory over South Florida. But then the Fighting Irish lost at West Virginia 79-68 on Wednesday night, dropping their record to 5-8 in Big East play.
Notre Dame can't afford another loss, and the Friars need to win a game like this one to prove they belong among the other Big East teams contending for at-large bids. Providence is 8-6 in Big East play, but only one of its victories came against a team in the top half of the league standings. The Friars were competitive against Georgetown, Marquette and Villanova, but lost at Connecticut by 33 points, at West Virginia by 27 and at Louisville by 18. The Fighting Irish have won five games in a row against Providence, including an 81-74 victory in overtime last season.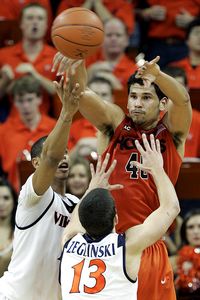 AP Photo/Steve Helber
After losses to Maryland and UVa, A.D. Vassallo and the Hokies are desperate for a win.
Florida State at Virginia Tech
The Seminoles are in really good shape after earning their 20th victory -- and seventh in the ACC -- with a win over Miami. Barring a complete collapse down the stretch, it's hard to imagine that FSU won't play in its first NCAA Tournament in 11 years.
Meanwhile, the Hokies have lost consecutive games at Maryland and Virginia, which were defeats they couldn't really afford. Starting with Saturday night's game against the Seminoles in Blacksburg, the Hokies will finish the regular season with five contests against four of the ACC's top five teams. Virginia Tech plays road games at Clemson and FSU and home games against Duke and North Carolina.
The Hokies were without leading rebounder Jeff Allen during Wednesday's 75-61 loss at UVa. He was disciplined by the school after making an obscene gesture toward fans during an 83-73 loss at Maryland on Feb. 14. Allen will back for the FSU game, and the Hokies can only hope guard Malcolm Delaney's shooting touch is back, too. Delaney has made only 30.8 percent of his shots during the last four games, including a woeful 3-for-13 in the loss at Virginia.
Baylor at Oklahoma State
This could very well be another bubble elimination game in the mediocre Big 12, where no team outside the top three (Oklahoma, Kansas and Missouri) seems to want an at-large bid. Oklahoma State still has a chance on Selection Sunday because of its schedule-inflated computer numbers (RPI 33, SOS 9). But the Cowboys, who have only two RPI top-50 victories -- over Siena and Texas A&M -- need to start winning some games that matter. Oklahoma State can climb back to .500 in the Big 12 standings with a win over the Bears.
Baylor needs to win games, period. The Bears have lost six of their last seven but seemed finally to turn things around with a 72-68 victory over Texas A&M on Feb. 14. Baylor beat OSU 98-92 in overtime in Waco on Jan. 17, and a regular-season sweep of the Cowboys would go a long way in getting the Bears back into bubble discussion. With another loss, the Bears would fall to 4-8 in Big 12 play, which might eliminate them from at-large consideration altogether.
San Diego State at New Mexico
The Aztecs have won five of their last six games to move into a tie with BYU for second place in the Mountain West. The Lobos are only one game behind those two with a 7-4 mark in MWC play. The Pit is usually a tough place for New Mexico's opponents, but San Diego State will attempt to become only the second team to win four straight times there. UTEP accomplished the feat from 1983 to 1986. The Aztecs beat the Lobos 81-76 in San Diego on Jan. 21. SDSU hasn't played since a 71-60 victory over Wyoming last Saturday. Sophomore Billy White made all 12 of his field goals in that game, scoring a career-high 24 points. White has made 19 straight shots over the last two games, which is only five shy of the NCAA record.

Viewer's Guide
(All times ET)
Saturday:
11 a.m.: "College GameDay" (ESPN)
Noon: Butler at Davidson (ESPN)
2 p.m.: Marquette at Georgetown (ESPN)
3:30 p.m.: North Carolina at Maryland (ABC)
5 p.m.: Utah St. at Saint Mary's (ESPN2)
9 p.m.: Oklahoma at Texas (ESPN)
Midnight: "Midnight Madness" (ESPN)

Sunday:
1 p.m.: Villanova at Syracuse (CBS)
1 p.m.: Illinois at Ohio St. (CBS)
3 p.m.: Wisconsin at Michigan St. (ESPN)
7:45 p.m.: Wake Forest at Duke (FSN)
10 p.m.: Arizona at Arizona St. (FSN)

Infiniti Pregame Report: Oklahoma at Texas
I Can't Wait To Watch …
(Anyone have any spare plane tickets to El Paso?)
Fran Fraschilla
UTEP coach Tony Barbee meets up with his mentor, John Calipari, on Saturday afternoon in El Paso as No. 6 Memphis seeks to build on its 53-game Conference USA winning streak and keep pace for a third consecutive undefeated regular season in a row in league play. Barbee played for Calipari at UMass, helping to build the Minutemen into a national power, and later coached with him at Memphis. The Miners, winners of five of their last six games, are very dangerous at the Don Haskins Center, especially with C-USA's all-time leading scorer, Stefon Jackson, and mighty-mite Randy Culpepper, who combine for more than 41 points a game in the Calipari-inspired "dribble-drive" offense. Cal's got some weapons of his own available with veterans Robert Dozier, Antonio Anderson and Shawn Taggart. Freshman Tyreke Evans has been as good as advertised, leading the Tigers in points and steals and keying Memphis' typical junkyard-dog half-court defense.
Pat Forde
This weekend I'm putting Memphis on upset alert at UTEP. I really believe the Tigers are a legitimate Final Four contender, but this is a trap game visible from space. The Miners' coach is former Tigers assistant Tony Barbee. He knows everything John Calipari likes to do, when he likes to do it, and why. That's a big reason why UTEP gave Memphis a battle last year on the road before losing by six. Now the Miners are at home and riding a three-game winning streak into a battle against a team due for a letdown. Tigers, you have been warned.
Andy Katz
I want to see whether Georgetown can win a game that can put it in the NCAA tournament. Beating Marquette at home Saturday would certainly qualify as a season-changing win. The Hoyas have the wins over Memphis and at Connecticut in their pocket. If they can beat Marquette and then take out Louisville at home Monday, they will get a bid. Georgetown has another opportunity for a step-up win when it goes to Villanova on Feb. 28. The season ends with two winnable games at St. John's and against DePaul. The Hoyas can get into the NCAAs with the right 8-10 record. And sorry to rain on the Cincinnati bid parade, but the Hoyas can leapfrog the Bearcats, even though they lost twice to them. Just recall last season when Arizona lost twice to Arizona State, finished 8-10 in the Pac-10 and still got a bid over the Sun Devils. Arizona had a better overall profile than ASU. The same could occur with Georgetown versus Cincy if it were to come down to those teams.
Mark Schlabach
I've been looking forward to watching Butler play at Davidson for weeks. I've yet to see guard Stephen Curry play in person, and I can only hope he'll take the court against the Bulldogs on Saturday. But I wouldn't blame Davidson coach Bob McKillop for resting Curry's sprained right ankle the next two weeks, either. The Wildcats probably haven't done enough to earn an at-large bid, and a victory over Butler still might not be enough to punch its NCAA ticket. Davidson needs Curry to be healthy for next month's Southern Conference tournament, which will be its best shot at getting back to the NCAA tournament.
Dana O'Neil
Like a few of my colleagues, I'm looking forward to seeing how the team I think is the hottest in the country handles one of the hottest scorers in the country when Memphis goes to UTEP (Saturday, 4 p.m. ET, ESPN). The Tigers haven't just won a national-best 17 games in a row -- they've obliterated teams, winning by an average of 20.6 points per game to run their C-USA win streak to 53. While the big final scores have been impressive, it's the Tigers' defense that has vaulted this team back into the national conversation. Memphis is holding opponents to just 37.6 percent shooting, putting them fourth in the nation. But UTEP has won three in a row and five of its last six, riding the always-searing hand of Stefon Jackson. The eighth-best scorer in the country is averaging 26.6 over the Miners' three-game win streak. Last season, Jackson and UTEP gave the then-No. 3 Tigers all they could handle, losing 70-64. Jackson had 27.
Doug Gottlieb
Marquette begins what is arguably (along with Maryland) the most difficult final stretch in conference play in the country when it travels to D.C. to take on Georgetown. What intrigues me most is how both of these teams prepare and play against each other. Marquette has given us two very average performances on the back of two big losses in conference play, and with Louisville, UConn, Cuse and Pitt all looming, Marquette could use a sweep of the Hoyas to get their swagger back. Jerel McNeal had 26 points, 11 assists, 6 rebounds and 5 steals (that is a full day) last time these two teams met. Thus, how Georgetown chooses to slow down the Golden Eagles (who put up 94 points last time) and contain McNeal is of the utmost importance. The Hoyas struggled with the speed and strength of Marquette, and that led to 38 free throws, another death knell for Georgetown -- and something it must correct. Look for Georgetown to try and execute their offense more efficiently and patiently, while cutting down on its turnovers versus the Marquette pressure. Conversely, expect Marquette to use all 94 feet and pressure the less-mature Hoyas.
One-on-one with Stephen Curry
Player To Watch

Wright
The Hoyas are fighting for their NCAA lives, temporarily resuscitating their hopes with a 25-point win at South Florida. But if Georgetown really wants to erase the image of its 2-7 stretch from the selection committee's memory, it will need to start getting some wins against quality opponents again. Marquette, which comes to D.C. on Saturday (2 p.m. ET, ESPN) fits the bill. And to get the win, the Hoyas will need Wright to be at his best.
On the defensive side, his ability to slow at least part of the triumvirate of the Golden Eagles' great guards will be a flat-out necessity. But it's on the offensive end that Georgetown really needs Wright. He can score -- he had 17 against USF and averages 12.6 per game -- but points will be a bonus here. What the Hoyas need Wright to do is somehow get through that trio on the perimeter and feed Georgetown inside. The Hoyas ought to have an advantage with the combination platter of Greg Monroe and DaJuan Summers. It will be up to the savvy point guard to exploit the advantage.
-- Dana O'Neil, ESPN.com
Can Maryland upset UNC?
UPS Whiteboard: Jodie Meeks
Stuff To Impress Your Friends With
• With a win at Texas on Saturday, Oklahoma will likely be No. 1 in next week's rankings. The Sooners have not held the top spot in a national poll since being ranked No. 1 in the AP the week of March 13, 1990.
• With 10 rebounds in Saturday's game against Texas, Oklahoma's Blake Griffin would break Wayman Tisdale's school record for rebounds in a season (378).
• Kansas puts its nation-best 38-game home win streak on the line against Nebraska on Saturday. Utah State (32) is the only other program with a current streak of at least 20 games.
• There's a less-talked-about KU streak that's even more remarkable. The Jayhawks have held 65 straight opponents to less than 50 percent from the field. The last to top the mark? Louisiana-Monroe, of all teams, back in November 2007. The last Big 12 team to do so was Texas way back in February 2006.
• A loss at Pitt this weekend will mean a school-record 14-game losing streak for DePaul, which joins Oregon as the only "big six" conference teams with a winless league record.
• Speaking of 6-20 Oregon, their next loss will tie a school record -- and that's a program that began hoops in 1902. If that setback comes against Stanford on Saturday, the Ducks will have 10 home losses, which will be the most ever at 82-year-old McArthur Court, which has hosted 1,084 games and is the second-oldest on-campus arena still in use.
• When Arizona State is ranked -- as it is now -- the program is 10-0 all-time against in-state rival Arizona, which the Sun Devils host Sunday night in Tempe.
• Can Duke avoid yet another late-season tailspin with a win over Wake on Sunday? The Blue Devils are just 2-4 since an 18-1 start, which continues a disturbing pattern in Durham. Three years ago, Duke started 27-1 before closing 5-3 down the stretch. Two years ago, it was 18-3 and then 4-8. And last year, it was 22-1 and then 6-5.
• Memphis not only has won 53 straight games against Conference USA opponents but also is 65-1 against the league over the last four seasons. That's 38-0 at home, 27-1 on the road and 9-0 in the conference tourney.
• Only seven teams in Division I have used the starting five in every game this season: Butler, Cal, Clemson, Marquette, Mount St. Mary's, Oklahoma and North Dakota State.
• This weekend will be the seventh annual BracketBusters extravaganza. The team with the most wins? Southern Illinois (5-1). The league with the highest win percentage? Colonial (8-2).
-ESPN researchers Jeremy Lundblad, Mike Lynch, Katie Sharp, Greg Dohmann and Mark Malzewski contributed to this report.
Coach K and The General