Purdue, Maryland's Vasquez take Weekly honors
Andy Manis/AP Photo
Player of the Week: Greivis Vasquez, Maryland Terrapins
By Andy Katz
Last week: 25 points, 6 rebounds, 8 assists at Boston College; 13 points, 9 rebounds, 15 assists vs. NC State
The Terps picked up two of the most important wins of the season, two wins that might ultimately send them to the NCAA Tournament. Their Jan. 19 win at North Carolina needed to be backed up, and winning at Boston College and over NC State a week after taking down Virginia and Georgia Tech in Atlanta moved the Terps to 6-3 in the ACC, 16-8 overall.
The one constant last week was Greivis Vasquez. The intense lead guard scored 25 points in the win at BC, going 4-of-7 from 3-point range. He also had eight assists and three turnovers.
He wasn't as much of a scoring machine against NC State, accounting for just 13 points, but he dished out 15 assists and committed only four turnovers.
Vasquez clearly is the heart of this team. If he continues to play like this -- lead like this -- the Terps should be back in the NCAAs.
Team of the Week: Purdue Boilermakers
By Andy Katz
Last week: beat Penn State 67-53; won at Wisconsin 72-67
The Boilermakers now are the front-runners to win the Big Ten. Just let that settle on your palate. Purdue swept Wisconsin and owns a decisive tiebreaker over the Badgers, as well as possibly Indiana and Michigan State if it were to get into a three- or four-way tie at the top.
Purdue has won nine straight games and 12 of its past 13. Its 10-1 conference start is the best since 1987-88. And check this out: The top four teams in the Big Ten are 21-1 at home, with the only loss being Wisconsin's to Purdue. The Boilermakers also can check off being above .500 against ranked teams (3-2) and in road/neutral games (6-4). In addition, you can make a strong argument that freshman Robbie Hummel deserves serious consideration for Big Ten Player of the Year.
The Boilermakers have earned their NCAA berth by mid-February, which is remarkable in and of itself. A week ago, the Boilermakers didn't make the first ballot in our mock media brackets on either of the two days in Indianapolis. Well, that was before the Wisconsin road win. Now, I find it hard not to have the Boilermakers as a first-ballot lock at 19-5, 10-1 in the league. The Wofford home loss seems like it happened in another season and probably won't come back to haunt this squad in any way. The Louisville home win still is the best nonconference victory, and it looks better and better each day.
3-Point Shot
By Doug Gottlieb
1. 53-0
You can find this one in the dictionary under "how to lose a game you have won." Clemson played 37 minutes of unbelievable basketball Sunday in Chapel Hill, yet once again, the Tigers went home without a victory. Sure, they could not get a call. How else do you explain them taking only seven free throws when they led and crashed the glass all game? But their lack of confidence, coupled with Danny Green's two huge 3s, Quentin Thomas' runner and Tyler Hansbrough's "Michael Jordan-like" competitiveness to carry his team down the stretch, combined to create one of the great comebacks/collapses in college hoops this year.
Hansbrough, who most believe will not be a great pro, is, without any question, one of the best competitors in college basketball in a long time. His energy and guts were perhaps the biggest reason UNC came from 16 down to beat Clemson. He has extended his range to 18 feet, seems to have decided to play a little better defense and is relentless, as always, on the offensive boards. With 39 points and 13 rebounds while UNC's back was against the wall, Hansbrough was a man at both ends of the floor.
Thomas, essentially the third point guard in the UNC rotation behind Ty Lawson and Bobby Frasor at the start of the season, made a huge layup at the end of regulation to tie the game and made two free throws in the first overtime to force another extra period.
How about this for how not to play offensively? Turnovers, charges, missed free throws and general uneasiness with the ball caused Clemson to panic, collapse and essentially allow UNC back in the game, at which point the Tigers' half-court offense became stagnet, and they started to chuck and duck.
All that said, North Carolina spent 37 minutes unable to guard Clemson's speed and quickness. Without Lawson, the Heels really struggled to get a good shot. UNC should feel good about the win but really concerned with its lack of championship defense.
2. The Tech Mess
While Bob Knight spent the week trying to convince all who would listen that he was tired and this was a great opportunity for his son Pat to gain valuable experience by moving one seat over, the truth is far more unclear, in terms of Pat's future. Pat Knight has 10 games to get his feet wet as a head coach, but the way in which Bob Knight left the program -- with a new president who saw him sign an extension in September (leading many in Lubbock to feel slighted) and with his very public desire to coach again (just not in Lubbock) -- did Pat Knight no favors, in terms of his overall record in his first season.
In fact, look no further than Stillwater, where Eddie Sutton's DUI caused Sean Sutton to take over a team in disarray. In truth, he has yet to recover, and the administration still holds a grudge over the way in which the job was handed off. Pat Knight is far from entrenched in a job that does see him returning some talent, but the conference now has Baylor and A&M in addition to Texas and Oklahoma as major players in the next couple of years.
3. Beware The Vols
While most people are hung up on Memphis, Kansas, UNC/Duke and UCLA as their No. 1 seeds, few, if any, have brought up the possibility of Tennessee getting a No. 1 seed -- and they might be missing the boat. True, UT barely beat LSU on Saturday in Baton Rouge, but if the Vols can win two of three difficult road games remaining (at Memphis, Vandy and Florida), Tennessee has a chance to steal a top seed, despite not being in the conversation for the first four months of the season.
Upset Watch
By Reggie Rankin
Scouts Inc.'s Reggie Rankin takes a look at eight upsets that could happen this week:
• Monday: Texas over Kansas, ESPN, 9 p.m. ET
The Jayhawks are two deep at every position. They are led inside by the scoring and rebounding tandem of Darrell Arthur and Darnell Jackson, while Mario Chalmers runs the show and sets the tone with his defensive pressure. Brandon Rush, Sherron Collins and Russell Robinson round out the talented perimeter. For the Longhorns, the backcourt of D.J. Augustin and A.J. Abrams dominates the ball, scoring off the dribble, behind the arc in transition and in the half court. Swing man Damion James provides scoring and rebounding and is a tough matchup because he can play inside and out. If Augustin can get off to a good start and the interior defense of Connor Atchley, Gary Johnson, Alexis Wangmene and Dexter Pittman can make Kansas' inside attack work for position in the lane and shoot challenged shots, the Horns have a chance in the Erwin Center.
• Tuesday: Purdue over Michigan State, ESPN, 7 p.m. ET
The young Boilermakers are the surprise of the Big Ten. Guard Keaton Grant is the primary ball handler and leads Purdue in scoring. Wing E'Twaun Moore has improved steadily and can flat-out score. Robbie Hummel and Scott Martin are skilled forwards who compete every second they are on the floor. The Spartans are an excellent defensive team but have had trouble scoring at times. Forward Raymar Morgan is a wing slasher and improved shooter, while Drew Neitzel is the leader and second-leading scorer. Kalin Lucas can score as well as get others involved, and the consistent rebounding of insider Goran Suton has been just what State has needed. Purdue lost a close one in January in East Lansing 78-75, but if the Boilermakers can get their motion offense flowing and rebound with the strong, physical Spartans, the outcome could be different this time in Mackey Arena.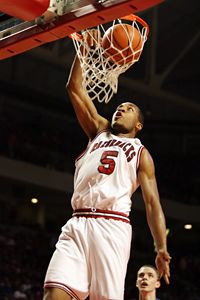 Douglas Jones-US PRESSWIRE
Darian Townes and Arkansas could cause some problems for Tennessee.
• Wednesday: Arkansas over Tennessee, ESPN Full Court, 8 p.m. ET
The Vols pride themselves on playing hard. They also come at teams in waves with their talented depth. Tennessee features the SEC's best-ever 3-point shooter, Chris Lofton, and can convert turnovers to points as fast as any team in the country. The Razorbacks have forced the SEC to take notice with solid defense and balanced offense. Forward Sonny Weems is a versatile scorer, and guard Patrick Beverley can not only score but also leads the team in rebounding. Darian Townes and Charles Thomas are athletic rebounders and finishers, and center Steven Hill protects the basket with his shot-blocking ability. Even with the game being in Knoxville, the Razorbacks have the athletes to make a serious run at the Vols.
• Wednesday: Charlotte over Xavier, 7:30 p.m. ET
The Musketeers have experience and scoring depth to go along with a suffocating team defense. Drew Lavender leads the offensive attack and is the set-up man for the other five double-figure scorers, B.J. Raymond, C.J. Anderson, Derrick Brown, Josh Duncan and Stanley Burrell. The 49ers have an explosive scorer in senior Leemire Goldwire, who has NBA 3-point range and can make 3s over a contested hand. ForwardLamont Mack and jumping jack Charlie Coley can rebound and finish. If Xavier defensive stopper Burrell has trouble getting Goldwire under control, Goldwire could score enough points to make the Musketeers sweat it out in Charlotte.
• Wednesday: Southern Illinois over Drake, 8:05 p.m. ET
The Bulldogs load the floor with shooters and make the opposing offense deal with a matchup zone. Josh Young, Leonard Houston, Jonathan Cox and Klayton Korver all can shoot deep. Guard Adam Emmenecker is the assist leader and does a great job of taking care of the ball. Southern Illinois should be ready for the Bulldogs after losing by 10 in Des Moines. Randal Falker, Matt Shaw and Bryan Mullins are battle-tested team leaders. Guards Wesley Clemmons and Joshua Bone have provided a scoring spark in conference play. Southern Illinois has depended on its man defense over the years to set the tone, and if the Salukis can be there on the catch to defend the Bulldogs' shooters and rebound the first miss, they will be tough to beat in SIU arena.
• Saturday: UAB over Memphis, 8 p.m. ET
The Tigers are going full-steam ahead as they march through C-USA. Point guard Derrick Rose passes ahead on the break to Chris Douglas-Roberts and Doneal Mack, who both can knock down the wide open 3 or attack the rim to keep the pressure on the opponent's transition defense. Robert Dozier and Joey Dorsey are motivated rebounders and finishers in the Tigers' spread offense. On defense, Dorsey is the enforcer in the lane, while the perimeter pressure is relentless the entire game. Blazers sharpshooter Robert Vaden will be locked and loaded, as he leads UAB in scoring. Forwards Walter Sharpe, Lawrence Kinnard and Reggie Huffman will challenge Memphis on the glass, and 3-point shooter Channing Toney will help Vaden from behind the arc. The Blazers are athletic and can score in bunches. If they can get some early stops and rebound with the physical Tigers, the upset could be within reach.
• Saturday: Arizona over Stanford, ABC, 3:30 p.m. ET
Brook Lopez's post play has been terrific. His scoring in the lane and rebounding in a crowd have Stanford making a statement in the Pac-10. Forwards Lawrence Hill and Robin Lopez also have been all over the glass, especially on the offensive end of the floor. Anthony Goods has been dropping 3s to stretch the defense, giving the Cardinal scoring balance. If Wildcats forward Jordan Hill can get some help on the boards, Jerryd Bayless and Chase Budinger can hold their own on the perimeter with their 3-point shooting. Tough post defense along with a good shooting performance in the McKale Center could spell trouble for Stanford.
This Week
By Andy Katz
Here's what I'm looking forward to this week:
• Kansas at Texas, Monday (ESPN, 9 p.m. ET): Prior to the loss at Kansas State, this was the one game circled as a possible KU loss.
• Kentucky at Vanderbilt, Tuesday (ESPN, 9 p.m. ET): The Wildcats are rolling in the SEC, but reality might hit in Nashville if the Commodores play up to their potential.
• Notre Dame at Connecticut, Wednesday (ESPNU, 7 p.m. ET): The winner will be within a game of challenging Georgetown for the Big East title.
• Maryland at Duke, Wednesday (ESPN, 7 p.m. ET): The Terps are hot and capable of winning at Duke, just like they did at Carolina.
• Drake at Southern Illinois, Wednesday: If the Bulldogs are going to lose in the Valley this season, this might be the game.
• Wisconsin at Indiana, Wednesday: The Badgers will go for the season sweep of the Hoosiers to stay on the heels of Purdue, which just swept them. If IU wins, it might become a Hoosier-state race for the crown.
• Cal at Arizona, Thursday: The Wildcats now are in desperate need of a win after dropping two straight to UCLA and Arizona State, while the Bears were stunned by Oregon.
• Stanford at Arizona State, Thursday: The Cardinal are tied with UCLA for the Pac-10 lead, but this league is unforgiving and staying in line with UCLA will hardly be easy.
• Pitt at Marquette, Friday (ESPN, 9 p.m. ET): Neither team can catch Georgetown at this rate, but this could be an important Big East tournament seeding game. And whenever they play, it's usually a good affair.
• Ohio at Kent State, Saturday: The MAC East title is essentially on the line with the two best teams in that division meeting for the final time in the regular season. Earlier, Ohio beat Kent State at home.
• Arkansas at Mississippi State, Saturday (ESPN, 4 p.m. ET): The SEC West should be decided between these two teams.
• Texas at Baylor, Saturday (ESPN, 6 p.m. ET): The Bears gave Kansas a run and are a legitimate NCAA team. Knocking off Texas A&M and Texas in the same season would be quite a feat for a program that has lived in the shadow of the state schools for years.
• Michigan State at Indiana, Saturday (ESPN, 9 p.m. ET): If the Spartans have visions of winning the Big Ten, they might have to win this game.
• Washington State at Oregon, Saturday: The Ducks nearly clipped the Cougs in Pullman. WSU got healthy against USC but has more margin for error than Oregon, which can't afford to lose another home game.
• UCLA at USC, Sunday: The Trojans are going for the season sweep. If they get it, Stanford could be poised to take over the league race.
Louisville Upsets Georgetown
Top Teams Outside The Polls To Watch
1. Louisville
2. Maryland
3. Florida
4. Gonzaga
5. USC
6. Arizona
7. Baylor
8. Clemson
9. Rhode Island
10. Mississippi State

GameDay Bracketology Bubble Teams
Hot Teams
• Louisville: Smacked Marquette and came back against Georgetown. The Cards are in the thick of the Big East race, and last month's talk of the Cards going south now seems foolish.
• Texas A&M: The Aggies won two road games at Iowa State and Missouri and are again looking like a viable threat to advance in the NCAAs.
• Drake: The Bulldogs just keep winning, reeling off 13 straight conference wins in what usually is a daunting Missouri Valley.
• Tennessee: The Vols escaped -- barely -- in Butch Pierre's debut in Baton Rouge. That's fine. They still are the team to beat in the SEC.
• Kentucky: The Wildcats won at Auburn without injured Jodie Meeks or sick Ramel Bradley. They continued their hot streak by winning at home against Alabama behind 19 from Bradley. Meeks still didn't play.
• Connecticut: The Huskies are rolling, taking out Syracuse on the road and Georgia Tech at home. Center Hasheem Thabeet has matured into the force Jim Calhoun spoke about so often when he signed him.
• Duke: The Blue Devils are on their way to an ACC title and a No. 1 seed after winning at North Carolina and holding off BC at home.
-- Andy Katz, ESPN.com
Kansas State Ends OK State's Streak
Stinging Losses
• Providence to St. John's: The Friars aren't heading to the NCAAs. But losing to lowly St. John's could crush morale.
• Dayton to George Washington: The Flyers are in a fragile state, and expecting them to win on the road might be asking too much. But the loss dropped them to 4-5 in the league.
• Oklahoma to Colorado: Losing Longar Longar to a broken leg might be tough to overcome. Falling to the Buffs on the road means the Sooners now are 3-5 in the Big 12 and in serious trouble.
• Virginia to Clemson: The Cavs weren't going anywhere at 1-8 in the ACC, but how does this team lose by 31 at home?
• UMass to Temple: Like Dayton, UMass was in a tenuous position, and falling to 4-5 makes an NCAA bid that much tougher.
• Illinois to Indiana: The game was a thriller, nasty at times, but mostly entertaining. Still, Bruce Weber wasn't able to beat his new nemesis in Bloomington.
• Clemson to North Carolina: Clemson will be an NCAA team, and the Tigers might advance. But whiffing twice against the Tar Heels when they had them beat has to hurt.
• Florida State over Miami: The Canes couldn't afford another home loss, especially to a team that seemed to be below them.
-- Andy Katz, ESPN.com
Kentucky Keeps SEC Wins Coming
Wins To Savor
• Vanderbilt over South Carolina: The Commodores gutted out a last-possession road win that kept them in the chase for second place in the SEC East.
• Washington State over USC: The Cougars were in a desperate situation after losing three straight home games. They match up well with USC, which was apparent in the lopsided win in Los Angeles. Tim Floyd freaked enough to take an in-game stroll on the court to the other side before being tossed.
• Arizona State over Arizona: ASU got a sweep of Arizona, and it was clear the Wildcats needed their premier guards. Arizona went 1-3 without Jerryd Bayless earlier this season and now are 0-1 without Nic Wise, who is shelved for a month with a knee injury.
• Oregon over Cal: These two Pac-10 teams are mirror images of each other, with both staring at 5-6 records. Deciding if either gets a bid might be a tough call for the committee.
-- Andy Katz, ESPN.com
LSU Falls To Tennessee
Player Of The Year Race
• Tyler Hansbrough, North Carolina: Did you see Hansbrough's midcourt steal Sunday night? He continues to impress, and he scored 13 of his 39 points in the two overtimes against Clemson.
• Michael Beasley, Kansas State: It's hard to ignore his presence in every game. He racked up 23 and 13 in the Wildcats' 21-point win over Oklahoma State. Beasley, like Kevin Durant a year ago, might command the most attention of any one player on an opposing scouting report this season.
• Kevin Love, UCLA: The Bruins split the week on the road, but Love remains a dominant presence for the title-contending Bruins. He scored 26 and grabbed 11 boards Feb. 2 in the win over Arizona. He fell one board short of a double-double Thursday at Washington State and was a rebound shy of a double-double Sunday in the loss at Washington, but he has had a double-double in six of the past eight games.
-- Andy Katz, ESPN.com
Washington State Handles Mayo, USC
Game Of The Week
• North Carolina 103, Clemson 93, 2OT: Once again, the affair between these two teams was the best game of a week. Clemson couldn't keep a lead and lost in double overtime Sunday night, continuing a brutal 53-game losing streak in Chapel Hill.
-- Andy Katz, ESPN.com
Coach Of The Year Race
• Keno Davis, Drake: Who had Drake at 22-1 and 13-0 in the Missouri Valley on Feb. 10?
• Matt Painter, Purdue: Who had Purdue at 19-5, 10-1 in the Big Ten?
• Mike Krzyzewski, Duke: I know, coaches like Krzyzewski aren't supposed to get this award since they are expected to be challenging for the title. But I'm not sure many folks had Duke looking like a No. 1 seed and undefeated in the ACC at this point.
• Jim Calhoun, Connecticut: The Hall of Fame coach is doing his best coaching job with a team that struggled early, got hit with suspensions and now is fully in the chase for the Big East title. This team is tough, wins on the road and has developed better than most of Calhoun's teams the past few seasons.
-- Andy Katz, ESPN.com
Purdue Takes Down Wisconsin On The Road
Best Sight Of The Week
•Fans wearing pink at Iowa State: Great gesture by the Cyclone faithful in honor of coach Greg McDermott's wife, who has battled breast cancer. Announcers didn't mention it enough during highlights of the overtime loss to Texas.
-- Andy Katz, ESPN.com