Weekly Watch: Wall, Johnson come through for their teams
Andy Lyons/Getty Images
Editor's note: This edition is for games played from Monday, Nov. 16, through Sunday, Nov. 22.
Player Of The Week: John Wall, Fr., G, Kentucky
Wall ushered himself into Kentucky lore with his game-winning shot to beat Miami (Ohio) 72-70 in his first collegiate game. He finished the game with 19 points, shooting 10-of-14 from the free throw line. But Wall didn't stop there. He scored 21 points in each of Kentucky's next two games -- wins over Sam Houston State and Rider -- including 11 assists in the win over the Broncs. You could see his game develop over the course of the week, even if Kentucky's defense faded. Wall committed a combined 11 turnovers in his first two games, but had only two in the win over Rider. The Wildcats won all three of their games last week and Wall was a major player in each of them.
The rest of the rotation this week:
DeMarcus Cousins, Fr., F, Kentucky: Yes, one of those other freshmen faces on the Wildcats made himself known this week with 27 points and 18 boards in the Wildcats' close call against Sam Houston State. He followed it up with 18 points, six rebounds and five blocks in UK's win over Rider.
Jeremy Hazell, Jr., G, Seton Hall: The Pirate that doesn't get the pub scored 33 points in Seton Hall's impressive 89-79 road win at Cornell.
Scotty Hopson, So., G, Tennessee: He was supposed to be a big-time shooter last season. It looks like it just took a year. He cooled down a bit against DePaul on Sunday, but Hopson scored 25 points in each of Tennessee's two wins against UNC-Asheville and East Carolina, shooting a combined 10-of-12 on 3s.
Quincy Pondexter, Sr., F, Washington: He is perhaps the Huskies player with the most pressure to produce, and Pondexter hasn't disappointed thus far. The forward scored 30 points and grabbed 15 boards in an 80-70 win over San Jose State.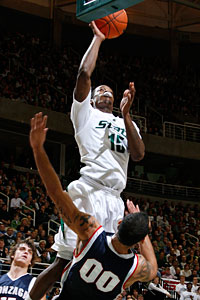 AP Photo/Al Goldis
Durrell Summers led the Spartans' comeback win against Gonzaga.
A.J. Slaughter, Sr., G, Western Kentucky: Slaughter put up 30 points, including five 3s, in the Hilltoppers' 69-65 win over Milwaukee.
Lucca Staiger, Jr., G, Iowa State: Staiger scored 32 points and made 10 3s in a 90-70 win over Drake.
Durrell Summers, Jr., G, Michigan State: He scored 21 points and grabbed 11 boards in the Spartans' gritty 75-71 win over Gonzaga.
Klay Thompson, So., G, Washington State: Flying way under the radar, Thompson scored 37 points on 15-of-20 shooting in Washington State's 89-70 win over IPFW.
Chris Warren, Jr., G, Ole Miss: Back from a knee injury, he scored 27 points in an 86-74 win over Kansas State in Puerto Rico.
Bryce Webster, Jr., C, Cal State Fullerton: Grabbed 14 rebounds in the Titans' 68-65 upset win at UCLA in double overtime.
Rodney Williams, Fr., F, Minnesota: The freshman has already established himself as a key contributor for a Gophers' squad facing off-court issues. Williams scored 17 points, grabbed six boards and had four steals in a 76-51 win over Utah Valley.
Marqus Blakely, Sr., F, Vermont: Despite being sick and sitting out 15 minutes, Blakely still managed to total 17 points, nine rebounds, five blocks and four steals in the Catamounts' 77-71 comeback win at Rutgers on Sunday.
Team Of The Week: Syracuse
Last week
: Beat No. 12 Cal 95-73; beat No. 4 North Carolina 87-71.
Syracuse was picked to finish sixth in the Big East, but that shouldn't have been a shocker. The Orange lost Jonny Flynn, the nation's top point guard, to the NBA, along with major contributors Paul Harris and Eric Devendorf. No one knew if Wesley Johnson would have difficulties after sitting a year after transferring from Iowa State or if Scoop Jardine (who didn't play last season due to injury) or Brandon Triche could handle replacing Flynn.
Well, all those questions were answered in New York as Syracuse dominated Cal and North Carolina at the 2K Sports Classic benefiting Coaches vs. Cancer at Madison Square Garden. The Orange certainly don't lack for excitement without Flynn. Johnson, who scored 25 points and grabbed eight rebounds against the Tar Heels, is a star, and the rest of the Orange players are more than capable of making shots, running the break and finishing. But most importantly, the Orange zone is active, long and disruptive, meaning this team can win the Big East this season, let alone make the NCAA tournament.
Missed Opportunity
Northern Iowa
: The Panthers lost to DePaul 60-52 in the Virgin Islands at the Paradise Jam tournament, missing out on an opportunity to play Tennessee in the next round. That's significant since UNI needs power-rating points to bolster its profile come March.
Cornell: The Big Red had started the season with great road wins for an Ivy League team at Alabama and UMass. But neither of those teams will be in the NCAA tournament. Seton Hall might be, and the Big Red missed their chance to secure a win over a Big East team when they lost at home to the Pirates, 89-79.
Richmond: The Spiders will have plenty of chances for major wins, with games against SEC teams Mississippi State, South Carolina and Florida coming up. But losing at William & Mary 78-71 makes you pause.
Oregon State: The Beavers now have to mount a PR campaign and win some significant games after losing two games in the first two weeks to Texas A&M-Corpus Christi on a neutral court followed by a disastrous loss at home to Sacramento State.
Rider: The Broncs get plenty of points for winning at Mississippi State 88-74 in their season-opener. But they lost some of that mojo by getting blitzed at Virginia, 79-46.
Siena: Look, the Saints can't win every road game. But they may regret their 73-69 loss at Temple. The Owls are a possible NCAA tourney bubble team and would have been a great road win for Siena. The Saints are down to three more significant games outside the MAAC that may get them noticed -- St. John's in Philadelphia and at Georgia Tech and Northern Iowa.
Penn State: The Nittany Lions whiffed twice in Charleston, S.C., with losses to UNC-Wilmington, 80-69, and Tulane, 63-60. Not good for a team that might find itself fighting for a bid come March.
New Names To Remember
D.J. Richardson and Brandon Paul, Illinois
: This stud freshmen duo is going to be the talk of Champaign all season.
Reginald Delk, Louisville: He wasn't discussed much in the offseason but he might be one of the better scorers in the Big East. He scored 20 points in just 22 minutes in the Cardinals' 96-66 win over Arkansas.
Ashton Gibbs, Pittsburgh: He has more than held his own in replacing Levance Fields. Gibbs averaged 21 points a game in the Panthers' two wins this week and has committed just one turnover through three games this season. He will be the go-to player for the Panthers this season.
Chris Johnson, Dayton: The Flyers aren't just about Chris Wright. Johnson led Dayton with 19 points and seven boards in a 63-59 win over Georgia Tech in Puerto Rico.
Andre Dawkins, Duke: He could still be in high school but arrived at Duke early. He scored 20 points for the Blue Devils in a 104-67 win over Radford, with six 3s. The Blue Devils made 18 3s in the game.
Elliot Williams, Memphis: He's leading the Tigers in scoring at 21 points per game and is doing a wonderful job as a leader on this squad.
Shout-Outs
Miami
: The Hurricanes won the Charleston Classic with the win over South Carolina in the final Sunday night. Miami coach Frank Haith said he had a team that could compete at a higher level in the ACC. So far he's proving to be quite prophetic. The addition of Villanova transfer
Malcolm Grant
and fresh-face frosh
Durand Scott
will pay off for this squad.
Villanova: The Wildcats won the Puerto Rico Tip-Off Classic. They were tested quite a bit in three days and came through to show they can be an elite team. Those wins against Dayton and Ole Miss -- maybe even the tight one versus George Mason -- will look just fine in March.
Seattle
: Cameron Dollar, in his first season in charge of Seattle in its return to Division I, picked up a nice win over Fresno State at home 85-84 and followed it up with a 91-87 victory over Big Sky favorite Weber State. Elgin Baylor was in the house for the Fresno win. It was the first time he'd seen his alma mater play since his college career ended in a 1958 NCAA title-game loss to Kentucky.
Viewer's Guide
(All times Eastern)
Monday:
5:30 p.m.: Cincinnati vs. Vanderbilt (ESPN2)
7:30 p.m.: Wichita State vs. Pittsburgh (ESPN2)
8:30 p.m.: Tennessee vs. Purdue (FCS)
10 p.m.: Texas vs. Iowa (ESPN2)
Midnight: Arizona vs. Wisconsin (ESPN2)

Tuesday:
All day: Maui Invitational (ESPN networks)
7 p.m.: Cornell at Syracuse (ESPN360.com)
7 p.m.: Florida State at Florida (ESPN360.com)
10 p.m.: CBE Classic final (ESPN2)
Wednesday:
All day: Maui Invitational (ESPN networks)
7 p.m.: LSU vs. Connecticut (ESPN2)
9:30 p.m.: Arizona State vs. Duke (ESPN2)

Thursday:
Noon.: Creighton vs. Michigan (ESPN2)
2:30 p.m.: Xavier vs. Marquette (ESPN2)
4:30 p.m.: Texas A&M vs. Clemson (ESPN2)
8:30 p.m.: Minnesota vs. Butler (ESPN2)

Friday:
All day: 76 Classic (ESPN networks)
All day: Old Spice Classic (ESPN networks)
8 p.m.: Florida vs. Michigan State (HDNet)
10:30 p.m.: Illinois vs. Utah
Saturday:
4 p.m.: Louisville at UNLV (Versus)
Sunday:
7:30 p.m.: Old Spice Classic final (ESPN2)
10 p.m.: 76 Classic final (ESPN2)
Nova beats Ole Miss to take Puerto Rico title
Three Cheers
Clemson
: Oliver Purnell gets props for going to Liberty and UNC Greensboro to get wins.
Florida State: Leonard Hamilton should get praise as well for going to Mercer and winning.
Oklahoma: Jeff Capel honored his exit contract at VCU and played the Rams in their building, where the Sooners lost 82-69.
K-State holds off No. 21 Dayton
Wins That Will Matter In March
Michigan State over Gonzaga; Syracuse over Cal and North Carolina in NYC; Ohio State over Cal in NYC; North Carolina over Ohio State in NYC; Seton Hall at Cornell; Dayton over Georgia Tech in Puerto Rico; Villanova over Dayton and Ole Miss in P.R.; Ole Miss over Kansas State in P.R.; Kansas State over Dayton in P.R.; Vanderbilt at Saint Mary's; Portland over Oregon; Northeastern over Utah State; Miami over South Carolina in Charleston; Butler at Northwestern and at Evansville (two true road wins).
In Case You Hadn't Noticed
NC State, picked to finish last in the ACC, is 4-0, with Akron and Auburn among its victims in the Glenn Wilkes Classic in Florida. Meanwhile, Auburn is 2-3, already having lost to Missouri State, Central Florida and NC State.
Garden Party: Cuse tops North Carolina
Headline Destinations
Maui, Hawaii (Monday-Wednesday):
The Maui Invitational field looked weak last spring. But that changed with the influx of new talent at Gonzaga, Arizona and Cincinnati. The Cincinnati-Vanderbilt matchup in the first round should be a gem. Gonzaga, Maryland, Arizona, Cincinnati are all capable of winning the event. The team that is hard to figure out is Wisconsin.
Kansas City (Monday-Tuesday): The Pitt-Wichita State semifinal at the CBE Classic could be an upset special, although the Shockers are without suspended point guard Clevin Hannah. That should give an edge to the Panthers' Ashton Gibbs, who has been a big hit so far this season. A Texas-Pitt final on Tuesday -- assuming the Panthers beat Wichita State and the Longhorns advance past Iowa -- sounds great in name only. Pitt isn't ready to play the Longhorns yet.
Syracuse, N.Y. (Tuesday): Cornell won at Alabama and UMass, but dropped a home game to Seton Hall. If the Big Red want to improve its seeding -- and possibly its at-large chances if they don't win the Ivy -- then winning at upstart Syracuse would be a major accomplishment.
New York, N.Y. (Wednesday and Friday): The Arizona State-Duke and LSU-Connecticut matchups in the NIT Season Tip-Off semifinals will be as interesting as the Sun Devils and Tigers make them. If Arizona State can score 100-plus against the Blue Devils -- ASU defeated San Francisco 104-65 last week -- the Sun Devils have a chance. And LSU might need Tasmin Mitchell or Bo Spencer to go off against Connecticut. The likely final matchup of Duke and Connecticut doesn't have the same luster this season that it would have had in years past, but it would certainly provide quite a headline at Madison Square Garden. UConn's Stanley Robinson would have to play his best defense to contain Duke's Kyle Singler. Duke's Nolan Smith should be able to hang with Connecticut's Jerome Dyson.
Anaheim, Calif. (Thursday, Friday and Sunday): The 76 Classic has the strongest field of any early-season tournament. Butler comes in as a top-10 team. West Virginia, if it has Devin Ebanks, can win the Big East. Clemson is on a roll and should be an NCAA team. So, too, should Minnesota (which plays Butler) and possibly Texas A&M (which goes against Clemson). Portland just beat Oregon and opens with UCLA. Long Beach State, picked to win the Big West, gets the Mountaineers.
Orlando (Thursday, Friday and Sunday): Michigan is the class of the Old Spice Classic, but can the Wolverines prove it on a neutral court? (Especially with an opener against Creighton, one of the favorites in the Missouri Valley.) The Xavier-Marquette game is an underrated matchup of two teams that are rebuilding. I wouldn't dismiss Florida State, either. The Seminoles could easily be in the final against Michigan, possibly, if they can handle Iona and then either Alabama or Baylor. FSU, a sleeper team in the ACC, should get plenty of pop from the nearby fans.
Atlantic City, N.J. (Friday-Saturday): The Legends Classic did something somewhat bizarre in setting up the best game in the semifinals with Michigan State-Florida opposite UMass-Rutgers. The Gators need to have a good showing against Sparty even if they don't win. This will be a major test for the Florida bigs and guard Kenny Boynton.
Chicago (Friday-Saturday): The Chicago Invitational at UIC Pavilion has turned into a solid foursome. Depleted Northwestern could prove it isn't dead yet by beating Notre Dame. Iowa State is off to a solid start but so is Saint Louis. I wouldn't be surprised to see Iowa State win the event, although Notre Dame should be the favorite.
Philadelphia (Saturday): La Salle is supposed to be a sleeper team in the A-10. Villanova is off to a solid start after escaping against George Mason. If La Salle wants to be taken seriously in the Big Five this season, knocking off Nova would suffice. If the Explorers get smacked, it will be hard to take them too seriously.
Las Vegas (Saturday): Louisville heads West to play UNLV in a game that is much more important for the Rebels' credibility than for the Cards'. A win by UNLV, after stunning the Cardinals in Louisville last season, would do wonders for the Rebels' national respect.