Weekly Watch: Is Florida back? Early indications are certainly positive
AP Photo/Mel Evans
Editor's note: This edition is for games played from Monday, Nov. 23, through Sunday, Nov. 29.
Team Of The Week: Florida
Last week:
Beat Florida St. 68-52; beat No. 2 Michigan St. 77-74; beat Rutgers 73-58
Finally, Florida might be back. The Gators' two-year drought of NCAA appearances after a remarkable two-year run as NCAA champs may be over. Florida had an impressive week with a 16-point win over rival FSU, followed up with a three-point win over No. 2 Michigan State at the Legends Classic in Atlantic City, N.J. The Gators then beat Rutgers rather easily for the championship. That gives Florida victories over the ACC, Big Ten and Big East.
Florida needed identity wins early to prove it can be a factor this season. This week proved the Gators should have staying power, and it set up quite an SEC-Big East Invitational game on Dec. 10 against Syracuse in Tampa. The addition of highly touted freshman guard
Kenny Boynton
(15.2 ppg, 3.8 apg) has worked out well, but more importantly the Gators now get what coach Billy Donovan wants and seem to be playing with more passion and purpose. If they can avoid any dip longer than two games, the Gators should be back where the program and Donovan expect to be: the NCAA tournament.
Others up for consideration
• West Virginia: The Mountaineers' 3-0 run in the 76 Classic showed why they are contenders to win the Big East. West Virginia defends (even if Bob Huggins is hard on the squad), is tough, can make 3s (Casey Mitchell and Kevin Jones) and has one of the best frontlines in the country in Da'Sean Butler and Devin Ebanks, back from his "self-imposed" leave of absence.
•
Portland:
Even with a loss to No. 8 West Virginia in the title game, the Pilots were the story at the 76 Classic in Anaheim. The 27-point domination of UCLA was not a fluke, especially when Portland took out a deep, talented Minnesota team that doesn't have a single scrub. The Gophers and Bruins have oodles more talent than the Pilots, but that doesn't mean
T.J. Campbell
can't play with any of them. Portland shoots from all over the perimeter, can board with the best and never loses its poise. The Pilots should be a good watch throughout the season. •
Gonzaga:
The Zags were the West Coast preseason favorite and probably should have been in the Top 25. There is no doubt now after a run to the Maui Invitational title. Gonzaga beat back Wisconsin and then Cincinnati in the title game, as
Elias Harris
,
Robert Sacre
and
Steven Gray
are proving to be more than complementary players to
Matt Bouldin
. Once again the Zags look like a team that could make a deep March run.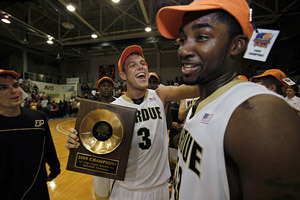 AP Photo/Brennan Linsley
Purdue was all smiles after a one-point win over UT.
• Purdue: The Boilermakers won the Paradise Jam in the Virgin Islands with a thrilling one-point win over Tennessee that came down to the last shot. Purdue is the clear challenger to Michigan State in the Big Ten and has the real look of a team that could get to the Final Four.
•
Northwestern:
John Shurna
beat out Notre Dame's
Luke Harangody
and Iowa State's
Craig Brackins
for MVP of the Chicago Invitational. That alone says quite a bit about Shurna's play of late. But more importantly, the Wildcats were left for dead after losing
Kevin Coble
to a season-ending foot injury and then looked awful in a loss to Butler. But beating Notre Dame and Iowa State on consecutive nights means the Wildcats are still very much alive for a first-ever NCAA tourney bid. •
Duke:
The NIT Season Tip-Off field was weak overall, but the Blue Devils still did what it took to knock off Connecticut and win a title at Madison Square Garden. It was sweet revenge after suffering four straight losses to the Huskies. •
William & Mary:
The team that pushed Connecticut in the season opener did more than push Wake Forest on Saturday. The Tribe nearly led from start to finish and won 78-68 in Winston-Salem, becoming the first opponent to ever win a November game at Lawrence Joel Coliseum, which opened in 1989. William & Mary now has a four-game win streak, which began with a win over Richmond that looks more impressive by the day.
Player Of The Week: Klay Thompson, So., SF, Washington St.
Thompson's performance in the Great Alaska Shootout title game Saturday night was one of the best the long-standing event has seen. In a surprisingly dominant 93-56 victory over San Diego, Thompson scored a tourney-record 43 points, besting the 41 scored by Purdue's Glenn Robinson in the 1993 championship. He was 16-of-24 from the field and 8-of-13 behind the arc. And remember, the Toreros had just come off wins over Oklahoma and Houston (and Stanford earlier this season). Thompson, who has scored at least 20 points in all six games this season, was in double figures by the 11:25 mark of the first half Saturday. In fact, he has been in double figures by halftime in every game this season and is averaging a nation-leading 28.3 ppg. The undefeated Cougars, whose schedule gets much harder with road games at Gonzaga and Kansas State next, are making one wonder if they could be a top-three squad in the Pac-10. Coaches and administrators have told ESPN.com that this might be the worst Pac-10 in a quarter-century. But the league doesn't lack for stars. Get to know Thompson. He's a wiry scorer who should be putting up big-time numbers all season long for a potential postseason team in Ken Bone's first year in Pullman.
The Rest Of The Rotation
Great performances in a losing effort:
Mercer's
James Florence
put up 40 in a loss to Georgia Tech;
Grayson Flittner
(what a name!) flung in nine 3s in Gardner-Webb's loss at UNC; Seattle's
Charles Garcia
put up 41 points and 10 boards in a one-point loss to Wofford.
Great performances in wins at Arkansas:
First it was
Reggie Holmes
, who led Morgan State to a 97-94 win in Fayetteville with 34 points (13-15 FT) and four steals. Then it was
Tommy Hubbard
, who led East Tennessee State to a 94-85 win over the Hogs with 32 points and 10 rebounds. Then it was Martino Brock, who led South Alabama to a 74-61 win at Bud Walton with 21 points on 8-of-10 shooting.
Rough
week for the Razorbacks.
You can't spell his name, but you should know his game:
Kwadzo Ahelegbe
of Northern Iowa was unstoppable in the second half of the Panthers' win over Boston College at the Paradise Jam in the Virgin Islands. He scored 20 of his 32 points in the second half and made 14 of 17 shots overall.
One rebound short of Evan Turner: Michigan's Manny Harris almost joined Ohio State's Evan Turner as Big Ten players with two triple-doubles in the early going. In an overtime win over Creighton at the Old Spice Classic, Harris produced 20 points, 11 assists and nine rebounds.
Don't even bother going inside: In his team's win at Ohio, Hassan Whiteside of Marshall was an absolute beast inside. He not only scored 14 points, but grabbed 17 boards and blocked nine shots.
More Observations
Don't schedule them again:
Louisville has now lost to UNLV in back-to-back seasons. Following last season's shocker at Freedom Hall with a 76-71 win at a rollicking Thomas & Mack Center on Saturday could once again be what the Runnin' Rebels bank on if they're on the bubble in March.
The man can coach:
Jerry Wainwright's DePaul team finished third in the Paradise Jam last Monday with a win over St. Joe's and then found a way to beat Detroit in overtime for a 4-1 start. The Blue Demons have a huge opportunity when they travel to Vandy this weekend.
Shot of the week:
Northeastern's
Chaisson Allen
made a half-court shot, not necessarily a heave, to beat Wright State 70-67 on Saturday at Matthews Arena. Take a look
here
.
Missed opportunity:
Old Dominion, the Colonial favorite, whiffed on two chances for quality neutral-court wins by losing to Mississippi State and Missouri in South Padre Island, Texas.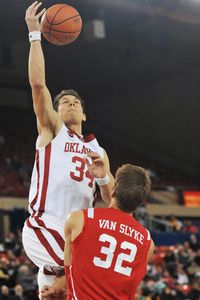 AP Photo/Michael Dinneen
It seems nothing has gone right for Oklahoma so far this season.
Blake Griffin, please return to Norman: Oklahoma is clearly floundering trying to figure out how to deal with the post-Griffin era. The Sooners, an Elite Eight team last season, have already lost to VCU, San Diego and Houston. The Cougars and former Texas coach Tom Penders hung a hundred on them.
Trouble at home:
Things aren't well in Laramie. Wyoming has already lost to South Dakota State, Monmouth and Hampton at the Double A. Ouch.
Trouble away from home:
Creighton was supposed to challenge for the Missouri Valley title once again, and it still might. But the Bluejays are off to a 2-4 start after dropping all three games at the Old Spice Classic, including a disheartening eight-point loss to Iona on Sunday.
POTUS and FLOTUS had better show more often:
Oregon State struggled out of the gate with losses to Texas A&M-Corpus Christi and Sacramento State. But President Obama and First Lady Michelle Obama show up at the Smith Center on Saturday and suddenly the Beavers pull off a much-needed road win at George Washington.
Smackdown of the week:
There is no second place. Portland's 27-point rout of UCLA, the most lopsided loss of the Ben Howland era, was a pounding from start to finish.
Not expected (Pac-10 edition):
In addition to UCLA's losses to Portland and Long Beach State, how about Montana beating Oregon by 13 in Eugene and then pushing league favorite Washington to the final seconds in Seattle? Or Stanford taking Kentucky to overtime in the Cancun Challenge?
Two more shout-outs:
Florida State didn't quite make the cut because of a blowout loss at Florida early in the week, but rebounding to win the Old Spice Classic was quite a feat for the Seminoles. As was getting to that tourney's title game for Marquette, which was supposed to be rebuilding but showed no signs of that in wins over Xavier and Michigan.
Say hello to Cincinnati:
The Bearcats will be around all season long to take your questions on being a Big East title contender. They looked quite impressive in wins over Vanderbilt and Maryland en route to a close loss to Gonzaga in the Maui Invitational.
Best recovery:
Texas losing
Varez Ward
to a season-ending quad injury sustained during warm-ups, getting down to Pitt and then coming back to win by double figures in the CBE championship in Kansas City.
Biggest surprise so far:
Arizona State's ability to score. Herb Sendek's Sun Devils are averaging 75 points a game,
Derek Glasser
is scoring 13.2 (24 against LSU) and the Sun Devils look like a legit top-five contender in the Pac-10. Who had that?
Viewer's Guide
(All times Eastern)
Tuesday:
7 p.m.: Wake Forest at Purdue (ESPN)
9 p.m.: Michigan St. at North Carolina (ESPN)

Wednesday:
7:15 p.m.: Illinois at Clemson (ESPN)
7:15 p.m.: Minnesota at Miami (ESPNU)
9 p.m.: Cal at New Mexico (CBS-CS)
9 p.m.: Washington St. at Gonzaga (FSN)
9:15 p.m.: Duke at Wisconsin (ESPN)
9:30 p.m.: Florida St. at Ohio St. (ESPN2)
Thursday:
7 p.m.: Washington at Texas Tech (ESPN2)
9 p.m.: USC at Texas (ESPN2)

Saturday:
12:30 p.m.: North Carolina at Kentucky (CBS)
3:30 p.m.: St. John's at Duke (ESPN2)

Sunday:
5:30 p.m.: Kansas at UCLA (FSN)
7:30 p.m.: Villanova vs. Maryland (FSN)
Duke takes down UConn to win NIT title
The Hoops World Is Upside Down
Davidson has started the season 1-5 in the post-Stephen Curry era, Patriot League favorite Holy Cross is off to an 0-6 start under new coach Sean Kearney and Big Sky favorite Weber State is 1-4. Meanwhile, new Army coach Zach Spiker is 4-1 with nice wins over Princeton and Harvard.
Zags win Maui with OT victory over Cincinnati
Game Of The Week
Had to be Purdue beating Tennessee 73-72 in the Paradise Jam championship. The capacity crowd in St. Thomas provided for an electric atmosphere, and this game was played at a Sweet 16-like level. It wasn't decided until Wayne Chism's 3-point attempt missed in the closing seconds.
Northwestern beats ISU, takes tourney title
The Depth Of The Big 12
While Oklahoma struggles, Texas A&M's strong showing in Anaheim should prove the league has a chance for a half-dozen NCAA tournament teams. The Aggies have company, with Iowa State playing well early on and Oklahoma State winning the Las Vegas Invitational behind James Anderson's 24 points in a 22-point blowout of Utah. The "Who will finish third" behind Kansas or Texas question will be out there all season long. Colorado won't be in that discussion, but even the Buffaloes showed some spunk in Maui with close losses to Gonzaga and Arizona.
Texas takes control, wins CBE championship
Places To Be This Week
Chapel Hill, N.C. (Tuesday):
The headline game in the Big Ten/ACC Challenge pits Michigan State and North Carolina for the third time in a year. The NCAA title-game rematch lost a bit of luster with the Spartans losing to Florida and the Tar Heels falling to Syracuse last week. Still, these are two teams that could meet on the way or in Indianapolis later in the season.
Madison, Wis. (Wednesday):
Duke has never lost a game in the Challenge, but Wisconsin doesn't lose too often at the Kohl Center. When the season started I thought this was a lock for the Blue Devils because of how much rebuilding it appeared UW would have to do this season. The Maui Invitational proved me wrong. The Badgers can win this game if they play their ball.
Ann Arbor, Mich. (Wednesday):
Boston College was depleted with injuries and illnesses and still found a way to win at Providence this weekend. Michigan probably thought it was going to be playing in the Old Spice Classic final Sunday night, but got pushed aside by Marquette and then was upset by Alabama. After losing two tournament games each, both teams need this game.
Clemson, S.C. (Wednesday):
Illinois is reeling after dropping two games in Las Vegas as
Brandon Paul
and
D.J. Richardson
went into a mini-shooting slump. Clemson had a mixed bag in Anaheim, but rallied to beat Butler in the fifth-place game Sunday night. Should be a great atmosphere at Littlejohn.
Miami (Wednesday):
When the matchups for the Big Ten/ACC Challenge came out, this looked like a win for Minnesota. But then Miami started out with a Charleston Classic title. The Hurricanes are young but are sound with the ball and playing tough defense so far. The Gophers were a physical and deep lot in Anaheim, but going from California to South Florida is not an easy chore.
Albuquerque, N.M. (Wednesday):
This game sneaked up on me. Cal, still needing to get
Theo Robertson
and
Harper Kamp
healthy, must go on the road to face the hot Lobos (even if the Pit is a bit chillier as the outside gets a facelift, forcing the doors to be open at times). Steve Alford has New Mexico at 6-0 with wins over New Mexico State, Miami (Ohio) and at Hawaii behind the scoring of
Darington Hobson
(18.2 ppg),
Roman Martinez
(14.7) and
Phillip McDonald
(13).
Atlanta (Wednesday):
If Siena wants to be considered for an at-large berth in March, the struggling Saints -- after losses to St. John's and Temple -- probably need to pull the upset at Georgia Tech.
Spokane, Wash. (Wednesday):
Washington State's title at the Great Alaska Shootout and Gonzaga's win at the Maui Invitational make this must-see viewing.
Columbus, Ohio (Wednesday):
Florida State could do wonders for its national profile if it were to win at Ohio State. The Seminoles have the better big in
Solomon Alabi
, but the Buckeyes have the best guard on the floor in
Evan Turner
.
Lexington, Ky. (Saturday):
The two winningest programs of all time, North Carolina and Kentucky, renew the rivalry as each tries to get to 2,000 wins first. There will be oodles of NBA-bound talent on the floor. Neither team has hit its stride as both desperately try to work in fresh faces early in the season.
Westwood, Calif. (Sunday):
Top-ranked Kansas visits UCLA. Under normal circumstances I would say this would be the game of the week. But the Bruins are slipping toward an abyss. Still, if UCLA could find a way to win this game, we would have to consider the Bruins alive again.
Washington D.C. (Sunday):
Maryland's disappointing two-loss performance in Maui puts even more pressure on the Terps to beat Villanova at the Verizon Center. The Wildcats haven't missed a step, looking like the more experienced and veteran team in winning the Puerto Rico Tip-Off.
Bama scores last-second win vs. No. 15 Michigan