Weekly Watch: UK passes first big test, while Big Ten finally wins the Challenge
AP Photo/Ed Reinke
Editor's note: This edition is for games played from Monday, Nov. 30, through Sunday, Dec. 6.
Team Of The Week: Kentucky
Last week:
Beat UNC-Asheville 94-57; beat North Carolina 68-66
The much-talked-about Wildcats had by far their toughest test to date on Saturday in Lexington -- and they passed. UK put together a stirring 28-2 run in the first half and held off a furious UNC rally to win 68-66 in front of a record crowd at Rupp Arena.
Kentucky had to deal with a cramped-up
John Wall
in the second half and weathered Carolina's comeback from 19 down.
Patrick Patterson
was the most consistent player on the court and continues to be Kentucky's quiet leader, the one who ultimately will be a difference-maker for the Cats. Wall can be sensational, and few (if any) in college can stop him one-on-one, but he needs an anchor in the post. Patterson delivers in that regard. Kentucky's execution is still suspect -- its number of turnovers is somewhat alarming. And the freshman big men commit silly fouls and can tighten games by putting opponents on the free throw line. This is a big week for UK, which has a game against Connecticut in New York City and then the first true road game of the season at Indiana. If the Wildcats had lost to the Tar Heels, there would have been plenty of questions about whether this young squad can handle the heat. But the Wildcats held their composure and didn't lose. So put those questions on hold for now.
Others up for consideration:
• Wisconsin: The Badgers had the surprise win of the Big Ten/ACC Challenge with a victory over Duke at the Kohl Center. Wisconsin, picked during the preseason to finish ninth in the Big Ten, played sound defense (except for trying to stop Kyle Singler and Andre Dawkins on 3s at times) and was efficient down the stretch offensively. The Badgers followed up the win by dispatching Grambling State as expected.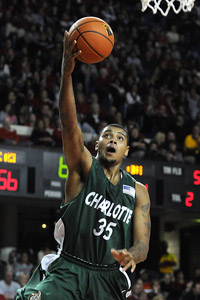 AP Photo/Timothy D. Easley
Chris Braswell and Charlotte won with surprising ease at Freedom Hall on Saturday.
• Charlotte: The 49ers caught a depleted Louisville team that was playing without injured guards Peyton Siva, Preston Knowles and Jerry Smith, but give credit where credit is due: Charlotte ran the Ville out of Freedom Hall in an 87-65 win. It was the worst home loss of the Rick Pitino era. As bad as the 49ers looked at Duke in mid-November, they have improved. They could be a real player in the Atlantic 10.
•
Texas Tech:
Nobody who's being honest can say he expected Texas Tech to be 8-0 at this point. Hey, the Red Raiders haven't attained that record in 80 years. Two of TTU's wins have come against the teams picked to finish fifth (Oregon State) and second (Washington) in the Pac-10. After the Red Raiders' 99-92 upset of the No. 10 Huskies on Thursday night, Texas Tech students stormed the court not once but twice. •
Illinois:
The Illini pulled off the best comeback in their history, coming back from 23 points down in the second half at Clemson to stun the Tigers. The Illini followed with a home win over Boise State on Saturday. The two losses in Las Vegas the previous week (to Bradley and Utah) don't sting quite as badly now.
Player Of The Week: Trevon Hughes, Sr., PG, Wisconsin
Hughes has become the latest of coach Bo Ryan's point guards to produce at a high level. Ryan has had a tremendous affect on lead guards during his tenure at UW, and Hughes has blossomed into a mature, productive player. After scoring a season-high 26 points (9 of 16 field goals) and committing zero turnovers in the team's stirring upset of fifth-ranked Duke, Hughes didn't dip against lesser-known Grambling. He stayed strong with 20 points and seven rebounds in 27 minutes. It's pretty clear now that if Wisconsin becomes a major player in the Big Ten -- and there's no reason to think the Badgers won't hang around -- Hughes will be a first-team All-Big Ten performer.
The Rest Of The Rotation
Charles Jenkins, Jr., G, Hofstra:
I keep talking to coaches who rave about Jenkins' game. Like Hughes, he is a native of Queens, N.Y. The junior is averaging 20.9 points, shooting 48.4 percent on 3s and averaging 4 rebounds and 4 assists a game. He's already scored 25 against UConn and Charlotte. This past week, he lit up Fairfield for 38 points on 12-of-17 shooting (5 of 7 3s) and followed that up by scoring 21 in a road win at Towson to open up play in the Colonial Athletic Association.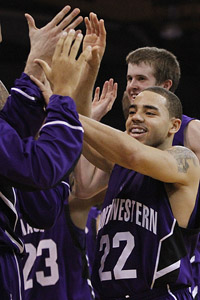 AP Photo/Nam Y. Huh
Behind 22 points from Michael "Juice" Thompson, Northwestern pulled out a road win at NC State.
Michael Thompson, Jr., G, Northwestern: When Kevin Coble went down to injury, Northwestern coach Bill Carmody said Thompson would have to take more shots. He has, and he's connecting. Thompson scored 22 points (8 of 15 FGs) and buried a pair of 3s in Northwestern's road win over NC State -- the Wildcats' fifth straight victory. The Wildcats put the ball in their point guard's hands, and he willed them to a big road win.
John Roberson, Jr., G, Texas Tech:
The Red Raiders won one of the best games of the week, beating Washington in the Big 12/Pac-10 Hardwood Series.
Mike Singletary
might have had the most memorable shot attempt -- his 3-pointer that didn't count at the end of regulation -- but Roberson was the most consistent with 25 points and a perfect 13-of-13 at the free throw line. Roberson also led well with seven assists.
Chris Braswell, Fr., F, Charlotte:
The 49ers needed more diversity in scoring and found that in Braswell in a shockingly easy 22-point win at Louisville. Braswell was incredibly efficient in scoring 21 points and grabbing 14 boards. He finished 9-of-12 from the field and made all three of his free throw attempts.
Performances You Might've Missed
• Saint Mary's center
Omar Samhan
posted 22 points and 17 boards as the Gaels ended Utah State's 37-game home-court winning streak. • Senior guard
Brandon Hazzard
connected on 7 of 10 3s and scored a career-high 28 points in Troy's 81-77 win at Auburn, the school's first-ever win over the Tigers. • In Cornell's 104-98 shootout win at Bucknell, Big Red big man
Jeff Foote
contributed 28 points and 18 rebounds. • Talk about efficient. In a 95-93 victory over a pretty good Idaho team, Cal State Northridge guard
Kenny Daniels
was 12-of-17 from the field and 13-of-15 from the free throw line. He finished with a career-high 39 points and 10 rebounds as the Matadors rallied from 14 down for the victory. • Harvard guard
Jeremy Lin
put on a show in Storrs, Conn., on Sunday, contributing a career-high 30 points and nine rebounds as his Crimson hung around all afternoon before losing 79-73 to 13th-ranked Connecticut. Not to be outdone, UConn's
Jerome Dyson
almost posted a triple-double with 24 points, 14 rebounds and 9 assists.
More Observations
• Northern Colorado knocked out Colorado State to move to 7-0, only to lose its Big Sky opener at Montana State on Friday. But the Bears rebounded with a win at Montana the next day. Remember, that's a Grizzlies team that won at Oregon and very nearly beat Washington. • Delaware State beat Delaware. It's significant in the state, and it's significant when a MEAC school takes out a CAA school. • It's not often that a team loses on a dunk. But it happened twice last week as Yale beat Hartford 48-46 on
Michael Sands
' slam and Ole Miss beat Southern Miss 81-79 on
Eniel Polynice
's breakaway dunk, each with two seconds left. • Back to reality for Marquette, which advanced to the Old Spice Classic title game during Thanksgiving weekend but then came back down to Earth with Saturday's home loss to NC State. • Missouri will continue to be fun to watch under Mike Anderson; the Tigers ran up 106 points and held Oregon to 69 to continue the good early-season vibes for the Big 12. • Quietly, Vandy has turned a so-so Maui performance into better results with home wins over Missouri and DePaul. The Commodores continue to make it tough for opponents to win at Memorial Gym.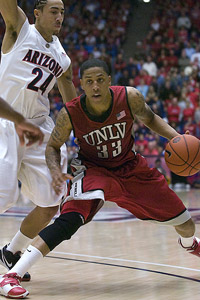 AP Photo/John Miller
Tre'Von Willis scored 25 points in UNLV's 74-72 double-OT victory over Arizona in Tucson.
• New Mexico (8-0) and UNLV (7-0) are the only undefeated Mountain West teams. The Lobos had a monster home win over Cal and then beat rival New Mexico State by double digits for the second time this season. The Runnin' Rebels, nationally ranked in December for the first time since 1992, picked up a double-overtime win at Arizona midweek and then survived a scare at Santa Clara 66-63. • Injuries hit two top-20 teams hard, as Ohio State's
Evan Turner
is out for eight weeks with a fracture in his back and Georgia Tech's
Iman Shumpert
will miss the next three to six weeks after knee surgery. • Time to welcome
Alex Stepheson
as a major player at USC. The North Carolina transfer scored 22 points and grabbed seven boards in a loss at Georgia Tech. • Surprising Missouri State moved to 7-0 on the young season and already has beaten Auburn and Tulsa. With Illinois State 7-0, Wichita State 7-1, Northern Iowa 5-1 and Bradley 5-2, the depth of the Valley could make for some tough choices come March. I still find it hard to believe Creighton won't turn it around. Sunday's 67-61 win over rival Nebraska was a good start after a 2-4 beginning to the season. • On Friday night, Pitt was ahead of New Hampshire 15-7 at the break. Yes, 15-7. It was the lowest-scoring half of the shot-clock era. After the game, all Pitt coach Jamie Dixon wanted to talk about was how well the Panthers played in the second half. Obviously. The Panthers ended up winning 47-32, but
Jermaine Dixon
and
Gilbert Brown
can't get back soon enough. • Hey, let's play the transitive property game: Cal State Fullerton beat UCLA in overtime, then lost last week to 1-5 Central Arkansas by 20, which lost to Kansas by 50. So where exactly does that put the Bruins? • Within Oklahoma, Tulsa's 21-point win over Oklahoma State has to resonate in recruiting, doesn't it? On Sunday, though, the Golden Hurricane almost lost their momentum but hung on to beat Ohio 81-80. • Best watch of the week was the final frenzied minutes of regulation in Texas Tech's 99-92 overtime win over Washington. What a spectacle that was. • Northern Iowa guard
Ali Farokhmanesh
buried a 3-pointer to beat Iowa State on Wednesday. Remember the name, because the Panthers will be around in March. • More victories to remember: BC winning at Michigan, Miami beating Minnesota, UNLV winning in overtime at Arizona, Georgia Tech beating Siena and Richmond taking out ODU.
Viewer's Guide
(All times Eastern)
Tuesday:
7 p.m.: Butler vs. Georgetown (ESPN)
8:30 p.m.: Vanderbilt at Illinois (Big Ten Network)
9 p.m.: Xavier at Kansas State (ESPNU)

Wednesday:
9:30 p.m.: Kentucky vs. Connecticut (ESPN)

Thursday:
9 p.m.: Syracuse vs. Florida (ESPN)

Saturday:
Noon: Kentucky at Indiana (CBS)
Noon: Ohio State at Butler (ESPN)
2 p.m.: Georgetown vs. Washington (FSN)
6 p.m.: New Mexico vs. Texas A&M (FSN SW)
7 p.m.: Kansas State at UNLV (FSN KC)
9 p.m.: Purdue at Alabama (ESPN2)

Sunday:
3 p.m.: Villanova at Temple (CBS-CS)
7 p.m.: Cincinnati at Xavier (ESPNU)
Buckeyes lose Turner for foreseeable future
Yeeeeah, About That …
The hype for the West Coast Conference has faded a bit. It was not a good week. Gonzaga lost a tough game to Wake Forest at home. Portland jumped into The Associated Press rankings, then lost to Portland State and was housed by Idaho. San Diego was 0-3 on the week, including a loss to UC Riverside and an embarrassing 69-37 defeat to Fresno State. There was one shining star, though. Saint Mary's found a way to win at Utah State, snapping the Aggies' 37-game home-court winning streak. For the Gaels, life after Patty Mills has already produced impressive wins over San Diego State and Utah State and a narrow two-point loss to Vanderbilt.
Charlotte pummels depleted Cardinals
Sleeper Watch
Still high on UTEP, which is off to a 5-0 start after a 21-point road win at New Mexico State. The Miners' schedule does get tougher, though, with games against Ole Miss, Oklahoma, Texas Tech and BYU in the coming weeks. The Miners have five players averaging at least 10 points per game, and forward
Derrick Caracter
(Louisville transfer) will become eligible next week.
Badgers help Big Ten with upset of Duke
Road Warriors
Wake Forest got overrun by Purdue in the second half last week in the Big Ten/ACC Challenge but then beat No. 16 Gonzaga at The Kennel in Spokane. In the past two seasons, Wake has ended BYU's 53-game home winning streak and won in a place where Gonzaga very rarely loses. Who else from a power-six league of Wake's stature is going on the road to BYU and Gonzaga for true road games? Give coach Dino Gaudio and his players plenty of credit.
Demon Deacons knock off Zags in Spokane
Good Vibe With The Tribe
The surprise team in the country? It may just be William & Mary. The Tribe started out Colonial play by rallying from 15 down to beat VCU this past weekend. William & Mary has made 10 or more 3s in seven of its first eight games and has won six straight, including top-50 RPI wins over Richmond and VCU plus another at Wake Forest. Keep an eye on senior guard
David Schneider
, who is third in the CAA in scoring (18.1 points per game).
Texas Tech upsets No. 10 Washington in OT
Places To Be This Week
Charleston, S.C. (Monday): Why, you may ask? Because how often does a team like Michigan State come to The Citadel? If you're in or around Charleston, you should take advantage of seeing a potential Final Four team in your area. New York City (Tuesday): Georgetown squeaked by Temple and now plays a Top 25 game against Butler in the Jimmy V Classic. The Bulldogs swept through their two games last week after stumbling in California the previous week. This is yet another chance for Butler to be on the national stage before dropping into the anonymity of the Horizon League. Champaign, Ill. (Tuesday): Vanderbilt held off Mizzou and now goes to the Tigers' rival in Illinois. The Illini are feeling great after their comeback win over Clemson and a win over Boise State. This has the look of an evenly matched affair. New York City (Wednesday): It's the much-anticipated John Calipari-Jim Calhoun matchup at Madison Square Garden. In 2007, Cal and Memphis beat Calhoun and Connecticut in the Coaches vs. Cancer final at MSG. This is a major test for both clubs. UConn couldn't catch Duke in the second half in this same building in the NIT Season Tip-Off final. Kentucky comes in off a big-time win over UNC, but the last time the Wildcats played on a neutral court, they were nearly clipped by Stanford in Cancun. Tampa, Fla. (Thursday): There's no other way to say it other than ESPN, the SEC and the Big East all lucked out that Syracuse-Florida in the SEC/Big East Invitational turned out to be a game between two top-20 teams. No one saw this occurring when Jonny Flynn and Nick Calathes bolted for the pros. Yet the Orange and the Gators are the surprise teams in their respective leagues. Anaheim, Calif. (Saturday): The headline game in the Wooden Classic isn't UCLA-Mississippi State. No, Washington-Georgetown holds more intrigue. The Huskies desperately need this one after losing in overtime at Texas Tech. We'll see what kind of shape the Hoyas are in after playing Butler earlier in the week. Indianapolis (Saturday): Ohio State will have to remake itself without do-everything guard Evan Turner. The first major test comes against Butler at historic Hinkle Fieldhouse. Las Vegas (Saturday): Kansas State is coming off a solid win over Washington State in the Big 12/Pac-10 Hardwood Series. Going to UNLV should give the Wildcats a nice barometer, considering the Runnin' Rebels are one of the hottest teams in the country. Both of these teams could be in the NCAA tournament field. Houston (Saturday): There's no way anyone in the preseason would have thought Texas A&M against New Mexico would be a significant game. But the Aggies have overachieved and are in the Top 25 already, and the Lobos entered the week undefeated with a solid home win over Cal. Cincinnati (Sunday): Suddenly, the roles are reversed again in one of the sport's better rivalries. Cincinnati is ranked, while Xavier is not. But who cares. Even when neither team is ranked, this is a good watch.
Cal knocks off Iowa State in Big 12/Pac-10 Hardwood