Weekly Watch: Gophers' upset of Cardinals, Price's Seattle performance
Nick Doan/Icon SMI
Editor's note: This edition is for games played from Sunday, Dec. 14, through Saturday, Dec. 20.
Team of the Week: Minnesota Golden Gophers
By Andy Katz
ESPN.com
Last week
: beat Louisville 70-64 in Glendale, Ariz.
Tubby Smith said earlier in the week that he would know a lot more about his team when it stepped up in competition by playing Louisville.
He also said he believed the Gophers were a potential NCAA tournament team.
It's hard to argue with him. The Gophers were clearly the better team -- on this day, at least -- from start to finish. Louisville has more talent, will play a tougher conference schedule and should go further in the NCAA tournament. But on Saturday, Minnesota was the better squad. Louisville could point to a ridiculous schedule that had the Cardinals playing in the Big East-SEC Invitational against Ole Miss on Thursday in Cincinnati and then playing the early game Saturday in suburban Phoenix. But that's an excuse. Minnesota won this game more than Louisville lost it.
A player you might not have heard of, Al Nolen, scored 13 points from the free-throw line. The Gophers got Samardo Samuels to foul out, wouldn't let Earl Clark dominate them and defended the 3-point shot well enough, limiting Louisville to 4-of-17. Foul trouble limited the Gophers' top scorer, Lawrence Westbrook, to only two points; yet the Gophers proved they have balance. Two reserves, Travis Busch and Blake Hoffarber, scored in double figures.
Smith is one of the best coaches in the country. He has a legit shot, like Michigan's John Beilein, to take his team to the NCAA tournament in his second season at the school. After playing Southeastern Louisiana and High Point, the Gophers should be undefeated going into their Big Ten opener against Michigan State on Dec. 31. The Gophers open the Big Ten schedule at home with MSU and Ohio State, two preseason top-four teams. Minnesota could end up being one of the last undefeated teams if the Gophers can protect what is always one of the tougher home courts in the conference.
Player of the Week: A.J. Price, Sr., G, UConn Huskies
By Andy Katz
ESPN.com
Earlier in the week, A.J. Price slogged his way through a rather ho-hum performance against Stony Brook. Sure, he had five assists and no turnovers, but he wasn't aggressive or even assertive. Boy, did that change against Gonzaga.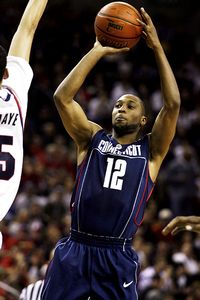 Joe Nicholson/US Presswire
A.J. Price scored 24 points, including six 3s, in UConn's win over Gonzaga.
Price made the game-tying, overtime-forcing 3-pointer by staying with the play in the final seconds of regulation in the Battle in Seattle. Price's 24 points, 10 assists, four turnovers and confidence-boosting 6-of-9 3-point shooting (he was also 6-of-8 at the free-throw line) does wonders for the Huskies going forward. If Price can continue to play with this much confidence, the Huskies can challenge Pitt for the Big East title and North Carolina for the national title. Remember, he's still less than a year removed from an ACL injury. Making the 3-pointer to tie Gonzaga, which ultimately led to the 88-83 victory over the Bulldogs, may have been one of the biggest shots of his career and could be one of the top regular-season shots for the Huskies.
The rest of the starting rotation this week:
2. Jodie Meeks, Jr., Kentucky: The Wildcats had one game last week, and Meeks made the most of his opportunity. He lit up Freedom Hall and Appalachian State with 46 points, making nine 3s and shooting 9-of-10 from the line and 14-of-21 from the field. He also had four steals. The Wildcats have their big-time scorer now in Meeks. If Patrick Patterson can provide the necessary balance inside and the Wildcats find consistency at point guard (Michael Porter had one turnover in 20 minutes, but DeAndre Liggins had four in 21 minutes) then the Wildcats should do just fine in the SEC yet again.
3. Jon Scheyer, Jr., Duke: Scheyer was nearly perfect, going 9-of-11 for 23 points and making 5 of 7 3s in a total dismantling of Xavier at the Meadowlands. Scheyer is second on the Blue Devils in scoring at 14.2 points per game. Duke's win over Xavier was a clear indication that the Blue Devils will be a contender for a No. 1 or 2 seed.
4. James Harden, So., Arizona State: Harden didn't have his best game Dec. 14, scoring a pedestrian nine points on five shots and committing five turnovers in ASU's one-point win over IUPUI. But he came up big -- scoring 30 and making 16 of 21 free throws -- in ASU's one-point, last-possession win over BYU on Saturday in Glendale, Ariz.
5. Josh Carter, Sr., Texas A&M: Carter got to the free-throw line often, making 11 of 13 in a crucial win over previously undefeated LSU in Houston. Carter finished with 19 points on just six field goal attempts and made two 3s. The Aggies have wins over LSU on a neutral court, Arizona at home and Alabama on the road. That's not too shabby for Mark Turgeon's crew.
Résumé Builders
By Andy Katz
ESPN.com
Michigan State
: Leading up to the Texas game in Houston, the Spartans desperately needed a signature win after losing to Maryland in the Old Spice Classic and to North Carolina in Detroit. Michigan State made stops and made key plays, notably from
Durrell Summers
and a healthier
Goran Suton
.
Purdue: The Boilermakers had their one blip: getting blown out at home by Duke. What Purdue did in defending Stephen Curry and shutting down Davidson in Indianapolis is more like what should be expected going forward. Purdue is in the hunt for the Big Ten title and still has a chance at a deep run in March.
Saint Mary's: This week the Gaels beat two teams that likely won't be in the NCAAs. But they took them out away from Moraga, winning at Oregon and beating Southern Illinois in Indianapolis. That gives Saint Mary's five wins away from home so far.
Syracuse: The Orange win at Memphis this week is more important than (and makes up for) the home loss to Cleveland State. Syracuse now has wins over Kansas, Florida and Memphis away from the Carrier Dome.
UNLV: Pounding Arizona is more like the projected UNLV team than the one that lost at home to Cal and Cincinnati on successive nights in late November. It looks like it could be a tight race between UNLV and BYU for the MWC title.
Blemishes that might not go away
By Andy Katz
ESPN.com
Seton Hall
: IUPUI has proved it is clearly better than projected by nearly beating Arizona State in Phoenix last week. So it's not shocking that IUPUI took Seton Hall to the final possession. Seton Hall still has quality wins over USC and Virginia Tech in Puerto Rico. But the Pirates can't afford another slip against a perceived lower-level team as it tries to mount an NCAA tournament campaign through the Big East.
Oregon: The Ducks weren't going to be an NCAA tournament team. That much was clear early in the season. But the intimidation of Mac Court also seems to have waned. Saint Mary's, one of the best teams in the West, came in and won, and then the Ducks had to go to overtime to eke out a three-point win over Portland.
LSU: The Tigers hadn't really been challenged (save by Nicholls State for a half). That's why it was important to see how LSU would do in its first real game, against Texas A&M in Houston. LSU lost by 11.
Iowa: The Hawkeyes haven't solved their problem of losing away from Iowa City. Iowa dropped one at rival Drake by 17 points. That's the same Drake team that lost at home to Stephen F. Austin.
Georgia Tech: The Yellow Jackets lost to an underrated Illinois-Chicago squad Dec. 14. But that's still the second home loss for a team trying to find its footing before the ACC campaign.
Viewer's Guide
(All times ET)
Monday:
7 p.m.: Marquette at NC State (ESPNU)

Tuesday:
7 p.m.: Butler at Xavier (ESPNU)
9:30 p.m.: Texas at Wisconsin (ESPN2)
10:30 p.m.: Kansas at Arizona

Saturday:
4 p.m.: West Virginia at Ohio State (CBS)

UConn tips Gonzaga in OT
Line of the week
Tyler Hansbrough
, Sr., F, North Carolina
Hansbrough became North Carolina's all-time scoring leader in the Tar Heels' win over Evansville on Dec. 18, snapping a 30-year-old record set by Phil Ford (2,290 points). Hansbrough finished that night with 20 points and nine boards and went 6-of-9 on free throws. It was just another game for Hansbrough, who approaches every game the same way: ready to produce, lead and power his way to as many points and rebounds as possible.
Duke pounds Xavier
Play of the Week
Cedric Jackson
, Sr., G, Cleveland State
This may end up being the play of the year. Jackson's three-quarter-court heave to beat Syracuse 72-69 on Dec. 15 concluded a solid night for the senior guard, who finished with 13 points, five assists and two turnovers. Cleveland State is no fluke. The Vikings lost to Butler on a buzzer-beater at home in early December, but should be in the thick of the race come March. The Vikings aren't going to get an at-large berth, but they will be a factor in the conference tournament for the NCAA bid.
-- Andy Katz, ESPN.com
Flynn leads Cuse by Memphis
Six places to be this week
Raleigh, N.C., Monday
: Marquette heads to NC State for an important game for both squads. The Golden Eagles have a quality home win over Wisconsin, but away from home, the Eagles whiffed against Dayton in suburban Chicago and again against Tennessee in Nashville. The Wolfpack won at New Orleans in their opener and lost to Davidson in Charlotte, and they don't have a marquee win away from Raleigh.
Madison, Wis., Tuesday: The Longhorns continue to play a brutal schedule under Rick Barnes. Texas has to go from a tough late loss to Michigan State in Houston to the frigid isthmus between lakes Mendota and Monona. The two teams played one of the better games of last season in Austin. Wisconsin could use a marquee home win after missing out in the Virgin Islands and in Milwaukee.
St. Louis, Tuesday: Missouri and Illinois renew a heated rivalry, and both squads are exceeding expectations so far. Missouri has played tougher competition and might have one of the more impressive wins in a dismantling of Cal at home. Whichever team wins this game will get a much-needed push going into its conference season.
Tucson, Ariz., Tuesday: It's hard to believe that this matchup of two of the most recognized national programs comes with neither ranked (as of Sunday morning). Kansas is coming off one of its better performances in a win over Temple, while Arizona followed up an impressive win over Gonzaga by getting outrun at UNLV. Kansas will have more opportunities for marquee wins in the Big 12 than Arizona will in the Pac-10 this season. So the onus is on the hometown Wildcats here.
Louisville, Saturday: Louisville has looked rather pedestrian in its two losses to Western Kentucky and Minnesota. UAB should play into the Cardinals' desire to push the ball. Before the Big East schedule begins, Louisville needs a win against a team that might be in the NCAA tournament. (The season-ending injury to Chris Warren means Ole Miss likely has no shot now.) A UAB win would really help the Blazers' résumé.
Columbus, Ohio, Saturday: West Virginia pulled off one of its most impressive wins of the season by crushing Miami (Ohio) in Morgantown. Ohio State had a solid win over Iona in its first game without David Lighty. A West Virginia road win here would go a long way toward showing that the Mountaineers are a serious Big East player this season.
-- Andy Katz, ESPN.com
Minnesota stays undefeated, drops L'ville
Steve Lavin: What I Learned