Weekly Watch: Kentucky's Meeks, Wake Forest take honors
AP Photo/Wade Payne
Editor's note: This edition is for games played from Sunday, Jan. 11, through Saturday, Jan. 17.
Player of the Week: Jodie Meeks, Jr., G, Kentucky Wildcats
The race for the player of the week honor was over Tuesday night -- no one was going to top Jodie Meeks' monster performance. Meeks was sensational, scoring 54 points, making all 14 of his free throw attempts, converting 10 of 15 3s, scoring on 15 of 22 shots, grabbing eight boards, dishing out four assists with only one turnover, snaring a steal and committing only two fouls.
The best news of all for Kentucky was that the Wildcats won the game, too. Kentucky and Meeks did two things with the win over the Vols: both established themselves as potentially the SEC's best.
Meeks is no fluke. He had a sports hernia injury a year ago, which is why he played only 11 games. Had he been healthy, the Wildcats wouldn't have struggled as much as they did. Meeks had shown he could go off this season, too. He scored 46 against Appalachian State in Louisville earlier this season. He scored 28 on Louisville, 21 on Vanderbilt. He's a scorer and he'll fill up the stat sheet quite often for the Wildcats this season, while leading them back to the NCAA tournament.
The rest of the starting rotation this week: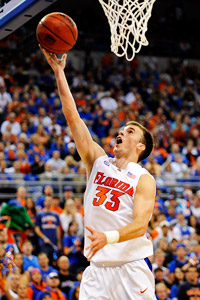 AP Photo/Phil Sandlin
Nick Calathes is doing a little of everything for the Gators.
Nick Calathes, So, G, Florida: Calathes is carrying the Gators. He scored 28 points (on 11-of-18 shooting), grabbed 10 boards, dished out seven assists and committed four turnovers in Florida's convincing win over Arkansas. Earlier in the week at Auburn, Calathes scored 17 points and grabbed nine boards, though he did have six turnovers to only five assists.
Jeff Teague, So., G, Wake Forest: Teague continues his campaign for ACC Player of the Year and first-team All-American. He started out the week with 34 points in a win over North Carolina, then followed that up with 29 in a road win at Boston College and concluded it with 24 in a road win at Clemson. He got to the free throw line 41 times, making 33, in the three games. Teague commands contact and converts.
Terrence Williams, Sr., F, Louisville: Williams nearly had a triple-double with 24 points, 16 boards and eight assists in 43 minutes in a win over Notre Dame Monday night. Williams followed that up with 20 points and seven boards in a thrilling comeback win over Pitt. The Cards needed not only Williams' senior leadership, but more importantly, his production for their current five-game win streak that included victories over Kentucky, Notre Dame and Pitt at home and Villanova on the road.
Blake Griffin, So, F, Oklahoma: Griffin is the favorite to win the national player of the year award as he continues to dominate his position. He started the week with 20 points and 10 boards in a win over Texas. He then took up space and scored 16 and grabbed six boards in a foul-plagued (four) effort at Texas A&M. The Sooners won both and are the team to beat in the Big 12.
Team of the Week: Wake Forest Demon Deacons
Last week
: Beat North Carolina 92-89; won at Boston College 83-63; won at Clemson 78-68.
Just look at those three games above. How many teams this season have had as good a week as Wake? The job Dino Gaudio and his Wake Forest staff are doing is phenomenal. There is tremendous cohesion with this group -- it is a selfless crew in the locker room, a group that feels a bit edgy after falling flat last season once it beat Duke. Not making the postseason last season was the best thing that could've happened to this group. The coaches have nurtured freshman Al-Farouq Aminu, and made sure Tony Woods and even seldom-used Ty Walker bought into the team concept. They have a superstar in Jeff Teague, a matchup nightmare in James Johnson and plenty of rugged role players, including Chas McFarland. Selecting Meeks as player of the week and Wake Forest as team of the week may be the easiest choices for this column all season.
Hot, hot, hot
Marquette
: The Golden Eagles are 5-0 in the Big East after their win over Providence. Marquette has answered every challenge so far in the Big East. It will get incredibly tougher, but so far there's no reason to believe Marquette won't survive.
Mississippi State: The Bulldogs beat rival Alabama and Vanderbilt and have assumed favorite status in the SEC West with a 3-0 start.
Northern Iowa: The Panthers have won six in a row and are 4-0 on the road in the Missouri Valley with wins at Southern Illinois (their first in 11 years), at Creighton (first in 12 years), at Evansville (handing the Aces their first home loss of the season) and at Drake, a game in which UNI was ahead by 37 at one point. The Panthers are in first place in the Valley at 6-1.
Duke: The Blue Devils are defending as well as they have at any point in the season. Duke won at Georgia Tech and ran away from Georgetown this past week. Duke can lay claim to a potential No. 1 spot in the poll, a share of first place in the ACC and a bid to be a No. 1 seed if this continues.
Butler: What Davidson is to the Southern Conference and Gonzaga is to the WCC, Butler has become to the Horizon -- a lock to dominate every season. Butler is off to a 16-1 start, and is 7-0 in the Horizon after winning two straight games on the road last week at Loyola, Ill., and UIC.
Michigan State: The Breslin Center was rocking as well as any arena in the country for the Illinois game Saturday afternoon. And with good reason: the Spartans are rolling. With wins this past week at Penn State and over the Illini, MSU moved to 15-2 (5-0 Big Ten).
Florida: The Gators won at Auburn and beat Arkansas at home to continue their roll of late. Florida is getting much more balanced play and is putting itself in position for a potential showdown, once again with Kentucky, for the SEC East if Tennessee can't shake its funk.
Minnesota: The Gophers lost the Big Ten opener to Michigan State. Since then, they've reeled off four wins in a row, including a monster victory at Wisconsin in overtime last week. The Gophers are an amazing 16-1.
Connecticut: The Huskies roared through a three-game road trip in the Big East that started out at West Virginia, went through Cincinnati and this past week ended at St. John's.
George Mason: The Patriots are set up for a showdown at Northeastern on Wednesday night after moving to 7-0 in the CAA with a win over James Madison. NU got clipped at Hofstra late, but still has only one loss in the league.
Long Beach State: Dan Monson has some good karma flowing on the beach. The 49ers are 5-0 in the Big West after beating Cal State-Northridge. This is the best start in the Big West for Long Beach State since the 1999-2000 season, when the 49ers went 9-0.
Oklahoma: Beating Texas and Texas A&M in the same week is good stuff for the Sooners in their quest to be the Big 12 champs and a potential No. 1 seed.
Bizarre stat
Auburn sports information director Chuck Gallina provides this odd sequence during Saturday's win over Alabama: "With 15:51 remaining in the first half and Auburn holding a 13-6 lead on Alabama, Auburn's
DeWayne Reed
stole the ball from Alabama's
Mikhail Torrance
, drove down the court, was intentionally fouled on a layup … that went in [for two points]. Reed then made the two foul shots [from the intentional foul]. The Tigers then had possession and Auburn's
Frankie Sullivan
made a 3-pointer … all for a seven-point possession for the Tigers. With only nine seconds elapsed from the clock, Auburn increased a 13-6 lead to 20-6."
Signature wins
Louisville over Pitt
: The Cardinals needed something to say that they are still a Final Four threat. This was it.
Arizona State over UCLA: The Sun Devils needed a win that said they should be taken seriously in the Pac-10 race. This was it.
Louisville upsets No. 1 Pitt
Wake tops Clemson
Rebound weeks
Washington State
: The Cougars beat Stanford by one on Jan. 10 after losing three in a row. Then the Cougars went on the road and swept the Oregon road swing to climb to 3-2 in the Pac-10 and improve to 11-6 overall to remain in pursuit of an NCAA bid.
LSU: The Tigers opened SEC play with a road loss at Alabama but then came back and beat South Carolina at home and Ole Miss on the road. Those wins made the Tigers 2-1 in the league and 14-3 overall, and helped them look more like the team they were projected to be earlier in the season.
Missouri: The Tigers got off to a disappointing start in the Big 12 by losing to Nebraska on the road, but then squashed Colorado (107-62) and Iowa State (77-46) to move to 2-1.
Florida State: The Seminoles weren't able to beat Duke at home on Jan. 10, but look like they might be atop the second tier of teams in the ACC after managing a road win at NC State and an overtime win over Maryland.
Ellington leads Heels
Bad weeks
Notre Dame
: The Fighting Irish couldn't catch Louisville on the road in overtime, and then were run out of the Carrier Dome in a difficult road swing for any team.
Maryland: The Terps could have swept a road trip to Miami and Florida State but instead came up empty. The Terps had a double-figure lead at Miami and lost on a last-possession 3-pointer, then they couldn't get past FSU in overtime.
Boston College: The Eagles were crushed by Wake Forest (no shame in that) and then couldn't catch Virginia Tech in Blacksburg. This wouldn't draw much attention had the Eagles not followed up their win over North Carolina with losses to Harvard and Miami.
Drake: The Bulldogs fell to 4-3 in the Valley after losing at Indiana State and then at home against Northern Iowa.
Creighton: It was only a matter of time before Wichita State pulled off a game like this and it came at the expense of Creighton. Wichita State smoked the Bluejays by 13 and Creighton slipped to a surprising 4-3 in the Valley.
Wisconsin: Suddenly the Kohl Center isn't so daunting. Wisconsin lost a Big Ten home game to Minnesota in overtime (after losing a Big Ten road game to Purdue) and earlier in the season lost a nonconference game to Texas.
Tennessee: Yes, the Vols gave up 54 points to Jodie Meeks. But more importantly, the Vols lost a key home game in the SEC East race. Tennessee did rebound to beat South Carolina, but the damage was already done. Tennessee lost a home game and that could haunt its chances to win the SEC East.
Syracuse tips Notre Dame
Eight places to be this week
Pittsburgh, Monday
: Yet another great matchup at the top of the Big East -- Syracuse is coming off of a win over Notre Dame, while Pitt is nursing a late-game loss to Louisville.
Chapel Hill, N.C., Wednesday: Clemson hasn't won at the Dean Dome -- ever. We'll see if the drought continues against a recharged North Carolina.
Boston, Wednesday: George Mason takes its undefeated CAA record into a matchup with one-loss Northeastern in what could be a preview of the CAA tournament title game.
Provo, Utah, Wednesday: Despite BYU's loss at New Mexico and UNLV's loss to TCU, the Cougars and Runnin' Rebels still may be the best two teams in the Mountain West.
Seattle, Saturday: UCLA has had its troubles at Washington, even in the Huskies' down years. This isn't one of them. The Huskies are ready to challenge for a top-three finish in the Pac-10.
South Bend, Ind., Saturday: Notre Dame is a completely different team at home. The Irish get a road-tested Connecticut on this night.
Baton Rouge, La., Saturday: LSU needs a signature nonconference win and gets a shot with Xavier visiting Baton Rouge.
Knoxville, Tenn.: Surely, Tennessee can't lose another marquee home game, can it? The Vols already lost to Gonzaga and Kentucky, and on this night, rival Memphis comes calling.