Five things to know this offseason
The raid that didn't happen: When deciding the winners and losers after the conference expansion that didn't exactly happen (at least not yet), the Atlantic 10 emerged as one of the biggest winners. If a massive shakeup had occurred, the projected domino effect would have seen Big East football powers filched and the trickle-down might have destroyed the A-10. Prognostications and predictions envisioned the Catholic (and non-FBS football) Big East schools forming alliances with the Catholic A-10 schools (think Dayton, Xavier and perhaps Saint Louis). Instead the league emerges unscathed and in business.
Winning isn't anything, but it sure is something: Otherwise, how to explain the dismissal of Bobby Lutz at Charlotte and the December firing of Dereck Whittenburg at Fordham? Charlotte athletic director Judy Rose made no bones about her decision, explaining to me, "We're not an [intramural] program. This isn't a church league. We want to win." Fordham, in the meantime, canned Whittenburg in December, one day after top player Jio Fontain announced his decision to transfer.
They're baaaack: Kevin Anderson and Chris Wright, that is. Anderson, the defending conference player of the year, and Wright, a one-time league rookie of the year, are the equivalent of archeological finds in college basketball: They're seniors. Their return adds instant star power to the Atlantic 10.
Signed, sealed : The Atlantic 10 doesn't consider itself some steppingstone for bigger and better things. University administrations are making sure things remain that way, locking up their talented coaches before someone else can come calling. After a breakout season at Richmond, Chris Mooney was on the short list at Boston College. Instead, he signed a contract extension through 2017. Fran Dunphy was rumored to be on Rutgers' wish list. The Temple boss, who led the Owls to their third A-10 tournament title and a No. 5 seed in the NCAA tournament, just re-upped through 2018. Jim Baron, who took Rhode Island to a 26-10 record and the NIT semifinals, added a year to his deal, keeping him at URI through 2014.
Numbers don't lie: The A-10 long has insisted it is a major conference masquerading in a mid-major moniker. Last season, the league lived up to its own billing, finishing with the sixth-best RPI in the country. That's the highest finish since the UMass/Temple heyday of 1993-94. With the bulk of its talent returning -- Kevin Anderson, Chris Wright, Damian Saunders and Andrew Nicholson, to name a few -- the league will be expected to be equally successful this season. Someone joining Xavier as an NCAA tournament success story will be the next step, though.
Jay Bilas predictions
1. Xavier: Xavier does not just have good teams, it has a program. Chris Mack did an outstanding job in his first season at the Musketeers helm, and he made the point clearly that he didn't believe XU was a "mid-major." The Xavier program will again be healthy and competitive. Gone is Jordan Crawford, but returning are guards Terrell Holloway, Dante Jackson, Brad Redford and Mark Lyons. Jackson is one of the A-10's best individual on-ball defenders, and Redford is one of its best open shooters. Up front, Mack can rely on Kenny Frease and Jamel McLean to be physical defenders and finishers. The Musketeers will be good. Again. It is in their DNA.
[+] Enlarge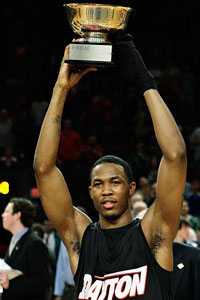 AP Photo/Frank Franklin IIThe NIT title was nice, but Chris Johnson and Dayton are expecting nothing less than an NCAA tourney trip this season.
2. Dayton: Of all of the important returnees around the nation, the most important might have been Dayton coach Brian Gregory. It is hard to believe a big-money program did not lure Gregory away because he is the real thing. Gregory is among the finest coaches in the business, and Dayton is fortunate to have him. The Flyers will enter the 2010-11 season with championship experience, having won the NIT in a very good field. The horse Gregory will ride to the NCAA tournament is Chris Wright, who will be an NBA player. He has to carry the scoring load and the leadership role on this team. Chris Johnson provides another quality athlete and scorer to complement Wright. Dayton will defend, rebound and play hard together, but the key will be guard play. If UD gets good guard play, it will be in the A-10 hunt and in the NCAA tournament.
3. Temple: The Owls were better than they showed in their first-round loss in the NCAA tournament, but part of that was the Cornell team they ran into. Temple won 29 games last season, and it could have been a Sweet 16 team with the right draw. This season, Fran Dunphy returns stud rebounder and scorer Lavoy Allen (who played for the USA select team that played against the USA national team) and Juan Fernandez, an outstanding guard. A key will be the continued development of Micheal Eric, who can be a difference-maker inside. Freshman guard Aaron Brown should help immediately and has international experience.
4. Richmond: The Spiders return one of the best guards in the country in Kevin Anderson, who is enough to place Richmond among the best teams in the Atlantic 10. Anderson is quick, is skilled with the ball and has a knack for scoring. Justin Harper, Kevin Smith and Dan Geriot return to add experience and toughness to Anderson's dynamic playmaking and scoring ability. Opposing teams should not make the mistake of thinking that Richmond is a deliberate Princeton-style team. This team looks to score quickly and is very well-drilled and disciplined.
5. Saint Louis: Rick Majerus has the Billikens ahead of schedule. Last season, Saint Louis was young and expected to finish near the bottom of the Atlantic 10. But under Majerus, the Billikens were tough defensively and played beyond their years for much of the season. This year is the next step in the development of a very good team and an emerging program. Saint Louis will again be led by guard Kwamain Mitchell, who averaged 16 points per game while knocking down 64 3-point shots. Willie Reed, a 6-9 forward, averaged 12.4 points but could have been even more productive had he been able to knock down free throws. Add in Kyle Cassity, who led the team in assists, and you have a good nucleus returning from a 23-win team. SLU needs to rebound better and improve its efficiency from the foul line to take the next step.
6. Charlotte: First-year coach Alan Major inherited some quality talent from longtime 49ers coach Bobby Lutz. Charlotte won 19 games last season but faltered down the stretch. Shamari Spears can be a beast inside, and he averaged 16 points and 6 rebounds per game. Chris Braswell was one of the top offensive rebounders in the league, and Derrio Green has the ability to score in bunches. The key will be point guard play and defensive toughness. Charlotte was a better defensive team than people gave it credit for last season. The 49ers can get up and down the floor and look to score, but they need to score more efficiently and take even greater pride in stopping people.
[+] Enlarge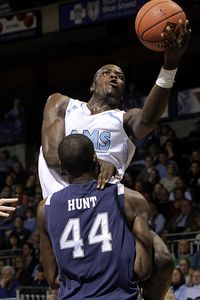 AP Photo/Joe GiblinDelroy James and URI won 26 games last season, but the Rams haven't "danced" since 1999.
7. Rhode Island: The Rams won 26 games last season while allowing opponents to shoot a remarkable 46 percent on field goals and being outrebounded on the year. Returning are seniors Marquis Jones and Delroy James, and they have to set the tone for a major defensive improvement for Rhody to have another good season.
8. Duquesne: The Dukes finished the 2010 season at 16-16 and return one of the most underrated players in the country in Damian Saunders. Last season, Saunders averaged 15.0 points and 11.3 rebounds and blocked 94 shots. If Saunders could shoot free throws, he would be even more productive. The question for Duquesne is, where will Saunders get significant help? Guard Bill Clark needs to increase his production and take on more of a leadership role for Duquesne to be a better team. Losing Melquan Bolding to transfer doesn't help.
9. La Salle: The Explorers lost top scorer Rodney Green and weren't able to get another year of eligibility out of Kimmani Barrett. But Aaric Murray provides scoring, rebounding and the ability to block shots (70 blocks last season) and is a top NBA prospect. He can't do it alone, though. John Giannini needs help from some less-expected sources for the Explorers to finish in the upper half of the league. La Salle has to tighten up its D (44 percent field goal defense) and take better care of the ball to move up the A-10 ladder.
10. St. Bonaventure: The Bonnies lost 25 points per game with the departures of guards Chris Matthews and Jonathan Hall. Matthews could really shoot it (101 3-pointers), and Hall could really rebound and get to the free throw line. The good news is that Andrew Nicholson is returning, and he is among the best emerging players in the Atlantic 10. Last season, Nicholson averaged more than 16 points and 7 rebounds and almost 2 blocks, shooting better than 56 percent from the floor.
11. Massachusetts: The Minutemen finished 12-20 last season and lost leading scorer Ricky Harris to boot. But with the return of Anthony Gurley, Terrell Vinson and Freddie Riley, there is some talent to work with. The key for UMass is to defend better (44 percent field goal defense), keep from turning the ball over (66 more turnovers than assists and more turnovers than its opponents), and work for better shots (40 percent field goal shooting).
12. Saint Joseph's: The Hawks will be very young and inexperienced, but Phil Martelli is at his best when bringing a young team along. However, Martelli's team might still be a year or two away. After an 11-20 season, Saint Joseph's needs a talent upgrade -- and needs to defend and rebound. The Hawks were outshot and outfought last season, and they were outrebounded by an average of eight boards per game. Things will get better on Hawk Hill, but there will be some bumps in the road because of the young kids Martelli has to teach how to play.
13. George Washington: Seems hard to believe, but it's been only four years since GW went 27-3 and a perfect 16-0 in the Atlantic 10. The Colonials have dipped down to mediocre the past few years, but they do return -- sans leading scorer Damian Hollis -- most of their contributors from a team that at least showed some signs of life last season. Will Karl Hobbs be able to right the ship and turn GW around?
14. Fordham: Think Tom Pecora has a bit of a rebuilding job to do? Over the past two seasons, the Rams have gone 1-31 in the A-10 and 5-51 overall. Ouch. The good news is that rising sophomore Chris Gaston, who averaged 18 points and 11.4 rebounds a game as a freshman, is the real deal. The bad news is that there aren't any other Chris Gastons at the moment.
Ten players to watch
Lavoy Allen, Temple: After a solid season, Allen spent part of the summer working with the USA select team. The experience ought to make the forward, a key to the Owls' success this year, even more of a force.
[+] Enlarge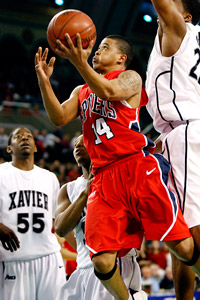 AP Photo/Mel EvansKevin Anderson led the Spiders with 17.8 ppg last season.
Kevin Anderson, Richmond : The breakout star for the breakout Spiders returns for his senior season and is the reason Richmond, an upstart surprise last season, is considered a conference front-runner this season.
Chris Gaston, Fordham : The one-man wrecking crew for the Rams averaged 18 points and 11.4 rebounds and racked up 50 blocked shots, 43 assists and 26 steals. That he returns gives Fordham and Tom Pecora hope for a brighter future.
Anthony Gurley, Massachusetts : Without Ricky Harris, the Minutemen are officially in Gurley's hands. That's good news for Derek Kellogg as Gurley proved more than up to the challenge last season, averaging 13.6 points and 4.2 boards.
Terrell Holloway, Xavier : The point guard saved his best for last, scoring 26 points to go with six assists as Xavier took Kansas State to the wall in the Sweet 16. He'll need that and more this season as the Musketeers move on without Jordan Crawford.
Delroy James, Rhode Island : The talented forward starred for the Rams last year and could help Jim Baron reach the NCAA tournament for the first time since taking over at URI in 2001.
Kwamain Mitchell, St. Louis : If the Billikens are going to wear the new hat as conference contenders, Mitchell will have to lead the way. The guard set the tone last season, dishing out more than 100 assists while still managing to score 15.9 per game himself.
Andrew Nicholson, St. Bonaventure : The talented Canadian more than lived up to his advanced billing, averaging 16.4 points and 7.1 rebounds. The Bonnies need more of the same from him this season if they want to move up the standings.
Damian Saunders, Duquesne : Part of a deep and talented Duquesne team, Saunders has the talent to work his way into player of the year conversations if he can lift the Dukes above the fray.
Chris Wright, Dayton : The one-time rookie of the year put off the chance at the NBA for a little while and has all the makings of a player of the year as the Flyers try to turn their NIT title into NCAA gold.
Team capsules

Charlotte: Bobby Lutz fired and Alan Major was hired for one reason: the 49ers' inability to get to the NCAA tournament. The good news for Major, with Shamari Spears and Chris Braswell anchoring the frontcourt and Derrio Green in the backcourt, he has a team that could do it. Charlotte was on track last time around before a perplexing 1-7 free fall at the end of the season.

Dayton: The preseason favorite faded late and missed the NCAA tournament, but rather than fold, the Flyers showed some mettle by winning the postseason NIT. With Chris Wright and Chris Johnson back and the addition of ESPNU 100 recruit Juwan Staten, much will be expected of Dayton … again.

Duquesne: Rumors of the Dukes' arrival were slightly premature. With visions of its first NCAA tournament berth in 33 years, Duquesne instead fizzled and faltered to a 16-16 record. But fueled by that disappointment and with five of their top scorers back on the court, the Dukes have reason to hope again. Damian Saunders, Bill Clark & Co. ought to be salivating at the chance for a do-over.

Fordham: There is much for Tom Pecora to do. The Rams finished 0-16 in the league, losing their final 21 to put a dismal finish to a dismal season. There's obvious evidence of the problems: Allowing 79 points per game while shooting only 38 percent from the field isn't going to win a lot of games. But Pecora has something to build around: namely rookie of the year Chris Gaston and an administration that promises to up his budget.

George Washington: With 10 of the 12 players who saw significant playing time back, the Colonials should continue the improvement that saw them go from 10-18 to 16-15. Lasan Kromah, an all-rookie team selection, showed signs of being something special. Ditto point guard Tony Taylor. The next step is teaching those young players to last a whole season. GW started off 11-3, but faded down the stretch.

La Salle: The Explorers' hopes of a breakout season were done in by injuries, with three of La Salle's four seniors benched for chunks of games. It's a new season, and hope springs eternal once more -- and at La Salle, it wears Aaric Murray's uniform. The sophomore-to-be showed his promise as a freshman, averaging 12.4 points and 6.6 rebounds per game. He's a talented scorer and a defensive presence -- he was second in the nation in blocked shots among freshmen -- and will need to be all that and more as the Explorers deal with the graduation of Rodney Green and his 1,914 points.

Massachusetts: The Minutemen lose the scoring punch of Ricky Harris (19.8 ppg) and will be young as Derek Kellogg continues to grow the program, with a roster stuffed with five sophomores and three freshmen. But with Anthony Gurley and Terrell Vinson to build around, UMass -- which won its first A-10 tourney game in eight years last season -- has reason to be cautiously optimistic.

Rhode Island: This much is a given: Rhode Island will be big. With 7-3 Blake Vedder lining up alongside 7-foot Will Martell, the Rams will have their tallest lineup in school history. Vedder is something of a diamond in the rough, a soccer star before growing 12 inches in high school. Fortunately, Vedder doesn't have to star immediately because Jim Baron also returns Delroy James in the frontcourt and Marquis Jones and Stevie Mejia in the backcourt from a team that won 26 games en route to the NIT Final Four.
Richmond: After a breakout season, everyone loves the Spiders. Richmond is in virtually every preseason poll thanks largely to the return of Kevin Anderson. But although there is much to be excited about at UR, there is at least one gaping hole to fill: the one left by David Gonzalvez. Anderson's wingman graduated after scoring more than 1,700 points in his career.

St. Bonaventure: Andrew Nicholson (16.4 ppg, 7.1 rpg) returns, but if St. Bonaventure wants to get above .500, someone other than Nicholson has to become a proven scorer after the graduation of Jonathan Hall and Chris Matthews. Michael Davenport is a good candidate. But the task grew slightly more difficult for Mark Schmidt when Malcolm Eleby, the Bonnies' playmaking point guard, left the team after an on-campus fight this year.

Saint Joseph's: First the bad news for the Hawks: Leading scorers Darrin Govens and Garrett Williamson have graduated. Now the good news: C.J. Aiken, Daryus Quarles and Langston Galloway (who looked at LSU, Stanford and Oklahoma State before joining his uncle, Saint Joe's assistant coach Geoff Arnold) are on campus. The freshman trio forms one of the best recruiting classes Phil Martelli has had in years and ought to help the Hawks get out of their sub-.500 blues.

Saint Louis: The Billikens go from being one of the youngest teams in the country -- 11 of 12 scholarship players last year were underclassmen -- to a dark-horse contender in the league thanks to the return of Kwamain Mitchell, Willie Reed, Kyle Cassity and Cody Ellis. Don't forget that this is a team that finished 11-5 in the A-10 while flying under the radar. Can SLU handle the expectations?

Temple Despite all of his successes since moving from West Philly to North, Fran Dunphy remains dogged by his NCAA tournament record. He has won just once, back in 1994, and is 0-3 at Temple. Fair? Probably not, especially given that last year's Owl team was supposed to be middle of the pack. The good news for Dunphy is that this year's team ought to be picked near the top of the league with Lavoy Allen, Juan Fernandez and Michael Eric back as starters and regular sub Ramone Moore ready to slide into a starting role.

Xavier: The Musketeers keep hiring from within and keep on winning. In his first year, Chris Mack kept Xavier on its NCAA tournament gravy train, rolling to the Sweet 16 before losing to Kansas State in an all-time classic. Now the hard part -- keeping it going without Jordan Crawford and Jason Love. Dante Jackson and Terrell Holloway provide the experience, and Justin Martin, rated 46th in the ESPNU 100, comes with plenty of expectations.
-- Dana O'Neil
Best case/Worst case
How good can your team be? How bad? Over at the Nation blog, Eamonn Brennan breaks down the best-case/worst-case scenarios for each team in the Atlantic 10. Blog
Nonconference games to watch
Rhode Island at Pitt, Nov. 8: A URI team that gathered up some postseason momentum in March travels to the Oakland Zoo, one of the toughest home gyms in the country, in an early-season game against a Panthers team that will be preseason top 10.
La Salle at Baylor, Nov. 16 : Dr. John Giannini is in the process of restoring the luster to the Philly school. Playing the Bears on national TV in the Tip-Off Marathon gives the Explorers a chance to show how far they've come. Or how far they have to go.
Purdue vs. Richmond (potentially), Nov. 27 : If the Boilermakers get past Southern Illinois and the Spiders take care of Wright State in the Chicago Invitational, this could be a very tasty Thanksgiving feast.
Temple at Maryland/Georgetown, Dec. 9/11 : Fran Dunphy clearly is following John Chaney's lead, scheduling like a madman in the nonconference. This D.C. swing is part of a crazy early-season slate that will test the Owls.
Saint Louis at Duke, Dec. 11 : It might be a tall order for the rising Billikens to upset the defending national champions at Cameron Indoor Stadium, but win or lose, this will be a great barometer for Rick Majerus' squad.
Butler at Xavier (date TBA): A clash of the NCAA tournament giant killers gets an added dose of intrigue after last season's controversial timekeeper error at Hinkle Fieldhouse.
George Mason at Duquesne, Dec. 22 : The Dukes are trying to become a mid-major player. The Patriots have been there, done that. This will be a good test for Duquesne.
Florida at Xavier, Dec. 31 : A veteran and deep Gators team might just be the SEC favorite. This will be a good way for the Musketeers to wind up the calendar year and ready themselves for the conference slate.
New Mexico at Dayton, Jan. 1: These two teams started the new year with a thriller in 2010, with New Mexico grabbing a two-point win at The Pit. No reason to expect anything less for 2011.
Temple at Duke, Feb. 23 : Nothing like a little conference breather … at Cameron Indoor … against the defending national champions.
-- Dana O'Neil
New Faces, New Places
Alan Major, Charlotte: He learned the skills of coaching under Gene Keady while a student at Purdue and has refined them over the past 18 years as an assistant, most recently under Thad Matta. Now Major is ready to put his skills to work at Charlotte. Dana O'Neil
Tom Pecora, Fordham: He was racking up winning season after winning season at Hofstra. So why is Pecora taking over a program that hasn't won in decades? In the words of the man himself, he is "sick and demented." Dana O'Neil
For a list of Division I coaching changes and our New Faces, New Places profiles, click here.
2009-10 Atlantic 10 standings
| | A-10 record | Overall record |
| --- | --- | --- |
| Temple* | 14-2 | 29-6 |
| Xavier* | 14-2 | 26-9 |
| Richmond* | 13-3 | 26-9 |
| Saint Louis | 11-5 | 23-13 |
| Rhode Island | 9-7 | 26-10 |
| Charlotte | 9-7 | 19-12 |
| Dayton | 8-8 | 25-12 |
| Duquesne | 7-9 | 16-16 |
| St. Bonaventure | 7-9 | 15-16 |
| G. Washington | 6-10 | 16-15 |
| Massachusetts | 5-11 | 12-20 |
| Saint Joseph's | 5-11 | 11-20 |
| La Salle | 4-12 | 12-18 |
| Fordham | 0-16 | 2-26 |