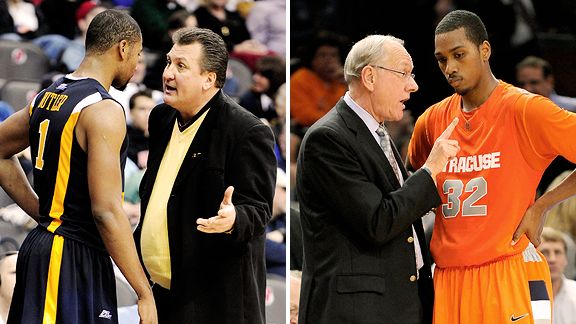 Icon SMIPoints will be at a premium when Bob Huggins' and Jim Boeheim's squads square off Saturday.
No. 5 Syracuse at No. 9 West Virginia
When and where: Saturday at noon ET (ESPN), WVU Coliseum
What's special about Syracuse: Defense. Nobody plays defense like Syracuse does. Some think it is a simple 2-3 matchup zone with some complicated slides, but it is not. Jim Boeheim's zone is played with man principles; it's predicated on playing the angles and accounting for personnel and scouting reports.
The Orange invite you to the sideline and corners to be trapped, and they invite you to shoot as many challenged 3-point shots as you might like. Boeheim secretly hopes that you will hit your first few and keep shooting them throughout the game.
Every year, Syracuse is in the top two or three in the Big East in 3-point field goal defense because opponents take the seemingly easy way out: They shoot too many 3s. Want proof? Syracuse has made one fewer 3-point field goal than its opponents this season, but its opponents have 106 more attempts.
What's special about West Virginia: Length and athleticism. The Mountaineers all are long-armed, athletic and about the same size, so Bob Huggins can have his team switch screens all over the floor. And the Mountaineers have a bunch of offensive rebounders who can get second shot after second shot.
How will Syracuse win: Syracuse consistently gets better shots, shoots more free throws and forces more turnovers because its opponents lose patience and discipline. It may not always be aesthetically pleasing, but it works.
How will West Virginia win: The Mountaineers consistently guard people, rebound and get second shots. It is pretty simple stuff, but it is hard. And, Bob Huggins' teams do what is hard.
Syracuse's best player: The Orange's best player came from Iowa State. Transfers are seldom this successful and valuable, but Wesley Johnson has proven to be the real deal. When Johnson was sitting out last season, Boeheim would tell people that Johnson was going to be All-Big East and his best player. Most coaches exaggerate such things, but Boeheim never does. And he was right.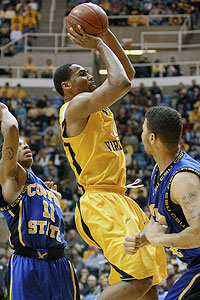 AP Photo/David SmithDa'Sean Butler's versatility is an integral dimension to West Virginia's offense.
West Virginia's best player: Bob Huggins loves guys who know how to play, and there are too few of them playing today. Huggins loves Da'Sean Butler. The 6-foot-7 swing forward can handle the ball and drive it, and he can hit big shots. Butler can play anywhere on the floor, and he can be a big part of West Virginia's attack versus Syracuse because he can penetrate the zone and make a play when he does.
Syracuse's most important player: Andy Rautins. The senior sharpshooter is the Orange's best perimeter defender and leads the team in assists, steals and made threes, and when he plays well, Syracuse wins. Few players are as undervalued as is Rautins. He can really play.
West Virginia's most important player: Kevin Jones. The sophomore forward is one of the most improved players in the Big East and one of the most versatile and productive forwards on a team of versatile and productive forwards. Jones is second on the team in scoring, rebounding and steals, and he shoots 62 percent from the floor.
Orange X factor: Rick Jackson. The big lefty uses his body well and establishes position, and nobody can push him off of it. West Virginia will have trouble guarding the big bodies of Jackson and Arinze Onuaku.
Mountaineers X factor: Casey Mitchell. The junior college transfer is a very capable but streaky 3-point shooter. Mitchell will get some opportunities, and if he hits a couple, it will stretch the Syracuse defense a bit.
Stat to watch: Rebounding. Can West Virginia keep Jackson, Johnson and Onuaku off of the glass, and can the Mountaineers get their own offensive rebounding opportunities? West Virginia is the better rebounding team, but rebounding against the zone is a different animal.
Hold your ears when: The Mountaineer, a scholarship performer in a raccoon skin cap, fires off that musket before the game. The first time I was in Morgantown for a game and he fired off that gun, I had to dive under the broadcast table.
Who wins: West Virginia does not have a great point guard. Rather, it does it by committee, and unless the Mountaineers can attack the gaps of the zone to get into the lane or into the short corner and make smart plays, they'll struggle. West Virginia is very good, but I believe that Syracuse wins this one.
No. 11 Georgetown at No. 4 Villanova
When and where: Sunday at noon ET (ESPN360.com), Wachovia Center
What's special about Georgetown: The Hoyas have three scorers who can take over in any given game. Austin Freeman is averaging more than 20 points per game in Big East play; Chris Wright put up 34 points against Harvard, averages just under 15 points per game on 50 percent shooting and is automatic at the free throw line; and Greg Monroe averages 14 points and 10 rebounds and has the ability to be special when the spirit moves him.
What's special about Villanova: Guards, guards, guards. And Jay Wright empowers his guards to make plays. The Wildcats have weapons at every guard spot, and they are playground-tough with the ball. Scottie Reynolds, Corey Fisher, Maalik Wayns, Reggie Redding, Corey Stokes and Dominic Cheek all are capable playmakers, but in different ways.
[+] Enlarge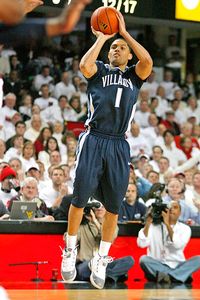 Andy Lyons/Getty ImagesScottie Reynolds is the most dangerous of Nova's guard-heavy arsenal, as evidenced by his 36-point outburst against UL.
How Georgetown will win: The Hoyas will have to take Villanova out of transition, control the ball and control the tempo by running offense, handling pressure and making Villanova chase. If the game is in the 70s or 80s, Villanova will have the advantage. If the game is in the 60s, Georgetown will have the upper hand.
How Villanova will win: The Wildcats will need to attack, and if Georgetown plays zone, Villanova will have to get into the lane. Georgetown's first-shot defense is good, but the Hoyas are not a great rebounding team. If Villanova can get second opportunities and extra possessions, the Wildcats will win.
How Georgetown can lose: The Hoyas can't turn the ball over. Villanova really goes after the ball, and if you are not strong with it, the Wildcats will take it from you.
How Villanova can lose: If Villanova does not come out with an attack mentality and play harder than Georgetown, the Wildcats lose the edge they have over the Hoyas. Villanova does not just win on talent. The Wildcats win with a gritty edge and a Philly toughness. They need to bring it.
Georgetown's best player: It depends upon the day, but Greg Monroe is the one player whom Villanova will have the hardest time guarding. Monroe is very skilled, can score with his back to the basket and can face up and drive it. Although he is not shooting well from the free throw line, Monroe can be the difference-maker.
Villanova's best player: Scottie Reynolds is the best point guard in the Big East, and he is having a magnificent season. Reynolds is a great advertisement for staying in school until you are a finished product and reaping the benefits from it. Against Louisville, a team he has always struggled against, Reynolds put up 36 points and played a near-perfect game in the middle of pure chaos. He is a respected player.
Georgetown's most important player: Chris Wright. When Wright plays well -- and he can really play well at times -- Georgetown can be really good. Wright is quick and strong with a very good feel for the game, and while a streaky shooter, he can score.
Villanova's most important player: Reggie Redding. Although he did not play well at all against Louisville, the Wildcats still won. Redding is a leader and the best defender whom Jay Wright has. He also brings a level of toughness that no other Villanova player has.
Hoyas X factor: Julian Vaughn. He is big and long-armed and can rebound and finish plays. He can also patrol the lane in the Hoyas' zone, and he can challenge and block shots.
Wildcats X factor: Maalik Wayns. If you remember Kyle Lowry, meet Maalik Wayns, who is just like him except Wayns can shoot it. Wayns is dynamic and explosive in the open floor, and he has the ability to score. He is the next in a long line of outstanding Villanova guards.
Stat to watch: Possessions and free throws. The faster the tempo, the more possessions there will be. The more possessions there are, the better it is for Villanova. Can Villanova get to the free throw line? If so, Villanova will have a great chance to win.
Who wins: Villanova is starting to come together, and the addition of Mouphtaou Yarou adds a different dimension. Villanova has to make shots, but even if it is a slugfest, I like Villanova to win a typical Big East grinder.
Other games to keep an eye on
Saturday
Dayton at Xavier, 11 a.m. ET (ESPN2): Xavier has to now be considered a real player to win the A-10 after quietly going about its business to start the league. Dayton has struggled to close out games and nearly got clipped by Duquesne in overtime. Xavier is the hotter team now and should win this game at home in what has become the A-10's best rivalry.
Ole Miss at Tennessee, 1:30 p.m. (ESPN360): I sense a sneaky upset by the Rebels here. Ole Miss got knocked back by Mississippi State at home and then Eniel Polynice pulled one over Georgia with the inbounds play of the season in Athens. Tennessee allowed 11 3s against Auburn, and the Rebels have better guards than the Tigers.
Illinois at Michigan State, 3:30 p.m. (CBS): On the surface this is for first place in the Big Ten. But Illinois has been hanging on by a thread so far, barely squeezing out wins over Indiana and Penn State. The Spartans have finally found a bit of a groove, and as expected, they seem to be a tough out in the Breslin Center. I'd be shocked if Illinois could pull off this win.
Texas A&M at Texas, 6 p.m. (ESPNU): This is a sandwich game for the Longhorns between the road trip to Iowa State and a difficult task at Kansas State on Monday. But the Aggies don't have the size inside to take out the Longhorns in Austin. Texas isn't going to pick up its first loss here. The Longhorns are too deep and too tough inside for the Aggies.
Wisconsin at Ohio State, 8 p.m. (BTN): The Badgers are going with three guards in place of the injured Jon Leuer. Jordan Taylor had no issues meshing with Jason Bohannon and Trevon Hughes in the road win at Northwestern. But Ohio State is not close to the team the Badgers faced on New Year's Eve. Evan Turner has made the Buckeyes an instant Big Ten contender.
Sunday
Wake Forest at Duke, 8 p.m. (FSN): The Blue Devils aren't likely to lose at home this season. Wake Forest has had its moments with the road win at Gonzaga and a near victory at Miami. But Duke's defense should be enough to lock up the Demon Deacons. Wake has the size to compete with Duke up front, but can the guards contend with Jon Scheyer and Nolan Smith?
3-Point Play: Weekend Preview
Viewer's guide
All times ET
Saturday
11 a.m.: Dayton at Xavier (ESPN2)
Noon: Syracuse at West Virginia (ESPN)
Noon: Louisville at Pittsburgh (ESPN360)
1 p.m.: Missouri at Oklahoma (ESPN2)
1:30 p.m.: Ole Miss at Tennessee (ESPN360)
1:45 p.m.: Texas Tech at Kansas (ESPN360)
2 p.m.: Georgia Tech at North Carolina (ESPN)
2:30 p.m.: Cal at Washington (FSN)
3:30 p.m.: Illinois at Michigan State (CBS)
4 p.m.: Oklahoma State at Baylor (ESPN360)
4 p.m.: Notre Dame at Cincinnati (ESPNU)
5 p.m.: Wichita State at Creighton (ESPN2)
5:30 p.m.: Purdue at Northwestern (BTN)
6 p.m.: Texas A&M at Texas (ESPNU)
8 p.m.: Wisconsin at Ohio State (BTN)
Sunday
Noon: Georgetown at Villanova (ESPN360)
1:30 p.m.: Connecticut at Michigan (CBS)
8 p.m.: Wake Forest at Duke (FSN)

Syracuse-WVU: Hubert's Keys
I can't wait to see …
Doug Gottlieb
A couple of Pac-10 favorites get off to an early start as Cal and Washington do battle in Seattle. While many in the basketball world have written off both teams' at-large possibilities, there will still be a serious throwdown offensively Saturday.
This same game last year was bizarre as Washington totally outplayed Cal, only to give up a 10-point lead in regulation before eventually losing in three overtimes. Jerome Randle is coming off a 39-point, 9-assist outburst at Washington State, and though Cal is still without its top defender, Jorge Gutierrez, the Bears have a healthy Theo Robertson, who makes them a completely different team.
For the Huskies, Quincy Pondexter had 27 points in a dominating performance over Stanford on Thursday night. The Huskies have one of the best home-court advantages in the game, and though it is an early start (11:30 a.m. local), Bank of America Arena at Hec Edmundson Pavilion will be rocking.
In the Big 12, Oklahoma State travels to Baylor to take on the Bears after each team suffered what may go down as a bad loss following an outstanding home win. It seems many have forgotten Baylor crushed Oklahoma by 31 before losing to Colorado on the road, while Oklahoma State slammed Texas Tech before losing in overtime at Oklahoma.
Each team has an outstanding junior wing: LaceDarius Dunn for the Bears and James Anderson for the Pokes. Oklahoma State badly needs a road win with only a win at Stanford to claim so far this year. Baylor could use a boost before heading into the "Phog" to play Kansas on Wednesday.
Dana O'Neil
Georgetown at Villanova. OK, I'll be there, so I'm being selfish. But this classic Big East battle always is good entertainment, and with the way both teams are playing -- Villanova won the foul fest at Louisville and the Hoyas topped Connecticut -- I doubt it will disappoint this time around. Against the Wildcats' deep backcourt, Austin Freeman is going to have a much more difficult time going for the unconscious 33 he put up against the Huskies, but Villanova will have its hands full contending with Greg Monroe.
Andy Katz
I've been pushing the Northwestern story for months now. The Wildcats have a chance to be in the NCAA tournament for the first time. But the home loss to Wisconsin has put even more pressure on Northwestern to come up with a big-time win in the Big Ten. The chance is at hand with Purdue in Evanston, Ill.
Purdue got over run by Evan Turner in the second half of the loss to Ohio State. The Boilermakers are a more talented and better defensive team than Northwestern. But will they be as hungry as the Wildcats, who need this game more than the Boilermakers? This could be Northwestern's signature win.
Jay Williams
The race in the SEC continues, as two undefeated teams battle it out in Columbia, S.C., on Saturday afternoon. Winning on the road is very difficult to do in any conference; we have seen a ton of teams stand strong at home over the past week.
Vanderbilt completed a come-from-behind 65-64 victory at Alabama on Wednesday night and is trying to keep the road luck alive as the Commodores face a hungry and undermanned South Carolina team. The Gamecocks, without Dominique Archie and Mike Holmes, have been able to put themselves in great position with hard-fought victories over Auburn and LSU.
Being successful in conference play is all about defending your home turf. Devan Downey has to have another huge performance for South Carolina to have a chance to beat a solid Vanderbilt team at home.
Bruce Pearl likes his Vols' chances
Player to watch
Scotty Hopson, Tennessee
Since the Vols' New Year nightmare, Hopson has been exactly what Tennessee needed: solid. He put up 17 against Charlotte in the first game after four of his teammates were arrested and matched that effort in the upset of No. 1 Kansas.
Now with guard-happy Ole Miss rolling into Rocky Top, Hopson will have to do the scoring and the defending. A week ago the school rallied around the Vols amid their adversity, helping them score the upset of the Jayhawks. Now the shoe is on the other foot. In lieu of Lane Kiffin's kick in the pants, the university community could use something positive. Can the hoops Vols provide it once more? -- Dana O'Neil
Welcome Back, Mr. Turner
Evan Turner, Ohio State
Jay Bilas, Fran Fraschilla and I recently had a spirited debate about the Player of the Year at this point in the season and it did not include Evan Turner.
Needless to say, after watching Turner's 32-point outburst against Purdue, we'd probably like to include him now that he's healthy and back in the Buckeyes' lineup. Wisconsin comes in as the hottest team in the Big Ten after another solid win at Northwestern.
With Jon Leuer on the shelf and the Buckeyes climbing back to respectability, they need to remember the beatdown they took without Turner at Kohl and give a little back to the Badgers. In tight games without Turner, OSU took very quick, low-percentage shots. With Turner, the Buckeyes play off everything he does. While the rankings would lead you to believe that the Buckeyes are the underdog, a win versus Wisconsin would propel them to being one of the favorites in the league considering what lies ahead in the schedule. -- Doug Gottlieb