Terps' Vasquez, Kentucky receive praise

By Andy Katz
ESPN.com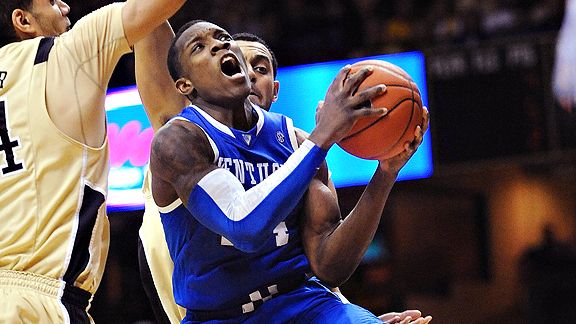 Jim Brown/US PresswireKentucky has won seven straight games since suffering its only loss of the season.
Editor's note: This edition is for games played from Monday, Feb. 15, through Sunday, Feb. 21.
Team Of The Week: Kentucky
Last week: Won at Mississippi State 81-75 in overtime; won at Vanderbilt 58-56.
Kentucky won two critical road games this past week in the SEC.
As well as Purdue and Kansas played, both of those teams played at home Saturday.
Kentucky is the marquee game for every SEC team and the freshmen are handling the chore quite well. There are natural lapses but the Wildcats find ways to win.
John Wall's block on the perimeter against Vandy was another example of the type of defensive play that the Wildcats are making at opportune times. Patrick Patterson's baseline jumper against Mississippi State was another example of the type of offensive play the Wildcats are making late in games to win.
Kentucky has locked up a No. 1 seed. Now the Wildcats are working on securing the SEC regular-season title.
Other Contenders
Purdue: The Boilermakers made a strong case for a No. 1 seed with a road win at Ohio State and a home win over Illinois. E'Twaun Moore might be this team's unheralded MVP.
Kansas: The Jayhawks handled another shot from a Big 12 contender, winning at Texas A&M in a hostile environment. That means KU has won at Kansas State, at Texas and at A&M. That is rather impressive. Oh, and the Jayhawks squashed Colorado, too.
Connecticut: Welcome back, UConn. A road win at Villanova and a necessary victory at Rutgers keeps hope alive in Storrs for a possible NCAA at-large berth.
Maryland: The Terps won three games this past week, beating Virginia in a makeup game, winning at NC State and beating Georgia Tech. They actually beat the Yellow Jackets twice, once when the first buzzer-beater shot was waved off by a timeout and then for real when Cliff Tucker hit the second. The Terps are firmly entrenched as a possible top-three ACC team.
Pitt: The Panthers ended the week before with a triple-overtime win against West Virginia but didn't lose the momentum. Pitt won at Marquette and beat Villanova on Sunday to improve its seeding stature in March.
Player Of The Week: Greivis Vasquez
The Terps had quite a week with a three-game sweep of Virginia, NC State and Georgia Tech. Greivis Vasquez thought he won the Georgia Tech game with a half-court runner but a timeout was called before the shot. Cliff Tucker hit a 3 for the victory when play resumed.
Vasquez scored a total of 74 points, had 19 assists and 17 rebounds in the three games. He continues to be one of the best leaders this season on a potential NCAA team.
Vasquez also became the sixth player in Maryland history to score 2,000 points and the only player in ACC history to reach 2,000 points, 700 assists and 600 rebounds in his career. Maryland is 11-3 since Jan. 3 and a lot of the credit has to go to Vasquez.
The Rest Of The Rotation
[+] Enlarge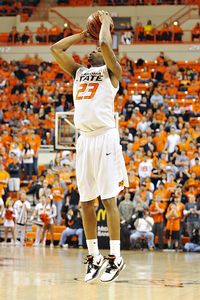 AP Photo/Brody SchmidtOklahoma State's James Anderson is in the discussion for Big 12 player of the year.
James Anderson, G, Oklahoma State: The Cowboys put themselves in the Dance, barring a collapse, with wins this week over Iowa State and Baylor. Anderson was sensational and is a lock for first-team all-Big 12 status (MVP?) after compiling 51 points and 20 rebounds. He also made 9 of 15 3s. He was marvelous in the win over Baylor with 31 points and 12 boards.
Randy Culpepper, G, UTEP: The Miners played one game this past week and it was a huge one -- a 78-70 win at Tulsa. Culpepper was the BMOC once again with 29 points, making 10 of 18 shots. He scored 45 points in the previous week's game, a convincing win over East Carolina. The Miners continue to be the team to beat in C-USA and are a possible at-large candidate if they can hold onto first.
Ryan Wittman, G, Cornell: Wittman's sweet stroke led the Big Red to a raucous win at Harvard and another turn on the win column dial at Dartmouth. He scored 50 points in the two games, including 11 3s.
Larry Sanders, F, VCU: Sanders has long been the most talked about player in the CAA. Yet because the Rams haven't been on top of the standings this season, he has been a bit under the radar. Well, that's not the case anymore. Sanders scored 29 points (making 13 of 15 FG) with 13 rebounds and five blocks in a win over Drexel. He then followed that up in the BracketBusters win over Akron with 15 points, nine boards and three blocks. He shot 20-of-24 during the week.
Five To Keep An Eye On
San Diego State: The Aztecs might be one of the most talented teams in the MWC. San Diego State is on a roll with four wins in a row, and has won six of the past seven with the one loss being in overtime at the Pit. SDSU closes with two of three on the road and is still on the bubble.
Kansas State: The Wildcats have won five games in a row and six of seven with the only loss in overtime to Kansas. Kansas State continues to look more and more like a No. 2 seed. If it keeps winning, that will be the case. Also, don't dismiss K-State from being the one team that could win in the Phog this season.
Vanderbilt: The Commodores couldn't beat Kentucky. That's OK. Vandy will be fine in the NCAAs. The Commodores can work on their seeding in the coming weeks.
Florida: The Gators are desperately trying to end a two-year run in the NIT with an NCAA bid. The win at Ole Miss was huge in that process. But the schedule is daunting with games against Tennessee, at Georgia, Vanderbilt and at Kentucky.
Memphis: The Tigers still have NCAA tourney talent and have quietly put together a 10-2 C-USA season. Memphis has tough games remaining at Houston, Southern Miss, at UAB and against Tulsa. What happens if the Tigers sweep? UAB is still in play for an at-large bid with nonconference wins over Butler and Cincinnati at home. Those are better than anything Memphis has, but the Tigers could easily finish higher in the standings.
Five Shout-outs
John Holland, Boston University: He scored 20 points against Binghamton and then put a 43 spot on Delaware to shoot 70 percent for the week.
Ali Farokhmanesh, Northern Iowa: He made five 3s in each of the Panthers' key wins over Creighton and Old Dominion and scored 40 points in the week.
Johnathon Jones, Oakland: The Golden Grizzlies continued to cruise along in the Summit league with a 16-1 record as Jones scored 25 and 24 points in two wins.
Mac Koshwal, DePaul: I know my rule is usually you have to win the games to make these lists, but Koshwal still had a solid week. Against Rutgers the 6-foot-10 big man scored 24 points, had 12 boards and eight steals. He also scored 26 and had 10 rebounds against Louisville. Yes, DePaul lost both games but Koshwal is still plugging along.
James Johnson, Quinnipiac: The Bobcats stunned NEC frontrunner Robert Morris on the road with an 87-79 win in a conference showdown as Johnson scored 28 points and made 13 of 16 free throws. The problem for the Bobcats was that they lost a game they should have won earlier in the week at St. Francis (PA).
Places To Be This Week
What's At Stake:

Hartford, Conn., Monday: UConn tries to keep its NCAA hopes alive with a win over West Virginia.
Gainesville, Fla., Tuesday: Florida hosts Tennessee in yet another opportunity to prove it belongs in the field.
[+] Enlarge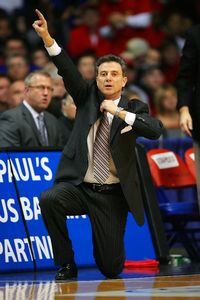 Dennis Wierzbicki/US PresswireRick Pitino's Cardinals have had an up-and-down season and could use another high-profile victory.
Louisville, Ky., Tuesday: Louisville could use another victory against a higher-level Big East team like Georgetown.
Ann Arbor, Mich., Tuesday: If Penn State can win at Michigan, shouldn't Illinois be able to do so?
Provo, Utah, Wednesday: San Diego State is mounting a campaign for a bid and a win at BYU would certainly turn heads.
Philadelphia, Wednesday: Dayton has more to gain with a win than Temple does. The Flyers need it even more after losing to Duquesne on Sunday.
Waco, Texas, Wednesday: Texas A&M and Baylor both are likely in but this should be a last-possession game.
Spartanburg, S.C., Thursday: The South Division of the Southern Conference is on the line as Charleston goes to Wofford.
Jacksonville, Fla., Thursday: The championship of the Atlantic Sun could be on the line as co-leader Campbell goes to Jacksonville.
Ithaca, N.Y., Friday: The Ivy League title could be done by the end of the night if Cornell beats Princeton for a season sweep.
Knoxville, Tenn., Saturday: Kentucky is going to win the SEC East, but this game at Tennessee is yet another chance to see how the Wildcats handle a hostile environment.
Provo, Utah, Saturday: The Mountain West title could be decided as New Mexico goes to BYU.
Syracuse, N.Y., Saturday: Syracuse will have the inside track on winning the Big East if it can beat Villanova at the Carrier Dome.
Blacksburg, Va., Saturday: The second seed in the ACC could be on the line as Maryland goes to Virginia Tech.
Berkeley, Calif., Saturday: Entering the week, Cal (10-5) and Arizona State (9-5) are atop the Pac-10 standings. They'll meet Saturday afternoon.
West Lafayette, Ind., Sunday: Purdue might be able to win the Big Ten title with a sweep of Michigan State.
Cincinnati, Sunday: Richmond is at Xavier in a game that could determine the A-10 title.
Viewer's Guide
All times ET
Monday
7 p.m.: West Virginia at Connecticut (ESPN)
9 p.m.: Oklahoma at Kansas (ESPN)
Tuesday
7 p.m.: Georgetown at Louisville (ESPN2)
7 p.m.: Illinois at Michigan (ESPN)
8 p.m.: Kansas State at Texas Tech (ESPN360)
9 p.m.: Tennessee at Florida (ESPN)
Wednesday
6:30 p.m.: Dayton at Temple (Comcast)
7 p.m.: Pitt at Notre Dame (ESPN2)
7 p.m.: Vermont at Stony Brook
7:30 p.m.: Marquette at St. John's (ESPN360)
8 p.m.: Xavier at Saint Louis
8:30 p.m.: Purdue at Minnesota (BTN)
9 p.m.: Oklahoma State at Texas (ESPN2)
9 p.m.: Texas A&M at Baylor (ESPNU)
9 p.m.: South Florida at Villanova (ESPN360)
9 p.m.: Clemson at Maryland (ESPN360)
9 p.m.: San Diego State at BYU (CBS-CS)
Thursday
7 p.m.: Tulsa at Duke (ESPN2)
7 p.m.: Charleston at Wofford (CSS)
7:15 p.m.: Campbell at Jacksonville
8 p.m.: Murray State at Morehead State
9 p.m.: South Carolina at Kentucky (ESPN2)
9 p.m.: Arizona at Cal (ESPN)
Friday
7 p.m.: Princeton at Cornell
9 p.m.: Butler at Valparaiso (ESPNU)
Saturday
Noon: Kentucky at Tennessee (CBS)
Noon: Notre Dame at Georgetown (CBS)
2 p.m.: Texas at Texas A&M (ESPN)
2 p.m.: Cincinnati at West Virginia (ESPN360)
3 p.m.: Arizona State at Cal (FSN)
4 p.m.: Kansas at Oklahoma State (CBS)
4 p.m.: New Mexico at BYU (Versus)
4 p.m.: Minnesota at Illinois (BTN)
4 p.m.: Maryland at Virginia Tech (ESPN360)
4 p.m.: VCU at Old Dominion (Comcast)
8 p.m.: Missouri at Kansas State (ESPNU)
9 p.m.: Villanova at Syracuse (ESPN)
Sunday
Noon: Marquette at Seton Hall (ESPN360)
1 p.m.: Richmond at Xavier (ESPN2)
2 p.m.: Louisville at UConn (CBS)
4 p.m.: Michigan State at Purdue (CBS)
5:30 p.m.: Clemson at Florida State (FSN)
Highlights: Kentucky-Vanderbilt
Five At-Large Bids Gone
• Siena: The Saints had a chance to get a quality February win which they so desperately needed. They did not. They lost at Butler. Better win that MAAC tourney.
• Wichita State: The Shockers were already on thin ice when they lost at Evansville, but had some hope with Utah State on the schedule for a BracketBusters game. Losing in Logan, which everyone mostly does, means Wichita State has to win the Valley tourney to get a bid.
• William & Mary: The Tribe are like that Ball State team from eight seasons ago that beat Kansas and UCLA in Maui but then fell flat in the MAC. The Tribe did beat Maryland and Wake Forest on the road and Richmond at home but haven't stood out enough in the CAA. Then they lost at Iona, meaning they almost certainly have to win the conference tourney.
• Old Dominion: The Monarchs had that win at Georgetown as a chip for the selection committee but being unable to clear space atop the CAA, coupled with a BracketBuster loss at Northern Iowa, won't help.
• George Mason and Northeastern: To complete the CAA meltdown, the Patriots and Huskies lost at home. Mason lost to the College of Charleston and Northeastern to Louisiana Tech. There is no shame in losing those games, but the losses just reiterated the point that the CAA will unfortunately be a one-bid league this season.
Highlight: Ga. Tech-Maryland
Five You Can't Figure Out
• Charlotte: The 49ers were the hot team in the A-10 a few weeks ago after beating Richmond on the road and Temple at home. But Charlotte has lost three straight games to likely drop out of the field unless it can go on a roll again.
• Dayton: The Flyers were the preseason favorite in the A-10. Yet the loss at Duquesne on Sunday means the Flyers are now 7-5, three-plus games behind Richmond and perilously close to being out of the field.
• Georgia Tech: The Yellow Jackets have plenty of talent, especially inside, and yet there doesn't seem to be one person who can take the game over late. Georgia Tech did have Maryland beat before the buzzer-beater. The reality is the Yellow Jackets are below .500 in the ACC. Ouch.
• Washington: If you just watched the Huskies against UCLA, you would be in love with this team. Defense isn't the main priority but when this team is on, the offense is fun to watch. But this same team lost in a half-court game two nights earlier to USC.
• Cal: The Bears crushed Oregon, but lost to Oregon State on Thursday night. Every time I want to buy into the Bears, they fall flat like they did in Corvallis.
Highlight: Baylor-Oklahoma State
Five Wins To Remember
• Ohio State at Michigan State: The Buckeyes are proving they are a real threat to go deep in March while the Spartans looked vulnerable again.
• Purdue at Ohio State: The Boilermakers made their case for a No. 1 seed.
• Syracuse at Georgetown: The Orange suddenly are a better road team than a home team, which bodes well for the NCAAs.
• Kentucky at Mississippi State: This is for dealing with a ridiculous crowd and holding on in overtime.
• Connecticut at Villanova: The victory ensures the Huskies remain relevant for the next week.
Finally!
Bryant University: The Bulldogs won for the first time in a calendar year when Bryant beat Wagner in the final second on Staten Island to snap a 26-game losing streak this season. Bryant, which is transitioning from Division II to I, didn't want to be the only school that didn't get a win this season. No one wants that tag for an entire offseason.