Walker, UConn headline the week that was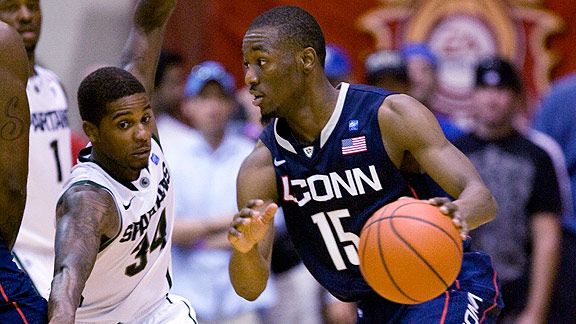 AP Photo/Eugene TannerKemba Walker's 90 points at the Maui Invitational was just three shy of the tourney record.
Editor's note: This edition is for games played from Monday, Nov. 22, through Sunday, Nov. 28.
Team Of The Week: Connecticut
Last week: Beat Wichita St. 83-79; Beat No. 2 Michigan St. 70-67; Beat No. 9 Kentucky 84-67
Many of us in the media picked Wichita State to beat Connecticut in the first round of the Maui Invitational. It wasn't unreasonable -- WSU is the Missouri Valley favorite and UConn was picked 10th in the Big East. I was at the Huskies' season opener against Stony Brook and they looked too reliant on Kemba Walker to score and Alex Oriakhi to rebound. It was easy to think that alone wouldn't be enough to carry them against quality teams at a higher level.
Well, guess what -- I was wrong. What Jim Calhoun's bunch pulled off in Maui was remarkable. The Huskies knocked off the mid-major sleeper (Wichita), then stunned the Big Ten favorite and No. 2 team in the country (Michigan State), then blitzed another top-10 team (Kentucky) in the title game. Connecticut is now 5-0 and should be 10-0 heading into the Big East opener at Pitt on Dec. 27. There are still two more key nonconference games left in January (at Texas, vs. Tennessee), but if the Huskies can avoid a free fall in the Big East, the NCAA drought will stop at one year.
--Andy Katz
More Teams That Impressed Us
Tennessee: So much for all those Bruce Pearl-NCAA distractions that were supposed to derail this group. Most figured the Volunteers would come to New York for the NIT semis and lose right off the bat to a dangerous VCU team. Instead, Tennessee beat the Rams and then went ahead and took out seventh-ranked Villanova by 10 in the championship game. Pearl has been called many things, but bad coach is not one of them.
[+] Enlarge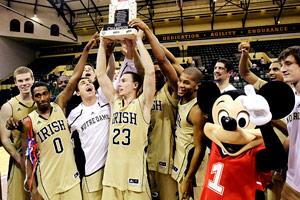 AP Photo/John RaouxNotre Dame, projected by most as a borderline-at-best tourney team, made an emphatic statement with its title in Orlando.
Notre Dame
: Well, well, look who's 7-0. The team picked to finish seventh in the Big East. At the Old Spice Classic down in Orlando, the Fighting Irish outlasted Georgia 89-83 in double overtime, held Cal to a mind-boggling five points in the first half of a 57-44 victory and then went on a 15-0 run late to defeat Wisconsin 58-51 in the title game. All of the sudden, that Dec. 8 date with Kentucky in Louisville looks mighty juicy.
UNLV
: After taking out Wisconsin at home, the Rebels traveled to Anaheim and wiped out the field at the 76 Classic, posting convincing wins over Tulsa, Murray State and Virginia Tech.
Chace Stanback
was the leading scorer in all three for Vegas, which should become the third ranked team in the Mountain West. Think some of those San Diego State-BYU-UNLV games will be a little fun?
Richmond: OK, so Purdue didn't play all that well Saturday night against the Spiders. But might that have something to do with the Spiders and that suffocating matchup zone? Oh, and that Kevin Anderson guy is pretty good, too. For Richmond, this was the program's first win over a top-10 opponent since a victory at Kansas in 2004.
Kansas: The beat goes on. The Jayhawks went out to the Las Vegas Invitational and opened with Ohio, a team that returned most of its core from the one that upset Georgetown in the NCAA tourney last season. All KU did was beat the Bobcats by 57 (98-41), increasing their average winning margin to 40.8 points. The Derrick Williams show was a little tougher to stop in the title game, but Kansas nevertheless pulled out an 87-79 win against an Arizona team that had also been obliterating teams.
Duke: Then there are these guys. In the season's first top-5 matchup, the defending national champions went into hostile territory in Kansas City and fairly easily dispatched of No. 4 Kansas State 82-68. That came in between a win over Marquette and a 27-point win over Oregon in Portland. This is the best team in the country and it's not even close. But you already knew that.
--Brett Edgerton
Player Of The Week: Kemba Walker, UConn
Picking a player of the week from the team of the week isn't ideal. But with the way Walker played and the significance of each UConn victory, how could there be anyone else? Calhoun said he knew there was a chance the junior could be ready to make the jump to the NBA after this season, but even he has to be surprised by this. Walker's performance in Hawaii was quite simply amazing. Coming off a 42-point effort against Vermont in Storrs, Walker's dominance continued with 31 points in the win over Wichita, 30 against Michigan State and then 29 in the title-game win over Kentucky (with six assists to boot). He made 28 field goals in the three games and currently leads all of Division I in scoring (30.0 ppg).
--Andy Katz
More Players Who Wowed Us
Terrence Jones, Kentucky: More than a few scouts walked out of Maui convinced they had seen a top-5 pick. The stat lines: 29 points and 13 boards against Oklahoma, 16 and 17 against Washington and 24 and 4 against Connecticut. He also added 10 blocks for a final average of 23.0 ppg, 11.3 rpg and 3.3 bpg.
Jimmer Fredette, BYU: In the two wins that gave BYU the South Padre Invitational title, Fredette scored 32 and had the game-winning assist on a buzzer-beater against South Florida, and then scored 24 and had the game-winning 3 with 10 seconds left against Saint Mary's. He also added eight steals in the two games. He's an All-American for a reason.
[+] Enlarge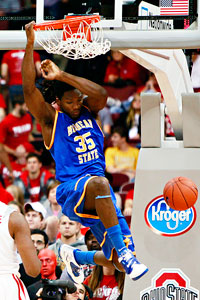 AP Photo/Terry GilliamIn three games for the week, Kenneth Faried averaged 20 points and 16.7 rebounds.
Keith Benson, Oakland: Want the line of the young season? How about Benson in Oakland's overtime win at Austin Peay. Try this one on for size: 22 points, 22 rebounds, seven assists and six blocks. He also drove the team bus home.
Kenneth Faried, Morehead State: Not to be outdone, one of the other mid-major beasts put together a heck of a week. Faried posted 15 and 12 at Ohio State, 20 and 18 at Florida and then 25 and 20 at SIU-Edwardsville. Yes, it's SIU-Edwardsville. But 25 points and 20 rebounds is still 25 points and 20 rebounds.
C.J. McCollum, Lehigh: Let's stick with the small-school theme. The 6-foot-3 sophomore guard scored 20 and managed 13 rebounds in a win over Cornell and then scored 42 on 15-of-25 shooting in a five-point loss at Kent State.
Ravern Johnson, Mississippi State: The lanky 6-7 guard scored 33 against Troy, 25 against Detroit and was 10-of-17 from behind the arc. While waiting on the arrival of Renardo Sidney and the return of Dee Bost, Johnson is leading the Bulldogs in a big way (27.0 ppg).
Ryan Rossiter, Siena: Here's another double-double machine. Rossiter posted 26 and 15 against Butler, 18 and 17 in a big conference win at Rider and 14 and 21 at Princeton. Over his past four games, he's averaging 21.5 ppg and 17.0 rpg.
Chace Stanback, UNLV: The totals weren't overwhelming, but Stanback did lead the Rebels in scoring in each of their three 76 Classic victories, making 21 of 30 shots (70 percent!) and averaging 17.0 ppg.
Alex Oriakhi, Connecticut: While nearly all the praise was justifiably heaped on Walker in Hawaii, his teammate in the paint quietly produced game after game. Oriakhi averaged 14 points and 11.7 rebounds in the tournament, posting 17 boards in a win over Michigan State and 18 points in a win over Kentucky.
Scores That Caught Our Eye
• Harvard 82, Colorado 66 -- Out of kindness, somebody should tell the Buffaloes the season has started. The preseason's popular Big 12 sleeper has clearly slept through its alarm clock. Losses to the Crimson, San Francisco and a Trey Thompkins-less Georgia make for a less-than-ideal start to the Tad Boyle era.
• Sam Houston State 92, at Colorado State 81 -- The Rams are another Centennial State team that was supposed to show rapid improvement this season. This isn't the way to show it. Sam Houston is a solid Southland program and Gilberto Clavell (29 points against CSU) is a solid player, but this is the type of game Colorado State needs to win to be taken seriously.
• Cincinnati 68, Dayton 34 -- Huh? So much for the momentum from Dayton's comeback win at Ole Miss. The Flyers shot 20 percent in their worst loss since 1995. Although the fact Cincinnati is 5-0 for the first time in the post-Huggs era shouldn't get lost in UD's Sunday afternoon horror show.
• South Carolina 87, at Western Kentucky 85 (2OT) -- An impressive road win for Darrin Horn's Gamecocks. Is there a bad team in the SEC East? Doesn't appear so.
• Saint Mary's 88, Texas Tech 68 -- Like CU, the Red Raiders were another team that returned nearly everyone and was supposed to climb the Big 12 standings -- and maybe they will. But early losses to North Texas and South Florida and this blowout by the Gaels are not exactly encouraging. Then again, at least SMC went sort of easy on Tech. In their previous game, the Gaels squeaked by Chicago State 121-52.
[+] Enlarge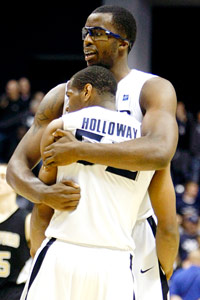 AP Photo/David KohlBy the end of the third overtime, the Xavier players were exhausted -- and joyous.
• Xavier 94, Wofford 90 (3OT) -- X began the season with a wild win against Western Michigan, won in overtime against IPFW and then squeezed out a win against Seton Hall in the final 20 seconds. So it was only appropriate that the Muskateers ended November with a wild multiple-OT affair. Meanwhile, this was Wofford's third straight overtime game. Think the Terriers were feeling it a little heading into the third extra session Saturday?
• Air Force 72, at Wofford 66 (OT) -- Here is one of those earlier Wofford overtimes, and frankly, this is not a good home loss for a SoCon contender to take. On the bright side, Air Force is now 0-1 against Division III schools (Colorado College), but 2-0 against Division I schools (Tennessee State, Wofford).
• Old Dominion 67, Xavier 58 -- The secret is out on the Monarchs. Notre Dame, Butler, Georgetown and all of the CAA already knew it. Now the entire field at the Paradise Jam knows it. The Monarchs are good. Really good.
• St. Peter's 50, Alabama 49 -- Here's another thing the entire field at the Paradise Jam knows: Alabama is not very good. Apparently. How else to explain an 0-3 trip to the Virgin Islands that included this loss to the Peacocks, a team that scored 30 in its opener? Or Bama's 47-point showing in a loss to dreadful Iowa the day before?
• Nebraska 60, USC 58 -- The Trojans blew a 20-point lead, which is pretty darn hard to do with Kevin O'Neill's style of play. Then again, this is the same team that already had losses to Rider and Bradley. So it probably wasn't that hard.
• Evansville 71, at Butler 68 (OT) -- No, Ronald Nored didn't play. And no, it's not the end of the world for Butler. But the game was at Hinkle Fieldhouse. And Evansville was coming off a double-digit loss to Middle Tennessee. Odd result.
• Chaminade 68, Oklahoma 64 -- For those unfamiliar, that's "Division II and previously 5-73 in the Maui Invitational" Chaminade. And that's "we were really in the Elite Eight just two years ago" Oklahoma.
• Our Lady of the Lake 127, Texas State 126 (OT) -- Oh, where to begin. (A) How about 253 points being scored in a single-OT college game?; (B) How about Texas State accepting an invitation to the WAC and then returning the favor by losing to an NAIA school?; (C) How about the name Our Lady of the Lake? How cool is that? Only slightly better than the name of the Texas State's season-opening opponent, something called Sul Ross State.
-- Brett Edgerton
Observations From Feast Week
Andy Katz
• The CAA is legit. Old Dominion's win over Xavier in the Paradise Jam, coupled with VCU's victory over UCLA, is a strong indicator that the Colonial might end up as a multiple-bid league. Both ODU and VCU play Richmond, which will be another barometer for both squads.

• Credit St. John's for surviving a brutal travel schedule with only one loss. The Red Storm started the season in California against Saint Mary's, returned home to New York to play Columbia and then flew to Anchorage, where they went 3-0 and won the Great Alaska Shootout with a win over Arizona State on Saturday night.

• There have been some disappointments. Hard to be picky prior to Dec. 1, but I expected to see more wins out of Murray State, Georgia, Butler, Western Kentucky, Colorado, Alabama, Texas Tech and USC at this point in the young season.
For more of Katz's observations, see the complete post in the Nation blog
Dana O'Neil
• The Big East was undervalued. The general consensus held that this was a rebuilding year for the Big East. Instead the league has won six of the early season tournaments (Maui/Connecticut, Coaches vs. Cancer/Pittsburgh, Charleston/Georgetown, Legends/Syracuse, Great Alaska Shootout/St. John's and Old Spice/Notre Dame) and finished as runner-up in two others (Puerto Rico/West Virginia and NIT/Villanova). Mix in Louisville's beatdown of Butler, Cincinnati's stomping of Dayton and Marquette's respectable performances in losses to Duke and Gonzaga and rebuilding has quickly turned into reloading in the BEast.
• If you're panicking over Michigan State, don't. By Dec. 1 of last year, the Spartans already had lost to Florida and North Carolina. By Dec. 3 two years ago, they'd succumbed to Maryland and North Carolina. Those seasons didn't turn out too badly. Tom Izzo coaches for March, not November, and his teams routinely get better and tougher as the season progresses. One loss to what appears to be a very good Connecticut team does not a disaster make.
For more of O'Neil's observations, see the complete post in the Nation blog
Eamonn Brennan
• The Pac-10 is a two-team league. Arizona and Washington have looked solid even in losses. The rest of the conference has looked anything but. Cal scored five points in a half versus Notre Dame and lost by a big margin (68-46) to Boston College; UCLA went 0-2 in the NIT in New York; Arizona State blew a 12-point lead in a loss to St. John's; USC blew a 20-point lead to Nebraska to add to its running list of bad losses (Rider, Bradley); and Stanford lost twice in the 76 Classic (to Murray State, Tulsa) and was taken to overtime by DePaul. (Yes, DePaul. The same DePaul team that lost to Western Carolina and Cal State Northridge. That DePaul.) The Pac-10 has been much maligned lately. Gee, I wonder why.

• Butler might not be a tournament team. It's still too early to count the Bulldogs out, but after their season-opening blowout to Louisville and this week's loss at home to Evansville, Butler has left itself a major challenge going forward. The Bulldogs have a smaller margin for error in the nonconference schedule, because it's difficult to prove yourself in the Horizon League. (You can bet the committee isn't going to like a loss to the Purple Aces at Hinkle Fieldhouse. It's really bad.) Fortunately, the Bulldogs have a couple of opportunities for résumé wins coming up (Duke, at Xavier), a couple of surprise unbeaten teams (Cleveland State, Loyola) on hand in the Horizon League and enough national name recognition that a 23-5-ish record might be enough to keep them from having to win their conference tournament in March.

For more of Brennan's observations, see the complete post in the Nation blog
The Week Ahead
All times ET
Tuesday
7:30 p.m.: Ohio State at Florida St. (ESPN)
9 p.m.: Georgetown vs. Missouri (ESPNU)
9:30 p.m.: North Carolina at Illinois (ESPN)
Wednesday
7 p.m.: Richmond at Old Dominion
7:15 p.m.: NC State at Wisconsin (ESPN2)
7:30 p.m.: Purdue at Virginia Tech (ESPN)
8 p.m.: BYU at Creighton
9:30 p.m.: Michigan St. at Duke (ESPN)
10:30 p.m.: St. Mary's at SDSU (The Mtn.)

Thursday
7 p.m.: Arizona St. at Baylor (ESPN2)
9 p.m.: UCLA at Kansas (ESPN2)

Friday
11 p.m.: Kansas St. at Washington St. (FSN)

Saturday
Noon: Utah State at Georgetown (ESPNU)
12:30 p.m.: Kentucky at North Carolina (CBS)
3:15 p.m.: Duke vs. Butler (ESPN)
5:15 p.m.: Illinois vs. Gonzaga (ESPN)
5:15 p.m.: NC State at Syracuse (ESPN2)
8 p.m.: Southern Miss at Ole Miss (ESPNU)
10 p.m.: Wichita St. at SDSU (The Mtn.)

Sunday
8 p.m.: Maryland vs. Temple (CSN)

Katz: What I'm Excited To See
O'Neil: Three Questions
• Where will the pendulum sit on North Carolina by week's end? Most everyone agreed that the Tar Heels would be better this season and most everyone jumped right off the bandwagon after UNC dropped back-to-back games to Minnesota and Vanderbilt and looked less than dominant against UNC Asheville and Charleston. This week, Carolina will play at Illinois on Tuesday and host Kentucky on Saturday, two games against ranked opponents that should go a long way in determining whether the Heels are players or pretenders.
• Who is the early front-runner for non-BCS team to watch? Since Butler is on the shelf at the moment, the search is on for the next Butler. Two contenders go head-to-head on Saturday night when Wichita State travels to San Diego State. The Shockers dropped a close game to Connecticut -- a loss that looks better and better with each passing day -- while the Aztecs have rolled undefeated in the opening weeks. Both have the talent and the experience to turn heads come March, but only one can be the early money favorite for Cinderella darling.
• When is an elbow a flagrant foul and when isn't it? I get protecting players from flying elbows, but the subjective nature of this rule tweak already has fans screaming and coaches confused. I've seen players suckered into jump ball calls when they've tried to protect a defensive rebound but knew they couldn't move their elbows, and I've seen coaches (Lorenzo Romar) help officials get a technical. The most confounding incident came between Oklahoma State and Virginia Tech, when the Cowboys' Matt Pilgrim was ejected after one elbow and the Hokies' Victor Davila was not. Until they can offer more consistent decisions, the officials have an early season tempest on their hands.
-- Dana O'Neil
O'Neil: What I'm Excited To See
Places To Be This Week
Tuesday
Tallahassee, Fla. (Ohio State at Florida St.)
A little bit of the shine was taken off this one when the Seminoles dropped a close one at home to rival Florida on Sunday night. Chris Singleton had an off night against the Gators, but don't expect two of those in a row. Oh, and if you haven't seen Jared Sullinger in action yet, be sure to tune in to ESPN.
Kansas City, Mo. (Georgetown vs. Missouri)
This is an odd little matchup, no? Not that we're complaining. We're just hoping it turns out a little better than the last game at Kansas City's Sprint Arena (Duke's 14-point win over Kansas State). Watching the system of John Thompson III go up against the frenetic style of Mike Anderson will be fascinating.
Champaign, Ill. (North Carolina at Illinois)
Until proven otherwise, these are just a pair of NIT teams with high expectations. Because of that talent, though, we know this one has a chance to be special in front of the vaunted Orange Krush.
Wednesday
Norfolk, Va. (Richmond at Old Dominion)
One is coming off a win over No. 8 Purdue. The other is coming off a Paradise Jam tournament title. Need we say more?
Blacksburg, Va. (Purdue at Virginia Tech)
OK, so this one looked a little better a few weeks ago. Still, there's a lot to like here in what should be an amped-up arena. Both teams are coming off losses and need a bounceback win.
Durham, N.C. (Michigan St. at Duke)
Well, it's not No. 1 versus No. 2 anymore, but it's still Tom Izzo versus Coach K. It's still two Final Four teams from last season. It's still two powerhouses going head-to-head in one of the best settings the sport has to offer. And if the ACC/Big Ten Challenge is tied or close, this final game becomes even more fun.
San Diego, Calif. (St. Mary's at SDSU)
The Aztecs are 6-0 and all but one of those wins has come away from home. Now they get the luxury of settling into the friendly confines this week for two major tests: Saint Mary's on Wednesday and Wichita State on Saturday.
Thursday
Lawrence, Kan. (UCLA at Kansas)
Will still-retooling UCLA keep this close? Who knows. But when two of the five most historic programs in college basketball get together at one of the five most historic arenas in college basketball, you watch. Period.
Friday
Pullman, Wash. (Kansas St. at Wazzu)
This one is part of the last hurrah for the Big 12/Pac-10 Hardwood Series (you'll be excused if you never realized it arrived in the first place). It's the night before the Apple Cup football rivalry with Washington, so we're fairly certain the crowd will already be, uh, jazzed up for the top-10 Wildcats. As you'll see below, our Andy Katz is calling for the upset here.
Saturday
Chapel Hill, N.C. (Kentucky at UNC)
See: UCLA-Kansas entry. Except in this case, it's hard to envision either team running away from the other.
Newark, N.J. (Duke vs. Butler)
Butler hasn't exactly done its part in making this national championship game rematch must-see TV. A blowout loss at Louisville in the opener and a stunning home loss to Evansville this weekend has taken some of the luster off. Still, isn't it worth tuning in to just to see all the replays from the memorable title game?
Seattle (Gonzaga vs. Illinois) If this one is anything like last year's matchup in Chicago, we're in for a treat. The Fighting Illini fought back from 21 down last season against the Zags, only to find themselves on the losing side at the end of overtime. Win that one and Illinois would've almost certainly been a happier camper on Selection Sunday.
Syracuse, N.Y. (NC State at Syracuse)
Fabricio Melo might not be one of them, but there will still be fabulous freshmen all over the Carrier Dome court. This will be the Orange's biggest test thus far -- and they haven't exactly passed the others with ease, albeit all wins.
-- Brett Edgerton
Leung: What I'm Excited To See
Upset Of The Week
Washington State over Kansas State, Friday: Kansas State is more physical and is probably a tougher team than Washington State. But Wazzu has a skilled scorer in Klay Thompson and two players -- Thompson and Faisal Aden -- averaging at least 23 points a game. If they can knock off K-State in this Big 12/Pac-10 Hardwood series game, the Cougars can send notice to the rest of the Pac-10 to take them seriously. Look, Washington State rarely gets a ranked nonconference team not named Gonzaga to come to Pullman. This is the Cougs' shot to make a name for themselves and the place will be rocking. Beating rival Gonzaga or even doing well in the Diamond Head Classic in late December won't resonate as much as a win over the Wildcats.
Brennan: What I'm Excited To See
Unbeaten Roll Call
Looking to remain unbeaten (32 left): Massachusetts, Duke, Iowa State, Kansas, Missouri, Baylor, Notre Dame, Pitt, Georgetown, Syracuse, Cincinnati, Connecticut, Louisville, Indiana, Minnesota, Ohio State, Northwestern, Memphis, UCF, Southern Miss, Cleveland State, Loyola (Ill.), BYU, San Diego State, UNLV, Washington State, Tennessee, Mississippi State, South Dakota State, UM-Kansas City, Boise State, Hawaii