Butler, Kentucky's Lamb highlight past week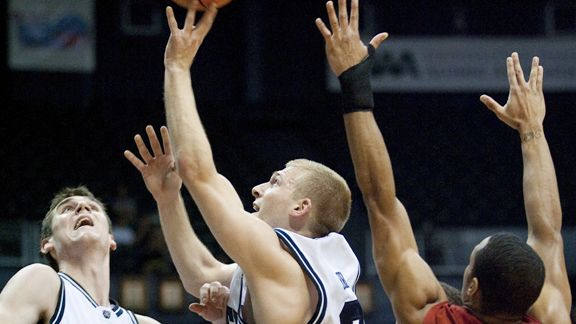 AP Photo/Eugene TannerButler won three games in Honolulu to capture the Diamond Head Classic.
Editor's note: This edition is for games played from Monday, Dec. 20, through Sunday, Dec. 26.
Team of the week: Butler
Last week: Beat Utah 74-62; beat Florida State 67-64; beat Washington State 84-68
The winner of the Diamond Head Classic was likely to earn this honor, as the tournament was filled with teams that needed to prove themselves, get momentum and show the rest of the country they should be taken more seriously in the new year.
Butler needed some time to get healthy (Ronald Nored and Shelvin Mack), and continue to see the development and leadership of Matt Howard. It also needed to see the maturation of its role players like big man Andrew Smith, shooter Zach Hahn, guards Shawn Vanzant and Chase Stigall, as well as freshman wing Khyle Marshall. Coach Brad Stevens used 10 players effectively in the title win over Washington State on Saturday in Honolulu.
Howard was named MVP, and deservedly so, with his double-double of 14 points and 11 rebounds. Butler shot 50 percent and made 11 3s.
Butler beat Utah, Florida State and Washington State for the title, the latter two teams with legitimate shots to make the NCAA tournament. Butler has won five straight games, including a 33-point win over Stanford. Take away the final few minutes of the 12-point loss to Duke (without Mack, who was cramping) and the Bulldogs are playing much better than you might think if you saw them in the loss to Louisville. The Bulldogs lost by a deuce at Xavier on Dec. 9. They haven't lost since, and while the Horizon League will provide plenty of challenges, don't be surprised to see another run of wins by the Bulldogs heading to March.
-- Andy Katz
More teams that impressed us
Jacksonville: The Dolphins started the week with a matinee win over in-state Florida at the O'Connell Center. Not sure Cliff Warren has had a bigger win in the regular season.
[+] Enlarge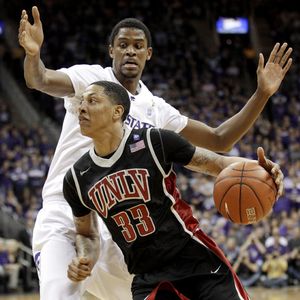 AP Photo/Charlie RiedelTre'Von Willis and UNLV took advantage of a short-handed Kansas State team.
UNLV: The Runnin' Rebels took advantage of an opportunity with Kansas State down two players (suspended Jacob Pullen and Curtis Kelly) and won in Kansas City.
USC: The Trojans beat Tennessee in Knoxville for their second big-time win of the season. USC had already taken out Texas at home. USC also nearly clipped Kansas in Phog Allen, losing in the final possession.
St. John's: The Red Storm won the Holiday Festival with a convincing second-half win over Northwestern at Madison Square Garden. The Red Storm, who have been offensively challenged at times, didn't look it as they shot better than perceived the higher percentage shooting Wildcats.
Texas: The Longhorns scheduled quite a trip, with a game against North Carolina in Greensboro and then going to East Lansing to play a wounded Michigan State. Texas was clearly the better team, efficiently running its offense, getting highly productive play out of Jordan Hamilton and Tristan Thompson and looking more like a Final Four contender than the semifinals-projected Spartans.
Missouri: The Tigers are easily the most entertaining team to watch this season. Every nationally televised game seems to have quite a buzz (see: Georgetown in Kansas City, Vanderbilt at home and now Illinois in St. Louis). Missouri continued the pressure and ran past the Illini, making smarter decisions down the stretch in the 11-point win.
Northern Iowa: The Panthers aren't the same team that stunned top-ranked Kansas in the second round of the NCAA tournament. But they're starting to get back the identity of a defensive-minded team, and they're making 3s in a timely fashion. The Panthers beat Indiana and New Mexico on en route to the Las Vegas Classic title at the Orleans Arena.
North Texas: Beating LSU doesn't mean as much right now, but for Eagles coach Johnny Jones it could have meaning. He was considered a possible choice for the LSU job before Trent Johnson got the gig, and Jones won by 20 in Baton Rouge. The win also established that North Texas, not struggling Western Kentucky, is the team to beat in the Sun Belt.
Georgetown: The Hoyas continue to be quite a road show. They beat Missouri in overtime in Kansas City and started the season with a win at Old Dominion. Now add a win at Memphis in the FedEx Forum. The Hoyas' one slipup was at Temple. Few power six Top 25 teams are going on the road as much as the Hoyas.
Gonzaga: The Zags knocked off Xavier for their second straight quality win after beating Baylor in Dallas the previous week. This time the Zags had to do it without Steven Gray, who missed the game with back spasms. They also survived Tu Holloway's 26 points for the Musketeers.
Colorado State: The Rams won the Cancun Governor's Cup with consecutive wins over Ole Miss and Southern Miss. Colorado State was a trendy top-five pick in the Mountain West, and so far it is proving to be true. The Rams should be taken seriously as a team that will challenge for a top-four finish in conference play, meaning that New Mexico better not slip up or the Rams will be there to catch it. The MWC desperately needed a fifth team to deepen the league, especially with BYU departing. CSU looks to be the answer this season.
-- Andy Katz
Put Lamb's performance against Winthrop as one of the most impressive to date this season.
The freshman guard was not one of the headline recruits for John Calipari. Terrence Jones, Brandon Knight and, of course, still-ineligible Enes Kanter received the praise.
But none of them has had such a dominating performance as Lamb's record-breaking game. Lamb scored 32 points, making 11 of 12 shots, seven of eight 3s and all three free throws he attempted. He also had two assists and zero turnovers.
Lamb's efficiency from the field was one of the most impressive of any player this season. He was as on as a player has been in a game. Winthrop provided the fodder and the game wasn't close, as the Wildcats won by 37.
Lamb has been erratic so far this season, putting up modest scoring totals like five, six and nine points, but he has also scored 20-plus points three times. The Wildcats have options, and Lamb won't always be the hot hand, but he's proving he can be a star when called upon.
-- Andy Katz
More performances that wowed us
Dwight Hardy, St. John's: Hardy scored 24 points in the Holiday Festival win over Northwestern. He answered every Wildcats run and made big shots to catapult the Red Storm to the much-needed home win.
David Lighty, Ohio State: Jared Sullinger has been getting the headlines at Ohio State, and rightfully so. But Lighty is the seasoned veteran of the squad and he reasserted himself in that role with 29 points in a win over UNC Asheville.
JaJuan Johnson, Purdue: He was our player of the week last week, and he's continuing to put up double-double numbers with 24 and 13 in a win over IPFW.
Kawhi Leonard, San Diego State: The Aztecs struggled offensively in two games in Las Vegas but Leonard bailed them out with another solid performance, scoring 23 points and grabbing 14 boards in a win over San Francisco.
[+] Enlarge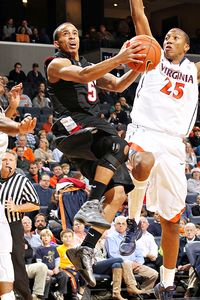 Andrew Shurtleff/US PresswireDespite being 5-10, Seattle has wins over Oregon State and Virginia.
Jamarr Sanders, UAB: Mike Davis was raving about Sanders in the preseason. He said Sanders could be one of the best players he has coached. Sanders is starting to shine for the 9-2 Blazers, scoring 29 points in a three-point win over VCU.
Markieff Morris, Kansas: Marcus Morris has received more publicity than his twin brother. But when Marcus was ejected for a flagrant elbow at Cal, his twin picked up where he would have left off with 21 points and 10 boards in the gritty road win in Berkeley.
Ryan Rossiter, Siena: The Saints took advantage of a rare power six conference home game against Georgia Tech. Rossiter was the top player on the floor, with 19 points and 13 rebounds, making all seven free throws.
Austin Freeman, Georgetown: The preseason pick for Big East Player of the Year had one of his best performances to date, with 24 points in a win over Memphis.
Jackson Emery, BYU: Emery proved there is another guard on the Cougars with just as much potential to go off beyond the 3-point arc. Emery made six 3s and scored 23 points in a 21-point win over UTEP.
Anthony James, Northern Iowa: James scored 23 points in a Las Vegas Classic win over New Mexico at the Orleans Arena. James was a proficient scorer in the win, giving the Panthers another name to remember.
Travis Franklin, Colorado State: He scored 20-plus points in each of the three wins in Cancun en route to the Rams' Governor's Cup title. He finished off Southern Miss with 25 points and nine boards.
Matt Howard, Butler: Howard was the tournament MVP in Butler's Diamond Head Classic title win. He scored 23 in the win over Utah, 19 in the win over Florida State and 14 and 11 rebounds in the title game win over Washington State. Most importantly, Howard was only in foul trouble in one game -- against Utah.
Klay Thompson, Washington State: Thompson didn't lead the Cougars to the Diamond Head Classic, but we must celebrate his performances of late. He's looking like a leading contender for Pac-10 Player of the Year. Thompson scored 28 in a win over Mississippi State, making four 3s. He followed that up with 20 in a win over Baylor, including five 3s. And then in the title game he did all he could by scoring 31 points, making four 3s and all seven free throw attempted.
-- Andy Katz
More scores that caught our eye
•
Jacksonville 71, Florida 68 (OT)
: The Gators can't shake their inconsistent ways, losing this game just two days after a win over Kansas State in Sunrise, Fla.
• Maine 74, Penn State 64: The Black Bears have now won at Boston College and Penn State in the past two seasons. Maine doesn't have an NCAA berth to show for its efforts. But what it shows is that Maine has to be taken seriously when it is coming in for a buy game. Oh, let us know when the apathy changes in State College, Pa.
• Presbyterian 66, Wake Forest 64: The Blue Hose can't get to the NCAA tournament, but they can cause plenty of angst for a high major. Wake Forest has lost a number of buy games this season. Clearly, the Demon Deacons aren't getting their money's worth on these games.
• Valparaiso 103, Oakland 102: The Grizzlies nearly beat Michigan State, and did beat Tennessee, but still aren't giants at their own level on a consistent basis yet.
• Oklahoma State 79, Stanford 68: The Cardinal keep losing by double figures, which doesn't bode well for the Pac-10. Meanwhile, the Cowboys are quietly putting together quite a résumé to be contenders for a bid out of the Big 12.
• Wichita State 82, Tulsa 79: The Shockers entered the Missouri Valley as the favorite and are living up to the hype so far.
• Boston University 85, Saint Joseph's 79: The Hawks are young, but still struggling mightily at 3-8.
• Syracuse 93, Drexel 65: The Dragons won at Louisville, but couldn't come close to the Orange at the Carrier Dome as Kris Joseph went off for 25.
• Seattle 59, Virginia 53: The Cavs won at Virginia Tech and Minnesota but can't beat Seattle at home? Doesn't make sense.
• Furman 91, South Carolina 75: South Carolina coach Darrin Horn was nervous about this road game. He should have been.
• Central Florida 64, UMass 59: The Golden Knights went on the road and remained undefeated. The schedule hasn't been daunting, but the Knights have put themselves in a great position going into C-USA.
• NC State 72, Delaware State 70: The Wolfpack shouldn't need a last possession to beat Delaware State.
• Louisville 114, Western Kentucky 82: So much for that upset pick, as Peyton Siva scored 29.
• Dayton 69, Seton Hall 65: Dayton had been terribly inconsistent so far this season. But so, too, have the Pirates.
• Tennessee 66, Belmont 65: Hey, the Vols won the game, so at least that's a start after losing to Oakland, at Charlotte and to USC. But this free fall is hard to figure.
• Georgia 56, Mercer 53: Travis Leslie and Trey Thompkins both scored 20 points, but the Bulldogs still shouldn't be struggling this much.
• Virginia Tech 76, St. Bonaventure 68 (OT): The Hokies won the game in Rochester, but the bigger news was losing Dorenzo Hudson and Cadarian Raines in the process for the season, both to foot injuries.
• UCLA 74, UC Irvine 73: The Bruins are still hardly cruising along, but at least for the second straight game Malcolm Lee led them in scoring.
• San Diego 67, Utah 64: The Utes finished 0-3 in the Diamond Head Classic, giving San Diego its first win in Division I this season. Utah is hardly making a strong case for its move to the Pac-10.
• Hawaii 68, Mississippi State 57: Gib Arnold is doing a fantastic job of making sure the Warriors are not only competitive, but relevant. The Bulldogs, meanwhile, are a mess and went 1-2 in Hawaii. The embarrassment of the fight between Renardo Sidney and Elgin Bailey in the stands is the lasting memory from a trip that can't end soon enough.
-- Andy Katz
The week in quotes
• "You guys are trying to get under my skin today, haven't you? I've been pretty respectful of the media my whole career. I don't want to hear anything else about leadership without anybody other than the guys on the basketball floor. I do not want you to refer any questions again about anybody that was not dressed, in uniform here today."
-- Kansas State coach Frank Martin to reporters after a loss to UNLV without Jacob Pullen and Curtis Kelly, who were suspended by the NCAA for accepting impermissible benefits.
• "Merry Christmas Rams Fans !!!!!!!!!!!!!!!!!!!!!!!!!!!!!!!!!!!!!!!!!!!!!!!!!!!!!!!!!!!!!!!!!!!!!!!!!!!!!!!!!!!!!!!!!!!!!!!!!!!!!!!!!!!!!!!!!!"
-- Colorado State coach Tim Miles in a tweet after the Rams beat Southern Miss to win the Cancun Governor's Cup.
• "I think our fans would prefer the margin to be greater. I don't know how much stress there is around the holidays, but I know we're adding to it."
-- Tennessee coach Bruce Pearl after a one-point win against Belmont snapped a three-game losing streak.
• "See, the thing that bothers me in basketball -- and Mike [Montgomery] would say the same thing -- when guys put their own agenda ahead of the team is very, very, very, very selfish, and that was obviously what happened."
-- Kansas coach Bill Self after forward Marcus Morris was ejected in a win against Cal that featured three technical fouls and chippy play.
• "I'm very sorry for this incident. I had no intention of this ever happening. I apologize for embarrassing my family, all the Mississippi State fans, my teammates and coaches. I will learn from this and move on."
-- Mississippi State forward Renardo Sidney the day after fighting teammate Elgin Bailey in the stands at the Diamond Head Classic.
Observations from the week that was
Andy Katz

• Duke coach Mike Krzyzewski won his 879th game when the Blue Devils beat Elon. He has a shot at passing Bob Knight for the all-time lead this season. He needs 23 more and could do it sometime in the postseason. What K has done at Duke is simply amazing. You have to remember that while this program had tradition, it wasn't on a high when he arrived. He has created the standard, and the program is now a machine that is at the top of the sport. Playing Duke -- whether it's at Cameron, at home or on a neutral site -- has become a quite a deal for any team. Once K sets the record it's hard to see anyone catching him, especially in a profession that is eating its own due to the high stress.
• The Big 12 is looking like it's going to have quite a race. Kansas is the favorite now with the addition of Josh Selby. Winning at Cal in an ugly game was yet another example of the Jayhawks finding ways to win. Texas has two of the better wins in the league: winning in Greensboro over North Carolina and then at Michigan State. Kansas State is struggling, but once Jacob Pullen is back, expect the Wildcats to still be a tough out and contenders. Missouri is the most entertaining team and has a shot at competing for the title. And Texas A&M and Oklahoma State appear to be in contention for bids as well. Baylor was on this list but is lacking quality wins. Still, the Bears have high-level talent, and if they play up to their potential they'll be in bid contention. Nebraska is playing better as well and Colorado has two potential pros. None of those teams will be an easy out.
For more of Katz's observations, see the complete post in the Nation blog.
Eamonn Brennan

• Baylor's offense -- yes, the offense -- is holding the Bears back. What's been more surprising about Baylor's season to date? That the Bears have lost to Gonzaga (in Dallas, no less), Washington State and Florida State? Or that the Bears have done so thanks to a suddenly just-OK offense? Scott Drew's team -- which had the No. 3-ranked offense in the country on a per-possession basis last season -- is just No. 41 in the nation to date this winter, according to Pomeroy. Last year, the Bears were out of this world on the offensive end; they posted an offensive efficiency of 120.4 despite a high turnover rate; basically, when the defensively suspect Bears didn't turn the ball over, they scored.
This year, Baylor has flipped the script: The Bears are playing great defense and so-so offense. Why the change? The loss of senior point guard Tweety Carter is a good place to start. Carter was an underrated offensive player, an assist machine with outside touch. Without him, Baylor's turnovers have ballooned -- replacement A.J. Walton is turning the ball over on 35 percent of his possessions, which is way, way too high -- its 3-point field goal percentage has deflated and the Bears have lost three of their past four games, all to arguably mediocre teams. Sure, the defensive improvement is great news. But Baylor has to find a way to stop turning the ball over pronto. Until it does, Drew's team -- one with as much pure talent in the lineup as almost any team in the country -- will continue to be exposed on the offensive end.
• Don't sweat Butler yet. Remember when Butler's at-large hopes were dashed forever? When the Bulldogs were doomed to a must-win scenario in the Horizon League tournament? When last season's March (and April) darlings became this season's November (and December) duds? How quickly things change. Thanks to last week's Diamond Head Classic title run -- which included a tight win over Florida State and a blowout victory over impressive runner-up Washington State -- Butler has relaunched itself into the at-large picture in a major way.
There are a variety of reasons for Butler's resurgence. Matt Howard, who avoided his customary foul trouble during a deserving tournament MVP performance last week, is sporting an insane 137.8 offensive rating, the 11th best in all of college basketball. Shelvin Mack is shooting the ball well again. Freshman Andrew Smith is playing efficient minutes and taking a heap of pressure off Howard on the defensive end. All together, Brad Stevens & Co. are in fine shape; Butler's current nonconference record (9-4) is a half-game better right now than it was 12 months ago. True, none of Butler's four nonconference losses last season were nearly as ugly as this season's Nov. 27's loss to Evansville at home. But Butler fans can officially shelve the freakout for now. If their beloved team continues to play like it did over the holiday, they'll be just fine during the real most wonderful time of the year.
For more of Brennan's observations, see the complete post in the Nation blog.
The week ahead
All times ET
Monday
8:30 p.m.: Connecticut at Pitt (ESPN2)
Tuesday
2 p.m.: Purdue at Michigan (BTN)
7 p.m.: Minnesota at Wisconsin (ESPN2)
9 p.m.: North Carolina vs. Rutgers (ESPN2)
9 p.m.: Providence at Syracuse (ESPNU)

Wednesday
7 p.m.: Georgetown at Notre Dame (ESPN2)
7 p.m.: St. John's at West Virginia (ESPN3.com)
8 p.m. Missouri St. at Northern Iowa (MVC TV)
9 p.m.: Marquette at Vanderbilt (ESPN2)
9 p.m.: Hawaii at Utah State
10:30 p.m.: Washington at USC
11 p.m.: Washington State at UCLA (FSN)
11 p.m.: Mississippi St. vs. Saint Mary's (ESPNU)

Thursday
7 p.m.: Temple at Villanova (ESPN2)
8 p.m.: Old Dominion at Missouri (ESPN3.com)

Friday
Noon: Northwestern at Purdue (ESPN2)
Noon: Kentucky at Louisville (CBS)
4 p.m.: Minnesota at Michigan State (BTN)
4 p.m.: Florida at Xavier (ESPN2)
4 p.m.: Washington at UCLA (FSN)
6 p.m.: Washington State at USC (FS West)
8 p.m.: Seton Hall at Cincinnati (ESPN2)
10 p.m.: Oklahoma State at Gonzaga (ESPN2)

Saturday
11 a.m.: West Virginia at Marquette (ESPN2)
2 p.m.: New Mexico at Dayton (CBS-CS)
3:30 p.m.: Notre Dame at Syracuse (ESPNU)
5:30 p.m.: Boston College at South Carolina (ESPNU)

Sunday
1 p.m.: Rutgers at Villanova (ESPNU)
4:30 p.m.: Charleston at Morehead State
6 p.m.: Wisconsin at Illinois (BTN)
7:45 p.m.: Miami at Duke (FSN)

O'Neil: Three questions
• Is success really that hard to handle? I was always under the impression that winning begets winning, that the good feeling success generates is contagious.
Apparently it's contagious like the flu.
Tennessee went out and thumped Pittsburgh two weeks ago and proceeded to follow up its victory with three consecutive losses to teams it frankly should have beaten: Oakland, Charlotte and USC. Oakland then followed up said win over the Vols with a loss to Michigan.
Florida got itself on track with an impressive win against Kansas State and then laid an overtime egg against Jacksonville.
Baylor built up good feeling with a run through the easy part of its nonconference schedule and proceeded to lose the only game it should have been worried about, to Gonzaga.
Richmond beat VCU in a battle of two very good mid-majors and then fell to a crummy Georgia Tech team.
Perhaps it is time to change the adage. No longer do teams need to overcome adversity. They need to scale the giant mountain that is prosperity.
• Will Renardo Sidney be worth the effort? Mississippi State rolled the dice and bided its time, hoping that Sidney eventually would be able to play. The wait proved lengthy, as he sat out all of his freshman season and the beginning of this year after the NCAA ruled he received improper benefits totaling nearly $12,000.
How did the forward reward the Bulldogs for their faith and trust? By throwing a temper tantrum in Hawaii, one that Rick Stansbury deemed bad enough to make him boot Sidney from the team for one game.
Sidney was once a sought-after talent, a player tabbed the best in his class upon his arrival in high school. Instead he has become a star-crossed talent, a handful of a player known more for his career potholes and problems than for his skill set.
Two critical issues are hanging in the balance right now: Mississippi State's season and Sidney's future. With an in-control Sidney and Dee Bost, when he returns from suspension, the Bulldogs can be a force in the ho-hum SEC West. Or they could dissolve into a circus sideshow.
As for Sidney, whether he realizes it or not, he is currently sitting at an equally critical crossroads. He can get his act together and put his past behind him or become the game's next Derrick Caracter.
• Is Notre Dame as good as the nonconference has led us to believe? We'll know pretty quickly. No one is getting a more cruel how-do-you-do from its conference offices than the Irish. Notre Dame hosts Georgetown on Dec. 29, then starts the new year off in scenic Syracuse with a game against the Orange and then returns home for a nice little tango with Connecticut. For those keeping score, that's three top-10 teams in six days.
Notre Dame ranks right alongside Connecticut as the Big East's biggest early surprise. Without Luke Harangody, the Irish have changed the way they play but not the results. Ben Hansbrough and Tim Abromaitis have filled in Harangody's scoring gap, with Hansbrough torching opponents from the arc at a nearly 50 percent clip. And though the Irish's early schedule hasn't been completely daunting, it's been decent enough. Notre Dame has dispatched of a good Wisconsin team and a decent Cal team, and the jury is still out Gonzaga.
There's no doubt the Irish are better than most people expected, but are they that good? This week will tell.
-- Dana O'Neil
O'Neil on Temple-Villanova
Places to be this week
Monday
Connecticut at Pitt
After Maui Invitational wins over Wichita State, Kentucky and Michigan State -- led by brilliant scoring performances from current player of the year favorite Kemba Walker -- Connecticut jumped from unranked entity to top-five team in a flash. The jump was deserved, sure, but Walker & Co. haven't gone on the road or played a Top 25 team since the Maui trip. They'll be doing both -- against one of the best teams in the nation, no less -- in this tantalizing Big East debut Monday night.
Tuesday
Minnesota at Wisconsin
Minnesota is still an unknown. When the Gophers were at full strength, they beat Western Kentucky, North Carolina and West Virginia in Puerto Rico. With guard Al Nolen out of the lineup, the Gophers have lost to a young Virginia team at home, won few other games of note, and have seen their statistical profile slip as a result. With Nolen likely to be back Tuesday, Minnesota has a chance to re-establish itself as a Big Ten contender in one of the more challenging away dates it will face all season.
Wednesday
Georgetown at Notre Dame
A note of congratulations is due to the Georgetown Hoyas. Wednesday's game will mark the official end of their brutal nonconference schedule, a slate full of tough opponents and true road games that could have derailed lesser teams. Instead, the Hoyas handled it admirably, dropping only one game, a 68-65 loss at Temple. For its trouble, Georgetown gets to open its Big East season with another road date. There is no rest for the weary here, but you should expect plenty of offense; both teams rank among the nation's top 10 in offensive efficiency so far this season.
Missouri State at Northern Iowa
Northern Iowa got something of a boost with a win over Indiana in Las Vegas this past week, but the Panthers' hopes of getting back to the NCAA tournament this season will still rest entirely on their performance in the Missouri Valley Conference going forward. That challenge begins with a game at Missouri State, a dark-horse MVC pick in its own right.
Marquette at Vanderbilt
Welcome to Marquette's last nonconference stand. The Golden Eagles have yet to lose a truly bad game this season, but they haven't won a good one yet, either. This is Buzz Williams & Co.'s last opportunity to turn fast-paced pluck into a result the selection committee can appreciate before the grind that is the Big East conference seasons begins.
Thursday
Temple at Villanova
Despite losing only one game so far, Villanova has its share of doubters. That's thanks to a relatively soft nonconference schedule and the Wildcats' occasionally uninspired performances therein. Temple, meanwhile, has proved its defensive bona fides (no surprise, given the Owls' defense last season), while simultaneously struggling to find interior buckets and rebounds on the offensive end. Even at home, this counts as a legitimate test for Villanova, not to mention the marquee Philadelphia Big 5 matchup of the year.
Old Dominion at Missouri
This is a fantastic opportunity for ODU. The CAA favorite Monarchs -- who nearly toppled Georgetown in their season opener and suffered a reputation hit in a Dec. 4 loss to Delaware -- will play a heart-attack-inducing Missouri team that has been getting tons of poll love but has a few disconcerting trends in its underlying statistical profile. This would be an upset, no question, but it's an attainable upset that would have a disproportionate effect on ODU's at-large chances come bubble time.
Friday
Kentucky at Louisville
This is always going to be a good one -- few rivalries in college hoops boast this combustible combination of personal and collective acrimony -- even if the two teams on hand aren't all that good. That's not the case this year: Louisville has played surprisingly well in its nonconference slate (home loss to Drexel notwithstanding), while Kentucky has another impressive young batch of talent -- including a potential player of the year in freshman forward Terrence Jones -- learning and thriving in coach John Calipari's dribble-drive system.
Washington at UCLA
The Huskies should bring their cameras and sneak in a stop at Grauman's Chinese Theatre. Why? Washington is touring Los Angeles this week, playing at USC on Wednesday before going to Pauley Pavilion for this tough date with UCLA on Friday. The Huskies are better than their 8-3 record belies -- they're the No. 5-ranked team in adjusted efficiency to date according to Pomeroy -- so don't be surprised if they sweep this L.A. tour with plenty of touristy energy to spare.
Washington State at USC
Washington isn't the only team doing the L.A. tour this week, either; the Cougars are doing the bizarro Huskies schedule, playing at UCLA on Wednesday before going to USC on Friday. After an impressive nonconference run capped by a second-place finish in the Diamond Head Classic, the Cougars need to keep the momentum rolling to establish themselves as a bona fide Pac-10 contender.
Sunday
Wisconsin at Illinois
Last time the Badgers played at Illinois, Wisconsin pulled away from a fraying Illinois team as guard Demetri McCamey and Bruce Weber openly feuded on the sidelines. After an upset loss to Illinois-Chicago and a late disappointment versus Missouri last week, Illinois is facing adversity this time around, too. How the Illini respond against an underrated Wisconsin team will be a measure of their ability to improve as the Big Ten season begins to test their mettle.
-- Eamonn Brennan
Upset pick of the week
Marquette over West Virginia: The Golden Eagles haven't had that breakthrough win yet and didn't look the part of an NCAA tournament team in the home loss to Wisconsin. But now the Big East is starting and Marquette has to earn its way to the Dance through conference play. West Virginia hasn't hit its consistent streak just yet, and going into Milwaukee has always been a chore, even when they've won on late possessions. This is a must-win for Marquette if it's going to be taken seriously in the league. Losing here could create a snowball effect, especially since this game comes after the Golden Eagles will have played at Vanderbilt earlier in the week.
-- Andy Katz
Unbeaten roll call
Looking to remain unbeaten (eight left): Cincinnati, Connecticut, Duke, Kansas, Ohio State, San Diego State, Syracuse and UCF.