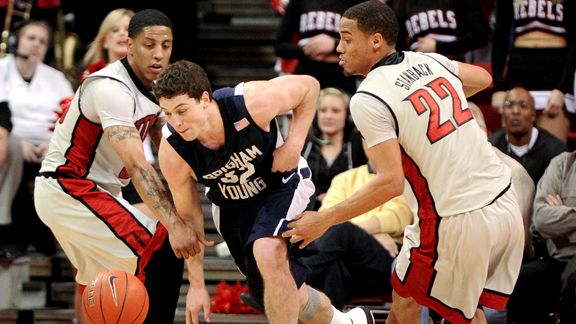 Ethan Miller/Getty ImagesUNLV had no answer for Jimmer Fredette, as he scored 39 points in BYU's 89-77 win on the road.
Colorado's Alec Burks, UConn's Kemba Walker, Duke's Nolan Smith and Hofstra's Charles Jenkins certainly deserve consideration for the performances they turned in during the week. But Fredette is the player of the week for what he did at UNLV before finishing the week with a home game against Air Force. Fredette, who should be considered second to Walker in the national player of the year chase, torched the Runnin' Rebels with 39 points, making seven 3s and going 8 of 10 from the free throw line in 40 minutes. He followed that up with a tidy 22 points in the Cougars' win over Air Force.
"He's playing with so much confidence right now," BYU coach Dave Rose said Sunday. "It's amazing. He's finding ways to score. He's playing with more patience." Fredette's impact on BYU can be likened to the one Adam Morrison had on Gonzaga during his junior season, as Morrison impacted games with his shot-making ability. "The game can be really close, and then in four or five possessions, we can be up double figures and he's done most of the scoring," Rose said.
Fredette has made plenty of huge shots for the Cougars this season, including a go-ahead 3-pointer in a win over Saint Mary's. Even in a loss to UCLA, the Cougars' only defeat this season, Fredette put in 25 points. And he unquestionably led BYU to a win at UNLV, where the Cougars have struggled during regular-season games and in the MWC tournament. "It's been a tough place for us," Rose said of the Thomas & Mack Center. "We've had blowouts and games that went down to the end. For Jackson [Emery] and Jimmer to go in there and win was great. They've had some frustrating games there." This past Wednesday wasn't one of them, as Fredette and fellow senior Emery (22 points) led the Cougars to an 89-77 win.
-- Andy Katz
More performances that wowed us
Matthew Bryan-Amaning, Washington: In a 103-72 show-of-force against Oregon State, Bryan-Amaning led the way with 24 points and 15 rebounds on 11-of-14 shooting.
Melsahn Basabe, Iowa: We've come to expect the 24 and 12 that Jared Sullinger put up in Ohio State's surprisingly tight win at Iowa. But Basabe, the former Siena recruit who followed Fran McCaffery to Iowa City, had to give Hawkeyes fans a ton of hope -- and Siena fans a ton of angst -- with his 22 points, 13 rebounds and 6 blocks.
[+] Enlarge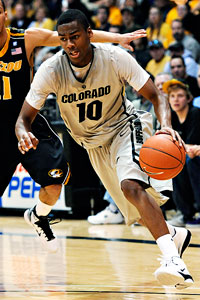 AP Photo/Jack DempseyHad it not been for Jimmer Fredette's 39-point outburst, Alec Burks' performance in Colorado's win over Missouri might have earned him this week's top honor.
Alec Burks, Colorado: The sophomore was masterful in an upset of No. 8 Missouri, scoring a career-high 36 points and adding eight boards as the Buffaloes notched their first win over a top-10 team in eight years.
LaceDarius Dunn, Baylor: In a win over Morgan State, Dunn connected on 10 of 18 from behind the arc, made all seven free throws and finished with a career-high 43 points.
Kaylon Williams, Milwaukee: It was the bare-minimum triple-double, but a triple-double against Butler is a triple-double against Butler. Williams contributed 10 points, 10 rebounds and 10 assists in Milwaukee's stunning demolition (76-52) of the Bulldogs, the school's first triple-double since 1993.
Mustapha Farrakhan, Virginia: The grandson of Nation of Islam leader Louis Farrakhan missed just one shot (11 of 12) against Howard, connecting on 8 of 9 3s for 31 points.
Yancy Gates, Cincinnati: Gates dominated crosstown rival Xavier with 22 points and 14 rebounds as the Bearcats beat the Musketeers by 20.
Ben Hansbrough, Notre Dame: In a pair of impressive Big East wins, Tyler's little brother scored 21 against UConn and 26 against St. John's. The Mississippi State transfer has played a crucial role in the Irish's surprising 14-2 start.
Mike James, Lamar: In the eighth game of his Division I career, the junior college transfer who hadn't scored more than 16 points this season came off the bench and scored a school-record 52 points. That's not a typo: 52 points … as a reserve. In just 28 minutes of work, he scored the most points off the bench of any college player since 1997.
Charles Jenkins, Hofstra: In key league wins over George Mason and Northeastern, Jenkins contributed 52 points and 15 assists and made 17 of 19 free throws as the Pride improved to 4-0 in CAA play.
JaJuan Johnson, Purdue: In the Boilermakers' win at Penn State, Johnson contributed 15 points, 15 boards and 5 blocks. It was the first 15-15-5 stat line in a Big Ten game since Minnesota's Joel Przybilla pulled it off in 2000.
Cameron Jones, Northern Arizona: Jones scored 31 of his career-high 37 points after halftime as he led his Lumberjacks to an 82-80 overtime victory over Idaho State. Also worthy of recognition: Teammate Stallon Saldivar, he of the awesome name, delivered 13 assists with no turnovers.
Casey Mitchell, West Virginia: Mitchell had his best outing as a Mountaineer in a game that struggling WVU desperately needed, scoring 28 points and delivering four key 3s in a 65-59 win at Georgetown.
[+] Enlarge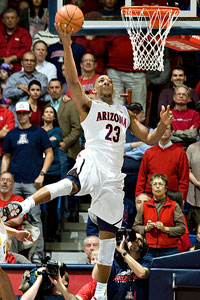 AP Photo/John MillerDerrick Williams powered Arizona's win over Cal with a career-high 31 points and 12 rebounds.
Vlad Moldoveanu, American: The big Romanian lands in this category for the second straight week as he went for 39 points (12-for-18 FG, 10-for-10 FT) and 12 rebounds in an 82-75 win over Lehigh that improved the Eagles to 11-5.
Sam Muldrow, South Carolina: The 6-foot-9 forward had a big man's triple-double as he contributed 16 points, 14 rebounds and 10 blocks in an 83-75 victory over No. 24 Vanderbilt.
Alex Oriakhi, Connecticut: After a horrendous effort at Notre Dame, Oriakhi delivered 21 rebounds (10 on the offensive glass) in UConn's gutty overtime win at Texas. And his shot might've been off for most of the day, but that Kemba Walker guy was pretty good, too.
Mike Smith, East Tennessee State: It might've been against Florida Gulf Coast, but a 20-20 game gets recognition in this space.
Nolan Smith, Duke: It's time we start to appreciate the season (and career) Smith is putting together. In an 85-64 win over UAB, Smith compiled 33 points, 7 rebounds and 5 assists. It was his fifth straight game of at least 22 points (62 percent shooting during that stretch).
Derrick Williams, Arizona: In addition to 12 boards, Williams scored a career-high 31 points. The Wildcats needed every last one of them in a 73-71 comeback win over Cal.
-- Brett Edgerton
Team of the Week: West Virginia
The Mountaineers hadn't made their mark this season until last week. A loss to Minnesota in the Puerto Rico Tip-Off followed by losses against similar competition (at Miami by three, versus St. John's by 10 and at Marquette by five) meant the Mountaineers had to do a complete 180 -- and fast -- if they were to be an NCAA tournament team. They did just that by finishing a three-game Big East road swing with consecutive wins at bottom-feeder DePaul, 67-65, and Georgetown, 65-59. Casey Mitchell was suddenly reliable again (28 points), and Kevin Jones actually made a big shot like he was projected to do in the preseason as a replacement for big-shot-maker Da'Sean Butler.
[+] Enlarge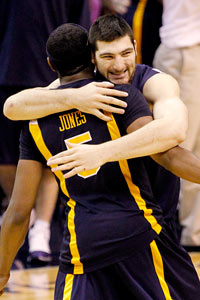 AP Photo/Manuel Balce CenetaWest Virginia picked up some momentum with consecutive road wins over DePaul and Georgetown.
The guard play of Joe Mazzulla and Darryl Bryant was solid -- not great, but good enough to offset Georgetown's Austin Freeman, Jason Clark and Chris Wright. The Mountaineers were faced with a desperate situation as they try to be a major competitor in the Big East. In a scheduling quirk, West Virginia will go from Jan. 14 to Jan. 23 without a Big East game. The Mountaineers bookend a pair of league home games against Providence and USF with a key nonconference game against Purdue on Jan. 16 followed by the annual rivalry game against Marshall on Jan. 19.
More teams that impressed us
Georgia: The Bulldogs had one game this week, and it was at home. But it was against Kentucky, and the Bulldogs beat the Wildcats by seven points in Athens for their most significant win yet under Mark Fox. This is the kind of season-changing win that Georgia needed to be taken seriously in the SEC East. The Bulldogs had great balance in the game, as preseason SEC Player of the Year Trey Thompkins scored 25 and Gerald Robinson added 17 with two other players scoring in double figures. Now Georgia enters a tough stretch with consecutive road games at Vanderbilt and at Ole Miss.
Missouri State: All that's left for coach Cuonzo Martin to complete the turnaround is win the regular season and secure an NCAA tournament bid. He's transformed the Bears into Valley elite. Missouri State (13-3, 5-0) completed a great week by following up a home win over Evansville with a gutty road win at Wichita State on Sunday. The Shockers were the preseason favorite, but Missouri State now has the edge with road wins at Northern Iowa, Creighton and Wichita, three of the toughest venues in the conference.
Pittsburgh: The Panthers reasserted themselves as a Big East title contender with wins at Providence and at home against Marquette. The most experienced team in the Big East keeps chugging along.
Notre Dame: The Irish won two key home games over Connecticut and St. John's to stay in the title chase. The Irish were impressive in each of the two efforts.
Harvard: The Crimson keep beating Boston College at Conte Forum. That shows the Crimson are relevant. It would mean more if they could win the Ivy League, though, and finally get to the NCAA tournament.
BYU: The Cougars won at UNLV and at home against Air Force to show that they, not UNLV, should be the toughest competitor for San Diego State in the Mountain West.
Colorado: The Buffaloes had a crushing home win over Missouri that showed how much they are improving throughout this season and could alter their postseason fortunes.
-- Andy Katz
More scores that caught our eyes
• Central Connecticut State 92, Massachusetts 63: In the lowest point of a Derek Kellogg era that's seen plenty of low points, UMass fell behind 33-9 and allowed an average NEC team to shoot 56 percent from 3. Then, naturally, it went out and beat Dayton in its next game.
• Auburn 65, Florida State 60: FSU, which fancies itself an NCAA tourney contender, couldn't pull off something that UNC Asheville, Samford, Campbell and Presbyterian all managed to accomplish: a win over the worst major conference team in America. How bad are the Tigers? In their very next game, they were down 32-6 at halftime to bumbling LSU.
• Milwaukee 76, Butler 52: Bookended around a dominating win over Cleveland State was this blowout loss, which ended Butler's 22-game Horizon League win streak, and a less-than-impressive 84-79 win over struggling Youngstown State, which had led by eight in the second half. This will not be your typical Bulldogs domination of the Horizon League.
• Tennessee 104, Memphis 84: Believe it or not, it wasn't even this close. The hard-to-predict Vols dominated from start to finish, handing Memphis its worst loss since 2004 and scoring the most points by a Tigers opponent since 1988.
• Boise State 102, San Jose State 101 (4 OT): It was Boise State's longest game ever and the longest since 1985 for San Jose, which topped the 100-point mark for the first time since 1979, a span of 914 games. A special shout-out to SJSU's Justin Graham, who played all 60 minutes and scored a career-high 29.
• Old Dominion 49, Northeastern 34: In the lowest-scoring game in CAA history, ODU somehow managed to put together separate runs of 22-2 and 19-4. This was Northeastern's lowest point total since 1949.
• Illinois 88, Northwestern 63: The Fighting Illini shot a school-record 70.5 percent, which was also the best shooting percentage in a Big Ten game in seven years.
• Indiana State 70, Northern Iowa 45: The most stunning storyline is to see the Valley's premier program of late get hammered the way it did. But the continued progress of Indiana State shouldn't be ignored. The Sycamores find themselves at 4-1 in a MVC race that should be compelling all the way to the end.
[+] Enlarge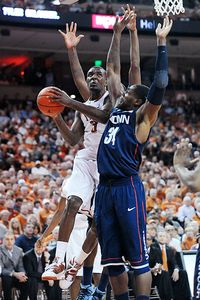 Brendan Maloney/US PresswireKemba Walker stole the show late, but Alex Oriakhi and Jordan Hamilton were impressive in their own right on Saturday in Austin.
• Connecticut 82, Texas 81 (OT): From Roscoe Smith's blunder to Jordan Hamilton's all-around effort to Kemba Walker's two clutch shots in OT, this classic had a little bit of everything. If you watched it, you won't soon forget it.
• Houston 76, UCF 71: It would be unfair to call UCF a fraud on the basis of one loss, especially after 14 games without one. But Houston is not a good team, and this was not a good loss. That is fair to say.
• Penn State 66, Michigan State 62: Are we all still just assuming this Michigan State team is going to turn it on in March, or is it OK to now at least wonder whether there's something just off about this team?
• UAB 100, UTEP 97 (4 OT): In a wide-open C-USA race, these two are contenders, and this was a big game. For the Blazers, Cameron Moore finished with 29 points and 14 boards and hit the 3 that forced a fourth overtime, and teammate Aaron Johnson added 26 points and 14 assists.
• St. Bonaventure 92, Charlotte 88 (3 OT): A team that outlasted Ohio in four overtimes last month needed just three extra sessions to win its conference opener. As he did against the Bobcats, Andrew Nicholson came up huge in this one as well (34 pts, 9-of-9 FT).
• Austin Peay 66, Murray State 64: Is there a new favorite in the Ohio Valley? It's been assumed that Murray was the top dog and Morehead State wasn't far behind, but it's the Governors who have beaten them both and find themselves at 5-0 after a huge road win this past weekend.
• Marshall 95, Southern Miss 65: Larry Eustachy got thrown out of this one, and who can blame him? What a lackluster performance by a team that doesn't shy away from calling itself a conference contender and NCAA tourney candidate.
-- Brett Edgerton
The week in quotes
• "I definitely saw it and was reminded of it."
-- BYU guard Jimmer Fredette to reporters after scoring 39 points against UNLV, referring to a pregame comment made by Rebels guard Tre'Von Willis that Fredette was "supposedly" the Mountain West's best player.
• "I would have to call this one of the more disappointing losses in my career. Not because of Penn State, but because of the way that we prepared this week. One of our best weeks of practice, and we didn't do the things we needed to do."
-- Michigan State coach Tom Izzo
• "Basketball should be the last thing on anyone's mind right now. Our thoughts are with the families of people in this community touched by this tragedy. As a husband and father and member of the community, today's events have affected me deeply."
-- Arizona coach Sean Miller in a statement after the Stanford-Arizona game was postponed on Saturday due to the mass shooting in Tucson.
• "I have no interest in doing it. I never want to do it. It's a conflict of interest, and it's a farce, let's face it."
-- USC coach Kevin O'Neill to the Orange County Register on not voting in the coaches' poll.
• "As an NCAA board member, I continue to be puzzled and confused by the reasoning behind this decision, which seems to be an inconsistent and arbitrary application of the rules. It is unfortunate and disappointing that Enes and his family have been negatively impacted by this process."
-- Kentucky president Lee T. Todd Jr. in reaction to forward Enes Kanter being ruled permanently ineligible.
Observations from the week that was
Andy Katz

• Conference USA is eating its own. It's one of the more competitive leagues this season, which is great for balance but not so much for separation. UCF could afford to lose at Memphis, UAB or UTEP but not at Houston. Southern Miss can afford to lose to Marshall on the road but not by 30. Memphis can't afford to squeak by East Carolina by just three points. Conference USA teams will beat each other up. But the challenge for the league is to prove to the selection committee that it is worthy of multiple bids in March. The league won't lack for quality, entertaining games, as evidenced by the triple-overtime affair between UTEP and UAB, but that still doesn't help impress the committee. There needs to be a clear separation from the top to the bottom in this conference.
• This may be the last reference to Mississippi State you hear from me for a while, but what occurred Saturday just added to the train wreck this season has become. Coach Rick Stansbury played a ridiculous schedule (five games in 11 nights with travel from the Bahamas to Hawaii to Las Vegas) for the sole purpose of having point guard Dee Bost and Renardo Sidney eligible to play in the Bulldogs' SEC opener at home against Alabama. Bost's combined suspension for missing the NBA draft withdrawal deadline and being academically ineligible meant he had to sit out 14 games. Jamming in those games in such a short period allowed Bost to be eligible for the SEC opener. Then Stansbury reinstated Sidney after his two-game suspension for fighting with Elgin Bailey in Hawaii. Bailey was jettisoned after he "elected to transfer." So what happened in the big debut? The Bulldogs got rocked at home, 75-57, by a Crimson Tide team that has struggled this season. Sidney was 1-of-8, while Bost scored 14 points. The offseason can't come soon enough for Mississippi State.
For more of Katz's observations, see the complete post in the Nation blog.
Eamonn Brennan

• Connecticut should hereafter receive the benefit of the doubt. Before Saturday's big win at Texas, UConn appeared to be a one-man team. The Huskies had major holes in their frontcourt and no legitimate second scoring option to help keep defenses honest in their approaches toward brilliant scorer Kemba Walker. Their record and subsequent rise in the rankings could have been seen as a soon-to-be-exposed fraud based on little more than three days in Maui in November. It wasn't an entirely unreasonable assumption. The Big East would chew up the overrated Huskies, everyone would forget about Maui and that would be that.
After the win? Not so much. Connecticut now looks far more impressive. There aren't too many teams in the country with the kind of nonconference résumé the Huskies can now boast; the win over the Longhorns not only adds another marquee victory to that tally but also puts the rest of UConn's nonconference performance back into focus. You can't take much away from a team that has beaten Michigan State, Kentucky and Texas all away from home. Do we believe in Connecticut? At this point, it's hard not to.
• Winning on the road is always difficult. This one doesn't need much explanation. If you tuned in Saturday, you already know the story: Seven ranked teams -- Missouri, Georgetown, Michigan State, Kansas State, Kentucky, UCF and Vanderbilt -- lost to unranked opponents Saturday. Of those losses, only Georgetown's came at home; the rest were products of road conference games. Throw in Kansas' overtime scare at Michigan, Tennessee's inexplicable loss at Arkansas and a handful of other under-the-radar results from the weekend, and the collective results hammered home a point we too often forget: Winning on the road is just plain hard.
For more of Brennan's observations, see the complete post in the Nation blog.
Jay Bilas previews the week
Viewer's Guide
All times ET
Monday
7 p.m.: Notre Dame at Marquette (ESPN2)
8:30 p.m.: Jacksonville at Belmont
Tuesday
7 p.m.: Wisconsin at Michigan State (ESPN)
7 p.m.: Texas at Texas Tech (ESPN2)
7 p.m.: Rutgers at Connecticut (ESPN3)
9 p.m.: NC State at Boston College (ESPNU)
9 p.m.: Florida at Tennessee (ESPN)
Wednesday
6:30 p.m.: Ohio State at Michigan (BTN)
7 p.m.: Pitt at Georgetown (ESPN)
7 p.m.: Louisville at Villanova (ESPN2)
7 p.m.: Syracuse at St. John's (ESPNU)
7 p.m.: Nebraska at Missouri (ESPN3)
8 p.m.: Oklahoma State at Texas A&M (ESPN3)
8 p.m.: Georgia at Vanderbilt (ESPN3)
9 p.m.: Duke at Florida State (ESPN)
9 p.m.: Kansas at Iowa State (ESPN2)
9 p.m.: Colorado at Kansas State (ESPNU)
10 p.m.: UNLV at San Diego State (CBS-CS)
Thursday
7 p.m.: Purdue at Minnesota (ESPN)
7 p.m.: Old Dominion at Drexel (ESPNU)
9 p.m.: Virginia Tech at North Carolina (ESPN)
10:30 p.m.: Utah State at Boise State
Friday
9 p.m.: Butler at Detroit (ESPNU)
Saturday
11 a.m.: Marquette at Louisville (ESPN2)
Noon: Vanderbilt at Tennessee (ESPN)
Noon: Cincinnati at Syracuse (ESPN3)
1 p.m.: Maryland at Villanova (CBS)
1 p.m.: Missouri at Texas A&M (ESPN2)
1:30 p.m.: Oklahoma State at Colorado (ESPN3)
1:30 p.m.: South Carolina at Florida (ESPN3)
2 p.m.: Nebraska at Kansas (ESPNU)
3 p.m.: Illinois at Wisconsin (BTN)
6 p.m.: San Diego State at New Mexico (CBS-CS)
8 p.m.: Dayton at Xavier (CBS-CS)
Sunday
Noon: Notre Dame at St. John's (ESPN3)
1:30 p.m.: Purdue at West Virginia (CBS)
Andy Katz on Syracuse-St. John's
O'Neil: Three questions
• What's wrong with Michigan State? I'm sure Tom Izzo is asking the same thing. The Spartans' pre-New Year hangover has now headed into 2011 with a stunning loss at Penn State, a loss Izzo called one of the most disappointing of his career.
The Spartans are a pedestrian 10-5, but the real troubling thing is that just when one ill seems cured, another crops up.
Against Penn State, the previously turnover-plagued Spartans righted that wrong, coughing it up an acceptable 11 times. But the frontcourt was woeful, beaten on the boards and in the scoring column.
Most everyone in college basketball is waiting for things to click for Michigan State as it seems to every year, but with each passing week, that likelihood seems dimmer and dimmer.
• Is Georgia a legit threat in the SEC? The Bulldogs just might be. A hot sleeper pick early, the Dawgs fell off the radar a little bit with back-to-back losses at Disney World to Notre Dame and Temple in November. But Georgia reasserted itself with authority this past weekend, beating Kentucky by seven.
Trey Thompkins, the preseason conference player of the year, also reclaimed his status against the Wildcats with 25 points and seven boards.
Now the Bulldogs have to take their soaring act on the road, heading to Vanderbilt to face a Commodores team that was stunned in overtime by South Carolina. If the Dawgs can win that one, Mark Fox won't have a sleeper team any longer.
• Will anyone in the Big 12 unseat Kansas? It certainly appears less and less likely every week. Missouri lost to Colorado, and Kansas State dropped one to Oklahoma State. Upstart Iowa State fell to Nebraska, and Connecticut dismissed Texas.
The Jayhawks? They just keep rolling.
They have had their share of upheaval -- Mario Little's suspension, Marcus Morris' ejection, the delayed addition of Josh Selby -- but unlike their conference counterparts, they have remained unflappable.
This was supposed to be the season when things changed in the Big 12. Turns out, the more things change …
-- Dana O'Neil
Places to be this week
Monday
Milwaukee (Notre Dame at Marquette)
A glance at Marquette's record might not reveal how much of a test this could be for the Irish. Marquette hasn't come away with a big win yet this season, but it has challenged every team it's played at home, on the road or at neutral sites. In the meantime, Notre Dame has been impressive in Big East play thus far but is still looking for its first road win. Who knows whether it'll get it at the Bradley Center? What we do know is that the Golden Eagles are always up for a challenge.
Tuesday
East Lansing, Mich.
(Wisconsin at Michigan State)
Even as Michigan State struggled in nonconference play, most fans and observers reserved a measure of faith: "Tom Izzo will get his team ready in time for the tournament. The Spartans will get better. You'd be foolish to count them out." And so on. After Saturday's loss to Penn State, that refrain is starting to seem a little stale. If ever there was a time for Michigan State to prove itself, to show that the faith of the multitudes wasn't misplaced, it's Tuesday at home versus Wisconsin.
Washington, D.C. (Pitt at Georgetown)
Two weeks ago, fresh off its impressive performance against the nation's toughest high-major nonconference schedule, Georgetown appeared to be a legitimate Big East contender. Now the Hoyas, who are 1-3 in the Big East with a loss at St. John's and a surprising home defeat at the hands of West Virginia on Saturday, are reeling. They'll have to get back on track -- which means guards Austin Freeman, Jason Clark and Chris Wright will have to find their long-distance shooting strokes again -- if they want to hold off a bear of a Pitt team Wednesday.
New York City (Syracuse at St. John's)
Say this for St. John's and Steve Lavin: They've made college hoops in Madison Square Garden -- especially the prospect of this New York-centric matchup -- exciting again. Sure, the Red Storm might not be quite the team they had seemed to be in their hot 3-0 Big East start. But their wins over West Virginia and Georgetown have energized a downtrodden fan base, and on atmosphere alone, this one should be a thriller.
Nashville, Tenn. (Georgia at Vanderbilt)
If Kentucky is the clear favorite in the SEC East and Florida the baffling contender with problems to fix, both Vanderbilt and Georgia are the leaders in the dark-horse clubhouse. The Bulldogs are coming off a huge win over Kentucky, while Vandy -- which had the more impressive nonconference stretch of the two -- struggled in a road loss to South Carolina.
San Diego (UNLV at San Diego State)
Three cheers for the Mountain West. If it wasn't the MWC's top three teams -- UNLV, BYU, and San Diego State -- it'd be tough to get excited about any conference race west of the Mississippi. Instead, the emergence of the Cougars, Rebels and Aztecs as league contenders and seeming NCAA tournament locks means we get games like this at least once every few weeks. UNLV needs to rebound from a tough home loss to BYU, while SDSU will be eager to maintain its undefeated record and, in the wake of BYU's excellence, maintain its status as the team to beat in the MWC.
Thursday
Chapel Hill, N.C. (Virginia Tech at UNC)
The battle for second place in the ACC rages on. Maryland nearly got a boost with a win at Duke on Sunday night, but the Terps fell just short in Durham. Both Virginia Tech and UNC entered the season with designs on competing for the ACC title, but both teams struggled in a variety of ways to start the season. At the very least, this game should help us sort through the ACC hierarchy. Say it with me, Hokies and Heels: "We're No. 2!"
Saturday
College Station, Texas
(Missouri at Texas A&M)
The Tigers did not begin the Big 12 season in the same high-flying fashion as they entered it. Instead, Mizzou kicked off league play with a rather ugly 12-point loss at Colorado. Mike Anderson's team will have to find a way to play on the road in a hurry, because A&M is not only good at home, it's far, far better than Colorado, too.
Madison, Wis. (Illinois at Wisconsin)
Few teams win at the Kohl Center, and Illinois is no exception. That's why this game could be so important. The Illini already beat Wisconsin in Champaign; a win in Madison could establish Illinois as the best non-Ohio State team in the Big Ten. Wisconsin, meanwhile, will be recovering from whatever happens at Michigan State on Tuesday night, and a win here would either be a needed rebound or a nice end to a very difficult three-day stretch.
Sunday
Morgantown, W.Va.
(Purdue at West Virginia)
Last year, Purdue showed it was a force in the national title picture by beating West Virginia -- the same West Virginia team that went to the Final Four in April -- by 15 points in Mackey Arena. Then Robbie Hummel tore his ACL, and you know the rest of the story. But the rematch will be no less difficult for the Boilermakers, as West Virginia, although prone to the occasional struggle thus far this season, appears to be back on track after its big win at Georgetown over the weekend.
-- Eamonn Brennan
Leung on San Diego State-UNLV
Upset pick of the week
Iowa State over Baylor, Saturday: The Cyclones have quietly put together a solid season under first-year coach Fred Hoiberg. They are 13-3, and although they lost by one point to Nebraska in their Big 12 opener, they're more than capable of winning a key game at Hilton Coliseum. They're not talented enough to hold off Kansas on Wednesday, but that should be good preparation to end the week's homestand with a win over Baylor on Saturday. The Bears did look impressive in a road win at Texas Tech, with Perry Jones III scoring 20 points, but if you're looking for a tough out in the Big 12 this season, it could be Iowa State at home.
-- Andy Katz
Brennan on Pitt-Georgetown