Last week was quite a seven-day stretch for Pearson and the Patriots. Mason started the week by finding out it had received one of the marquee televised games during BracketBusters (at Northern Iowa Feb. 19). It's been five years since GMU made that magical run to the 2006 Final Four, but during that season the Patriots used a BracketBusters road win at Wichita State to help corral an at-large berth. So that was good news -- and the week only got better from there, as the Patriots had two key home games to determine their place in the Colonial Conference pecking order.
Well, they won them both quite easily, in large part because of the way Pearson played. The junior forward had double-doubles in both games, scoring 19 points and 12 boards in a 87-68 win over Hofstra and then 18 and 11 in a 62-45 win over defensive stalwart Old Dominion. Mason has now won nine straight games and is the clear favorite in the Colonial over VCU, ODU and Hofstra. The RPI profile is strong, and the Patriots are in position to possibly earn an at-large berth if they keep up their hot play. Two upcoming games at VCU and at UNI will tell a lot about where this team stands, but if Pearson can deliver another week like the last one Mason will be in good shape.
-- Andy Katz
More performances that wowed us
Kyle O'Quinn, Norfolk State: In his team's thrilling 110-108, double-overtime win at Coppin State, the 6-foot-10 junior forward put up one of the finest stat lines we've seen this season: 37 points on 13-of-18 shooting, 19 rebounds and six blocks. Oh, and he hit the two game-winning free throws with 4.5 seconds left. That's a decent contribution.
Julian Mavunga, Miami (Ohio): The RedHawks easily beat division-leader Ball State, and Mavunga was the main reason why, as he racked up 27 points (9-13 FG, 5-7 from 3-point range) 11 boards and seven assists.
[+] Enlarge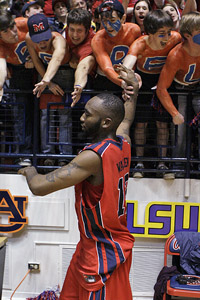 AP Photo/Rogelio V. SolisOle Miss students had reason to celebrate after Chris Warren's late 3 lifted the Rebels over Kentucky.
Chris Warren, Ole Miss:
It seems like Warren has been in Oxford forever, but it's doubtful he's hit a bigger shot than the 25-footer he drained with 2.9 seconds left that brought down Kentucky and gave the Rebels their first win against a top-10 team in nine years. Warren finished with 22 points (9-15 FG, 4-7 from 3) and followed up with 19 in a win at Arkansas.
Jon Leuer, Wisconsin: Leuer and the Badgers were their usual efficient selves this week, as the big man contributed 24 points and 13 rebounds in a 66-59 win over Purdue and 20 more points in a 82-56 laugher over Michigan State. In the latter game, Jordan Taylor's 30 points also deserve mention.
Sean McGonagill, Brown: In his team's first Ivy League win of the season, the freshman guard made a remarkable 15 of 19 shots against Columbia and finished with 39 points and six assists.
Baye Moussa Keita, Syracuse: It got a bit lost in the mix of the analysis of his team's drought-busting win at Connecticut, but the 6-10 freshman reserve sort of came out nowhere to grab 11 rebounds and six steals against the Huskies. He won't provide much offense, but 11 boards and six steals is nothing to scoff at.
Kenneth Faried, Morehead State: Another ho-hum 20-20 effort for the nation's leading rebounder. A week after he delivered his second 20-20 of the season, he posted another one in a win at Jacksonville State with 21 points and 20 rebounds for an Eagles team that's won 11 of their last 13 games.
Marshon Brooks, Providence: Performances in a losing effort don't often get recognized in this space, but we'll make an exception here. When you score the fifth-most points ever in a Big East game (43) and also haul in 10 rebounds -- and very nearly lead your team back from an 18-point deficit at Georgetown -- you get your due in Weekly Watch.
Jeff Allen, Virginia Tech: While we're at it, let's give a shout-out to the always underappreciated Allen for his effort in a two-point loss at BC. The senior forward piled up 25 points and 19 boards and is averaging a double-double (13.2 ppg, 10.0 rpg) for the season.
Orlando Johnson, UC Santa Barbara: Johnson scored eight of his career-high 39 points in overtime, as his Gauchos beat UC Davis 93-86. He also was a perfect 6-of-6 from the free throw in the final two minutes of OT.
Alex Young, IUPUI: Someone in the Summit Conference finally beat Oakland. The Jaguars ended the Golden Grizzlies' 20-game conference winning streak behind Young's 31 points and nine boards in a 100-88 victory.
Anthony Hill, Milwaukee: Hill missed one shot en route to 29 points, 15 rebounds and three blocks, as the Panthers beat rival Green Bay 88-75 for their fourth straight win.
[+] Enlarge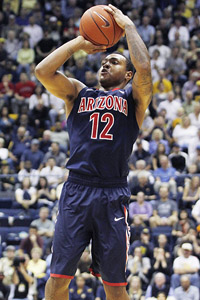 AP Photo/George NikitinBig Mo was on Arizona's side Saturday night as Lamont "MoMo" Jones was clutch throughout.
Lamont Jones, Arizona:
In the game of the week, Arizona's 107-105 triple-OT victory at Cal, MoMo Jones converted a tying three-point play with 16 seconds left in regulation, hit the tying 3-pointer with five seconds in the second OT and finished with 27 points. Not to be forgotten, fellow New Yorker
Kevin Parrom
contributed a career-high 25 points (9-12 FG), six rebounds and six assists.
Ken Horton, Central Connecticut St.: In his team's six-game winning streak, Horton has put up five double-doubles, including a 31-10 performance in the Blue Devils' 80-58 win at Robert Morris on Saturday. On the back of its veteran forward, CCSU has turned itself into a NEC contender.
Reeves Nelson, UCLA: Even before his crucial 3 delivered a dagger to Steve Lavin and St. John's with 34 seconds left, Nelson had pulled down a career-high 17 rebounds for a Bruins team that is quietly putting itself in a position to lock up a tourney bid.
Andrew Goudelock, Charleston: The diminutive guard just keeps plugging along. The Cougars picked up two key SoCon wins with Guodelock scoring 25 against Wofford and 29 against Furman. He's now averaging 23.8 ppg for the season, tied for fourth nationally.
Perry Jones, Baylor: In a win that his team desperately needed, the 6-10 freshman came through. Jones dropped a career-high 27 points and made all nine free throw attempts in the Bears' 76-74 overtime win at Texas A&M. His three-point play with a minute left was crucial.
Jordan Williams, Maryland: On Saturday, Williams posted 27 points, 15 rebounds and three blocks, and before you mention the weak competition (Wake Forest) chew on this: The sophomore big man has 20 double-doubles in 23 games. And there aren't 20 Wake Forests on the schedule.
Kendall Marshall, North Carolina: Larry Who? Two days after Larry Drew II left UNC, all Marshall did was dish out 16 assists against a usually stout Florida State defense. The total broke Phil Ford's Carolina freshman record, was the most by any Tar Heels player in any ACC game and was the most by an ACC freshman since Georgia Tech's Kenny Anderson 21 years ago. Oh, and it was one more than the entire FSU team. Not bad timing, Kendall. Not bad at all.
-- Brett Edgerton
Team of the Week: Florida
Both games were at home, but the Gators showed why they were predicted to be the SEC champ in the preseason. The overtime win over Vanderbilt and the late-possession win over Kentucky gave the Gators a 7-2 mark in conference play. That's a game ahead of Tennessee in the loss column, and the Gators have already won in Knoxville. Florida is two games up on Georgia, and the Gators have already won in Athens in double overtime. So the advantage goes to UF in both of those matchups, since UT and UGA still have to come to Gainesville. The last three games of the SEC season will determine the league champ, with Florida going to Kentucky, hosting Alabama and then traveling to Vanderbilt. But the past week has again proved these Gators can handle adverse situations and get the ball inside when the need arises to establish themselves as the aggressor. Of course, finishing off games is also a huge plus. Florida has learned to do that this season.
More teams that impressed us
UCLA:
The Bruins had quite a week at home with wins over rival USC and a Steve Lavin-led St. John's in a nonconference game over the weekend. UCLA is quietly putting together a nice bounce-back season.
Iowa: The Hawkeyes don't have a great record, but they've been more competitive than expected in their first season under Fran McCaffery. Before the season, few would've expected a week in February during which Iowa would beat Michigan State by 20 and complete a season sweep of Indiana.
North Carolina: The Tar Heels crushed Boston College on the road by 32 and then dealt with the odd departure of former starting point guard Drew by posting a relatively easy 20-point win over former second-place challenger Florida State behind Marshall's 16 assists on Sunday.
[+] Enlarge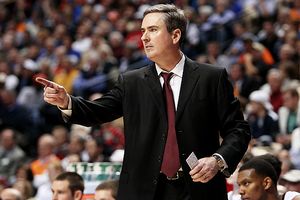 Andy Lyons/Getty ImagesIt's been a season to forget for Rick Stansbury and the Mississippi State Bulldogs.
Oregon: Dana Altman was always seen as a high-character, high-quality coach. He's doing plenty with less for the Ducks, as Oregon swept the Washington schools at home to move into a fifth-place tie in the Pac-10.
George Mason: The Patriots might be tied with VCU atop the Colonial standings, but there seems to be little doubt as to the new conference favorites, after Mason blitzed through two fellow CAA contenders, a 19-point win over Hofstra and a 17-point win over Old Dominion.
Arizona: The Wildcats swept the Bay Area in exciting fashion, holding off Stanford and then outlasting Cal in triple overtime minus star Derrick Williams, who wasn't available late because he had fouled out.
Wisconsin: The Badgers had two key home games and won them both to stay in the race to finish second with a chance, still just a chance, to catch Ohio State. Wisconsin beat Purdue by seven and then handed Michigan State another disappointing defeat, 82-56 Sunday in Madison.
Alabama: The defensive-minded Tide are now an SEC-best 7-1 after wins over Mississippi State and at Tennessee.
Syracuse: The Orange stopped a four-game slide by winning at Connecticut and South Florida and once again having the look of a Big East title contender, although it's probably too late with Pitt holding a three-game lead.
Ole Miss: Coach Andy Kennedy has never needed a win more than he did this past week against Kentucky. He got that and then followed it up with a win over Arkansas on the road in his best week of the season.
Villanova: The Wildcats knocked off Marquette when they found an inside presence of Mouphtaou Yarou and Antonio Pena and then ran past West Virginia for a home sweep to set up a potential showdown with Pitt Saturday at the Pavilion.
Ohio State: The No. 1 team in the country pushed back rival Michigan at home and then went to Minnesota on Sunday for a supposed showdown. It didn't happen, as the Buckeyes won handily, 82-69.
-- Andy Katz
More scores that caught our eye
Texas 69, Texas A&M 49: The Longhorns destroyed rival Texas A&M for the second time this season, bolting to a 45-20 halftime lead in front of a stunned Reed Arena crowd and rolling to their first victory there in seven years. UT later beat Texas Tech to improve to 8-0 in conference play for the first time since 1978.
North Carolina 106, Boston College 74:
The rejuvenated Tar Heels sailed through the final game with Drew and sailed through the first game without him, Sunday's 20-point victory over Florida State. It wasn't long ago that we were wondering who the second-best team in the ACC was -- on Wednesday in Durham, the question might be about the best.
Oklahoma State 76, Missouri 70:
A loss would've dropped the Cowboys to 2-6 in the Big 12 and all but eliminated them from at-large consideration. So this one was huge for OSU. Missouri, which lost back-to-back Big 12 games for the first time under Mike Anderson, is in no such danger. But don't Tigers fans have to be a bit alarmed by their team's inability to win on the road?
[+] Enlarge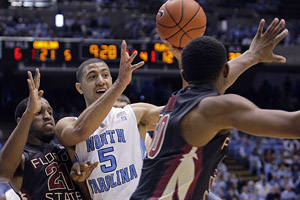 AP Photo/Gerry BroomeKendall Marshall's popularity is sky-high among the North Carolina fan base these days.
Iowa 72, Michigan State 52:
The Hawkeyes led 30-8 after 12 minutes, shot 58 percent for the game and cruised from start to finish in what Tom Izzo called the worst performance ever by one of his Michigan State teams. That was before Sunday's 82-56 loss at Wisconsin.
Charlotte 66, Xavier 62:
The Muskeeters entered 7-0 in the Atlantic 10, while the 49ers had lost four straight and were 1-6 in the league. But when
Tu Holloway
goes 3-of-17 and 0-of-8 from 3, Xavier isn't going to beat many teams. For an inconsistent Charlotte squad that won at Georgia Tech and beat Tennessee and now Xavier, it was only appropriate that this win was followed by a home loss to George Washington.
Youngstown State 62, Butler 60:
Since late November, the Penguins had won three games -- one against 6-18 UIC and two more against Malone College and Wilberforce. So naturally, YSU rallied from a 10-point deficit in the final 5:27 to perhaps put the at-large dagger in the defending national runners-up.
Princeton 65, Harvard 61:
Even a Harvard team that had won eight straight couldn't break the school's ancient drought at Jadwin Gym, where the Crimson have now lost 22 in a row. Don't count out Penn, but the March 5 rematch in Cambridge could very well decide the Ivy championship.
Memphis 62, Gonzaga 58:
In what certainly felt like an at-large elimination game, the Tigers blew all of a 13-point halftime lead but withstood a deafening crowd in Spokane to pull out the crucial win. The Tigers were led by
Antonio Barton
, who's proven this season he's more than just "the brother of
Will Barton
."
Oregon 81, Washington 76:
After losing three road games in six days (Wazzu, Oregon State, Oregon), it seems fair to wonder whether the Huskies are a sure thing when it comes to making the NCAA tournament. Is a home win over Arizona and a road win at UCLA really enough? Forget that, though. Hats off to the undermanned Ducks, who continue to remain stunningly competitive. A remarkable first-year coaching job by Altman.
Drake 72, Northern Iowa 69:
UNI's at-large margin of error was already pretty thin, and if this wasn't the back-breaker, it certainly didn't help. The loss not ended an eight-game winning streak by the Panthers, and dropped them two games behind Wichita State in the Valley.
St. Bonaventure 64, Duquesne 62:
Olean, N.Y., can be a tough place to get to and even tougher place to get a win. The first-place Dukes found that out Saturday, when their perfect start (8-0) in the A-10 came to an end at the hands of the Bonnies.
Arizona 107, California 105 (3 OT):
We'll save the best for last. A few sentences won't do this game justice, and that's why it's too bad it wasn't seen by a larger national audience. It was just the third Pac-10 game in the last 15 years to go three OTs and it was the longest game in Berkeley since 1977. Jones and Parrom were clutch throughout for the Wildcats, whose bench outscored Cal's, 52-3. Zona has now won eight of nine and is two games ahead of Washington and a game and a half ahead of UCLA.
-- Brett Edgerton
Observations from the week that was
Andy Katz

• Mississippi State coach Rick Stansbury justified reinstating Renardo Sidney after the fight with Elgin Bailey in Hawaii by saying that Sidney tried to walk away and that his teammates backed him in the decision. Bailey transferred with a nudge from the coaching staff. But the Twitter incident this past week was another example of poor management and enabling of Sidney while in Starkville. Stansbury suspended guard Ravern Johnson for his tweet that was critical of the coaching staff and fans after the loss to Alabama. Fine. That's justified. Sidney didn't just retweet the Johnson message, he also added his own line of "It's a Shame how our fans turn they back on us when we need them the most&.#sad."
Sidney should be fortunate that any fans are still in his corner after two suspensions and an embarrassing nationally televised fight in which he literally could have put some innocent fan in the hospital with his wild swings and this latest debacle. Sidney played in a win over LSU on Saturday. He at times looked dominating inside, scoring 16 points and grabbing 11 rebounds in 31 minutes in the 58-57 win. Great. But if Johnson didn't play, why exactly did Sidney? Stansbury's decision was worse than the one that reinstated Sidney after the fight. If Johnson was out of line for tweeting critical comments, then so was Sidney. The double-standard here lessens Stansbury's credibility with the fan base, the rest of his colleagues in the league and, one would think, the players in the locker room. Stansbury has had a tremendous run at Mississippi State, especially given the limitations of the school, but this wasn't one of his finest hours. This season can't end soon enough for the Bulldogs.
• When Arizona was looking for a coach two years ago, the Wildcats were staring at a decimated roster and what could have turned into an Indiana-like implosion. But then Tim Floyd resigned at USC and the Trojans' recruiting class migrated to Tucson. The addition of Xavier's Sean Miller ended up being the perfect marriage. What looked like a five- to seven-year reclamation project has turned into a two-year turnaround. The quick fix has Arizona atop the Pac-10 and almost certainly back into the NCAA tournament. The Wildcats are 9-2 in conference play after the weekend sweep in the Bay Area, including a triple-overtime thriller at Cal. Arizona couldn't rely on Williams, since he fouled out toward the end of regulation, but the play of Jones and Parrom ended up being the difference for the Cats, who were poised throughout every run by Cal. Arizona still has to go to UCLA, but the schedule is favorable from this point forward. The Wildcats have four home games, including a visit from Washington. Even though Zona has only a one-game lead on UCLA in the loss column, anything less than a Pac-10 title at this juncture would be deemed a disappointment by the passionate UA fan base. That's how high Miller has raised the bar in such a short amount of time. And don't expect Arizona to slide back one bit in the future, either.
For more of Katz's observations, see the complete post in the Nation blog.
Eamonn Brennan

• North Carolina doesn't seem to miss Drew. Drew's surprising decision to leave UNC -- smack-dab in the middle of North Carolina's impressive February resurgence -- caused no small amount of intrigue this week. Would his departure cost UNC a valuable bench contributor and perimeter defender? Or would the transfer be addition by subtraction? How would Williams handle the team going forward? And why would Drew quit on his team now?
It's far too early to draw major conclusions, but if Sunday's 89-69 win over Florida State is any indication the Tar Heels are going to be just fine without Drew in the fold. Carolina continued its remarkable offensive improvement Sunday. When a team scores 89 points against Florida State's vaunted defense, it deserves a gold star. The sudden offensive awesomeness is, in large part, a function of Marshall, Drew's midseason starting replacement at point guard. He had a mere 16 assists in Sunday's win. Marshall doesn't deserve all of the credit for UNC's improved play any more than Drew deserved all the blame. (Harrison Barnes has found his shot recently, and that certainly helps.) But there's no question Marshall is a more capable facilitator than Drew ever was, and while UNC might miss Drew's defense off the bench in the coming weeks it probably won't miss him too much.
• Ohio State just keeps on rolling. That's the easiest observation of the day. On Sunday, the Buckeyes easily handled a hobbled Minnesota team in the Barn and moved to 24-0 overall and 11-0 in the Big Ten. What's interesting about this team -- beyond its ongoing and comprehensive brilliance, of course -- is that even at 24-0, most people aren't wondering whether it could maybe, just maybe, go undefeated. There are a few arguments to be made here. One is that no one should be talking about an undefeated season, because undefeated seasons never happen. The other is that this team specifically doesn't warrant that kind of talk, because a) the Buckeyes have nearly lost a handful of close games, and it's only a matter of time until one of those late finishes goes the opposite way, and b) Ohio State will play the meat of its conference schedule in the coming weeks.
All fair points. Still, though, this team is 24-0. In a season that saw college hoops observers far and wide casually consider the possibility that Duke could go unbeaten, you'd think we'd be having a similar conversation about Ohio State. Let's just say this: If OSU manages to win at Wisconsin next Saturday, expect the "Could they really do it?" talk to dial up in a major way.
For more of Brennan's observations, see the complete post in the Nation blog.
What's On Tap
All times ET
Monday
7 p.m.: Pittsburgh at West Virginia (ESPN)
9 p.m.: Missouri at Kansas (ESPN)
Tuesday
7 p.m.: Xavier at Georgia (ESPNU)
9 p.m.: Tennessee at Kentucky (ESPN)
Wednesday
7 p.m.: Georgetown at Syracuse (ESPN)
7 p.m.: Louisville at Notre Dame (ESPNU)
8 p.m.: Florida at South Carolina (ESPN3)
9 p.m.: North Carolina at Duke (ESPN)
9 p.m.: Texas A&M at Colorado (ESPNU)
Thursday
7 p.m.: Connecticut at St. John's (ESPN)
7 p.m.: Penn State at Michigan St. (BTN)
9 p.m.: Illinois at Minnesota (ESPN)
7 p.m.: Alabama at Vanderbilt (ESPN2)
9 p.m.: Saint Mary's at Santa Clara (ESPNU)
Saturday
Noon: Syracuse at Louisville (ESPN)
1 p.m.: Maryland at BC (ACC Network)
1 p.m.: Kentucky at Vanderbilt (CBS)
2 p.m.: Ohio State at Wisconsin (ESPN)
4 p.m.: Baylor at Texas (ESPN)
6 p.m.: Tennessee at Florida (ESPN)
6 p.m.: Southern Miss at Memphis (ESPN2)
8 p.m.: San Diego St. at UNLV
9 p.m.: Pittsburgh at Villanova (ESPN)
10 p.m.: Wichita St. at Northern Iowa (ESPN2)
Sunday
1 p.m.: Purdue at Illinois (CBS)
1 p.m.: Marquette at Georgetown (ESPN)
2 p.m.: Xavier at Duquesne
7 p.m.: Providence at Connecticut (ESPN3)
O'Neil: Three questions
• Are the winds changing in the Pac-10?
Write-it-in-ink favorite Washington has stumbled its way out of the top spot in the standings, losing three in a row including a washout in Oregon against two teams not supposed to be near the level of the Huskies. The new leaderboard shows Washington sitting in third. And while the Huskies have been slip-sliding, the two teams in front of them have been soaring. Arizona needed three overtimes but eventually beat Cal to win its fifth in a row and eight of its last nine. Sean Miller has done a terrific job with this group of Wildcats. UCLA, meantime, topped St. John's for its 13th win in 16 tries. The young Bruins -- they have no seniors on the roster -- are not pretty all the time but they are growing dangerously confident as the season progresses. This was supposed to be the one league we knew for sure, but with Washington's funk nothing out West seems certain.
• Can someone please explain Butler to me?
This is clearly not the same team that went to last year's national championship game. I get that. But every time I presume we can easily write off the Bulldogs as a nonfactor in the Horizon League -- which was easy to do in the midst of a three-game losing streak that included a loss to Youngstown State -- they go and play like, well, like Butler. Over the weekend, the Bulldogs won on the road at Cleveland State, 73-61, ending the league leader's six-game win streak. The way they've played at times, there's no overwhelming reason to think that Butler can put together a run and win the Horizon League tourney and get that NCAA bid. So why does it seem like the Bulldogs just might do that anyway? •
What's happened to Demetri McCamey?
The senior came into the season on the short list of best point guards in the country. Now it's like he's in the witness protection program. McCamey has all but disappeared from Illinois' offense, and that is not something the Illini can afford. The senior is 20-of-69 (29 percent) in his last seven games. Not coincidentally, Illinois is 2-5 in those seven games. In the latest debacle, the Illini lost to Northwestern and McCamey took only six shots. That followed games in which he scored five points against Ohio State and six apiece against Indiana and Penn State. He shot 19.4 percent in those games. That's simply not good enough.
-- Dana O'Neil
O'Neil on San Diego State
Places to be this week
Monday
Morgantown, W. Va. (Pitt at West Virginia): WVU looked sluggish and stagnant in its double-digit loss to Villanova Saturday. Bob Huggins' team might find it a little easier to score in this one because not only are the Mountaineers at home, but Pitt will be without the injured Ashton Gibbs and WVU leading scorer Casey Mitchell will be returning for his first full game since Huggins ended Mitchell's indefinite suspension in Philly over the weekend. Keep an eye on the glass in this one, as both teams rank among the nation's best (West Virginia is No. 5, Pitt No. 1) in offensive rebounding percentage. Whoever shores up their own boards best is likely to take the win -- a win that would mean much more for WVU than Pitt.
Lawrence, Kan. (Missouri at Kansas): Has Mizzou already peaked? The Tigers have been hovering around the top 15 all season, and for good reason. But unlike, say, Texas, they haven't seemed to get better through the course of the year. For example, Missouri has beaten the teams it should beat at home, but it's 0-4 on the road, with losses to Oklahoma State and Colorado mixed in. That's nothing to be ashamed of because, after all, it's hard to win on the road. But it's starting to feel a little like this team is just what it is -- slightly undersized, uptempo, good but not great, etc. That is a reputation the Tigers will be eager to shed with a big opportunity at Kansas.
Tuesday
Lexington, Ky. (Tennessee at Kentucky): In a normal season, Tennessee-Kentucky is usually an intriguing, intense, and well-played SEC rivalry game. The 2011 version should live up to that billing. But this is not a normal season. Piled on top of the usual intensity is Bruce Pearl's return to the Tennessee sideline after his eight-game SEC suspension stemming from his self-admitted decision to mislead NCAA investigators. You'd assume Big Blue Nation will have a few pertinent barbs ready for Pearl's arrival in what is already a great rivalry between UT's coach and John Calipari, who aren't exactly the best of friends. Yeah, this one should be fun.
Wednesday
South Bend, Ind. (Louisville at Notre Dame): Louisville barely survived a trip to DePaul Saturday, but survive it did. There will be no squeaking by Notre Dame. The Fighting Irish are riding a five-game winning streak -- which included a win-of-the-season-type effort at Pittsburgh Jan. 24 -- and have been as tough at home as any team in the country this season. In other words, the Cardinals will have to look more like the team that won in double overtime at Connecticut than the one that sleepwalked its way through Saturday's affair. Pace will play a major role in this game because Notre Dame prefers to grind it out and Louisville is most comfortable playing as quickly as possible. It'll be interesting to see if the Cards' pressing style can unnerve the Irish in South Bend. That's something no team has done this season.
Syracuse, N.Y. (Georgetown at Syracuse): This game should test whether Syracuse's wins this week -- including a road blowout of USF and a huge win at Connecticut -- are coincidence or a legitimate sign that the Orange, who lost four games in a row before the UConn win, have fully righted the ship. Why? Because Georgetown -- which has won six straight games, including at Villanova -- is playing as well as any team in the country right now. Syracuse will have to find a way to extend its 2-3 zone far enough to make Austin Freeman, Jason Clark and Chris Wright uncomfortable, because if those three are on -- especially Freeman, who is shooting 47 percent from beyond the arc -- the Hoyas are almost impossible to stop.
Durham, N.C. (North Carolina at Duke): UNC-Duke is a calendar game yet again. You wouldn't think one would have to write that about Duke and North Carolina, but it's true: Throughout November and December, the Blue Devils looked light-years ahead of their hated rivals. But Carolina is going through something of an offensive renaissance in January. Harrison Barnes has found his shot and Kendall Marshall has given Roy Williams a capable point guard presence, and all of a sudden the once-struggling Tar Heels are lighting up defenses good (Florida State) and bad (Boston College) to the tune of 89 and 106 points, respectively. Is Duke the better team? Sure. But the gap appears to be closing.
Thursday
Nashville, Tenn. (Alabama at Vanderbilt): Alabama is 7-1 in the SEC. I did not expect to be writing that sentence at any point this season, but expectations or not, there it is. The Crimson Tide have a handful of easy games left on their schedule -- thanks SEC West! -- but two real road tests stand out. The last (and perhaps most crucial) comes March 1 at Florida. The first is Thursday night, when the Tide takes its impressive, physical defense to Vandy's always tough Memorial Gym.
Saturday
Madison, Wisc. (Ohio State at Wisconsin): If Ohio State is ever going to lose -- the Buckeyes are now 24-0 after Sunday's thorough win at Minnesota -- a date at the Kohl Center might just do the trick. And if ever Wisconsin was going to lose a game at home -- the Badgers are 13-0 in Madison this season and 149-11 at the Kohl Center under Bo Ryan -- a visit from the undefeated No. 1 team in the land might be the cause. In other words, don't miss this game. Not only would you be missing the brilliance of Ohio State freshman Jared Sullinger and emerging Wisconsin star Jordan Taylor, you wouldn't get to see the No. 1 team in the land face its toughest test of the Big Ten season to date. I believe that's called "appointment viewing."
Las Vegas (San Diego St. at UNLV): As is usually the case in Places To Be, this is a big game for both teams, and for varying reasons. The Aztecs are looking to maintain their one-loss record in MWC play, so as to avoid losing any ground to the Jimmer Show in the Mountain West title chase. UNLV is trying to build its at-large case, and there's no better opportunity than hosting a top-10 team on your own floor. After losing by 14 to BYU in Provo on Saturday, the Rebels won't have any chances quite as good as this.
Philadelphia (Pitt at Villanova): Are these the two best teams in the Big East? With apologies to Connecticut, Georgetown and approximately 82 other impressive teams -- that Big East is pretty deep, you know -- Pittsburgh certainly seems to be the class of the conference. Villanova no doubt fancies itself a part of that conversation, and it has the talent to match. The Wildcats are also riding a nice little two-game winning streak after two solid home wins over Marquette and West Virginia. But they've also suffered the occasional letdown, the type of letdown Pitt hasn't suffered nearly as much. If Nova wants to challenge the Panthers at the top of the league, this would be a pretty prime place to start.
Sunday

Pittsburgh (Xavier at Duquesne): If you haven't been keeping up with the Atlantic-10, you might be wondering why this game merits inclusion here. Here's why: The Duquesne Dukes are 8-1 in conference play, which puts them in a tie for first with, you guessed it, Xavier. Both teams are something of a surprise in that regard. XU never looked impressive in nonconference play but rattled off seven straight wins to start the A-10 season, and Duquesne is, well, Duquesne. It's fair to say no one expected this sort of start from the Dukes. (Except the Dukes themselves, maybe.) But if Duquesne gets this win, it will be in the driver's seat in the A-10, and the driver's seat in the A-10 almost certainly means an at-large berth in the NCAA tournament come March.
-- Eamonn Brennan
Brennan on Alabama-Vanderbilt
Upset pick of the week
Wisconsin over Ohio State, Saturday: The Badgers get two cracks at Ohio State, and the first one is in Madison, where Wisconsin rarely ever loses under Ryan. UW has the potential to match up well against the Buckeyes with John Leuer able to pull Sullinger away from the basket defensively. Of course, Wisconsin will have to deal with Sullinger inside, and that could get Leuer into foul trouble. But the Badgers will try to take the possessions out of the game and make it much more of a defensive struggle. Taylor can keep Aaron Craft in front of him defensively. The key questions for the Badgers are do they lock down on the rest of the perimeter shooters? And quite simply can they score enough to win? The Big Ten provides an arduous, daunting slate of games, and trying to win at the Kohl Center comes at a time when the Buckeyes could be exasperated a bit from the schedule. So I'm calling it: OSU's first loss comes Saturday.
-- Andy Katz
Week in quotes
• "Our guys are frustrated, no doubt about that. We had high aspirations to win the league. Now, I don't know if that's going to happen. Other teams have to help us."
-- Washington coach Lorenzo Romar after a loss at Oregon, the team's third straight.
• "It's a new world we live in with Twitter and all the things you can do on the Internet. After the game last night, we had a frustrated player that gets on Twitter and says things that aren't appropriate. In the heat of the moment, some young men just don't understand once they put something out there for everyone to see, there is no taking it back."
-- Mississippi State coach Rick Stansbury in a statement to the Jackson Clarion-Ledger explaining the ban on his players from using Twitter following guard Ravern Johnson's tweets after a loss to Alabama.
• "Records are nice, but winning is nicer."
-- UC Santa Barbara coach Bob Williams after guard Orlando Johnson's school-record-tying 39 points in an overtime win against UC Davis.
• "Personally, I hate this for Larry and our team because he was such an important part of our team, and he has continued to improve and played well in recent games."
-- North Carolina coach Roy Williams in a statement after guard Larry Drew II left the team.
• "I've played like this my whole life. To other people it might be something new, but to me it's just another day in the life of MoMo Jones."
-- Arizona point guard Lamont "MoMo" Jones to the Associated Press after leading the Wildcats to a triple-overtime win at Cal.