With every ingredient, Kentucky is title favorite
By Myron Medcalf
ESPN.com
The trumpets, trombones and saxophones of Southern jazz artists will wail on French Quarter street corners as college basketball fans convene in New Orleans next month for the Final Four. Lobster, crab, scallops and an ocean of seafood delicacies will satisfy their appetites. An abundance of Big Easy nightspots will lubricate their inhibitions. They will bring fattened wallets to a city that desperately needs the economic boost. They will cheer for their favorite teams and boo the rivals they abhor.
[+] Enlarge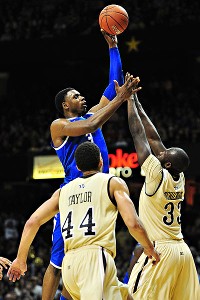 Don McPeak/US PresswireKentucky's effort at Vanderbilt continued to elevate the Wildcats over other contenders.
And they will seek
Michael Kidd-Gilchrist
's autograph. They will measure their arms against
Anthony Davis
' uncanny wingspan. They will wonder how John Calipari's hair does that. College basketball history suggests that premature predictions about the Final Four -- especially four weeks prior to Selection Sunday -- often end with embarrassment. We never saw UConn coming last year. We didn't think VCU belonged in the field. And who really believed in Butler entering last season's NCAA tournament? But there's no denying Kentucky's current standing as the front-runner for this season's national championship. And until there's a reason to think otherwise, I will assume that Kentucky will wind up in New Orleans for the season's final chapter. Perhaps the Wildcats will suffer an early, unexpected loss in March Madness. Maybe their youth will suddenly become a burden. But their valiant effort at Vanderbilt on Saturday night -- and so many before that performance -- continued to elevate them above the nation's other contenders. It could've easily fallen apart. They'd squandered a lead against a savvy assembly of veterans. The past four No. 1s that traveled to Nashville's Memorial Gymnasium had lost and you could just feel Memorial Magic taking over as Vandy overcame a 13-point halftime deficit to take a four-point lead. But the Wildcats snapped that streak, not with brilliance but with relentlessness. They'd finally encountered the "challenge" Calipari said he craved after his team made No. 7 Florida look like a prep squad Tuesday. And again, they came away with a victory. On a night when Kidd-Gilchrist suffered from foul trouble and scored just four points. On a night when the entire team made just 3 of 14 3-pointers. On a night when Vanderbilt suddenly hit a string of second-half 3s. Kentucky still prevailed 69-63. No, Vanderbilt isn't the national title contender many assumed it would be before the season began. And the Commodores' spotty defense (the Wildcats had a 13-point edge at halftime after shooting 53 percent from the field) has proved problematic all season. But against UK, the Commodores put themselves in a position to prevail over one of the best teams we've seen in the one-and-done era. Kentucky, however, just found a way. The Wildcats, now 11-0 in the SEC and winners of 17 straight, usually do. Four players, led by
Doron Lamb
's 16 points, recorded double figures. The Cats held Vanderbilt to a 28 percent shooting clip in the first half. It helped to have the national/defensive player of the year on their roster.
Thomas Robinson
is a great collegiate player. But Davis literally changes games …
To read the rest of Medcalf's column, visit the Nation blog.
Team of the Week: Michigan State
No victory this week had as much meaning as the Spartans' win at Ohio State on Saturday. Michigan State was in control for most of its 10-point win -- a win that changed the landscape of the Big Ten title race as well as the chase for the No. 1 seeds and the Final Four.
[+] Enlarge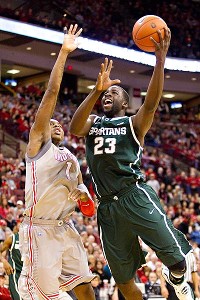 Greg Bartram/US PresswireDraymond Green and Michigan State appear to have the toughness to make a run in March.
Michigan State, which also beat Penn State earlier in the week by 20, moved into a first-place tie with the Buckeyes at 9-3. MSU still has three road games -- all of which will be grinders (at Purdue, Minnesota and Indiana). But if the Spartans can get to the Ohio State return game on March 4 without another loss, they will be in position for a sweep and to win the Big Ten title outright. Ohio State has a tougher schedule, going to Minnesota and Michigan, hosting Illinois and Wisconsin and then to a desperate Northwestern before the MSU rematch. There could be a loss or two in its future before March 4. Ohio State has already been knocked off the top line after the loss, according to Joe Lunardi, with Kansas and Missouri taking No. 1 seeds. OSU will now have to re-establish itself as a top-line team after a wake-up call against Tom Izzo's bunch. The leadership of
Draymond Green
is the type of thing that results in championships. He has this team buying into the team concept (which wasn't the case last season in East Lansing). The guards get along. The depth is there in the frontcourt. And the ceiling remains extremely high. If you're looking for a team outside the perceived elite that could win it all, Michigan State is the pick.
-- Andy Katz
Editor's note: This edition is only for games played from Monday, Feb. 5, to Sunday, Feb. 11.
More teams that impressed us
Duke: The Blue Devils had the shot of the year when Austin Rivers knocked off North Carolina at the buzzer. The 3-pointer changed the complexion of the ACC race -- Duke now has a legit shot to win the league title. The Blue Devils followed that win up with a win over Maryland. The schedule is more advantageous for Duke, with the toughest remaining game at Florida State.
Georgia:
The bottom of the SEC is rising up and causing some serious problems for the top. The Bulldogs crushed Arkansas at home and followed that up with perhaps the most surprising result in league play -- maybe more so than UT over UF -- when they upset Mississippi State in Starkville by two in overtime.
Kansas:
The Jayhawks blitzed Baylor in Waco and crushed Oklahoma State. They are playing like a No. 1 seed and the race between KU and Mizzou should go down to the final weekend.
Kentucky:
The Wildcats may not lose in the SEC. After crushing Florida at Rupp Arena earlier in the week, Kentucky passed another road test by surviving a raucous environment at Vandy on Saturday.
Missouri:
The Tigers made 14 3s and shredded the Baylor zone. Mizzou ran well, spread out the Bears and defended well enough again for a quality win. Earlier, Mizzou gutted out a road win at Oklahoma. The Tigers have Final Four potential.
[+] Enlarge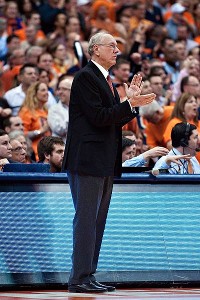 Mark Konezny/US PresswireJim Boeheim has Syracuse on a five-game winning streak.
Syracuse:
Coach Jim Boeheim may not look like he's pleased with Syracuse, but the Orange continue to win. They didn't rebound well against Georgetown, but still beat a really good team in overtime. They let Connecticut hang around -- but they still won going away.
Temple:
The Owls are now the clear team to beat in the Atlantic 10. Temple beat Xavier by 13 at home (after beating GW by seven earlier in the week). The Owls have won eight in a row and earlier in the season won at Saint Louis. Temple is a lock for the NCAAs. The rest of the A-10 has to chase.
Tennessee:
Cuonzo Martin has the Vols playing well enough to warrant dangerous status for anyone -- save Kentucky, maybe -- in the SEC tournament. The Vols had the best week of their season with a 12-point win over South Carolina and a five-point win at Florida to complete a season sweep of the Gators. The Vols were the more disciplined and physical team in Gainesville.
UNLV:
The Runnin' Rebels had one game and made the most of it. UNLV beat San Diego State by two in yet another thrilling game between these two teams. UNLV won with its late-game defensive prowess. The Rebs have the city rocking over this squad and now there is a three-way tie atop the MWC with the Aztecs and New Mexico.
Wichita State:
Let's take a break on Creighton and shift the Valley attention to Wichita State. The Shockers deserve all the love. WSU went into Omaha and dominated Creighton. These two teams are heading in opposing directions. Wichita State beat Northern Iowa earlier in the week, just after the Panthers had beaten Creighton. WSU has a two-game lead in the Valley with four to play.
Shoutout-worthy:
Akron, Cal, Georgetown, Gonzaga, Iowa State, Louisville, Loyola (Md.), Marquette, Notre Dame, Oregon, Princeton, Saint Louis, Tennessee State
-- Andy Katz
The Jayhawks have the possible national player of the year in Thomas Robinson. They have a solid guard who has matured into the position in Tyshawn Taylor. But what's been missing long term is a player who could complement Robinson and draw significant attention down low.
That answer has been found in the form of Withey. The Arizona transfer has transformed himself into a major component of a potential national-title contender. The 7-foot Withey had a stellar week, starting with KU's rout of Baylor that clearly established the Big 12 as a two-team race. In that road game, he scored 25 points, made 8 of 10 shots (9-of-11 from the FT line) and blocked three more in 29 minutes of play. Withey was even more dominant in Saturday's 15-point win over Oklahoma State. He scored 18 points, grabbed 20 rebounds and blocked seven shots -- and turned the ball over just once. If Withey can be this productive on the boards and on the defensive end, the Jayhawks will be in a better position for a title run than anyone could've imagined.
-- Andy Katz
More performances that wowed us
Austin Rivers, Duke: 29 pts (6-10 3-pt FG), 5 rebs, GW shot in win at UNC
Cameron Moore, UAB: 27 pts (12-16 FG), 12 rebs in win over Southern Miss
Andrew Nicholson, St. Bonaventure: 21 pts (8-13 FG), 23 rebs in win over Duquesne
Jack Cooley, Notre Dame: 43 pts (17-21 FG), 26 rebs in wins over WVU, DePaul
Casper Ware, Long Beach State: 38 pts (8-15 3-pt FG) in win over Pacific
Will Cherry, Montana: 30 pts, 8 stls, 4 asts in win over Northern Colorado
Kevin Pangos, Gonzaga: 48 pts (10-13 3-pt FG), 11 asts in wins over SMC, LMU
Kenny McGowen, Idaho State: 37 pts (7-12 3-pt FG) in win over Northern Arizona
Ramone Moore, Temple: 30 pts (5-8 3-pt FG) in win over Xavier
Shane Gibson, Sacred Heart: 64 pts (21-33 FG) in two wins over Bryant
Miles Plumlee, Duke: 13 pts, 22 rebs in win over Maryland
Jackie Carmichael, Illinois State: 18 pts, 20 rebs in win over Drake
Marquis Teague, Kentucky: 25 pts, 18 asts in wins over Florida, Vanderbilt
Dylan Garrity, Sacramento St.: 14 pts, 16 asts in win over Montana St.
Tony Mitchell, North Texas: 39 pts, 32 rebs, 10 blks vs. FIU, FAU
Herb Pope, Seton Hall: 19 pts, 14 rebs, 3 blks in win over Pitt
Scott Machado, Iona: Triple-double (10 pts, 11 rebs, 10 asts) in win over Marist
Jamal Olaswere, LIU-Brooklyn: 32 pts, made all 11 FGA, 7 rebs in win over St. Francis (NY)
-- Brett Edgerton
King's observations from the week that was
1. There's a Wooden Award candidate in the Big Ten -- and it's not Jared Sullinger. The Ohio State forward is having a solid season, but he may have been surpassed by Michigan State's Draymond Green. A senior, Green helped the Spartans force a tie atop the conference standings by scoring 12 points and snaring nine rebounds in Saturday's 58-48 road win over the Buckeyes. The workmanlike Green, who averages 15 points, 10.5 boards and 3.5 assists, will have a tough time surpassing Kansas' Thomas Robinson and Kentucky's Anthony Davis in the quest to be named college basketball's best player. Still, he at least deserves to be in the mix.
[+] Enlarge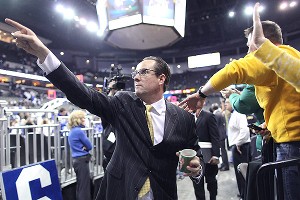 Travis Heying/Wichita Eagle/Getty ImagesGregg Marshall has four senior starters at WSU.
2. Wichita State is the best team in the country from a non-power six league. Creighton certainly can't argue that point after getting stomped by 21 points -- at home, no less -- by its Missouri Valley Conference rival. And remember, WSU beat UNLV by 19 points earlier this season. With Murray State and Saint Mary's also losing last week, the Shockers are the country's mid-major team du jour. And with four senior starters and an excellent coach in Gregg Marshall, don't expect them to go away anytime soon. 3.
Tyler Zeller
is the best player in the ACC. I'm not even sure it's a question. Teammate
Harrison Barnes
may be a little flashier and forward
John Henson
is one of the top defensive players in the country. But in terms of all-around performance and consistency, no one has been as solid in conference play as Zeller, who is averaging 19 points and 10.8 rebounds against ACC opponents. A senior, Zeller is a 7-footer who runs the court like a guard. He's a 78 percent free throw shooter -- a phenomenal number for a big man -- and is also a strong passer. You just don't see many players of Zeller's size with that kind of skill set. Aside from a few unfortunate seconds in Wednesday's loss to Duke, Zeller has been fantastic. 4. Speaking of 7-footers, Kansas has a good one in
Jeff Withey
. The junior had 18 points, 20 rebounds and seven blocks against Oklahoma State on Saturday. Three days earlier, he scored a career-high 25 points in a blowout victory at Baylor. Withey's presence alone has changed the way opposing teams attack KU. He's also made things easier on frontcourt mate Thomas Robinson, who is benefiting from the defensive attention that Withey commands. If he continues to play this tough, there's no reason the Jayhawks can't go to the Final Four. 5. Alabama's Anthony Grant hasn't lost focus of what's important. Less than a week after suspending second-leading scorer and rebounder
Tony Mitchell
, Grant announced Saturday that leading scorer JaMychal Green had also been suspended indefinitely along with starting point guard Trevor Releford and Andrew Steele. Green said the players violated team rules. Collectively, the players average 45.4 points a game, which is 68 percent of the team's offensive output. At 16-8 overall and 5-5 in SEC play, the Crimson Tide are considered an NCAA tournament bubble team. Every game is vital. Still, instead of choosing to look the other way, Grant didn't waver from his principles.
--Jason King
They said it (or tweeted it)
"Loved sittin that bench today. [Smh] wow."
-- Tweet from Maryland's Terrell Stoglin after he registered 13 points and sat on the bench for a four-minute stretch in the second half of his team's 73-55 loss to Duke on Saturday. The tweet was deleted an hour after he posted it.
"Never tweet after a loss. not a bad dude just frustrated. Love terpnation! My fault."
-- Stoglin again, but this time with a tweeted apology. He played 30 minutes against the Blue Devils.
"Thursday night, when I called him late, I said 'Are you thinking about getting the knives out and slashing your wrists?' He said 'Maybe.' And I said if you're going to do that, call me and I'll come over and do it with you. … I told him my son would want to know first so he could change the will to make sure he got control of everything. He liked that statement, too."
-- North Carolina's Roy Williams' attempt to add a little humor to the situation, after Austin Rivers nailed a game-winning 3-pointer over Tyler Zeller on Wednesday.
"Two years got vacated, so I'm 51."
-- Kentucky coach John Calipari talking about his 53rd birthday Friday.
"I told somebody we were going to blow them out today. I just felt it coming. I knew it was coming for some reason. I don't know why."
-- Kentucky's Doron Lamb after his team's 78-58 win over No. 7 Florida on Tuesday.
"It's an amazing feeling. Most people don't get this experience in their whole college career to beat a team that was unbeaten for a long period of time and to share that with your teammates your senior year is very special and I'll probably remember this for the rest of my life."
-- Tennessee State's Wil Peters after his team handed Murray State its first loss of the year.
-- Myron Medcalf
Andy Katz's weekly preview
What's On Tap
All times ET

Monday
7 p.m.: Syracuse at Louisville (ESPN)
7 p.m.: Iowa State at Baylor (ESPNU)
9 p.m.: Kansas at Kansas State (ESPN) Tuesday
7 p.m.: Florida at Alabama (ESPN)
9 p.m.: Ohio State at Minnesota (ESPN)
9 p.m.: VCU at George Mason (CSN) Wednesday
8 p.m.: North Carolina at Miami (ESPN)
9 p.m.: Oklahoma State at Missouri (ESPN2)
10 p.m.: New Mexico at San Diego St. (CBS-SN) Thursday
7 p.m.: Wisconsin at Michigan State (ESPN)
9 p.m.: West Virginia at Pittsburgh (ESPN)
9 p.m.: NC State at Duke (ESPN3)
10:30 p.m.: Oregon at California (CSN) Friday
7 p.m.: Northern Iowa at VCU (ESPN2)
9 p.m.: Valparaiso at LMU (ESPNU) Saturday
11 a.m.: Drexel at Cleveland State (ESPNU)
Noon: Marquette at Connecticut (ESPN)
Noon: Wichita State at Davidson (ESPN2)
1 p.m.: UNLV at New Mexico (CBS)
1 p.m.: Florida State at NC State (ESPN3)
3 p.m.: Arizona at Washington (FSN)
4 p.m.: Ole Miss at Kentucky (ESPN3)
4 p.m.: Nevada at Iona (ESPN2) 6 p.m.: Saint Mary's at Murray State (ESPN) 6 p.m.: Florida at Arkansas (ESPN) 7 p.m.: Yale at Harvard 9 p.m.: Ohio State at Michigan (ESPN) 9 p.m.: Wyoming at Colorado State (The Mtn.) 10 p.m.: Long Beach St. at Creighton (ESPN2) Sunday
1 p.m.: Syracuse at Rutgers (ESPN)
1 p.m.: Michigan State at Purdue (CBS)
Brennan on VCU-George Mason
Places to be this week
Monday
Louisville, Ky. (Syracuse at Louisville):
Don't look now, but after this weekend's big win in Morgantown, Louisville is on a six-game roll in Big East play, and with improved offense and the long-delayed arrival of freshman guard
Wayne Blackshear
, looking more complete than at any time this season. But do the Cardinals have enough to match up with a powerful Syracuse team? Watching this well-coached team work in hopes of breaking down Jim Boeheim's brutal 2-3 zone should be a fascinating watch.
Tuesday
Fairfax, Va. (VCU at George Mason):
Both of these teams are 13-2 in CAA play, but thanks to merely so-so nonconference performances, neither has generated much bubble buzz to date. A win for either hardly guarantees an at-large bid, but both have BracketBusters on the horizon. VCU in particular stands to benefit: If the Rams win this game, their 12th in a row, they'll be set up nicely for impending home dates against Northern Iowa and George Mason.
Wednesday
Coral Gables, Fla. (North Carolina at Miami):
Miami showed how dangerous it can be in last week's win at Duke, which came just a few days before the Blue Devils shocked UNC with that momentous late comeback in Chapel Hill. These Hurricanes can play. But UNC was impressive in its bounce-back game against Virginia on Saturday and Roy's team will be eager to kick things into high gear as the final month of the season unfolds.
San Diego (New Mexico at SDSU):
New Mexico has been great on a point-per-possession basis this season -- the Lobos have the best efficiency margin in the conference, believe it or not -- but lost both of its games against the Mountain West's elite in late January, one of which came at home to SDSU. Can Steve Alford's team return the favor? If so, the nation would have little choice but to sit up and take note of this quietly impressive bunch.
Thursday
East Lansing, Mich. (Wisconsin at Michigan St.):
The Spartans unleashed the most defensive performance we've seen in any one game yet this season Saturday, swarming, stifling and frustrating Ohio State forward
Jared Sullinger
and the Buckeyes into a 58-48 home loss in Columbus. Wisconsin will be eager to avenge the last-second clock fiasco loss it suffered at home to the Spartans earlier this season. But hanging with Tom Izzo's team will be even more difficult with the Izzone on hand.
Berkeley, Calif. (Oregon at Cal):
The Bears swept their SoCal swing this weekend, handling both USC and UCLA with relative ease. Next up is a home date with Oregon, a team coming off its own impressive little two-game stand versus the Washington schools, which included an 82-57 win over once-streaking UW. Can the Ducks break the Pac-12's general trend of road struggles, and damage the Bears' at-large chances in the process?
Saturday
Albuquerque, N.M. (UNLV at New Mexico):
As big as the Lobos' trip to Viejas Arena is Wednesday, their next game -- this home date with UNLV -- is even more important. There are conference title implications on the line, but win or lose at SDSU, this game presents UNM's best chance (until the Mountain West tournament) to solidify its status as the MWC's third at-large bid. The Pit is sure to be rocking.
Seattle (Arizona at Washington):
Arizona is trending in the right direction of late. Washington seemed to be, but its blowout road loss at Oregon was disconcerting at best. Based on sheer strength of schedule, the Wildcats might have this conference's best chance of notching a bona fide at-large bid. This game isn't necessarily make or break, but it's awfully close.
Murray, Ky. (Saint Mary's at Murray State):
This year's Best of BracketBusters award -- at least on paper -- goes to this game, which features two of the nation's best true mid-major outfits. It could be revealing: Murray hasn't faced anything resembling a tournament team since its Dec. 11 win at Memphis. Meanwhile, Saint Mary's is rebounding from its own defeat, its first in WCC play, at Gonzaga. The matchup at the guard spot -- the Gaels'
Matthew Dellavedova
, the Racers'
Isaiah Canaan
-- should be a treat.
Ann Arbor, Mich. (Ohio State at Michigan):
The Buckeyes have to handle business on the road if they want to maintain their position in the Big Ten title race, but it won't be easy in Crisler Arena with "College GameDay" in town. When Michigan has struggled this season, it's been on the road; John Beilein's team is still undefeated on its own floor. If Ohio State can take advantage of UM's weakness in the frontcourt (Sullinger will be licking his chops at this one) and use its best-in-show perimeter defense to halt the Wolverines' hot shooting, it is more than capable of taking the road win.
Omaha, Neb. (Long Beach St. at Creighton):
As good as SMC-Murray State is, this BracketBusters fixture isn't too shabby, either. The Bluejays are in the midst of a serious swoon: They've lost their past three, including a blowout to Wichita State, thanks primarily to suddenly cold offense and typically mediocre defense.
Doug McDermott
& Co. must rediscover their potent offense by Saturday, lest Long Beach State's up-tempo offensive attack (featuring
Casper Ware
and
Larry Anderson
) runs them off the floor. One thing's for sure: The 49ers -- veterans of road games against Pitt, Louisville, San Diego State, Kansas and North Carolina -- won't be the least bit intimidated by the road venue.
-- Eamonn Brennan
Medcalf on New Mexico-SDSU
O'Neil: Three questions
• What happens now to Creighton?
Once NCAA tournament sure things both Creighton and Harvard have played themselves into precarious positions. The Bluejays have lost three in a row, most damning a blowout to Missouri Valley leader Wichita State on Saturday. Despite a gaudy 21-5 record, Creighton doesn't have a whole lot of at-large meat on the bone -- wins against San Diego State, Tulsa and Northwestern rank as the best -- and can ill afford many more stumbles in either the regular-season finish or the Valley tourney. That home BracketBuster against soaring Long Beach State becomes even more critical for the Bluejays now.
• And what about Harvard?
The Crimson are an even more interesting case study after losing to Princeton. Harvard remains very much in the driver's seat in the Ivy League race -- it is the only team with one loss -- but Yale, the team sitting right behind the Crimson, comes to town on Saturday. Here's where it gets curious. The selection committee has never awarded an at-large bid to an Ivy League team but in yet another year with a soft bubble, if Harvard loses like it did last year -- in a one-game playoff -- what would the committee do with a team with a blemished Ivy record yet one shout-from-the-rooftops nonconference win over Florida State? Certainly the Crimson would rather not find out. The straightest path is to win out. •
Is the Pac-12 the only disappointing conference?
Absolutely not. The West Coast underachievers have company, welcoming the SEC to the indistinct party. On Saturday, Tennessee smoked Florida in Gainesville, Alabama suspended three more starters (that's four banished altogether, for those keeping score at home), Vandy couldn't finish a comeback against Kentucky and Georgia beat Mississippi State in overtime. All of those teams were supposed to be making big strides this year. Instead the Gators are sliding, the Crimson Tide unraveling, the Commodores still trying to find a signature win and the Bulldogs are, well, the Bulldogs are probably exactly what we should have thought they'd be -- once again failing to live up to their promise. Mike Slive ought to send Valentine's candy hearts and red roses to the basketball offices in Lexington to thank the Wildcats for keeping his conference relevant.
-- Dana O'Neil
King on Saint Mary's-Murray St.
Upset pick of the week
Miami over North Carolina, Wednesday: The Hurricanes didn't get much out of Reggie Johnson in a loss at Florida State (four points). But the Canes were still right in the mix to possibly pull off the road win. North Carolina played Virginia's game for too long before finally pulling ahead. P.J. Hairston has a sore foot and his status is unknown. The Canes desperately need another big-time win -- at home or on the road.
Guards
Durand Scott
and
Malcolm Grant
can handle themselves. If Johnson and
Kenny Kadji
can play tall, long and strong, then they have a shot. The onus is on the Miami fans to turn out. They traditionally are apathetic. Miami needs them to be an extra presence for this upset to occur.
-- Andy Katz