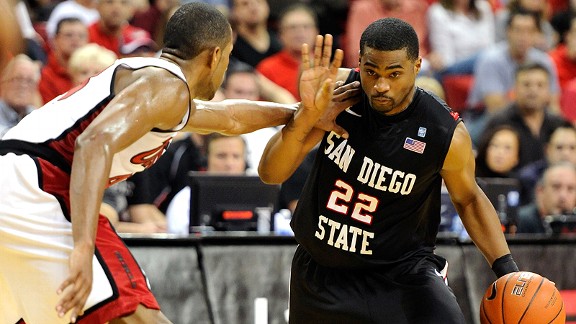 Ethan Miller/Getty ImagesChase Tapley and San Diego State will attempt to sign off in style from the Mountain West.
Five offseason questions
1. What are the chances the Mountain West duplicates its four bids in 2013? High. UNLV is a virtual lock. The talent is too rich, the newcomers too tantalizing and the schedule too manageable to blow a bid. San Diego State has its key pieces returning and one of the top home courts in the country. New Mexico losing Drew Gordon makes one pause, but the Lobos play a decent schedule and have plenty of chances. Colorado State has the core of the team returning and a highly successful coach in Larry Eustachy. The chances exist that the MWC could send more than half of its teams, with a fifth bid possibly coming from Nevada. The Wolf Pack enter the Mountain West as a legit contender, with one of the top players in Deonte Burton.
[+] Enlarge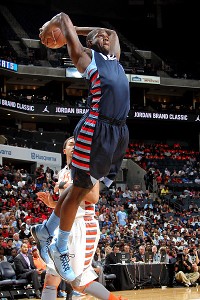 Ned Dishman/Getty ImagesA top-10 recruit nationally, Anthony Bennett will be essential to UNLV's success.
2. What summer storyline has to change by the fall? UNLV needs Anthony Bennett to become eligible. While coach Dave Rice doesn't seem to be fretting the situation too much, Bennett is still getting through the NCAA eligibility center. If he has any hiccups, that would disrupt what should be a sensational season for the Rebels. This team needs to be whole at the beginning for UNLV to have smooth season. There are a few key pieces the Rebs have to incorporate, so getting Bennett cleared is paramount to UNLV's success.
3. Who will be the most important transfer in the MWC? Eustachy is walking into a ready-made team in Fort Collins. He gets to coach a potential space-eater in Minnesota transfer Colton Iverson, who will fill the void for the Rams in the middle. Colorado State returns four starters but needed size in the post. Iverson could be the difference-maker for a team that isn't getting much publicity but has a legit shot to exceed last season's success.
4. How will the league's fans handle the departures of Boise State and San Diego State? No offense to Boise, but the Mountain West basketball fan base probably hasn't drummed up much animosity toward the Broncos. They will leave without too much fanfare. San Diego State, meanwhile, doesn't draw the ire of BYU, but the Aztecs have become a winner and a road stop that is one of the most daunting in the country. They have developed legitimate rivalries in this league, and it will be an intriguing watch to see how SDSU will be treated. San Diego State leaves the MWC on a high and should depart pushing for a conference title. Leaving MWC hoops for the Big West could make the Aztecs an easy target.
5. Will the Mountain West be glad it didn't go through with the Conference USA merger? Yes. The MWC/C-USA partnership would have been made for football reasons and wasn't going to produce two automatic bids to the NCAA tournament. The departure of San Diego State will hurt, but the addition of Utah State (along with San Jose State) in 2013 gives the league another quality program capable of earning a berth. The MWC can be a stable 10-team conference with a chance to have four bids on an annual basis. That's a percentage that will be hard for most conferences to match.
Best-case/worst-case scenarios
Air Force

Best-case scenario: In the past five years, the Falcons have failed to win more than 16 games in any season. Could 2012-13 be the breakthrough season? All five Air Force starters return, four of whom (Michael Lyons, Todd Fletcher, Taylor Broekhuis and Mike Fitzgerald) are seniors. This team wasn't as good as its 11-4 start, but it wasn't as bad as its 2-12 finish either. An 18- or 19-win season is within reason.
Worst-case scenario: The Falcons return everyone of note from a team that retrieved just 20.1 percent of its available misses in 2011-12, good for the worst -- yes, the worst -- OR% ranking in Division I basketball. Dave Pilipovich's team has to get better on the glass or its offense, ranked No. 229 in efficiency, will struggle again and the Falcons will finish around the 10-13 win mark, another totally expected and not-very-fun Air Force basketball season.
Boise State

Best-case scenario: This team needs an identity. Last season, coach Leon Rice spread the minutes among a 12-man rotation, giving 11 players at least 20 percent of the team's available minutes. The five starters averaged a 59.08 minutes percentage. That's low. With starters Derrick Marks, Anthony Drmic, Kenny Buckner and Jeff Elorriaga back for another season, Rice can find his core group of guys and build a rotation designed less around rebuilding and discovery and more around a cohesive, consistent unit.
Worst-case scenario: If Marks, Drmic, Buckner and Elorriaga don't solidify their roles, this team could be right back where it was in 2011-12 -- a mediocre offensive team with strange defensive characteristics. Boise State was actually a great defensive rebounding team last season, allowing the fourth-lowest opponent rebounding percentage in the country. Weirdly, it also allowed a 53.0 percent effective field goal rate. (If shots are going in like that, who needs offensive rebounds?) Much of Boise State's evolution will come down to defense -- whether the Broncos can lock down and make life difficult before the opponent's shot goes in the air.
[+] Enlarge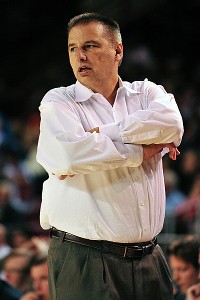 Andrew B. Fielding/US PresswireAfter Tim Miles left for Nebraska, CSU turned to Larry Eustachy.
Colorado State

Best-case scenario: Losing Tim Miles to Nebraska hurts, but landing Larry Eustachy -- a proven and redemptive figure -- counts as a major offseason coup for the Rams. It's actually a win-win, because Miles left behind an experienced, NCAA tournament-seasoned team. Five of CSU's top six rotation members will be seniors this season, as well as six of last season's top eight. Dorian Green can shoot, Pierce Hornung is an efficient interior scorer, and Wes Eikmeier leads the way in the backcourt.
Worst-case scenario: The Rams still have the coterie of guards who got them to the tournament last season and Hornung is still an admirable player -- a 6-foot-5 guy who has somehow made himself into a power forward -- but the Rams desperately need size. Top recruit Jermaine Morgan didn't academically qualify and asked out of his letter of intent, so the frontcourt could be hurting and this team might finish similarly to 2012. It could be worse, I suppose, but it may not be the step forward expected of this accomplished and experienced group.
Fresno State

Best-case scenario: Whatever success the 2011-12 Bulldogs had came in fits and bursts. They posted five sets of back-to-back wins, which were always followed up with at least two -- and often times three or four -- consecutive losses. Can former Texas assistant Rodney Terry build more consistency in his second year? If so, it will likely come thanks to rising juniors Kevin Olekaibe, Jerry Brown and Tyler Johnson (along with touted freshman Robert Upshaw), who will be charged with maintaining Fresno State's sterling low turnover rate while improving every other facet of an ugly offense.
Worst-case scenario: Terry hasn't had more than a year to build this program, and now he is charged with moving from the WAC to the much more difficult confines of the Mountain West. This team was 13-20 in 2011-12 with a 3-11 WAC record that featured two losses to Hawaii and two losses to Louisiana Tech, among others. All due respect, but the Mountain West is no WAC. This season could be rough.
Nevada

Best-case scenario: Fresno State might not be helped by the move to the Mountain West, but you can bet Nevada coach David Carter is champing at the bit. His Wolf Pack went 28-7 last season and didn't lose a game from Nov. 26 to Feb. 4. But Washington proved mediocre and Arizona State proved awful, so Nevada didn't have much on its NCAA tournament at-large résumé and found itself in the NIT. Provided this deep team can make up for the losses of Olek Czyz and Dario Hunt (it can), the better conference competition should pay off. The Big Dance is well within reach.
Worst-case scenario: It's a bit difficult to envision, but Nevada could struggle in the transition. UNLV, San Diego State, Colorado State and New Mexico are viable tournament teams, and if Nevada slips up early or fails to find its MWC footing, it could finish fifth in a league that will have a hard time convincing the committee that more than half of the league deserves to get in.
New Mexico

Best-case scenario: Another exciting season awaits for Steve Alford's resurgent program. All but two players (Drew Gordon and A.J. Hardeman) return to the lineup, including guards Kendall Williams and Demetrius Walker and swingman Tony Snell. Snell is especially intriguing. He didn't get many touches, but with Gordon gone, he could develop into a major inside-outside threat. With a merely OK recruiting class coming in, UNM won't have the elite, top-end talent of UNLV or SDSU, but it will be in the title chase nonetheless.
Worst-case scenario: Gordon meant more to this team than we're accounting for, and we're accounting for a lot. He was, after all, UNM's most consistent scoring and rebounding threat, and there is no clear successor to that role waiting in the wings. Gordon made the Lobos a great rebounding team. A drop-off could hurt them on both ends of the floor, and Alford's team would take a step back, most likely to fringe bubble territory.
[+] Enlarge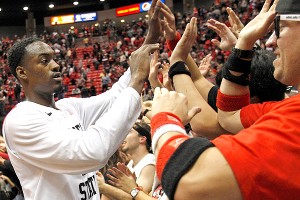 AP Photo/Lenny IgnelziJamaal Franklin and The Show are back for one final go-around in the Mountain West.
San Diego State

Best-case scenario: Given everything SDSU lost after 2010-11's 32-2 dream season (a ton of seniors and NBA lottery pick Kawhi Leonard), 2011-12's 26-8 mark was a fantastic result. Now the expectations will grow. Sharpshooter Chase Tapley is set for a big final season, while star swingman Jamaal Franklin does a little bit of everything, and does it well. Who will step up around them? Incoming star recruits SG Winston Shepard and SF Matt Shrigley are likely suspects. If both are ready to contribute right away, Fisher will have another deep, versatile, defensively tough group on his hands.
Worst-case scenario: If the freshmen aren't ready right away, SDSU could essentially be the same team it was last season -- a good but not great team held back by an average offense. Franklin could improve his efficiency as a go-to scorer, but the Aztecs need a variety of complementary players to help him out. If that doesn't happen, this is still a solid team -- just not necessarily one that can run with the Rebels at the top of the standings.
UNLV

Best-case scenario: The sky really is the limit. Second-year coach Dave Rice has sped up the Rebels again, and he has recruited like the glory days, landing highly touted power forward prospect Anthony Bennett, shooting guard Katin Reinhardt, Pittsburgh transfer center Khem Birch (2011's No. 1-ranked center) and potential-rich small forward Savon Goodman. The thought of Bennett, Birch and junior NBA prospect Mike Moser along the front line is a terrifying one for fellow MWC coaches, and that's before you talk about the experienced seniors (Anthony Marshall and Justin Hawkins) in the backcourt or the depth provided by junior center Carlos Lopez. A conference title is the baseline expectation. Best case? How about a trip to the Final Four?
Worst-case scenario: UNLV has talent, no question, but basketball is always about so much more than that. Will Birch, who essentially bailed on his former teammates after 11 games, come ready to work? Can he, Bennett and Moser coexist in the frontcourt? Can that lineup push the pace, and can Marshall and Hawkins run the up-tempo show with arguably minimal backcourt depth? There is so much potential, but with potential comes questions. We have to see it all in action before we can get too excited -- Birch especially.
Wyoming

Best-case scenario: Larry Shyatt did a magnificent job with last season's team, which, despite minimal personnel changes, improved by 11 wins in his first season on the job. Shyatt will have to hope once-redeemed, again-troubled forward Leonard Washington is OK to play come November, because much of Wyoming's hopes will rest on his individual excellence. If Shyatt is forced to suspend or dismiss Washington for his role in a battery and criminal entry charge this offseason, it will be a young rebuilding year in Laramie.
Worst-case scenario: It may be a long rebuilding year anyway. UW loses three vital seniors (Francisco Cruz, Adam Waddell and JayDee Luster) from last season's team, which got the lion's share of its 21 wins thanks to a cupcake-laden 16-3 start. Even if Washington comes back, the Cowboys could take a step back, and Shyatt can begin the long-term process of laying a real basketball foundation for the Cowboys. We'll see.