Five offseason storylines
1. Unsteady rudder: The Big East is prepping to lose two of its most iconic members, has no commissioner and needs to negotiate a new television contract to continue to prosper.
Other than those developments this offseason, Mrs. Lincoln liked the play very much, thanks for asking.
Unrest and unease has been a near-universal theme in college athletics lately, but nowhere is the footing quite so slippery as in the Big East. After making football-centric decisions, the league did finally manage to make some sound basketball decisions, adding Temple and Memphis to the ever-swelling conference, but that doesn't mean everything is stable.
The Big East is in the market for both a new commissioner and a new television contract. Making the right choice in both instances will be critical.
John Marinatto was a good man who cared deeply for the Big East, but lacked the CEO chops needed to succeed and flourish in today's world of college athletics. The new commissioner will have to be equal parts visionary and diplomat, able to predict the future and placate the membership, both existing and new.
And the league bravely -- or foolishly -- turned down a deal a year ago, prompting the unease that led to the departures of Syracuse, West Virginia and Pittsburgh. The bidding starts again in the fall and while that will be centered mainly around football, basketball's livelihood will be tied to the deal as well.
Neither a new commissioner nor a new TV deal will settle the unsteady league for good but the right choices will go a long way.
2. The Syracuse and Pittsburgh farewell tour: This will be the end of the line for one of the founding members in the Big East, with Syracuse announcing it negotiated its way out of the league a year earlier than the bylaws allowed; Pittsburgh soon followed suit. With a $7.5 million buyout paving the way for each school, they'll both jump to the ACC in 2013.
Fortunately -- and probably not coincidentally -- the Big East scheduled two Georgetown-Syracuse games this season, guaranteeing us at least two more versions of one of the sport's best rivalries.
Unfortunately, with Connecticut's APR troubles (see below) and postseason ban, the Huskies and Orange -- the leads in 2009's six-overtime play -- will never meet in the Big East tournament again.
Chances are this won't be a nostalgic last run through the conference. Folks aren't happy with Syracuse and Pitt's decisions to bolt and it will probably be an awkward tango to the finish line.
3. UConn's postseason ban: Despite appeals and arguing from UConn, the NCAA has decided to stick with its APR standards, rendering the Huskies ineligible for postseason play. And since the league doesn't want its automatic bid to go to a team that can't participate in the NCAA tournament, UConn won't be in New York for the Big East tournament, either.
That's a hefty blow to the Huskies, of course, but a big one to the conference as well. Sitting just a quick car ride away from Madison Square Garden, UConn is a big draw for the tournament in March (though no one travels quite like the Orange-loving Syracuse fans).
[+] Enlarge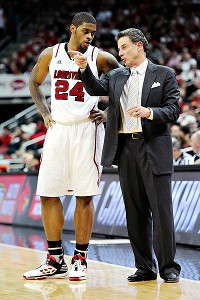 Jamie Rhodes/US PresswireLouisville is a more likely Final Four contender heading into 2012-13 than the Cardinals were last season.
4. Return engagement? A year ago, Louisville served as the beggars at the feast, the surprise member at the Final Four party. They survived as much as they won, overcoming a laundry list of injuries to key players, to make their way to lifting the Big East tournament trophy and followed that up with a trip to New Orleans.
This year people expect the Cardinals to thrive as well as survive, all the way to Atlanta and a Final Four return engagement.
The rationale is simple: Louisville returns everyone to the lineup save Kyle Kuric and inserts George Mason transfer Luke Hancock to fill that role. (That is, after Hancock recovers from shoulder surgery. Not everything has changed in Louisville).
But Rick Pitino knows a thing or two about trying to get back to the Final Four, having walked down Expectation Highway with Kentucky in 1996 and 1997, and realizes what he's up against.
"This past year at Louisville, we didn't expect to go but now we have high expectations to go and do it," Pitino told ESPN.com's Andy Katz. "I think this time will be tougher than it was at Kentucky. At Kentucky, it was totally unexpected, but this time it will be expected. It's hard to have a Final Four that will be expected."
5. Will order be restored? Even now, a good three months after the season ended, the final Big East standings don't look right. There, near the bottom of the barrel are Pittsburgh and Villanova, tied with identical 5-13 records of misery in the conference.
So the important question: Were those failures a blip on the screen or the beginning of something a little more long-term?
All signs point to some quick healing for Pitt, which welcomes touted freshman Steven Adams and Central Michigan transfer Trey Zeigler to go with returning players Tray Woodall, Talib Zanna and Dante Taylor. Last year's troubles were hard to decipher, so it's tough to imagine a repeat.
Villanova's situation isn't quite so crystal clear. The Wildcats were a debacle all year and from that mess, Maalik Wayns and Dominic Cheek, the team's two leading scorers, left early. That could be addition by subtraction if the two didn't want to be around anymore but those are still mighty shoes to fill.
Jay Wright has two top-100 recruits in Ryan Arcidiacono and Daniel Ochefu, plus Wake Forest transfer Tony Chennault, JayVaughn Pinkston and Mouphtaou Yarou. That's a good foundation to build on but whether Rome can be rebuilt in a season remains to be seen.
Best-case/worst-case scenarios
Cincinnati

Best-case scenario: With the exception of Yancy Gates' haymakers, the 2012 Bearcats had a banner season: 26-11, 12-6 in the Big East, a Sweet 16 appearance -- the best sign yet of the programmatic momentum Mick Cronin has built toward in his two most recent seasons at the school. Little should change in 2012-13. The starting backcourt of Sean Kilpatrick, Cashmere Wright and Jaquon Parker is all back. It would be surprising if Cincinnati didn't at least live up to last season's progress.
Worst-case scenario: Then again, the 2012 Bearcats did have flaws. They ranked No. 203 in the country in effective field-goal percentage, No. 263 in defensive rebounding rate, and No. 322 in free-throw rate. Why? A lack of easy interior buckets. Gates was really the Bearcats' only true interior player; now that he's gone, it's unclear what combination of players Cronin will use to shore up some of those deficiencies. Without some measure of effective size on the low block, it's not unthinkable that Cincinnati could worsen in all the wrong places.
Connecticut

Best-case scenario: Well, it won't be a trip to the NCAA tournament. Departures and defections left guards Shabazz Napier and Ryan Boatright and little else. Joining them is freshman Omar Calhoun, a four-star shooting guard. How Jim Calhoun (no relation!) will get these guys to fit together is anyone's guess, even if the ultimate end to the season isn't.
Worst-case scenario: What could be worse than already knowing you'll miss March Madness? Providing a poor account of yourself along the way. That was the main thrust of the 2012 season, in which two lottery picks and a team full of defending national champions appeared totally nonplussed by the triviality of Big East games. And those games actually counted! I'd worry about those guards co-existing in the backcourt, but I'm more worried about the ultimate meaninglessness of the season creeping into UConn's huddles, Inception-style.
DePaul

Best-case scenario: Could it be a place in the NCAA tournament? That's probably too optimistic: This is, after all, a team that won just three Big East games in 2012, and which welcomes just one top-50 player at his position (small forward DeJuan Marrero) in the new freshman class. Still, some steady improvement -- coach Oliver Purnell's trademark -- should be expected.
Worst-case scenario: For a program like DePaul, which is seemingly always rebuilding, the worst-case scenario for the upcoming season is stagnancy. They finished ranked No. 235 in defensive efficiency. If the team defense improves, so should the team (duh). But if Purnell's young charges are as permissive in 2012-13 as they were last season, 12-19 might be the right ballpark yet again.
Georgetown

Best-case scenario: In 2011-12, freshman Otto Porter -- a relatively unknown top-50 recruit from a small Missouri town, who never played AAU basketball -- burst onto the scene, a skilled and versatile do-everything small forward in a 6-foot, 8-inch package. As a sophomore, Porter could become a star. He'll be surrounded by plenty of remaining talent from last season's strong Hoyas group and will be joined by four-star recruits D'Vauntes Smith-Rivera and Stephen Domingo. It will be a pretty young but very talented bunch, one that should take to John Thompson III's Princeton system in spades.
Worst-case scenario: There's a lot of young talent here, sure, but let's not forget the Hoyas are losing Hollis Thompson, Jason Clark and Henry Sims -- the lynchpins to 2012's success. Sims was especially crucial; not only was he Georgetown's only true low-post scorer, but he was the best passing big man (assist rate: 27.3 percent) in the country. Losing Clark and Thompson means losing deadly outside shooting, but the Hoyas will really miss Sims, and could take a (brief) step back without him.
Louisville

Best-case scenario: Why shouldn't expectations be running high? The Cardinals bring back point guard Peyton Siva, "Russdiculous" Russ Smith, a developing Gorgui Dieng, a healthy Wayne Blackshear and, best of all, Chane Behanan, who looks every bit a breakout sophomore All-America candidate. The Cardinals won't always look pretty on offense, but they'll defend like crazy. That's the best reason to like their national title chances.
Worst-case scenario: Lest we forget, this was a very streaky team. For large stretches of the season, it simply could not score. The additions of Blackshear and top-100 recruits Terry Rozier and Montrezl Harrell will add energy and athleticism, but little in the way of outside touch, and if the Cardinals go especially cold at the wrong time, they'll be vulnerable.
Marquette

Best-case scenario: It isn't often that one team has two worthy candidates for Big East Player of the Year honors, but that was precisely the situation at Marquette last season, when seniors Jae Crowder and Darius Johnson-Odom both submitted stellar seasons. But Marquette's supporting cast -- Junior Cadougan, Vander Blue, Davante Gardner, Jamil Wilson, Todd Mayo -- wasn't too shabby, either, and there's reason to think many of those players will shine with more touches and a bigger stage. Blue in particular has the chance to be a force, and Marquette will be targeting another NCAA tournament appearance at the minimum.
Worst-case scenario: That said, "reason to think" and "has a chance" are far from guarantees of anything, and there's no escaping the fact that it is very difficult to replace two players who respectively took 28.9 percent (Johnson-Odom) and 26.0 percent (Crowder) of Marquette's shots in 2012. If Marquette struggles to find its footing in 2012-13, the reasons will be obvious.
Notre Dame

Best-case scenario: At first glance, the loss of Tim Abromaitis feels like a bigger hit than it is. In fact, the Irish should be just fine. The confidence has much to do with the emergence of forward Jack Cooley, who as a junior morphed into one of the best rebounders and most efficient big men in all of college hoops. He's a Big East Player of the Year candidate (if not the favorite), and he'll be surrounded by more than capable guards and the No. 15-ranked small forward in the incoming class, Cameron Biedscheid. The Irish have been a steady force in this league in recent seasons, and that won't change in 2012-13.
Worst-case scenario: But what is Notre Dame's ceiling, really? That's the question fans are rightfully asking after back-to-back early tournament exits, and maybe that's the worst-case scenario for this team: Another hope-inspiring, good-to-very-good year, followed by another early NCAA tournament exit.
Pittsburgh

Best-case scenario: It's time for the Panthers to reboot after an uncharacteristically bad season. The good news? The No. 4-ranked center in the class of 2012, New Zealand-born Steven Adams, has been enlisted in the cause, as has No. 4-ranked point guard James Robinson, both of whom should be ready to contribute right away. Point guard Tray Woodall is back and healthy, while Talib Zanna and Dante Taylor form a fearsome offensive rebounding force -- the one redeeming aspect of Pitt's 2012 season. This team may not compete for the Big East title, but with all this talent, a return to the normalcy of the NCAA tournament is well within reach.
Worst-case scenario: The Panthers have incoming talent, sure, but freshmen are rarely great defenders out of the box, and what the Panthers need is defense: They finished ranked just No. 151 the country in defensive efficiency last season. If Pitt doesn't guard someone, its fans may have to swallow a foundation-building transition year, which is a polite way of saying a bad one.
Providence

Best-case scenario: Providence knows all too well about rebuilding; it has been rebuilding for what feels like decades. But second-year coach Ed Cooley may be on to something now: His recruiting haul features two of the best guards in the class, Providence native Ricardo Ledo and No. 2-ranked point guard Kris Dunn. Providence's current cast features two workhorse players (Vincent Council, who this offseason Cooley too-enthusiastically called the "best guard in the Big East," and Bryce Cotton) who finished in the top 10 in the country in available minutes played last season. Ledo and Dunn have the sheer talent to lift that lineup to heights unseen in quite some time, and if all goes well the Friars may consider themselves rebuilt far ahead of schedule.
Worst-case scenario: The only problem? Things haven't gone well, at least not yet. In late June, Providence's doctors diagnosed Dunn with a right shoulder injury, which required surgery and could sideline Dunn until December, if not longer. Meanwhile, Ledo still hasn't been cleared by the NCAA eligibility center. Without those two players, Cooley's vaunted recruiting class looks decidedly mediocre, and his team would essentially be the same one that fell just shy of .500 (15-17) in 2012.
Rutgers

Best-case scenario: Rutgers coach Mike Rice lured a barrel full of talent to New Brunswick, N.J., last season, the result of top-10 recruiting class seven prospects deep, but the immediate implementation didn't take. This season, it may be time. Myles Mack, Eli Carter and Jerome Seagears posted promising freshman seasons, and talented sophomore power forward Kadeem Jack will be (ahem) jacked for a full season after missing much of last season with a foot injury. Meanwhile, junior college transfer Vincent Garrett should give this young group some maturity and physicality on the wing. On paper, at least, this group is capable of major strides, and, at the outside, even a spot in the NCAA tournament.
Worst-case scenario: We haven't had the chance to see Jack play full strength, so we just don't know how good he can be. In general, the reasonable expectation with young teams is improvement. But how much? And how fast? Those are major questions.
Seton Hall

Best-case scenario: Of any team in the Big East, including those who are obviously in some stage of rebuilding, Seton Hall's project is the most textbook. Last season, Kevin Willard got career years from point guard Jordan Theodore and forward Herb Pope; both graduated this spring. Replacing them won't be easy. Willard hoped to get Texas transfer Sterling Gibbs eligible this season, but the NCAA denied his hardship waiver, meaning the Pirates will face the rigors of the Big East with last season's remainders, one newcomer (junior college forward Raymon Austin) and not much else.
Worst-case scenario: This is a rebuilding season no matter what, so the best case (as with all such rebuilding seasons, probably) is for Willard to see what he has, particularly in Austin. Worst case is learning there's not much there, and that the Pirates find themselves at the bottom of the Big East as a result.
South Florida

Best-case scenario: Given South Florida's ignominous basketball history -- just three NCAA tournament appearances total -- last season couldn't have gone much better. Coach Stan Heath did two key things: He developed a slow-paced, defensive style that flummoxed opponents, and he found a star freshman guard in Anthony Collins to rely on when the Bulls' oft-ugly offense broke down. Collins looks like a big-time four-year player in the making. The Bulls defend. Now, if Heath can find some offense, USF may not be so thrilled with just making the NCAA tournament. They'll rightly be hoping for more.
Worst-case scenario: Will the loss of senior forward Augustus Gilchrist, one of the better shot-blockers in the Big East, take a toll on USF's vaunted half-court defense? If it does, the Bulls may find that their system -- slowing the game to a crawl, letting Collins attack, and hoping for 55-54 wins -- isn't quite so effective.
St. John's

Best-case scenario: In the best-case scenario, this is the season it comes together for St. John's and the sophomores turn from talented pieces into a cohesive unit. There is more talent arriving, too, including small forward Jakarr Sampson and center Christopher Obekpa; at its Platonic best, this could be one of the deepest and most dynamic teams in the league.
Worst-case scenario: Even with Steve Lavin's absence last season taken into consideration, even given all the above talent St. John's was a team with deep abiding flaws in 2011-12, including nonexistent interior offense and downright dreadful defensive board work. (Opponents rebounded the ball against St. John's more effectively than all but three Division I teams last season.) There's reason to expect plenty of improvement, but if the flaws are endemic to the personnel, that improvement might not arrive on schedule.
Syracuse

Best-case scenario: It is a testament to the insane depth on Jim Boeheim's 2011-12 Orange that Michael Carter-Williams, one of the most talented incoming shooting guards in the country, was barely able to crack the rotation. Carter-Williams looks primed for a large sophomore season, when he'll step into the lineup alongside point guard Brandon Triche, stretch wing James Southerland, and a deep batch of forwards. Syracuse lost much of its starting lineup and the fourth overall draft pick (Dion Waiters), and yet their best case remains a Big East title and a deep NCAA tournament run. Such is life with Boeheim at the helm.
Worst-case scenario: If Carter-Williams isn't the scoring force he has been billed as, and Coleman needs time to adjust to college hoops (see: Fab Melo) then Syracuse's attack, one of the nation's best in 2011-12, could suffer from a lack of similar punch in the backcourt, and a merely good season could be the result.
Villanova

Best-case scenario: The phrase addition-by-subtraction is a pejorative, and it has never very nice to use, but one can't help but think Villanova could experience that very sensation in 2011-12, now that guard Maalik Wayns has left the school to chase the NBA dream. Replacing him will be Ryan Arcidiacono, the No. 6-ranked point guard in the class of 2012. Some fresh blood handling the ball may be just what the doctor ordered.
Worst-case scenario: Or maybe we're blaming Wayns too much for this team's disappointing 2010 and 2011 seasons, and in fact it just isn't very good. If that's the case, expect another season like the last -- occasionally tantalizing but mostly forgettable.
Most Important Player

Cincinnati: Titus Rubles
The juco transfer hasn't played a minute for Mick Cronin, but he could be the coach's most vital cog. A former guard who grew up and out since graduating high school, the 6-foot-8 Rubles has the heft and the ability to play a more power game as well. The Bearcats have plenty of experience in the backcourt but they need help replacing Yancy Gates. Rubles could offer it.

Connecticut: Ryan Boatright
The NCAA delayed Boatright's debut but when he finally played, he made the Huskies immediately better. He'll have to do the same this year, now that UConn is without Jeremy Lamb, Alex Oriakhi, Andre Drummond and Roscoe Smith. Much of the Huskies' success will depend on how Boatright and Shabazz Napier play.

DePaul: Cleveland Melvin
You have to feel for Melvin. He has been a terrific player for DePaul for two seasons with little in the way to show for it in terms of results. Melvin averaged 17.5 points a season ago, upping his numbers from 14.3 as a freshman … and still won just three Big East games. Eventually, someday, somehow the Blue Demons will turn it around. If it is anytime soon, Melvin will be the reason.

Georgetown: Otto Porter
Much will be expected from the Hoyas' unexpected star of a year ago. The sophomore to be averaged 9.7 points and 6.8 rebounds for a Georgetown team that, like Porter, surprised more than a few. But leading scorer Jason Clark is gone from that crew, putting Porter squarely in the mix for a key role as both a leader and a scorer.

Louisville: Russ Smith
This is Peyton Siva's team but there's no question that the Cardinals' sparkplug is the enigmatic, mercurial (insert quirky adjective here) Smith. Pitino loved his fearless guard, even though he didn't necessarily always love Smith's fearlessness. With a loaded lineup that should help Cardinals cure last season's offensive woes, Smith won't have to do quite so much this season but he will still be the catalyst for what could be another Final Four run.

Marquette: Vander Blue
A team in the best sense of the word, Marquette won collectively instead of individually -- and that was with Jae Crowder edging out teammate Darius Johnson-Odom for conference player of the year honors. Amid the collection of unheralded superstars was Blue, a gifted player who has the ability to shine and now, with Crowder and Johnson-Odom gone, will have the opportunity, as well.

Notre Dame: Jerian Grant
Sure, Jack Cooley will garner much of the attention for the Irish, but really Mike Brey's team will go as far as Grant takes it. He was terrific as a sophomore last season, turning heads with his 12.3 points and 5 assists per game and will have plenty to work with again this year. Notre Dame loses just Tim Abromaitis, who only played two games a year ago.

Pittsburgh: Tray Woodall
The point guard missed 11 games last season with a groin/abdominal injury and while the Panthers were bad with him in the lineup, they were a bona-fide disaster without him. It was Woodall's return that sparked a brief bit of life in Pitt midseason and it is Woodall's presence that will make the Panthers go this season. There is plenty on Jamie Dixon's roster to make last season nothing but a bad memory, but to make things work, Dixon needs Woodall and his dribble penetration to get the offense working.

Providence: Vincent Council
Despite all the hoopla (much deserved) surrounding Ed Cooley's incoming freshman class, the Friars remain very much Council's team. A terrific point guard, Council led his team in assists and scoring this season and with a better surrounding cast, could be due for a breakout season.

Rutgers: Eli Carter
Carter was sensational in his freshman season, averaging 13.8 points per game for Mike Rice's squad. And while he and Myles Mack were arguably the Scarlet Knights' two most reliable players, losing Gilvydas Biruta (to Rhode Island) will put even more pressure on Carter's shoulders.

Seton Hall: Fuquan Edwin
The best news for Kevin Willard: Edwin is already a terrific defensive player. Now if he continues to grow his offensive game (he averaged 12.5 points per game), the Big East can officially be put on notice. The big question for Edwin, though, is can he be The Guy? Herb Pope and Jordan Theodore are gone, so the attention will be squarely on his broad shoulders.

South Florida: Anthony Collins
The Bulls were one of the best defensive teams in the country and one of the worst offensively. Equaling out that ratio falls squarely in the lap of Collins, the point guard who was great defensively but made too many foolish mistakes on offense to get the Bulls in rhythm. He's a terrific talent and part of the reason that big things are once again expected for Stan Heath's team.

St. John's: D'Angelo Harrison
Truth be told, the most important player might just be Steve Lavin, the head coach who missed last season while recovering from prostate cancer. But since Lavin is on the bench instead of on the court, we'll go with Harrison. The freshman averaged 16.8 points per game, and along with Moe Harkless, was one of the few steadying presences in a crazy season for the Red Storm. His return is huge for Lavin but Harrison will have to perform without his sidekick, Harkless, who left for the NBA.

Syracuse: Michael Carter-Williams
The point guard who couldn't get through the backcourt logjam a season ago will be asked to carry the load for Syracuse this season. Highly touted out of high school, plenty who watched Carter-Williams practice thought he was more than ready for the spotlight. Now the chance has come. Brandon Triche will be there to lend an experienced hand, but how Carter-Williams plays will determine how Syracuse does.

Villanova: Tony Chennault
The last time a displaced player landed on Jay Wright's doorstep, it turned out pretty well. Scottie Reynolds, orphaned by Kelvin Sampson at Oklahoma, led the Wildcats to the Final Four. Now it's Chennault, the Wake Forest transfer who was granted a hardship waiver to be near his family. The Philadelphia native, who averaged 9.0 points in his sophomore season at Wake, is a much-needed boost for a Villanova team that struggled mightily.
Bilas: Big East Power Rankings

The 2012 season was a good one for the Big East but not one of its best. In years past, the top of the Big East had been truly dominant nationally, and the league had set records for NCAA tournament berths.
Winning the conference regular-season title is one of the toughest gauntlets to run in sports, and winning the Big East tournament can often be more difficult than winning the national championship.
This year, with the loss of West Virginia to the Big 12, will be bittersweet. The Big East should bounce back a bit in performance, but it will likely still fall a bit short of the tremendous power the league flexed in 2009 through 2011, and the backdrop will be somber. It will, sadly, be the last hurrah of the most powerful basketball conference ever assembled.
To read Jay Bilas' Big East Power Rankings, click here

.
Five freshmen to watch
Steven Adams, Pittsburgh: The highest-ranked incoming Big East freshman, the New Zealand big man has been hailed for his shooting tough, passing skills and rebounding acumen. At Pitt, he'll just be a breath of fresh air after a forgettable season.
Ryan Arcidiacono, Villanova: The true point guard will be even more critical for the Wildcats now that Maalik Wayns bolted college early. Savvy and skilled on both ends of the floor, the only question is his health. Arcidiacono missed much of his senior season after undergoing back surgery.
Omar Calhoun, Connecticut: The shooting guard is a top-notch scorer (he scored a tournament-record 26 points at the All-American Classic in April) who should help a depleted UConn roster rebuild and serve as a nice compliment to Ryan Boatright and Shabazz Napier. Extra kudos for honoring his commitment, even after UConn's APR woes and penalties.
Jerami Grant, Syracuse: There is no shortage of room for Grant to fit in, what with the departures of Kris Joseph, Scoop Jardine, Dion Waiters and Fab Melo. The son of former NBA star Harvey Grant, he's a versatile forward who can score from just about anywhere. Which is good, since there will be plenty of open real estate in the Orange roster.
Ricardo Ledo, Providence: The shooting guard is supposed to be part of a 1-2 punch for Ed Cooley, but his counterpart, Kris Dunn, is recuperating from a shoulder injury. On his own, though, Ledo is a pretty impressive get as Cooley retools the Friars. He's ranked sixth at his position and should make Providence more than the Vincent Council show.