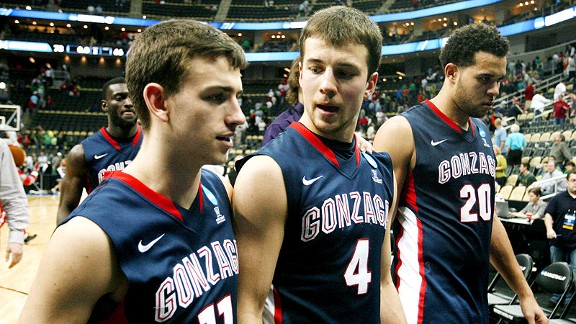 Charles LaClaire/US PresswireNearly everyone returns on a Gonzaga team that's expected to reclaim the West Coast title.
Five offseason storylines
Gonzaga never truly left … but boy is it back: Last March, for the first time in more than a decade, Gonzaga finished a season without winning either the West Coast Conference regular-season or tournament titles. Finally, Saint Mary's -- a steadily rising program that could never quite unseat the big-brother Zags -- did exactly that. But the 2012-13 season portends a restoration of order. Gonzaga returns essentially everyone -- guard Gary Bell Jr., forwards Elias Harris and Sam Dower, and hugely impressive freshman point Kevin Pangos (among others) -- from a team that finished one win away from a share of 2012's regular-season crown.
Even better? Coach Mark Few got Polish forward Przemek Karnowski to sign with the program. Astute international hoopsniks have labeled Karnowski "a McDonald's All-American-type recruit" (credit Draft Express' Jonathan Givony) in the Marc Gasol mold (ESPN's Fran Fraschilla). Harris and Dower formed a potent frontcourt combination on their own; if Karnowski lives up to his billing, this team's ambitions should reach far beyond the reclamation of their usual spot atop the WCC.
The song says you're supposed to go to San Francisco, not leave it: The Dons posted a perfectly respectable, even surprising, 20-win season in 2012, but this offseason brought a sudden, unexpected and potentially devastating exodus from the program. Perris Blackwell, Charles Standifer, Michael Williams, Avery Johnson, Khalil Murphy and Justin Raffington all transferred away from San Fransisco. Blackwell and Williams were the team's two leading returning scorers expected to help plug the gap presented by the graduation of 2012 leading scorer Angelo Caloiaro. Head coach Rex Walters will enter the fifth season of his tenure with a major rebuilding project on his docket.
[+] Enlarge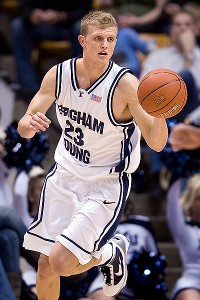 Douglas C. Pizac/US PresswireAfter two years away on a LDS mission, Tyler Haws hopes to give BYU a boost in the backcourt.
Is BYU's Tyler Haws still the real deal? In 2009-10, Haws submitted one of the best freshman seasons in school history: He started 33 games at guard, averaged 11.3 points and 4.2 rebounds, and set a still-running school record of 48 straight made free throws. Then, in keeping with his Mormon faith, Haws interrupted his career to serve a two-year LDS mission in the Phillipines. Now he's back in the gym, getting back in shape and shaking off the rust, and BYU coach Dave Rose is thrilled. The Cougars lost their two most efficienct players (Noah Hartsock, Charles Abouo) to graduation this spring. After two seasons off, can Haws make up the difference?
Don't sleep on the WCC: For much of the aforementioned past decade, Gonzaga has hegemonically lorded over a league with few challengers (save the SMC insurgency). But the days of the WCC existing merely as the Zags' warm-up for the NCAA tournament are officially over: Nationally speaking, this is now a top-eight hoops league. The conference added BYU last offseason, and in March, announced that Pacific would join in 2013-14. In coming seasons, Nevada and Utah State will join the Mountain West, while Memphis will leave Conference USA for the Big East. Those shuffles should position the WCC among the nation's 10 best leagues for years to come.
Goodbye, double-bye: Another sign the WCC likes where it stands? It no longer feels the need to protect its top two teams with double-byes into the semifinals. In June, WCC commissioner Jamie Zaninovich told ESPN's Andy Katz that the league would be reformatting its conference tournament when Pacific joins the league next season, morphing it into a traditional 10-team tournament with the No. 7 vs. No. 10 seeds and No. 8 vs. No. 9 seeds playing on the first day. Why? Zaninovich told Katz the league "feels it can now earn multiple bids without having to overprotect the favorites." And you know what? He's right.
Best-case/worst-case scenarios
Brigham Young

Best-case scenario: Losing your two most experienced and offensively accurate players is never a good thing, but there's plenty of reason to believe the Cougars could have a more balanced overall lineup in 2012-13. All-WCC forward Brandon Davies is back, as is promising point guard Matt Carlino, while the return of former All-Mountain West freshman Tyler Haws from his two-year mission in the Philippines should give BYU lights-out shooting from the perimeter. If Carlino steps into his sophomore season with panache, this team is much better than last season's trip to the First Four.
Worst-case scenario: The Cougars like to run -- they ranked fifth in the country in adjusted tempo last season -- but, counter to the stereotype of most run-and-gun teams, this team was actually much better on the defensive end of the floor. Noah Hartsock's floor-spacing knock-down touch will be missed, and this team wasn't all that fluid on offense in the first place. Stagnancy seems the only conceivable reason this team might not exceed last season's largely forgettable post-Jimmer campaign.
Gonzaga

Best-case scenario: A deep NCAA tournament breakthrough. Let's be honest: Gonzaga hasn't been Cinderella in a decade. Soon after the Dan Monson-led 1999 Elite Eight appearance, coach Mark Few took the program to back-to-back Sweet 16s and savvily parlayed that rise into lasting national success, complete with the creation of a national brand. (As a longtime college shorts connoisseur, let me assure you: You can buy Gonzaga shorts just about anywhere.) But for all the steady success of the Few era -- 11 straight conference titles, 13 straight NCAA tournament appearances -- this program hasn't cracked the Elite Eight since 1999 kicked the whole thing off. With all this talent and experience (Kevin Pangos, Gary Bell, Elias Harris, Sam Dower, and now Przemek Karnowski form a truly elite rotation) this could, and maybe even should, be the season the Zags finally break through.
Worst-case scenario: It's really all about the tournament. Gonzaga's days of singlehandedly dominating the WCC are over, but by all rights this team should return to the top of the league standings this season. The question is whether the Zags can notch enough early nonconference wins, and avoid bad losses in league play, in order to assure a favorable NCAA tournament position. Another first-weekend tourney exit would be massively disappointing.
[+] Enlarge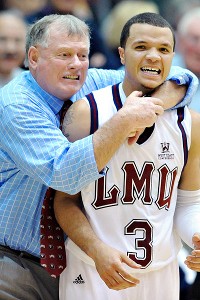 Kirby Lee/US PresswireIf Max Good and the Lions want to crack the top three in the WCC, Anthony Ireland will be key.
Loyola Marymount

Best-case scenario: Can Max Good's team break the Gonzaga-BYU-Saint Mary's stranglehold on the top of the WCC standings? If any non-triumverate member can, it might be the Lions, who have the benefit of an experienced point guard in Anthony Ireland and the arrival of Nick Stover, whose crafty game could be an ideal match for his new league.
Worst-case scenario: More likely than not, Ireland will be solid, Stover will be highly intriguing, but in general LMU won't have enough all-around firepower to keep from finishing around .500 in the league. Anything significantly worse than that is probably the worst-case scenario.
Pepperdine

Best-case scenario: Pepperdine lost two senior starters from a team that finished No. 289 in Ken Pomeroy's adjusted efficiency rankings. Improving last season's putrid offense in coach Marty Wilson's second season is the real focal point here.
Worst-case scenario: A last-place finish in the WCC not only seems possible, but it's probably the most likely outcome. Pepperdine is years away from competing on a level basis with most of its West Coast Conference counterparts.
Portland

Best-case scenario: Portland coach Eric Reveno is one of his profession's most proficient Twitter users, and anyone who actually gets Twitter is guaranteed to warm the cockles of this quasi-tech geek/basketball writer's heart. On the court, unfortunately, things are not looking quite as good. The Pilots finished just 7-24 last season, including a 3-13 record in WCC play. To make matters worse, point guard Tim Douglas transferred to cross-town rival Portland State this offseason. Leading scorers Kevin Bailey and Ryan Nicholas are back, so some improvement should be expected. But how much? Five league wins? Six?
Worst-case scenario: The odds of another seven-win-or-worse season seems pretty remote, but the loss of Douglas does hurt. Anything in single-digit wins territory should count as a worst-case scenario for any program, even one in this lowly position.
Saint Mary's

Best-case scenario: A valid defense of 2012's WCC regular-season and tournament titles sweep. It will be much more difficult this season, but efficient lead guard Matthew Dellavedova is back for what should be a rousing senior season, and Randy Bennett has a nice selection of younger players (Stephen Holt, Brad Waldow, Jorden Page, et al) to fill in the gaps left by seniors Rob Jones and Clint Steindl. Toppling that talented Gonzaga team will be tough, but it's not like the Gaels haven't heard that before.
Worst-case scenario: As you've read in other portions of this Shootaround, this writer happens to see Waldow as a major breakout candidate at the forward spot. That's exactly what the Gaels need after losing Jones, their only true interior presence. But if Waldow doesn't replicate at least some of Jones' output, the Gaels won't match up particularly well with the hated Zags -- or BYU for that matter. Even so, a third-place finish and a bid-less Selection Sunday is the worst conceivable outcome.
[+] Enlarge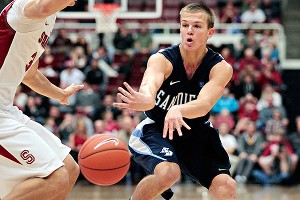 Cary Edmondson/US PresswireUSD's program was on the brink, but Johnny Dee and the Toreros are climbing back to respectability.
San Diego

Best-case scenario: Don't look now, but the Toreros might be this league's best sleeper candidate. That such a statement, however speculative it may be, can be made at all is remarkable, given the potentially devastating 2011 point-shaving scandal involving USD all-time leading scorer Brandon Johnson. But the factors are there. USD's best players -- Johnny Dee and Christopher Anderson -- only improved as their freshman seasons rolled along, with Dee assuming a starring role in the Toreros' lone WCC tournament win. Major improvement can be expected from both, and if 6-foot-10 forward Dennis Kramer can take last season's defensive rebounding prowess and apply it to the offensive end (San Diego's worst quality was its utter lack of offensive rebounding), this team really could surprise everybody.
Worst-case scenario: Then again, it's important to qualify what "surprise everybody" means. Last season's 13-18 squad had its share of growing pains, sure, but it was still a 13-18 team with major flaws on both ends of the floor. If those things are cleaned up, San Diego really could surprise everyone … and finish fourth in the WCC. If that's the best case, the worst case is hardly encouraging.
San Francisco

Best-case scenario: When you lose nine players in one offseason, including your three leading scorers (one of which graduated; the others transferred), then your best-case scenario shouldn't even address wins and losses. It's all about laying a foundation, finding new blood and hoping stranded returners Cody Doolin and Cole Dickerson (and UCLA transfer De'End Parker, who transferred to be closer to his ailing mother and is awaiting an NCAA decision on his immediate eligibility) can patch the leaks.
Worst-case scenario: The loss of nine scholarship players does what it is supposed to do: It cripples USF in the short term, dropping a team that won 20 games just a season ago to the very bottom of the WCC.
Santa Clara

Best-case scenario: A few wins in conference play would be nice. That sounds sarcastic, but it's not -- Santa Clara finished 0-16 in the West Coast last season. And let's be real: The WCC is better than it ever has been, but it's still a league in which an 0-16 record is a sign of a truly dire season. The most optimistic projection doesn't put the Broncos anywhere near the top of the league, but is five or six WCC wins unreasonable? I don't think so. Not with Marc Trasolini back after missing all of last season with a torn ACL.
Worst-case scenario: Zero-and-16 in conference play, 0-18 in your last 18 games, and an 8-22 record overall. We already saw the worst-case Santa Clara scenario last season. Coach Kerry Keating will be eager to avoid a repeat.
Most Important Player

BYU: Matt Carlino
The former UCLA transfer showed flashes of a bright future in his partial first season with the Cougars. But as BYU's lead guard in 2012-13, he'll need to raise his own offensive game another step, while working in plenty of touches for forward Brandon Davies and bound-to-be-rusty Tyler Haws.

Gonzaga: Elias Harris
With emerging junior Sam Dower and highly touted freshman Przemek Karnowski, the Zags are at no loss for frontcourt talent in 2012-13. So why is Harris their most important player? Because this is -- or at least should be -- his team, the last chance for one of Gonzaga's biggest-ever recruits to punctuate a hot-and-cold career.

LMU: Anthony Ireland
Ireland is without question LMU's best player, and he's also its most important, a point guard who averaged 16.1 points and 4.8 assists per game last season. After the unexpected loss of would-be senior Jarred DuBois to transfer (Utah), Ireland will have to do even more.

Pepperdine: Jordan Baker
Baker, whose freshman season was full of promise and frustration, is important both now and in the future as Pepperdine -- which finished just 4-12 in the WCC last season in the first place -- looks to recover from the losses of leading scorers Taylor Darby and Corbin Moore.

Portland: Ryan Nicholas
Portland won just seven games last season and then lost its point guard, Tim Douglas, who led the team in usage rate before transferring. That means even more will be expected from Nicholas. The 6-7 forward led the Pilots with 11.5 ppg and 7.6 rpg last season and might need to up those totals even more as a junior.

Saint Mary's: Brad Waldow
We know what we're going to get from this team's best player, guard Matthew Dellavadova, but we don't know what to expect from his supporting cast now that seniors Rob Jones and Clint Steindl have graduated. Waldow averaged 8.2 points and 4.5 rebounds in 18.2 minutes per game as a freshman, with an offensive rating of 121.8. More minutes and touches should lead to more production, particularly on the boards, something the Gaels will desperately need.

San Diego: Johnny Dee
Dee showcased huge potential in 2011-12, including (but not limited to) his 30-point outburst against Pepperdine in the WCC tournament. Fellow sophomore guard Christopher Anderson will be crucial too, but Dee has the makings of a star.

San Francisco: Cody Doolin When you lose this many players (nine) in one offseason, your most important player becomes anyone with a warm body. But Doolin and fellow junior Cole Dickerson stuck around, and both will have to take on major roles in the wake of all those defections.

Santa Clara: Kevin Foster
Foster was en route to a solid if unspectacular individual 2011-12 before being suspended for the final 12 games of the season. But the 3-point gunner is back for his senior year and should be the focus of the Santa Clara attack.
-- Eamonn Brennan
Cannon: Best Outside Big Six
ESPN Insider Drew Cannon took a shot at ranking the top 10 teams outside the Big Six conferences, including programs from Conference USA, the Mountain West, West Coast, Atlantic 10, Missouri Valley and Southern Conference.
How many WCC teams made the cut? To find out, click here

.
Five freshmen to watch
Tyler Haws, BYU: OK, so he isn't a freshman -- rather, he's a sophomore back from a two-year LDS mission -- but his actual freshman season in 2009-10 was incredibly promising, and his return could prove the most important personnel addition of any team in the WCC this season.
Prezmek Karnowski, Gonzaga: Little-known stateside before his commitment to the Zags, the 7-foot center has drawn borderline hyperbolic raves from trusted international observers, and he could be an immediate force alongside veteran Bulldogs forwards Elias Harris and Sam Dower.
Chris Reyes, Saint Mary's: SMC guard Matthew Dellavadova is back, but senior starters Rob Jones and Clint Steindl have both graduated, greatly thinning the Gaels' dynamic, stretchy frontcourt. Some quality early minutes from Reyes, a two-star, 6-foot-6 power forward, could help alleviate those losses.
Nick Stover, LMU: ESPN's recruiting analysts are effusive in their praise for Stover, who doesn't "wow you with athleticism and flashy skill moves" but whose craftiness allowed him to rank among the best pure scorers in the state of California in high school. Marymount may have found an overlooked gem.
Every San Francisco freshman: I hate to cheat the category (twice), but with so many untimely transfers, USF's six-player recruiting class -- two-star recruits Tim Derksen, Matt Christiansen, Avry Holmes and Joe Edmonds, Juco transfer Frank Rogers and 6-11 project Tao Xu -- will have to be ready right away.
-- Eamonn Brennan